Directions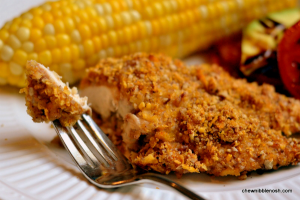 I don't know about you, but I'm always looking for ways to jazz up chicken for dinner. This is a great recipe for those nights when simplicity is of the essence, and you just don't want to deal with a whole lot of fussiness.  My kids both gobbled this right up, with the youngest assuming that it was just regular fried chicken…her favorite.  Faking out my youngest is oftentimes key to a happy meal in our house!
I started, as usual, by prepping my ingredients.  I chopped up some pecans and crushed a few cups of corn flakes in my food processor, and then mixed them together for my crunchy coating.  Then, I stirred together some honey, Dijon mustard, paprika, and garlic powder, which would act as the glue to hold the crunchy on.  To lighten things up a bit, I used boneless skinless chicken breasts and pulled the skin off of a few chicken drumsticks as well.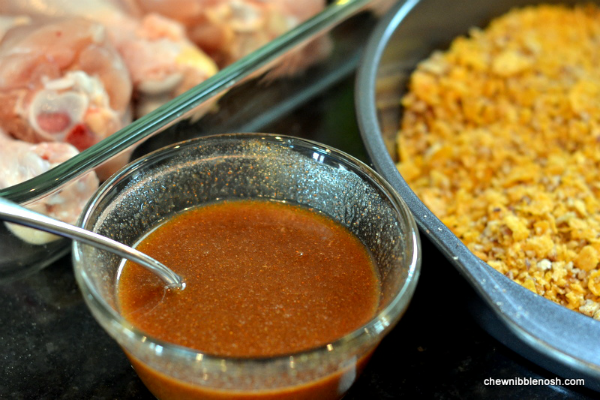 I sprinkled my chicken pieces with a little salt and pepper.  Then, I brushed each piece of chicken with the honey-mustard mixture and then coated it in the corn flake-pecan coating.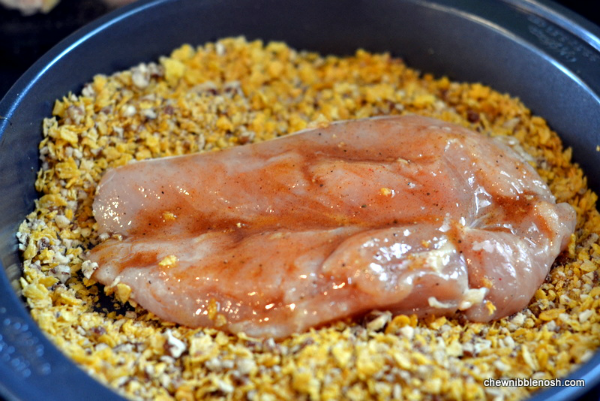 As each piece was coated well, I placed it on a baking sheet that I'd covered with foil and sprayed with nonstick spray.  When I was done, I had a whole heap of "fried" chicken ready to hit the oven, instead of the fryer.  I gave them one last spray coating of nonstick spray (it helps to crisp things up on top) and popped them into the oven.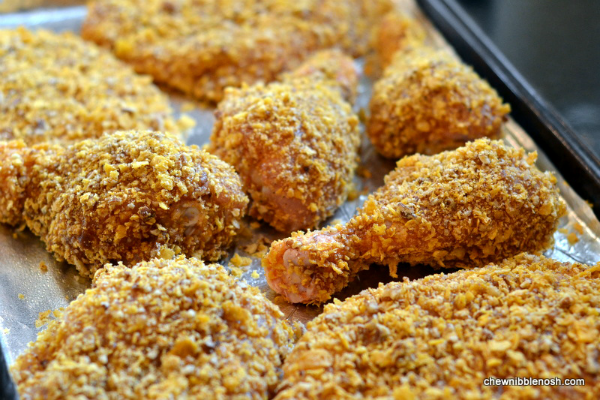 The chicken baked for forty minutes, and when it was done, we were treated to a moan-free meal at the family dinner table.  The chicken is really tasty, packed with flavor, nice and moist, and crispy-crunchy with that toasty coating.  It was a huge hit all around, and we all know how important those "nobody is complaining" nights are!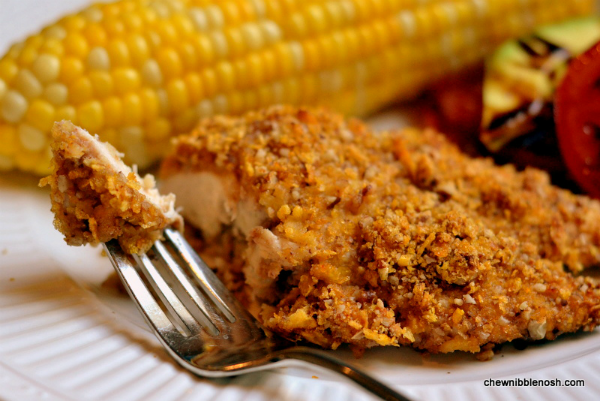 HONEY-PECAN CRUSTED CHICKEN
Adapted from Cooking Light
Honey-Pecan Crusted Chicken
Author:
Prep time:
Cook time:
Total time:
Ingredients
4 boneless skinless chicken breasts
4 chicken drumsticks, skin removed
salt and pepper
1/4 cup honey
2 Tbsp. Dijon mustard
3/4 tsp. paprika
1/8 tsp. garlic powder
1 1/4 cups crushed Corn Flakes (about 4 cups of uncrushed cereal)
1/2 cup finely chopped pecans
nonstick spray
Instructions
Preheat oven to 400*F.
In a small bowl, mix together the honey, mustard, paprika and garlic powder.
Sprinkle chicken pieces with salt and pepper.
Combine the crushed corn flakes with the chopped pecans in a shallow dish.
Brush some of the honey-mustard mixture all over each piece of chicken, and then coat each piece well in the cereal-pecan mixture, pressing to make sure the coating sticks.
Place each piece of prepared chicken on a baking sheet that has been lined with foil and sprayed with nonstick spray. Once all of the chicken is on the baking sheet, give it one last coating of nonstick spray.
Bake, at 400*F, for 40 minutes, or until chicken is done.
ENJOY!