Directions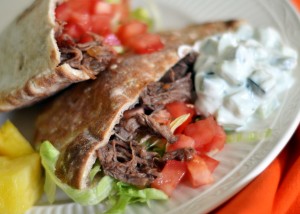 I use my slow cooker a lot on busy nights during the school year, but I've found that it can also be a life saver during the hot, summer months when the last thing you want to do is stand over a hot stove or heat up the whole house with a hot oven.  That said, a lot of slow cooker meals are wintery…stews, soups, heavy, heavy, heavy.   I'm always on the lookout for something different to try in my Crock Pot, and when I ran across this sandwich recipe, it seemed like it would be light enough make a great summer dinner.
I found it on the blog EatatHomeCooks.com.  The author was inspired to create a dish she'd heard about (in another blog) that's served at Disney's Animal Kingdom park in Florida.  Having just been to Animal Kingdom, I was excited to try the recipe.  I'll have to try the real thing next time I'm there.  Tiffany, over at EatatHomeCooks, created this recipe just based on the review she'd read in the other article.  I tweaked it a little bit, adding some honey and a little more seasoning to the mix, just to see what would happen.
  I started with a 2 1/2 pound boneless chuck roast.  I sliced a clove of garlic in half and rubbed both sides of the roast with the garlic.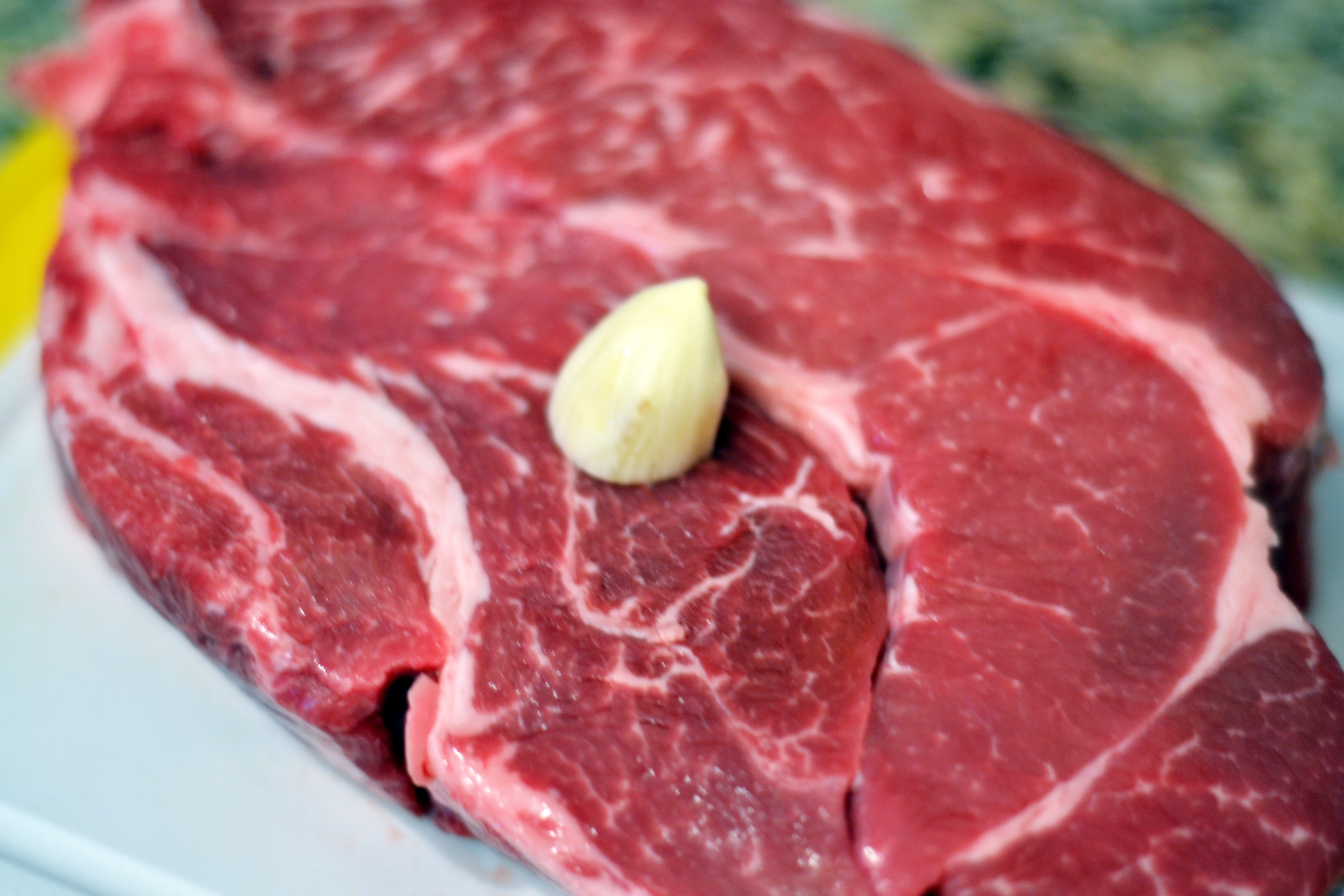 (Imagine me holding the clove of garlic and rubbing it all over the beef.  I can't take pictures and give a roast a rub down at the same time! 😉 )
Then, I made a paste out of some cumin, cayenne pepper, a dash of allspice, salt, and a bit of honey.  I decided that instead of just sprinkling the spices over the beef, I'd mix it with something sweet and rub the beef down with that as well.
I rubbed the spice mixture all over the beef, making sure to get that spice into all of the nooks and crannies of the roast, and then I placed it in my Crock Pot.
Then, I mixed some diced onion, jalapeno pepper, and a few crushed cloves of garlic with a can of petite diced tomatoes.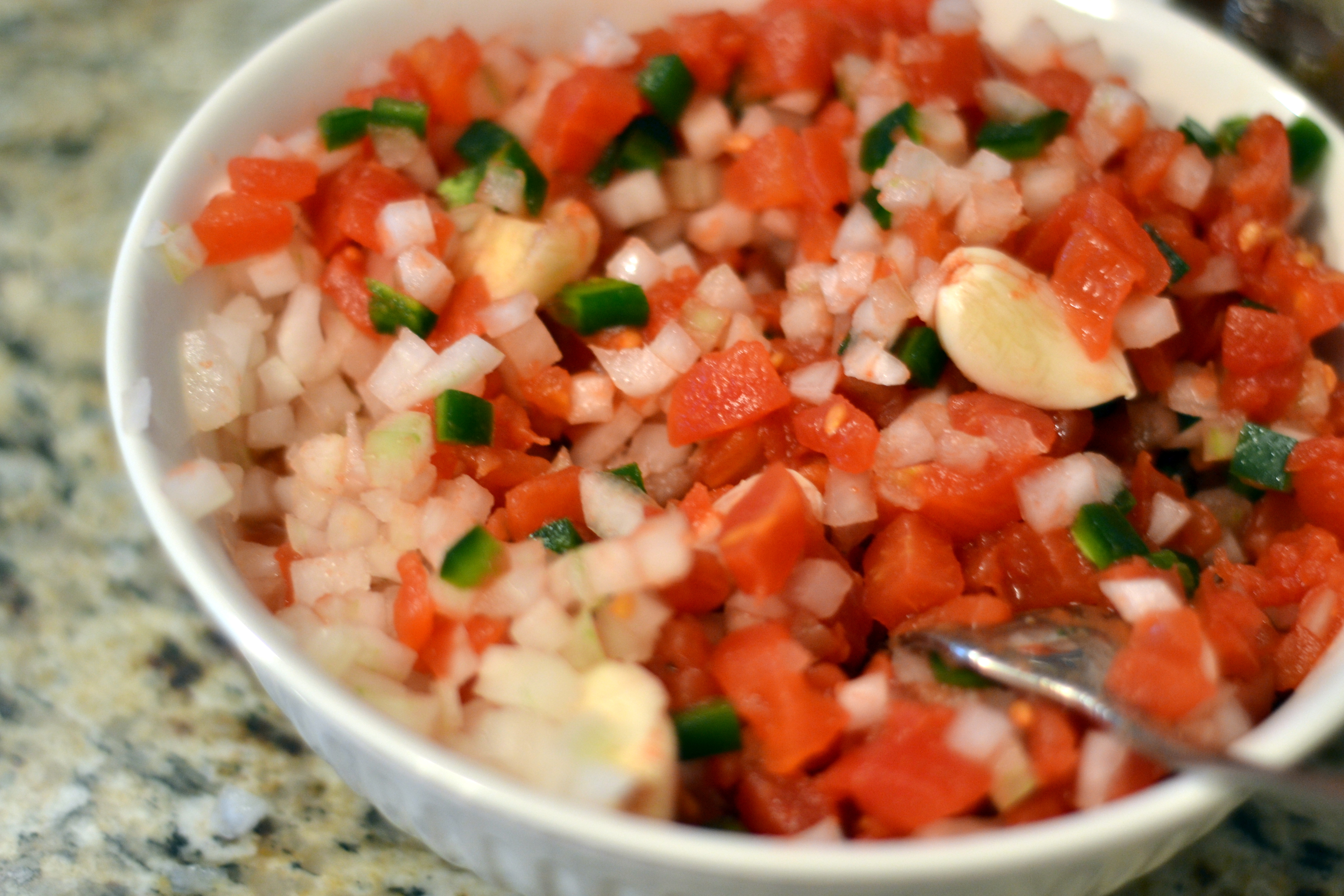 The tomato mixture went into the slow cooker on top of the roast.  I put the top on the Crock Pot, turned the heat on to LOW and let it simmer away for about 7 hours.
About a half hour before we were ready to eat, I mixed up the sauce that we'd use to top the sandwiches.  It's a take on a classic Indian raita sauce, cool, creamy yogurt mixed with cucumber, fresh mint, salt and pepper.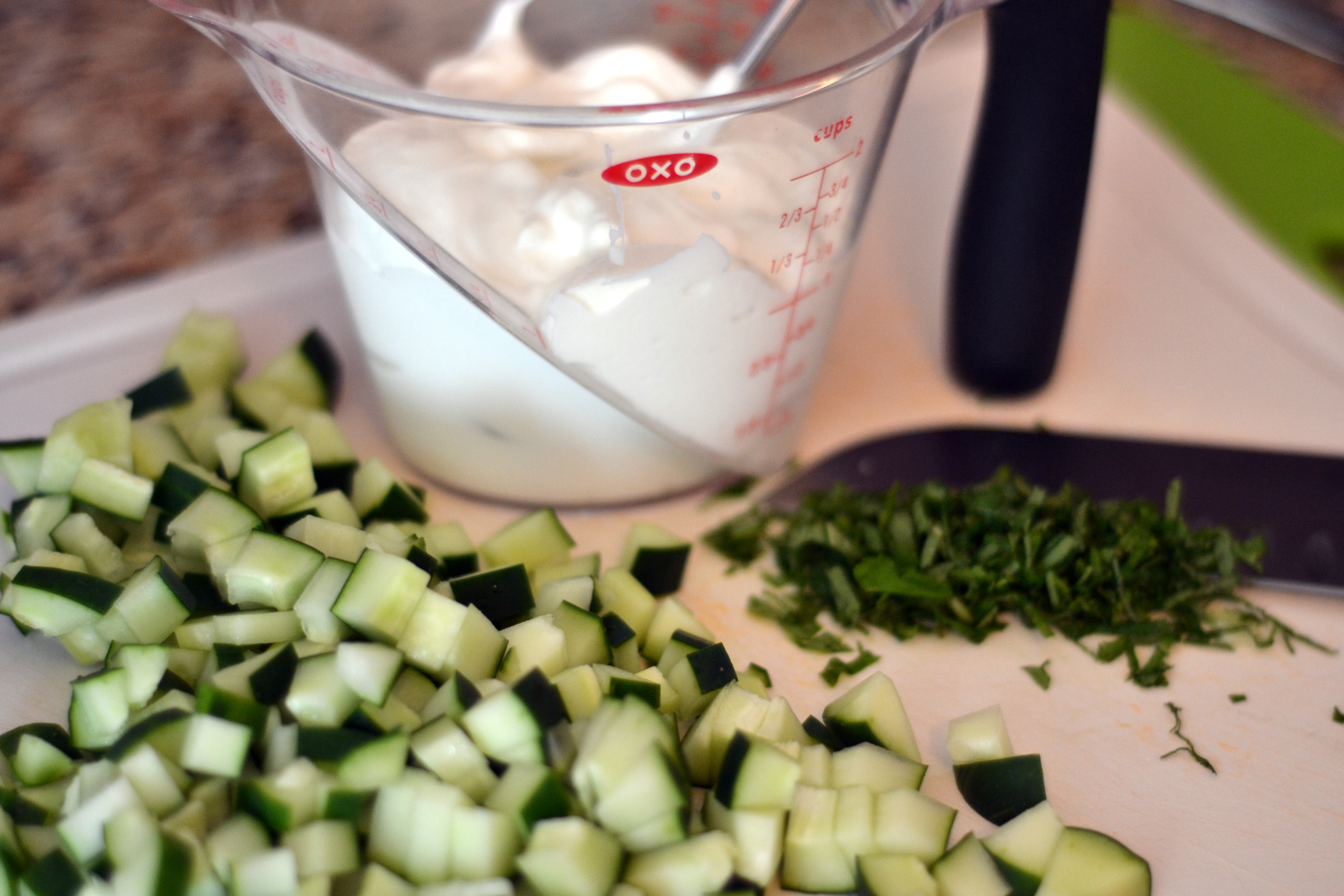 I mixed all of that up and stuck it in the fridge while I finished my beef.
When my timer went off, the beef was perfectly, fall-apart shred worthy.  I removed the beef from the pot and, using two forks, shredded it up.
Once all of the meat was shredded, I put it back in the Crock Pot with the tomatoes and onions to soak up more of that flavor.
When we were ready to eat, I filled multi-grain pita bread with the warm, spicy (but not too spicy…think more flavorful than burn-your-tongue-off heat) beef, added some shredded lettuce and tomato and topped it with that cool, creamy yogurt sauce.
The sandwiches were really good!  Both of my girls liked them which, if I'm being quite honest, SHOCKED ME.   The beef wasn't too spicy, but had hints of that warm, savory spice rub.  Next time I make it, I may actually double the spice mixture, just for kicks….but we like things spicy.  It was a perfect meal for a warm summer day, and I never broke a sweat!
AFRICAN SPICED SHREDDED BEEF SANDWICHES WITH COOL YOGURT-MINT SAUCE
Adapted from EatatHomeCooks.com
| | | |
| --- | --- | --- |
| African Spiced Shredded Beef Sandwiches with Cool Yogurt-Mint Sauce | | |
Author:
Total time:
7 hours 10 mins
Ingredients
2-3 lb. beef chuck roast
5 cloves garlic, 1 sliced in half to rub the roast with, the others crushed
1 tsp. cumin
1/2 tsp. cayenne pepper
1/4 tsp. allspice
1 tsp. salt
1 Tbsp. honey
1 onion, diced
1 jalapeno pepper, seeds removed, and diced
1 (14.5 oz.) can petite diced tomatoes
10 oz. plain Greek yogurt
1 cucumber, seeded and diced
1 Tbsp. fresh, finely chopped mint leaves
Pita bread
Instructions
Rub the roast on both sides with the cut clove of garlic. In a small bowl, mix together the cumin, cayenne pepper, allspice, salt, and honey. With your hands, rub this sticky mixture on both sides of the roast. Place the roast in a slow cooker.
In a medium-sized bowl, mix together the onion, jalapeno pepper, crushed garlic cloves, and can of tomatoes. Pour this mixture over the top of the roast in the slow cooker. Cover, and cook for 5-6 hours on HIGH or 7-8 hours on LOW.
In another small bowl, stir together the yogurt, diced cucumber, and mint. Season to taste with salt and pepper. Chill until ready to serve.
After cooking time is complete, remove the meat from the slow cooker to a cutting board. Using two forks, shred the beef, and then return the beef to the crock pot.
Serve the shredded beef in the pita breads and top with lettuce, tomato, and the yogurt-mint sauce.
Serves 8
ENJOY!