Ingredients
1

frozen 9-inch pie crust

1

6 oz, bag Mauna Loa Dry Roasted Chopped Macadamia Nuts

(or substitute 1 1/2 cups chopped Macadamia nuts)

1/2 cup sweetened coconut flakes

1/2 cup dried cranberries

3/4 cup packed brown sugar

2 teaspoons pure vanilla extract
Directions
Tis the season to bake a pie, right?  So, when the good people at Mauna Loa asked me to give their new Dry Roasted Chopped Macadamia Nuts a try, my mind immediately went to a dessert I could serve at holiday time.
The gears started turning, and I decided to create, what could be called, a Macadamia-Macaroon-Cranberry mash-up of sorts. I thought the buttery Macadamias might pair nicely with toasty, chewy coconut, and the sweet tang of dried cranberries might help brighten it up for the holiday table. Thankfully, I was right.
 I started by gathering my ingredients, which were simple enough.
Between the pre-chopped nuts, and the frozen crust I used, this may be one of the simplest pies I've ever thrown together.
I poured the entire bag (1 1/2 cups) of the chopped Macadamia nuts into the bottom of the frozen crust.  Then, I mixed together the coconut and cranberries, and sprinkled the mixture over the top of the Macadamias.
To bind the pie together, I mixed together a sweet concoction reminiscent of another holiday favorite of mine (Pecan Pie). I beat together some brown sugar, dark corn syrup, three eggs, melted butter and vanilla.
Once the thick, sugary mixture was beaten together, I poured it over the cranberries, coconut, and macadamias in the pie crust. And then, it was ready to head into the oven.
My hope in putting the coconut and cranberries on top was that they would rise up and the coconut would end up a toasty and chewy, like a macaroon cookie. That it would sit upon a layer of the buttery Macadamias, so I'd end up with a chewy, crunchy, buttery, sweet bit of wonderful.
So, imagine how pleased I was when I pulled it out of the oven to find it looking like this…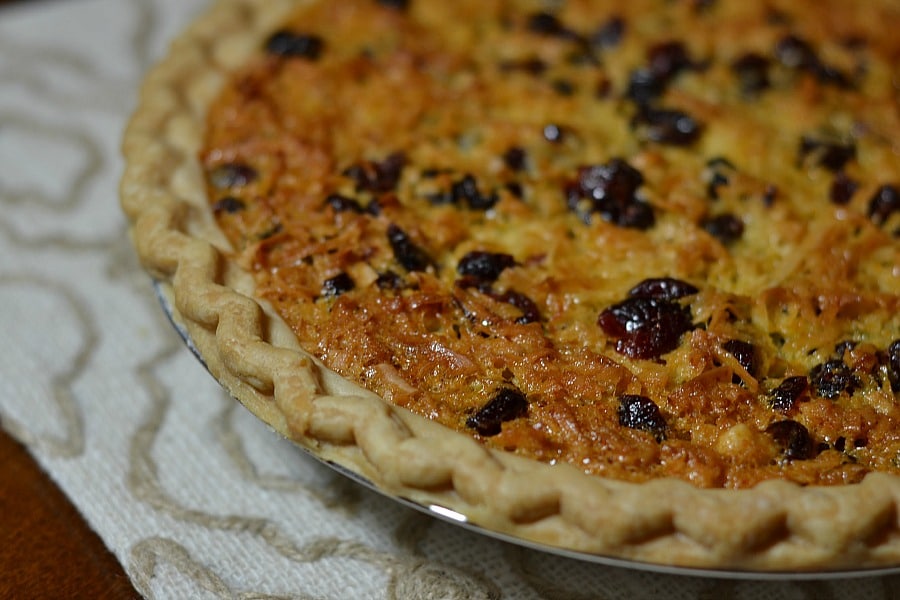 I allowed the pie to cool completely, and then I actually covered it and put it in the refrigerator to completely chill through, to help finish setting the pie completely.
When we were ready to dive in, I brought the pie out and let it come a little closer to room temperature, and then I sliced it up.
Thankfully, the end result was exactly as I had hoped. The toasty, chewy coconut-cranberry layer sat atop a sweet and buttery layer of the nuts and filling. It was delicious! A perfect pie-macaroon-Macadamia mash-up, and a great change-up to the usual holiday pie fare.
Happy Thanksgiving!
MACADAMIA HOLIDAY DREAM PIE
Steps
| | |
| --- | --- |
| | |
| | Pour the chopped Macadamia nuts into the frozen pie crust. In a small bowl, combine the coconut and cranberries. Sprinkle the coconut-cranberry mixture over the top of the Macadamia nuts. |
| | In another bowl, whisk together the brown sugar, corn syrup, eggs, melted butter, vanilla and salt. Pour the mixture over the nuts, cranberries and coconut. Don't overfill the crust. If you end up with extra filling, just discard it. |
| | Bake the pie, at 325*F. for 55-60 minutes, or until the coconut is warmly toasted and the center of the pie is set and doesn't jiggle when lightly shaken. |
| | Cool the pie completely on a wire rack. Pie can be chilled overnight. Bring to room temperature before serving. |