Ingredients
1/3 cup, finely chopped

Shallots

1 Tbsp.

Grated Parmesan Cheese

2 oz. grated, divided

Gruyere Cheese
Directions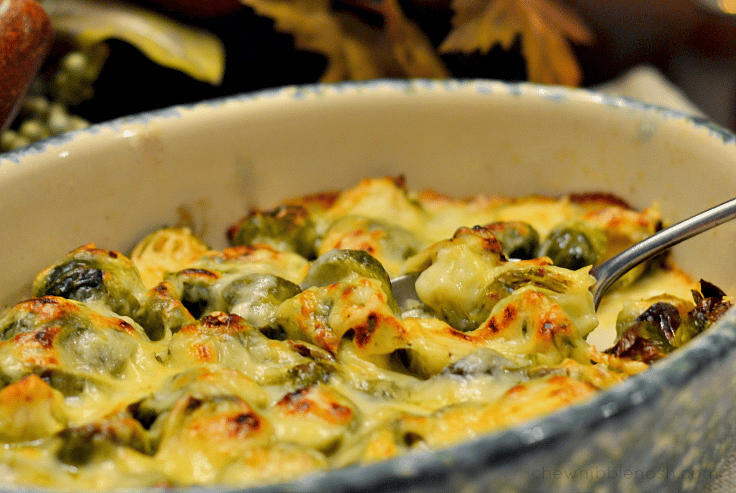 Occasionally, my kids say something that makes me think, "Wow. I've done something right."  Most recently, it was when my youngest daughter, otherwise known as "The Picky One", asked me if I would "pretty please" add Brussels Sprouts to my grocery list.
Seriously? Seriously.
Mom for the win! It took her almost eleven years, but the child has finally broken out of the chicken strip/pasta/bread level of the food pyramid and is moving onto more exciting things. It's exciting to watch. My little baby is growing up AND eating like a grown up too. It makes me a little teary…
Anyway, as soon as she requested her, now beloved, sprouts, I knew exactly how I wanted to try them.  I'd run across this recipe from Gina, one of my favorite recipe gurus, at Skinnytaste.com . I've written about her before. I love Gina's take on healthy cooking. I've made countless versions of her recipes, and devoured her cookbooks. If you haven't checked out her blog, or her books, do yourself a favor and go take a look.
I thought this Brussels Sprouts Gratin looked like a fun way to serve up sprouts at the Thanksgiving table. Or really, any old table will do.  I made these alongside a roasted chicken on a weeknight, and it was simple, and delicious.
I started by cleaning my Brussels sprouts, and slicing them in half. Once they were all sliced, I added them to a 1 1/2 quart baking dish.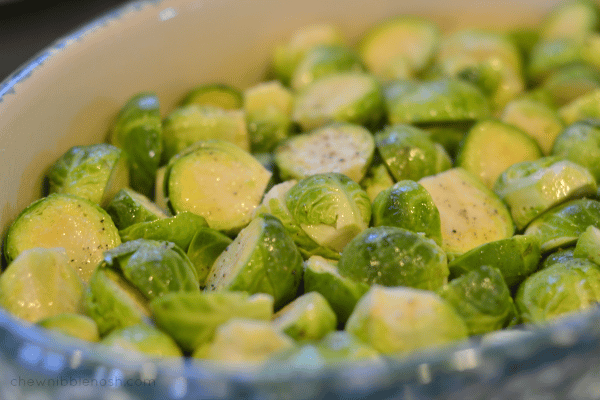 I sprayed them with a little olive oil, sprinkled them with salt and pepper, and put the dish in the oven to roast for about 25 minutes, stirring them around halfway through.
When I took them out, they were just starting to toast up on the edges, and were perfectly roasted. I set them aside for a few minutes while I put together my sauce.
When I usually think of a Gratin, I think of a rich, decadent cream sauce and loads of cheese and calories. Honestly, that's usually a turn-off for me.  I'm not into heavy, cream sauces. I can usually take about a bite, and that's it. What struck me about this recipe was that the sauce still seemed to be perfectly creamy and delicious, but without being overwhelmingly rich.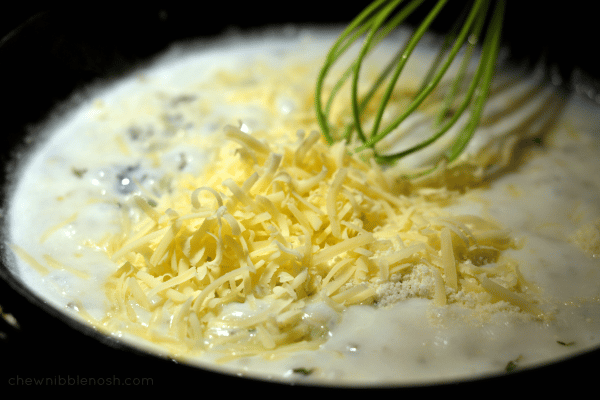 I sautéed some chopped shallots and garlic in a smattering of butter, and then after combining them with a little flour, whisked in some skim milk until the sauce was thick and creamy.  Just a dabble of shredded Gruyère and some Parmesan and fresh thyme finished off the sauce, and it was perfect.
I poured the cheese sauce over the roasted sprouts in the pan, and then topped them off with a little more shredded Gruyère before popping the dish into the oven to finish off.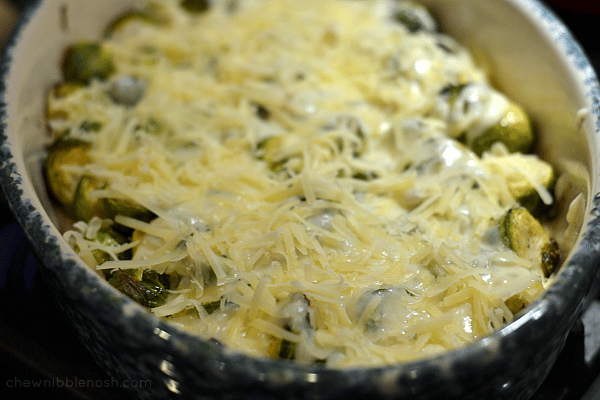 After about 15 more minutes in the oven, the sauce was bubbly and browned, and I couldn't wait to dive in.
Meanwhile, Daughter #2, the "Other Picky One, but Not Quite in the Same Way" kid, saw me taking the dish out of the oven and said "Uuuugh. Cheese and Brussels Sprouts?  Why is there cheese on the Brussels Sprouts?"
I sighed, that defeated mom-sigh we all know, And then we all sat down to eat. Three of us dug in to the sprouts, excitedly, and one…not so excitedly. (They were delicious.)
And a moment later, I heard, "OK, I was wrong.  There's NOTHING wrong with cheese on Brussels Sprouts. Are there any more?"
YES. Mom 2 – Kids 0.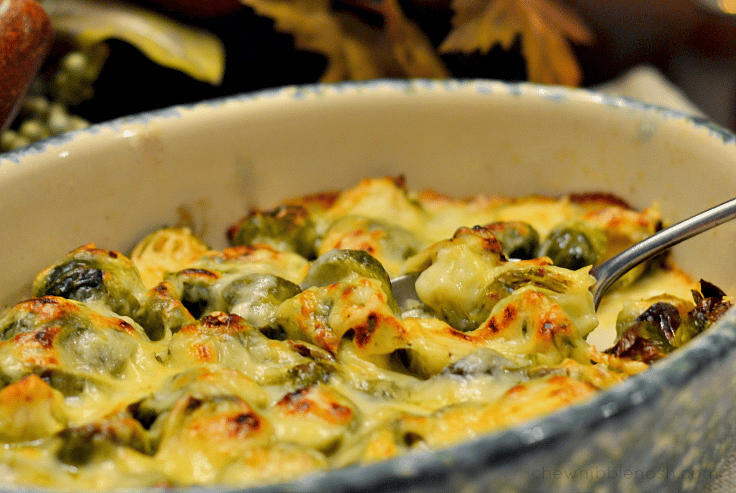 BRUSSELS SPROUTS GRATIN
Adapted from Skinnytaste.com
Steps
Preheat the oven to 400* F.
Clean and trim the Brussels Sprouts and slice them in half.
Spray a 1 1/2 quart casserole dish with olive oil spray and put the sprouts in the dish. Sprinkle with salt and pepper, and spray the sprouts with a bit of the olive oil.

Roast the sprouts for 15 minutes. Stir them around, and place back in the oven for another 10 minutes.

Meanwhile, place a medium nonstick pan over medium heat. Add the butter, and swirl until melted. Add in the shallots and garlic, and saute until softened, about 4-5 minutes.
Whisk in the flour, and cook for about a minute, stirring constantly.
Carefully whisk in the milk, until the flour mixture is worked in. Lower the heat just a bit, and allow to bubble and thicken, stirring occasionally, for about 3-4 minutes.
Add the thyme, Parmesan and half of the Gruyere and stir until the cheese is melted and incorporated into the sauce. Season with salt and pepper.

Pour the white sauce over the top of the roasted sprouts, evenly distributing it. Sprinkle the remaining Gruyere over the top of the sauce.
Place the dish back in the oven and bake for 10-15 minutes, or until the sauce is bubbly and the cheese is beginning to brown.
Serve immediately.