Ingredients
Juice of 1 grapefruit (about 2/3 cup)

Finely grated zest of 1 lime

1 1/2 Tbsp. kosher salt, plus more to taste

1 5-7 lb. boneless pork shoulder, cut into large pieces

tortillas, salsa, avocado, lime wedges for serving (optional)
Directions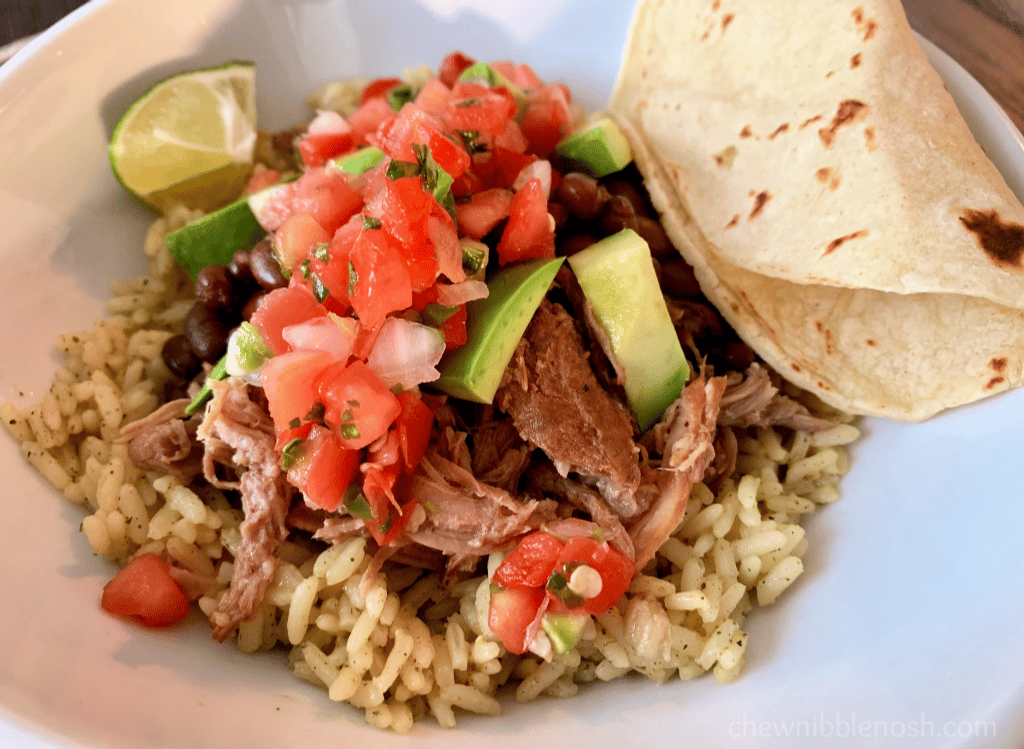 Hello! It's me! Really! I'm posting a new recipe!
As this new school year kicks off in our house, and everyone is getting back into a routine, I'm making a pledge to myself (and to you) that I will try my darnedest to get at least one recipe on the blog each month. I'm hoping that if I put that out into the universe, that it actually happens. I so appreciate all of your emails and messages (from all over the world!), checking in to make sure I'm OK.
There's no excuse on my end for the lapse other than I've just been incredibly busy.  I'm sure that any parent of busy teenagers out there can sympathize. The last couple of years feel like they've been go-go-go all the time. My oldest daughter just recently got her license, and it really does open up much more time for me during the week since she can go-go-go on her own! So, I am pledging to use some of that "free" time to kick my blogging behind back into gear.
This recipe seemed like the perfect place to start.
Who out there has an Instant Pot? Who out there has a love/hate relationship with it? Me too. And, me too. I use my Instant Pot a lot, because for some things, it's really quite great. I love being able to cook dry beans without soaking them overnight (because I always forget to soak them). I've made scrumptious short ribs in record time, wonderful soups, and even incredibly good cheesecake. But, for every great recipe I've made, there are a few that I've tried that I would never repeat. I've found that, like a slow cooker, I have to be pretty choosy about what I make in my pressure cooker. I've found that just because something can be made in an Instant Pot, doesn't mean that it should be.
I think one of the things that bugs me about my pressure cooker is that while the word "Instant" is in the name, it's often a much more time consuming process than I anticipate. Many times in IP recipes, there's no mention of how much time it actually takes for the unit to come to pressure, or to release pressure. Anyone who has ever tried to naturally release pressure from one of these machines knows that can add a good half hour, or more, onto the cooking time.
Now that I've used it in many different ways, I'm better about anticipating how long things actually take. So, here's a disclaimer on this recipe: It takes a while. You're going to have to bring it to high pressure which takes a while. Then, the pork will cook for 80 minutes, and then naturally release it for a while. It's all hands off time, so it's easy, but it's a bit of a time project. That said, this incredibly flavorful shredded pork is, hands down, the BEST thing I've ever made in my Instant Pot…which is why I'm sharing it with you today!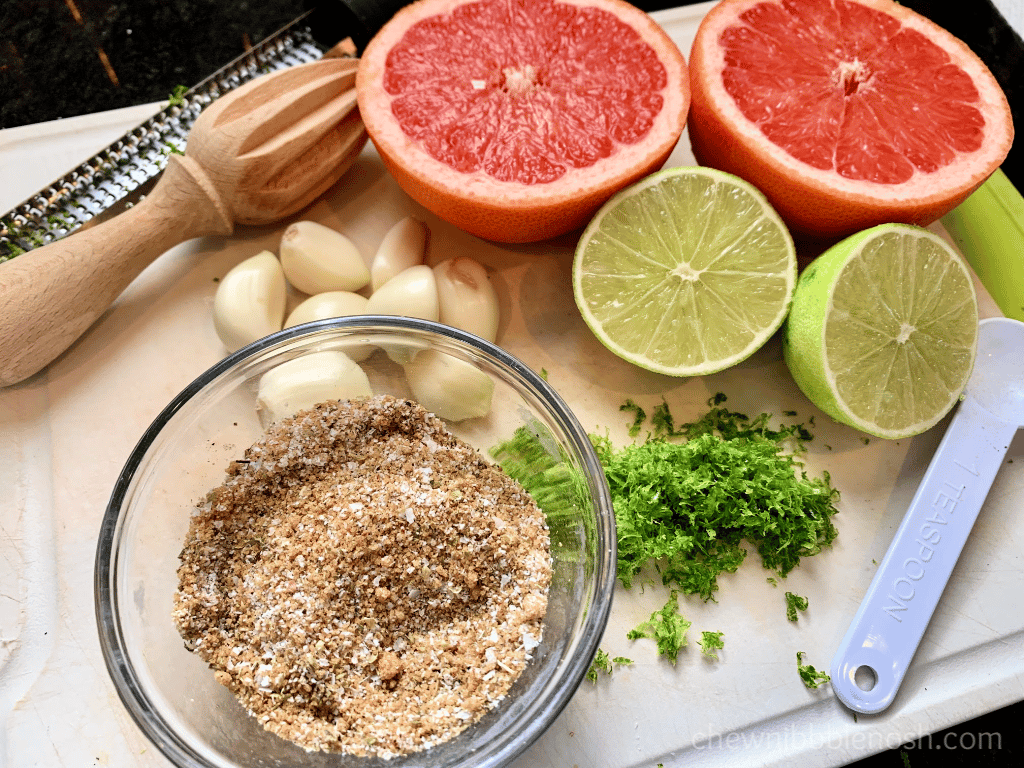 Before I left for work in the morning, I put together the marinade for the pork. It was as easy as throwing a heap of garlic, the juice from a grapefruit and a lime, the zest from the lime, and a mix of brown sugar, oregano, cumin and salt along with a little bit of oil into my blender.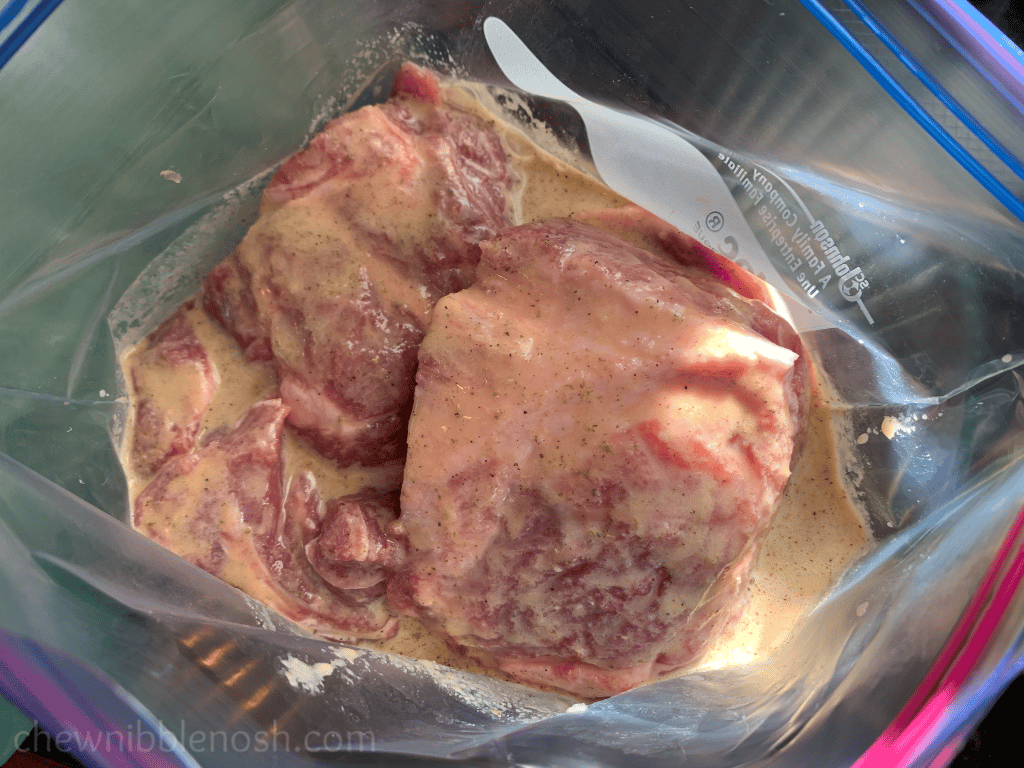 I poured the mixture over about five pounds of pork shoulder that I'd cut into big chunks, in a big Ziploc bag, threw in a bay leaf, and popped it into my fridge to marinate during the day.
When it was time to start cooking (A couple of hours before you actually want to eat! Don't forget!), I set my sauté function on the Instant Pot to HIGH and took some time to brown the chunks of pork. I could only fit a couple of the pieces in at a time for browning, so this took about twenty minutes all together. If sautéing in the IP isn't your favorite thing, you can go ahead and do this on the stovetop in a regular pan. I find that sautéing in the cooker is totally hit or miss. Since the recipe called for it, I decided to try it in the pot this time. But I could likely do it a lot faster on the stovetop.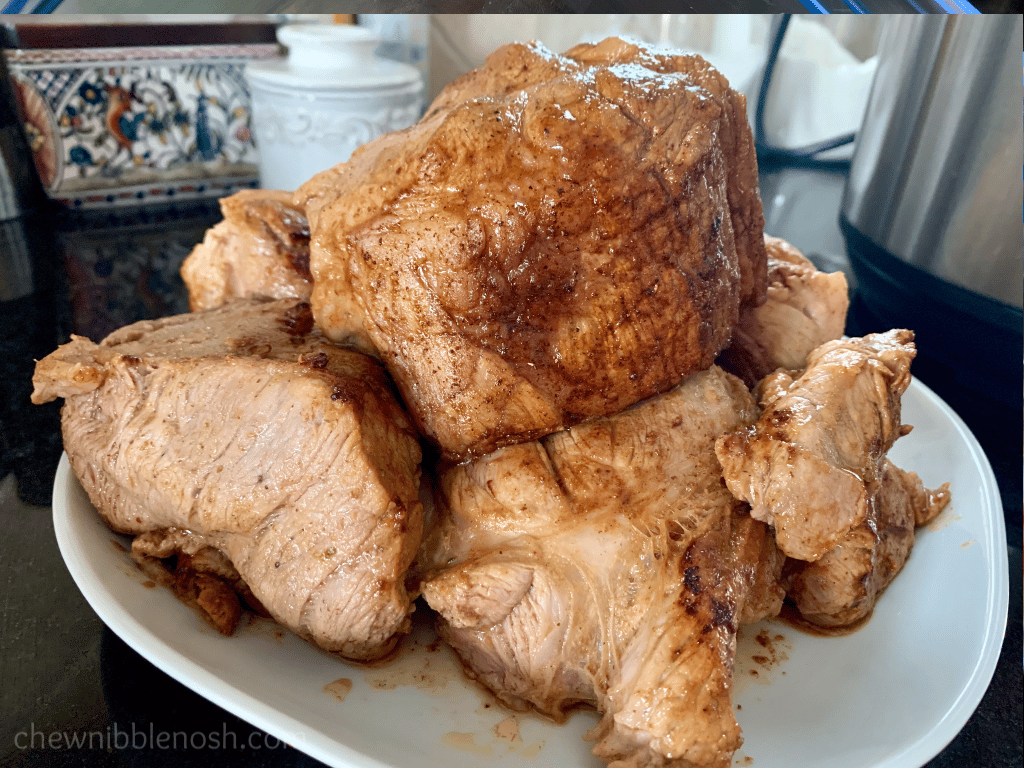 Once the meat was all browned, it went right back into the pressure cooker. I reserved the marinade and poured it all over the top of the pork. The marinade is the only liquid added to the pressure cooker.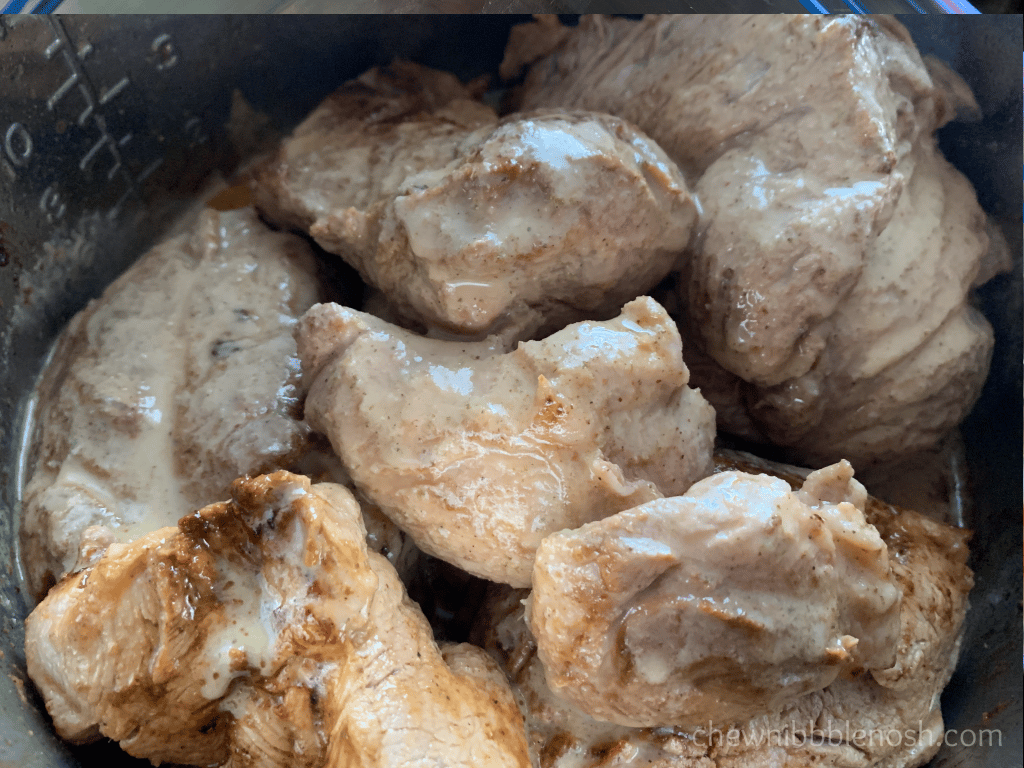 Here's where the waiting comes into play.
The pork needs to cook on HIGH pressure for 80 minutes at this point. Anyone familiar with an Instant Pot knows that it takes a while to actually come to pressure, so tack another ten or so minutes onto that time. AND, afterwards, the original recipe said to let it release pressure naturally. At this point, in my evening, I was facing a group of really hangry people, so I let it naturally release for 20 minutes and then I released the rest of the pressure manually. It was perfectly cooked.
When I could finally open up the pressure cooker safely, this is what I found…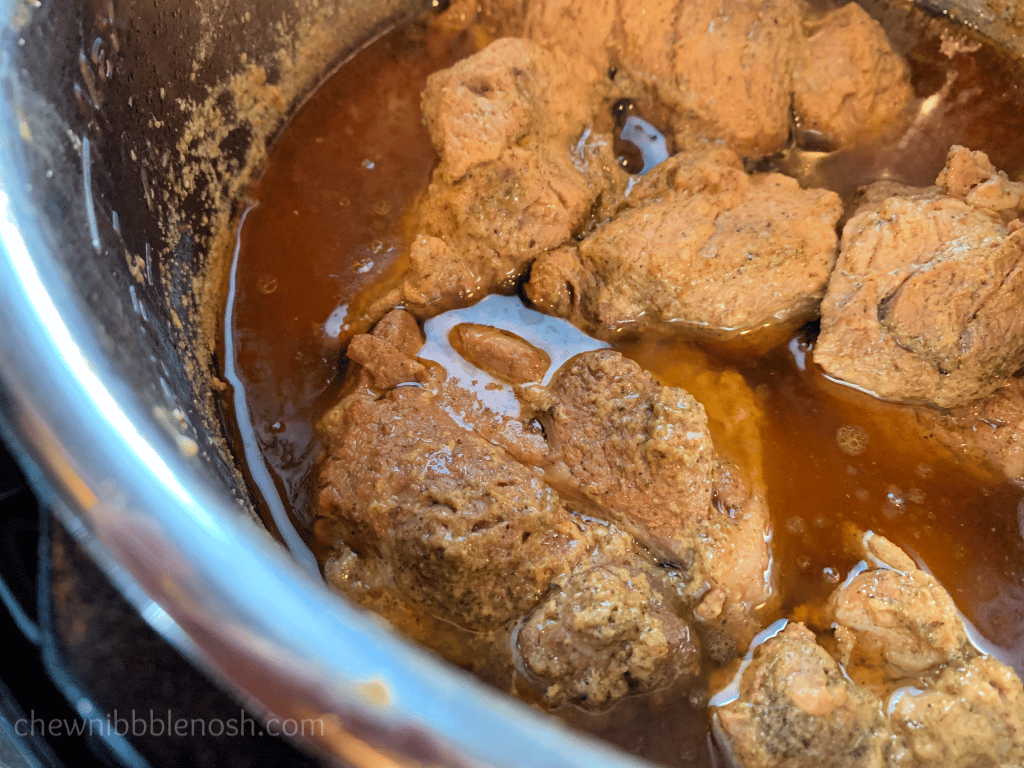 Not the prettiest picture, but it gets prettier.
Using tongs, I removed the chunks of pork, which were so tender they were falling apart, into a large bowl. I easily shredded the pork with two forks.
But don't forget about that cooking liquid! I poured the liquid into my gravy separator. I let the fat rise to the top and then poured everything but the fat back into the pressure cooker. I set the cooker to Sauté again, and simmered the sauce just a bit until it reduced down and thickened just a bit.
Once the sauce had reduced a bit, I poured about two cups of it over the shredded pork. I tossed the shredded pork with the cooking liquid and we were (finally) ready to eat!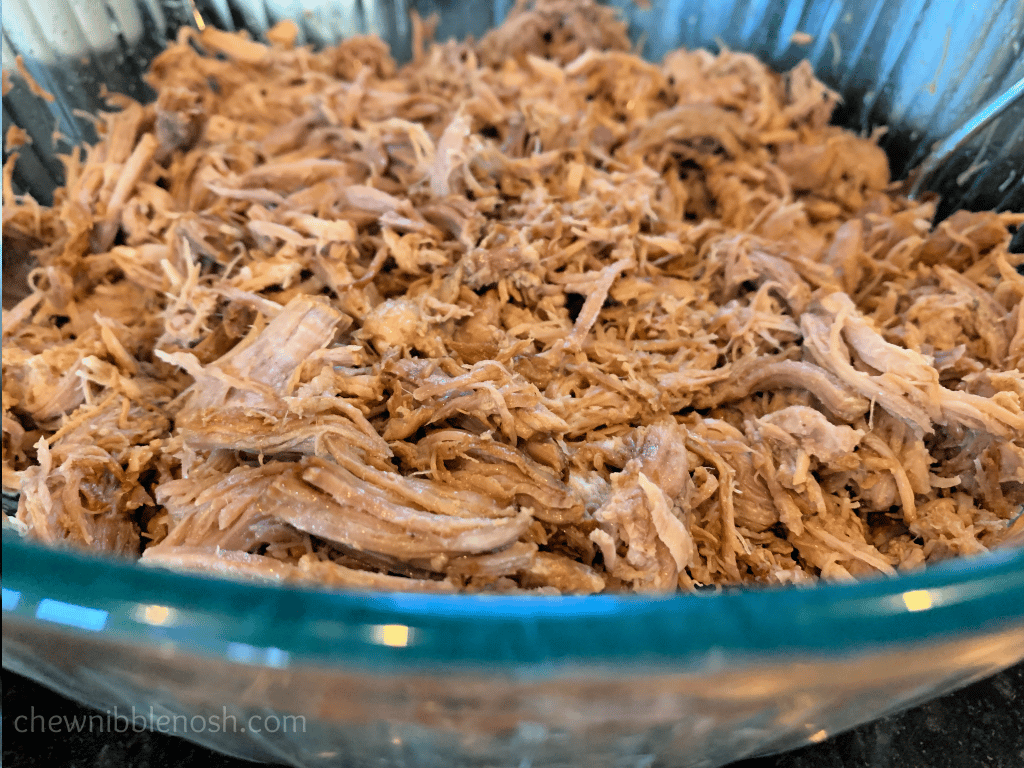 We chose to make burrito bowls and tacos with the pork, but you could use it for so much more. I froze the leftovers and I'm thinking I may make Cuban sandwiches with it next time, pizza, southwestern egg rolls, or maybe quesadillas. Or, I could even use it in my Brunswick Stew recipe once the fall weather hits. Whatever I use it for, I know we'll be happy.
Everyone in my family went nuts over this pork. I think one daughter even went up for thirds! It's so tender and flavorful, and definitely worth the long cook time. I imagine I'll make this again and again and again. It would be perfect for a party.
It's an incredibly simple recipe. You just have to be patient.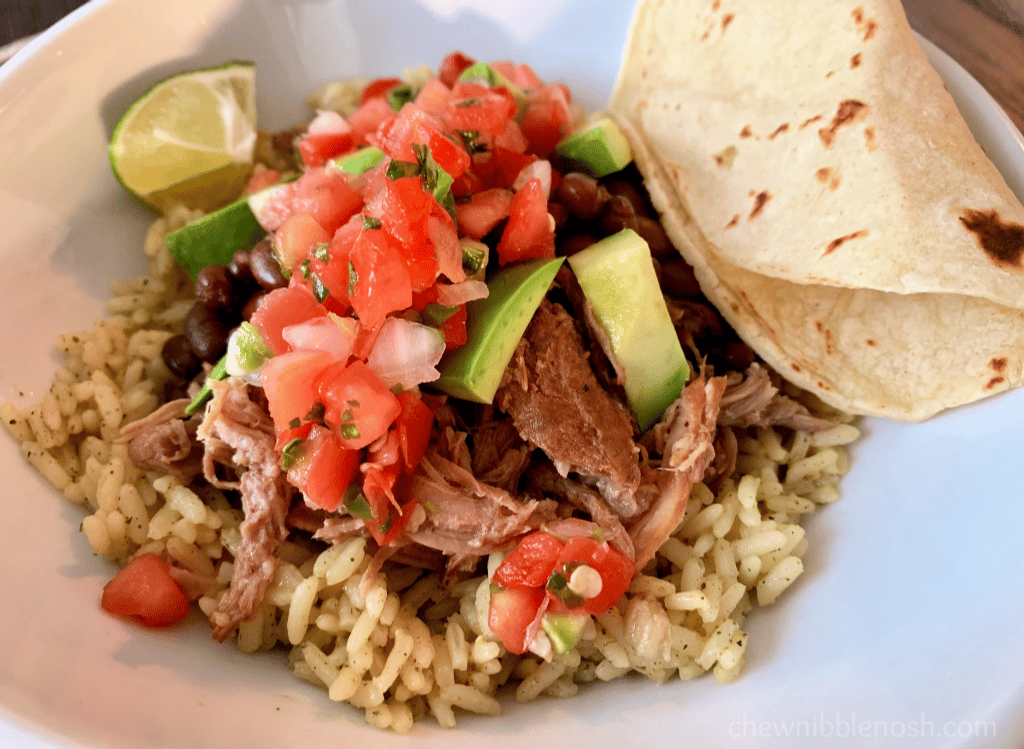 INSTANT POT GARLICKY CUBAN PORK
Adapted from Dinner in an Instant, by Melissa Clark
Steps
Add garlic cloves, grapefruit juice, lime zest and juice, 2 tablespoons of the oil, brown sugar, oregano, cumin and salt to a blender. Blend until smooth.

Place large chunks of pork in a gallon sized zip top bag. Pour the marinade over the pork, add the bay leaf, seal the top, and move the pork around to make sure it's all covered with some of the marinade. Set the bag in a large bowl, and chill until ready to cook. Marinate for at least 1 hour and up to 8. The longer you can leave it, the better.

Set your pressure cooker to the Sauté function on HIGH. When it's nice and hot, add the remaining 1 tablespoon of oil to the pan and start browning your pork. Carefully remove the pork from the marinade with tongs, reserving the marinade. Brown a couple of large chunks at a time, making sure to sizzle up each side of the pork. When the pieces are browned, move the to a plate, and continue with the rest of the pork until all of the pieces are browned.

Once all of the pork is browned, move the pork back to the pressure cooker, and pour any juices from the plate over the top. Pour the reserved marinade over the pork in the pressure cooker. Cover the pressure cooker and cook on HIGH pressure for 80 minutes. Let the pressure release naturally for 20 minutes, and then release the pressure manually to finish it off.

Move the pieces of pork into a large bowl. Using two forks, shred the pork.

Remove the bay leaf. Pour the cooking liquid into a gravy separator, and allow the fat to rise to the top. (If you don't have a gravy separator, pour it into a large measuring cup or bowl and allow the fat to rise before skimming it off. Pour the de-fatted liquid back into the Instant Pot and turn on the Sauté function again. Simmer the sauce until it reduces a bit. Add salt to taste.
Pour about two cups of the cooking liquid over the pork, and toss to coat.

Serve in tacos, burrito bowls, Cuban sandwiches, quesadillas...whatever you'd like! Freeze the leftovers for a quick meal another night.
ENJOY!