Ingredients
2 sticks (1 cup) butter, softened

1 cup packed light brown sugar

1 tsp. pure vanilla extract

2 1/2 cups all-purpose flour

1 (12 oz.) package semi-sweet chocolate chips

1 (10 oz.) bag soft caramels (I used Kraft.), unwrapped

14 oz. can sweetened condensed milk

flaky sea salt, for sprinkling
Directions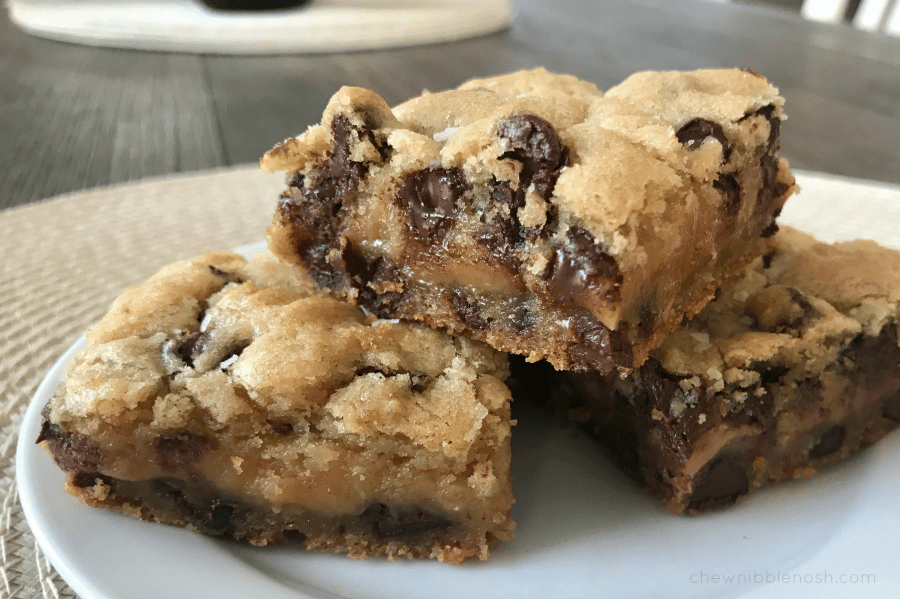 Isn't it strange which memories really take root in our minds? I think back on things I should remember vividly, and come up blank. But, it's the tiny things. The little bits, that are brought back with a smell or a song. One vivid memory, one that I can pull up at any time, is of me walking into our kitchen after getting off the bus at the end of the school day. I must have been little, maybe five or six, because my brother wasn't in school yet with me. I opened the door into the house and instantly smelled butter, and chocolate, and something special. My mom was right there in the kitchen waiting for me, standing next to a cooling rack piled high with fresh-baked cookies. She looked at me, smiled, and said "Hi, honey! I baked you a snack!" That's it. That's where the memory ends.
It's always struck me as strange that this memory is one of the most vivid of my childhood. Not that it wasn't perfectly great, but it's not exactly a "life changing moment"…or maybe it was, and I just didn't realize it.  I can remember my mom, the look on her face when I opened the door, the wallpaper in our kitchen, the cookies on the counter, and exactly the kind of cookies they were (chocolate with peanut butter chips). My mom baked all the time, just like I do. So it wasn't like this day was out of the norm. I'm sure it happened countless times. I wonder now if I'd had a really rotten day at school, or if something happened on the bus ride home, and that's why the memory of my mom stuck so solidly in my head. Or maybe, it could be that I just really love my mom and also really like cookies. (This is likely the case.)
Whatever the reason, this memory has cemented in my soul, and it is the reason I try to bake up a little something special for my kids every once in a while to surprise them with when they get off the bus. These ridiculously tasty little cookie bars were the last after school surprise I baked up.
If you're looking for something chocolatey, and a little ooey-gooey, these are the perfect bar for you. They're deceptively simple, but easily one of our favorite after school treats. Creamy caramel sandwiched in between buttery, chocolate studded cookies? Yes, please.
First thing, I prepared my 9×13 pan. These are sticky bars due to that caramel center, so I lined my pan with foil, enough to hang over the sides to help remove the bars from the pan, and then I sprayed the foil with nonstick spray.
Then, I got to work on my chocolate chip cookie dough.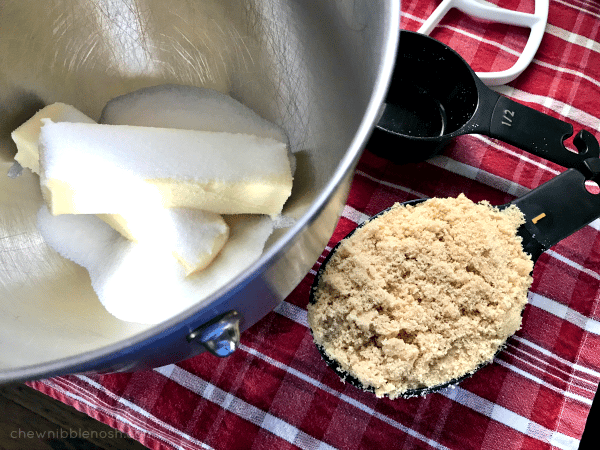 It's a simple enough dough, nothing out of the norm. I creamed my butter and sugars together before mixing in my eggs, vanilla and dry ingredients.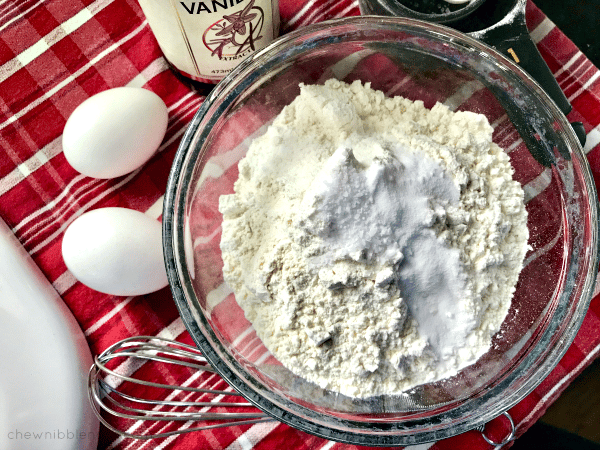 Once the dough came together, I added in a bag of semi-sweet chocolate chips and gave them a good stir in the mixer.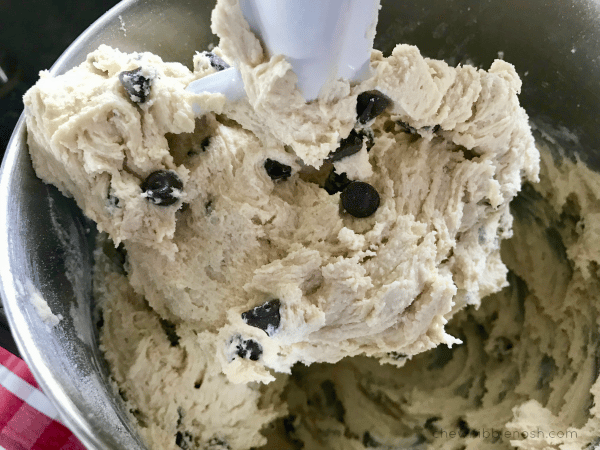 I scooped half of the cookie dough out and carefully spread it out to fill the bottom of my prepared baking dish. The easiest way I've found to do this is to deposit big clumps of the dough, and then spread them out with an offset spatula to cover the pan from edge to edge evenly. Don't be afraid of using your hands, though. If you find the dough a little tricky, spray your hands with nonstick spray and start pressing it in there.
Now it was time to move onto that gooey caramel center. All it took was a few minute on the stove melting down a package of caramels and a can of sweetened condensed milk.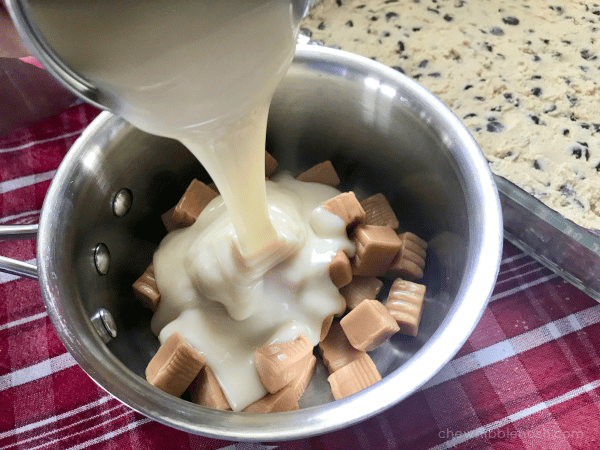 Melt it slow, and steady, stirring all the while and before long, you can easily pour it over the top of your cookie dough in the pan.
Once the caramel is down, I like to sprinkle it with just a smidge of flaky sea salt. You don't need a ton, but a little salt goes a long way in bringing what could be just a better-than-average cookie bar up a notch in greatness!
After the caramel was all set, I distributed the rest of my cookie dough, in small pinches over the top of the caramel. Don't spread the cookie out, just cover it with little dough bits. It will spread out on its own and the space will allow that creamy caramel to bubble its way up every once in a while.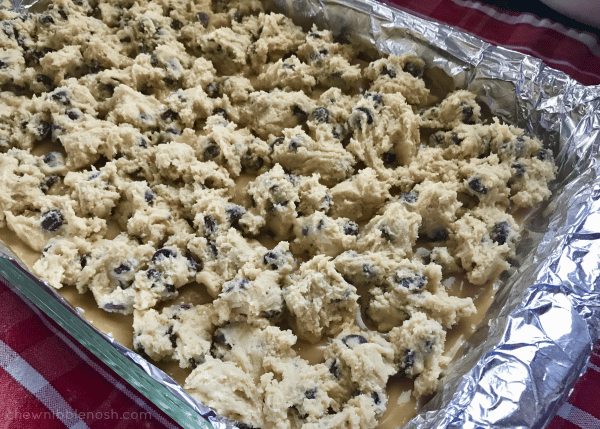 Once the cookie dough is all nestled in, it's time to pop these sweet little devils in the oven for about 25 minutes.
Once they're toasty brown, and the center is set, you can remove them from the oven and finish them off with another sprinkle of flaky salt.
They'll take a little while to cool completely, but be patient, it's worth the wait! Once they've cooled, carefully remove them from the pan by lifting up on the foil you lined the pan with. Then, tenderly, peel the foil from the block of cookies. Then, it's time to slice them up, take a deep breath, and dive in.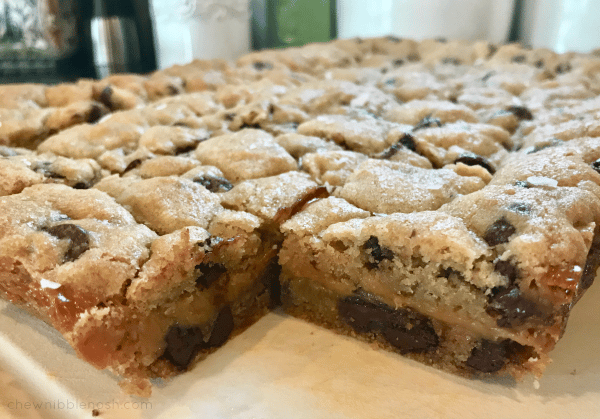 They're perfect. Really. And if you're an edge-of-the-brownie fan, I can pretty much guarantee you'll flip over the corners and edges here. Those chewy caramel bits around the edges are my favorite part. That said, I'll gladly take a middle piece any day. And everyone I've shared them with will too.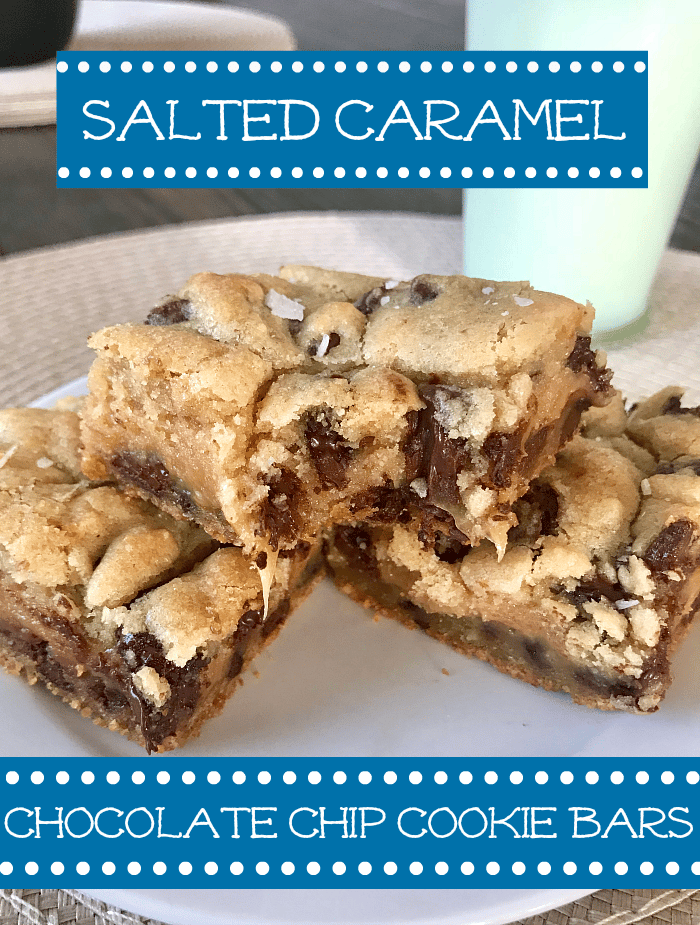 Adapted from A Spicy Perspective
Steps
| | |
| --- | --- |
| | Preheat the oven to 350*F. Line a 9x13 inch baking pan with foil. Give the foil a good coat of nonstick spray, all over the bottom and up the sides of the pan. You'll thank me when it's time to peel the foil off of the baked bars. ;) |
| | Beat the softened butter and both of the sugars together until light and fluffy, about 2 minutes. Add in the eggs and vanilla and mix until combined. |
| | In a medium sized bowl, stir together the flour, salt, and baking soda. Turn the speed on the mixer to low and gradually add the dry ingredients. Mix just until the dough comes together. Stir in the chocolate chips. |
| | Press half of the cookie dough into the bottom of the prepared baking dish. |
| | To make the caramel filling, melt the unwrapped caramels and can of sweetened condense milk together over medium-low heat in a small saucepan. Stir continuously, until the mixture is creamy and smooth. |
| | Remove the pan from the heat and pour the caramel over the cookie dough in the pan. Make sure it spreads evenly to fill the pan. Sprinkle with just a bit of the flaky sea salt. |
| | Drop the rest of the cookie dough, in small clumps, over the top of the caramel to fill the pan. |
| | Bake the bars at 350*F for 25-30 minutes, until nicely golden and set in the center. Give the finished bars one more sprinkle of flaky sea salt. Remove them from the oven and place on a cooling rack to cool completely before slicing. |
| | When you're ready to slice them up, lift the bars out of the pan using the foil you lined the dish with. Carefully peel the foil from the cookies, and then slice into small bars. Store in an airtight container for up to 5 days. |
| | |