Ingredients
2 broccoli crowns, cut into florets

1/4 cup finely chopped onion

1 cup low-fat chicken broth

2 cups (8 oz.) low fat extra sharp cheddar cheese, shredded

(I've used both Cabot 50% and 75% low fat extra sharp cheddars and they work wonderfully!)

1/4 cup seasoned Panko bread crumbs

(I seasoned with 1/4 tsp. of both seasoning salt and oregano.)

2 Tbsp. grated Parmesan cheese
Directions
Hi! Remember me?
I know, I know. It's been a really long time.
I realize there are many of you who skip the reading bit and go right to the recipe, and there's no shame in that. But, for those of you who actually read my blog posts, I just want to say thank you for your comments, emails, posts, and concern asking "Where are you?" and for your continued support during my (longer than expected) hiatus. I have no excuses other than "life just got really busy"! All is well and we're all happy and healthy, so no worries there. I'm just a busy girl, and I know that so many of you know how that goes! I'm going to try my best to keep posting new recipes and get back into the groove. Bear with me.
So, school is back in session here. Our summer flew by in a flash, and we're back to early mornings and heavy backpacks. Back to school also means back to the extracurricular schedule. As scary as the thought of watching my oldest drive away once she gets her license in a few months is, I'm so looking forward to my  position as family taxi driver dwindling down to an occasional ride. Heck, I might have so much time on my hands then that I'll spend all of my luxurious spare time whipping up dreamy things in the kitchen, and I'll be able to update this blog daily!
But until then, I'm cooking on the fly and getting back into the grove of trying to make sure we can all sit down to dinner together at some point during the evening.
I made this for dinner on the first day of school. I knew I'd have hungry girls on my hands, and I knew they'd be pretty tired too. What do I want when I'm really hungry and tired? Comfort food.
I've adapted this recipe from Skinnytaste's Broccoli Macaroni and Cheese, and I've made it quite a few times. I've tweaked things here and there, basically based on what I already have in my pantry, but the idea is the same. It's a cozy, hearty, tasty meal that you don't have to feel guilty about. I am ALL for not feeling guilty after dinner.
While I preheated my oven and got my water boiling, I chopped up a couple of broccoli crowns and a bit of onion. I also grated an eight ounce block of reduced fat sharp cheddar.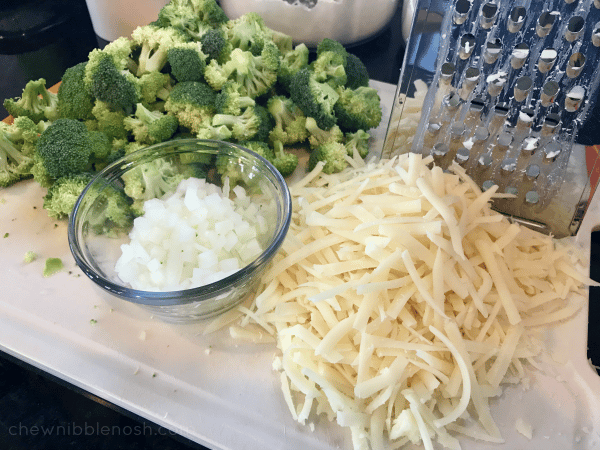 Reduced fat cheese is a tricky thing. 99% of the time, I'll tell you to skip it. That it's not worth it. Go big, or go home. But in this case, using high quality reduced fat cheese (In this case, I used Cabot's 75% reduced sharp white cheddar) still results in a really creamy, cheesy sauce.
Once the water was boiling, I salted it and then added in my pasta. After a couple of minutes, I threw in the broccoli.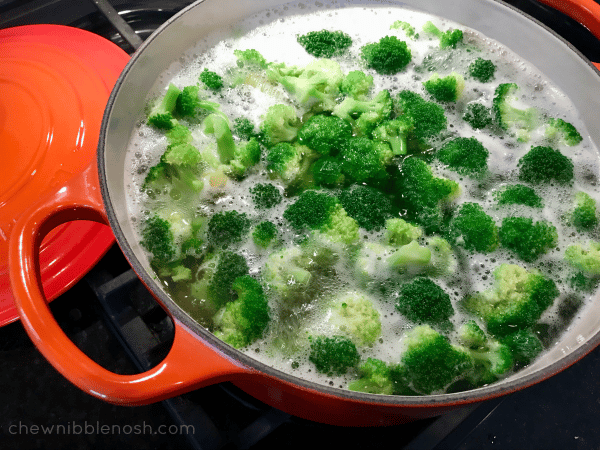 I didn't want the pasta and broccoli to overcook, because it was going to cook a bit in the oven as well, so when the pasta still had a little bit of a bite to it, I drained it all and set it aside.
Next came that cheese sauce. I started by sautéing the diced onion in just a smidge of butter.
Once the onion had softened, I sprinkled in some flour, and whisked the butter, onion, and flour together for a minute or so to help cook out that flour-y taste. Then, I carefully whisked in two cups of skim milk and a cup of chicken broth.
I kept the pan on the stove, whisking, until it was bubbly and thick. Then, I removed it from the stove, stirred in my shredded cheese, and seasoned with salt and pepper.
It didn't take long before it was thick and creamy.
Once the sauce was settled, I stirred in my cooked pasta and broccoli.
When it was well combined, I poured it into a baking dish that I'd sprayed with nonstick spray. And then I finished it off with some Panko breadcrumbs that I'd seasoned with a hefty dash of seasoning salt and oregano, mixed with a bit of grated Parmesan cheese. You could use preseasoned breadcrumbs, but I was out of them. So, I made do. And I prefer the crunch of Panko breadcrumbs over regular breadcrumbs anyway, so it's all good!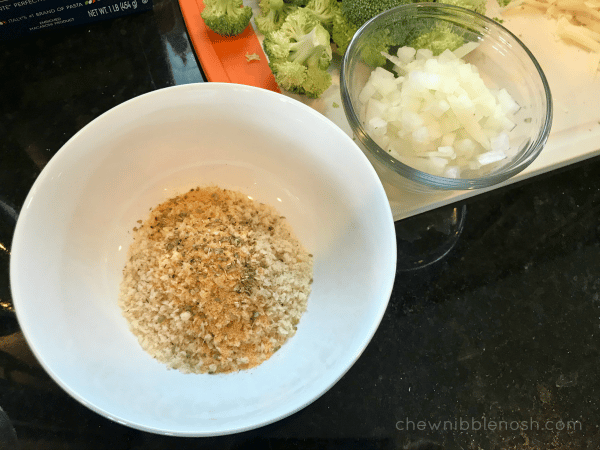 The Mac & Cheese headed into the oven for about 20 minutes, until the sauce was bubbly and the breadcrumbs were starting to toast on top. And then, we eagerly dug in.
That night, we were treated to a delicious, happy meal with two excited, but tired, girls. They both had a great first day of school, and are really excited for the year to come. This cozy, creamy Mac & Cheese was the perfect way to end the day together. No complaints at the dinner table makes for a winning night in my book.
Here's to a great year for all of us. May your students be happy and healthy, your patience be long, and your chauffeur minutes be minimal.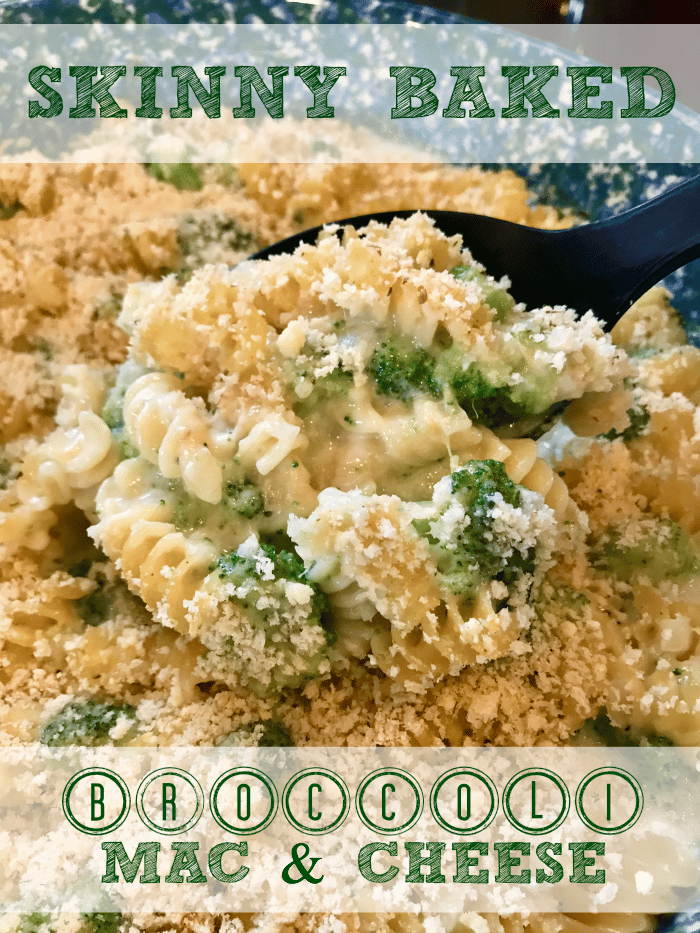 SKINNY BAKED BROCCOLI MAC & CHEESE
Adapted from Skinnytaste.com
Steps
Preheat oven to 375*F.
Bring a large pot of salted water to a boil on the stovetop while you chop up your veggies and shred your cheese.

Add the pasta to the boiling water. After a few minutes, add the broccoli. Stir. Cook the pasta and broccoli until they are just about done, but still have a little bite to them. They'll finish cooking in the oven. When they're almost done, drain and set aside.

Melt the butter in a large nonstick pan over low heat. Add the chopped onion and cook until soft, about 2 minutes. Sprinkle in the flour, and stir for about a minute.
Carefully whisk in the skim milk and chicken broth. Raise the heat a bit, and continue to whisk until the sauce thickens and is smooth and creamy, about 5 minutes.

Remove the pan from the heat. Add the shredded cheese to the sauce, and stir until melted and smooth. Season with salt and pepper to taste.
Add the cooked pasta and broccoli to the pan, and stir to combine.

Spray a 9x13 inch baking dish, or similar dish, with nonstick spray. Pour the pasta mixture into the prepared pan.
Combine the breadcrumbs, seasonings and Parmesan cheese. Sprinkle this mixture over the pasta.

Bake at 375*F until sauce is bubbly and the breadcrumbs are just starting to toast up.
Enjoy!