Directions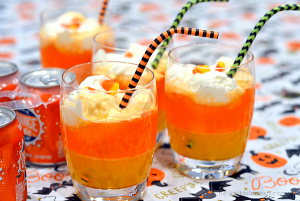 Halloween is creeping up, and before you know it, little ghosts and goblins will be running up and down the streets showing off their costumes and filling their trick-or-treat bags to the brim.  What happens when they get home?  Well, the annual "Candy Sort", of course.  Halloween isn't Halloween without taking careful inventory of every last bit of sugar in your bag.  Everything has a pile, from the prized and elusive full-sized candy bars, right down to those weird little peanut butter taffies in the black and orange wax paper wrappers.
These Candy Corn Coolers are a fun Halloween treat to sip on after a hard night's work out on the trick-or-treat trail.  They are cute as can be, and even better, are really easy to put together.  Actually, even better than that, they taste nothing like real candy corn.  Though cute and festive, candy corn ranks up there with those little black and orange taffies in my personal candy favorite inventory.   These coolers are fruity and fun, and sure to make your littlest goblins smile.
I started by mixing some boiling water with a small box of lemon Jello.  Then, once the powder had dissolved, I stirred in two cups of Mango Nectar.
Once it was all mixed together, I divided the mixture between six small glasses, making sure they were filled up about a third of the way.
Once they were, I put them in the fridge to set up for a couple of hours.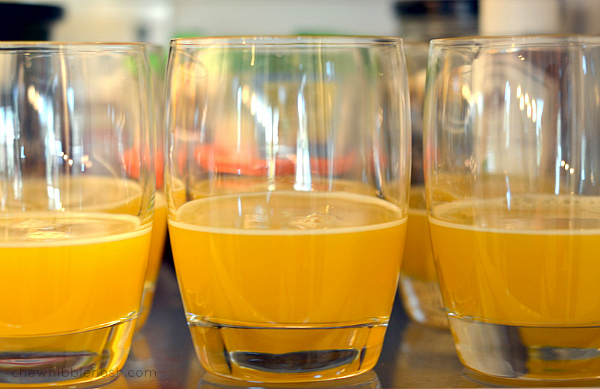 The Jello stays fairly fluid, but is still steady enough to layer another liquid on top of, so when it was time to serve them up, I carefully poured in the next layer of orange soda.
I placed a wooden spoon above the Jello layer, to help spread out the soda a bit as it poured so it wouldn't hit the yellow layer too hard.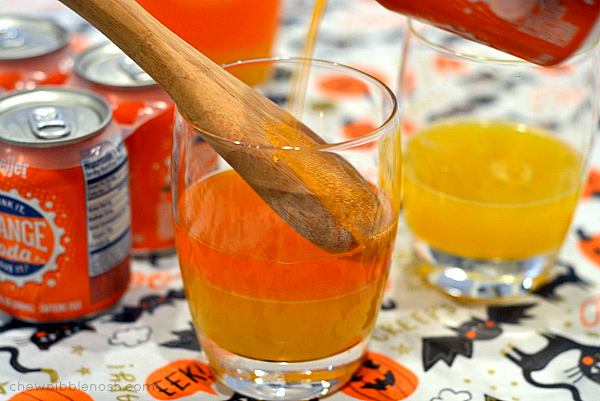 Once the soda was in there, I just needed my white layer, and for that, I quickly whipped up some whipping cream together with a little bit of honey to sweeten it up.
I put a few dollops of cream on the top, and finished off each cooler with a few mini candy corns.
The kids loved these!  They mixed them up with their straws before sipping, and they turned into a fun, creamy, cool, fruity treat.  And check out these super cute paper straws!  These are Aardvark paper straws,  made right here in Indiana.  They're bendy,  and come decorated for virtually every occasion you can think of.  They are available now at Party City!  A pack of 24 ranges in price from $2.99 to $5.25.
Happy Halloween!  Here's to a night of fun and friendly spooks.
CANDY CORN COOLERS
Adapted from Better Homes & Gardens
Candy Corn Coolers
Author:
Prep time:
Total time:
Ingredients
1 4-serving box of lemon flavored gelatin
1 cup boiling water
2 cups Mango Nectar
3-4 cups orange soda, chilled
1 cup heavy whipping cream
1 Tbsp. honey
candy corn, optional
Instructions
In a large measuring cup, combine the gelatin and boiling water. Stir until gelatin is dissolved. Add the mango nectar and stir until combined. Pour the mixture into six small tumbler glasses, until each glass is filled just about a third of the way up.
Place the glasses in the refrigerator and chill for two hours or until set.
Carefully pour some orange soda over the gelatin layer. Using a wooden spoon to help dissipate the soda helps tremendously!
With a hand mixer, beat the cream and honey together until stiff peaks form. Spoon a couple of dollops of the cream over each orange layer, and top with a few candy corn, if desired.
Stir together before drinking.
HAPPY HALLOWEEN!