Directions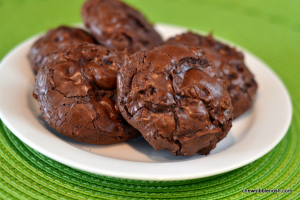 Last week, we were so excited that my cousin, Jessica, was able to come and visit us for a few days!  Jessica is a superstar HR manager by day, and by night she loves to cook and share her recipes on her own food blog, Sassy Southern Yankee.  She had a conference she needed to attend that was practically in our backyard, so we served as home base during the week.  Prior to Jess' visit, I made sure to ask her if she had any food allergies or food dislikes so I could make sure to plan appropriately. I knew that Jess had been gluten-free for a while, but it was then when I learned that she'd been recently diagnosed with a wheat allergy.
I made sure to adjust our meals accordingly, and I wanted to make sure that she had a special treat when she came home from being stuck in meetings all day, so that's when I turned to this amazing, fudgy cookie recipe.  Going gluten-free or wheat-free certainly isn't the easiest thing to do, however we're lucky we live in an age where there are more and more options available, be it in the grocery store or in the form of an online recipe.  I easily found this recipe online and decided it might be the perfect little treat…even for those of us who love a little gluten in our lives.
Cookies really don't get much simpler than this.  In a large bowl, I mixed together some cocoa powder, powdered sugar, a teaspoon of espresso powder (No worries if you don't like coffee.  The little bit of espresso just bumps up the chocolate flavor a bit!), a dash of salt, some vanilla, and a couple of egg whites.
The batter was rich, sticky and fudgy.  Perfect.  So, of course, I couldn't stop there.  I added a couple of cups of chocolate chips and gave it a good stir.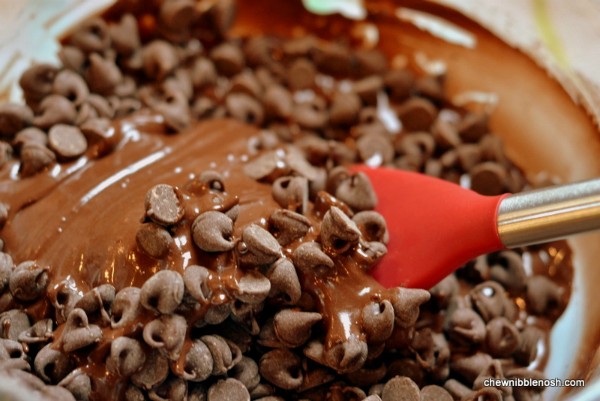 You could add a cup of chocolate chips and a cup of toasted chopped nuts, but I didn't have any nuts on hand, and I figured an overabundance of chocolate couldn't hurt.
Once the chips were mixed in, I scooped the cookies out onto cookie sheets that I'd lined with parchment AND sprayed with nonstick spray.  This was sticky batter, and I wasn't going to mess around with it sticking to the pan!
The cookies went into the oven for ten minutes, and baked into these perfect little chocolatey pillows.  They were puffed and just starting to crack about on top when I took them out.
Since the batter was so fragile, I let them cool right on the baking sheets.  This way, the cookies had plenty of time to set, and warmth to keep them going a bit if they needed to.
Oh boy, were these good!  Every single one of us devoured these for dessert.  They don't bake up cakey, like a flour based cookie.  They were like little super fudgy, chewy, gooey, yummy bits of heaven.  If you are a chocoholic, these are the cookie for you!  I love that I've found a simple dessert to share with my gluten/wheat-free friends and family…and they are so tasty, I can even see myself whipping up a batch when they aren't around!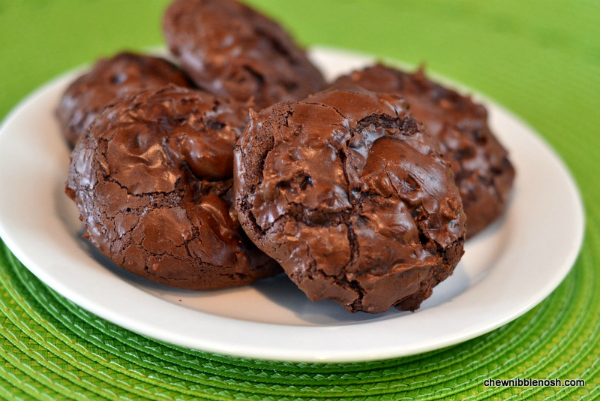 FLOURLESS DOUBLE FUDGE COOKIES
Adapted from King Arthur Flour
Flourless Double Fudge Cookies
Author:
Prep time:
Cook time:
Total time:
Ingredients
2 1/4 cups powdered sugar
1/4 tsp. salt
1 tsp. espresso powder, optional
1 cup cocoa powder
3 large egg whites
2 tsp pure vanilla extract (gluten-free)
2 cups chocolate chips (or do half and half with chips and nuts)
Instructions
Preheat oven to 350*F. Line two cookie sheets with parchment paper, and spray with nonstick spray. Set aside.
In a large bowl, combine the powdered sugar, cocoa powder, espresso, salt, egg whites, and vanilla. Stir until smooth.
Add the chocolate chips, and stir til combined.
Scoop out tablespoonfuls onto the prepared cookie sheets, making sure they are a couple of inches apart.
Bake, at 350*F for 10 minutes, or until edges look set and the middles are puffy and starting to crackle.
Remove from the oven and allow to cool on the cookie sheets.
Store in an airtight container.
ENJOY!