Directions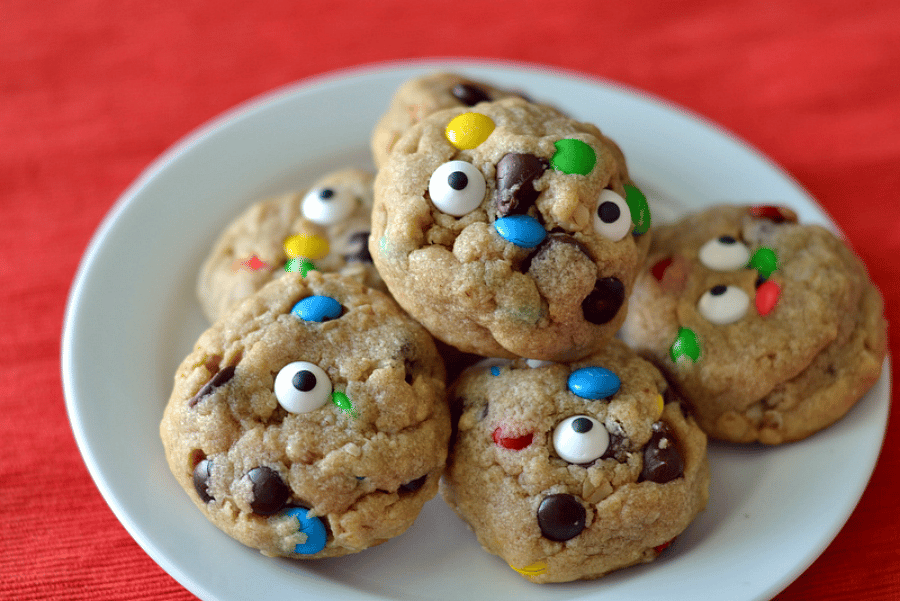 I'm all for elaborate holiday recipes, don't get me wrong, but sometimes life gets in the way and you want to have something special for, oh let's say, Halloween, but you're short on time and energy.  That's when adding a simple touch to a familiar favorite can make all the difference.  Fun? Check.  Sanity in place after not having to deal with five dozen meticulously decorated Candy Corn cookies?  Check.
I have always loved Monster cookies.  I'm going to assume they were named that because they are pretty much the Frankenstein of the cookie world. They are lumpy and bumpy and you've got peanut butter, oatmeal, chocolate chips, and M&M's involved in one cookie.  And that's a GOOD thing!  They are perfectly wonderful, little lumpy bumpy creatures.  This version is soft and chewy, as I like to take them out of the oven while they are still pretty soft.  Then, to finish them off and turn them into a Halloween treat, I simply pressed some candy eyes into place.  Boom.  Done.
To start, I mixed up a pretty standard cookie dough base.
Butter, brown sugar, and white sugar were creamed in my mixer.  Flour and baking soda mixed on the side.
Once the butter and sugars were creamy and light, I added in a hefty dose of creamy peanut butter, two eggs, and some vanilla.  Then, I slowly blended in my flour mixture until I had a pretty light and fluffy dough on my hands.
Then, it was time to Franken-stuff these cookies.
In went the oatmeal, chocolate chips, and mini baking M&M's.  You could use full-sized candies, but I like the little bursts of color.
The dough was pretty soft, so I covered it with plastic wrap and let it chill out in the fridge for a little while as I preheated my oven and got my cookie sheets lined with parchment.
Once the oven was ready, I started scooping out my dough.  I rolled each scoop into a ball, and set it on the cookie sheet.  I had saved a few mini M&M's, and I pressed a couple into the tops of each cookie, so that color really came through.
The cookies went into the oven for just about nine minutes.  At this point, they were golden on the bottom, cooked on top, but still a little soft in the middle.  I removed the cookie sheet from the oven and allowed the cookies to rest for a few minutes on the cookie sheet before I moved them to a cooling rack.
While they were still nice and soft, though, I pressed the candy eyes into place, which gave each cookie a pretty distinct personality.
You can't bake them with the candy eyes, or their eyes will…well…weep all over the place.  Save the finishing touch for after they come out of the oven!
So, there you go.  Simple, lumpy-bumpy delicious fun, with just a hint of spooky for your Halloween table. Who doesn't have time for that?
MONSTER COOKIES
Monster Cookies
Author:
Prep time:
Cook time:
Total time:
**The candy eyes are a Wilton product, and can be found pretty easily in the cake decorating section of your favorite grocery, craft, or department store.
Ingredients
2 sticks (1 cup) salted butter, softened
1 cup packed light brown sugar
1/2 cup sugar
1 1/2 cups creamy peanut butter (I use Jif)
2 eggs
2 teaspoons pure vanilla extract
2 1/2 cups all-purpose flour
1 teaspoon baking soda
1 cup quick cooking oats
1 bag mini baking M&Ms
1 cup semi-sweet chocolate chips
1 package Wilton candy eyes *see note above
Instructions
Preheat oven to 350*F. Line baking sheets with parchment paper, and set aside.
In a large bowl, or in a heavy-duty mixer, cream the butter, brown sugar and white sugar on medium speed until light and creamy, about 3 minutes.
While that is mixing, combine the flour and baking soda together in a medium sized bowl. Set aside.
Once the butter and sugar is creamed, mix in the peanut butter until combined, then add the eggs and vanilla. Mix until combined. Scrape down the sides of the bowl.
Gradually add the flour mixture, mixing on low until just combined. Do not overmix.
Stir in the quick oats, all but about 1/4 cup of the M&Ms, and chocolate chips. Set remaining M&Ms aside.
Cover the bowl with plastic wrap and allow to chill for 20 minutes.
Scoop out 2 Tablespoons of dough for each cookie and roll into a ball. Place on the prepared cookie sheets. Press a few extra M&Ms into the tops of each cookie.
Bake at 350*F for 9-10 minutes, until cookies are golden on the bottom, cooked on top, but still a little tender in the middle. Allow to cool on the baking sheet for a few minutes, and then transfer to a cooling rack to cool completely. Press the candy eyes into the cookies while they are still warm.
Store the cooled cookies in an airtight container for up to a week.
ENJOY!