Directions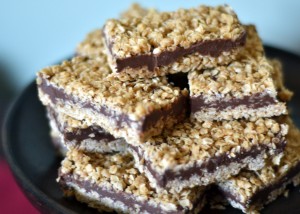 Every once in a while, a day comes along where it just won't feel complete unless I have a little bit of chocolate.  Yesterday was one of those days.  I had a busy day, was running all over the place, but the voice in my head (There's just one, and it's my voice, just in case you're a little nervous.) kept leading me to the kitchen.  I wanted to bake something up, but didn't have the time to fuss with long baking times and lots of kitchen mess.
Then, I remembered running across this recipe and wanting to give it a try.  I quickly checked my cupboards to be sure I had all of the ingredients, I did, and then got right to work.  In less than 10 minutes, my work was done and I never had to turn on my oven. Can't beat that!
I started by melting together some butter and brown sugar, along with a little vanilla, in a large saucepan.
Once melted, I stirred in a few cups of Quick Cooking oats. I stirred them on the stove top for just about three minutes, until they started to toast up just a bit and everything was blended together nicely.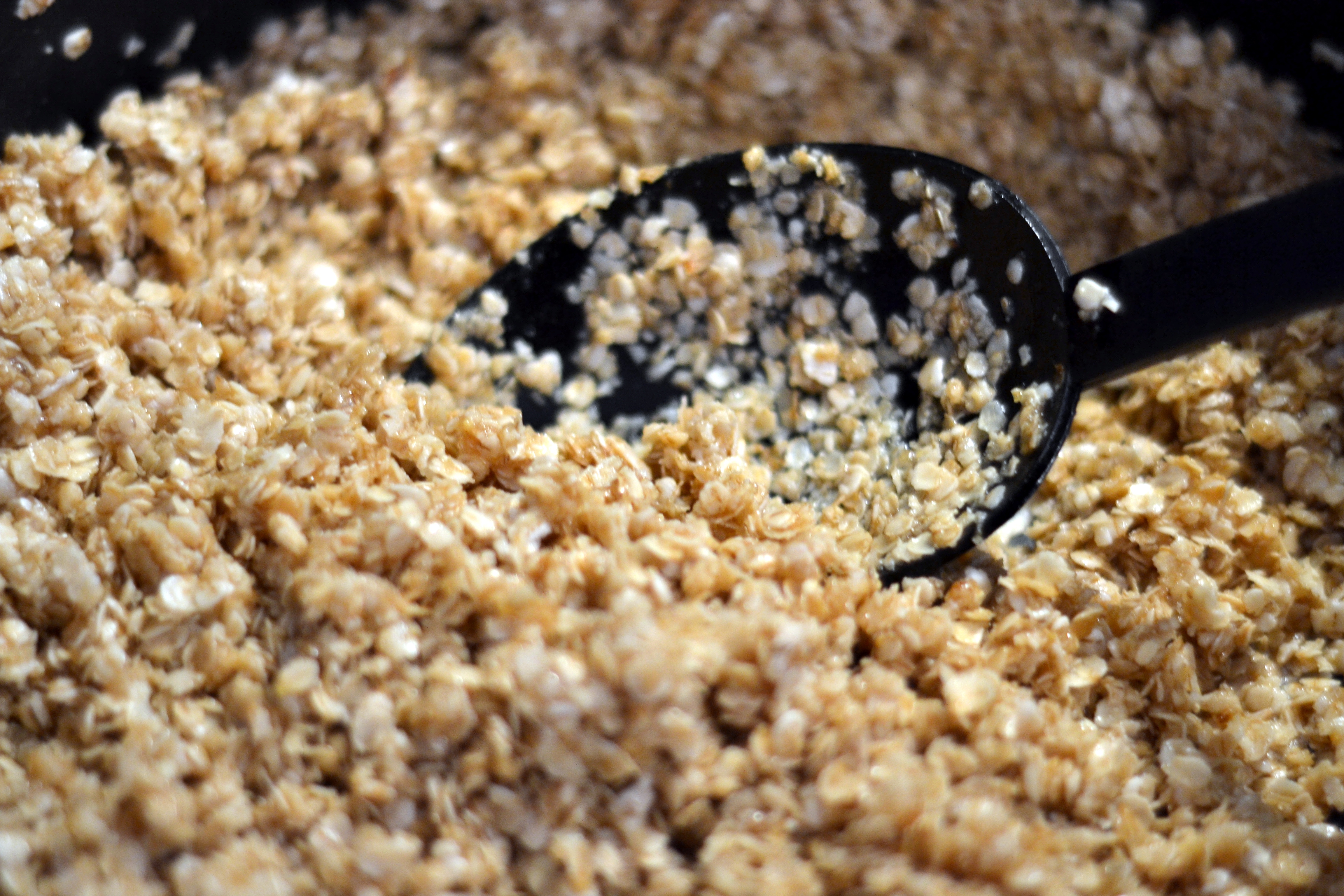 This would become the base for my cookie bars and that's all it took!
While the oats were cooking, I melted together some chocolate chips and creamy peanut butter in a smaller pan.
Once that was melted and smooth, I pressed a little more than half of the oatmeal mixture into a 9×9 cake pan.  The chocolate mixture went on top.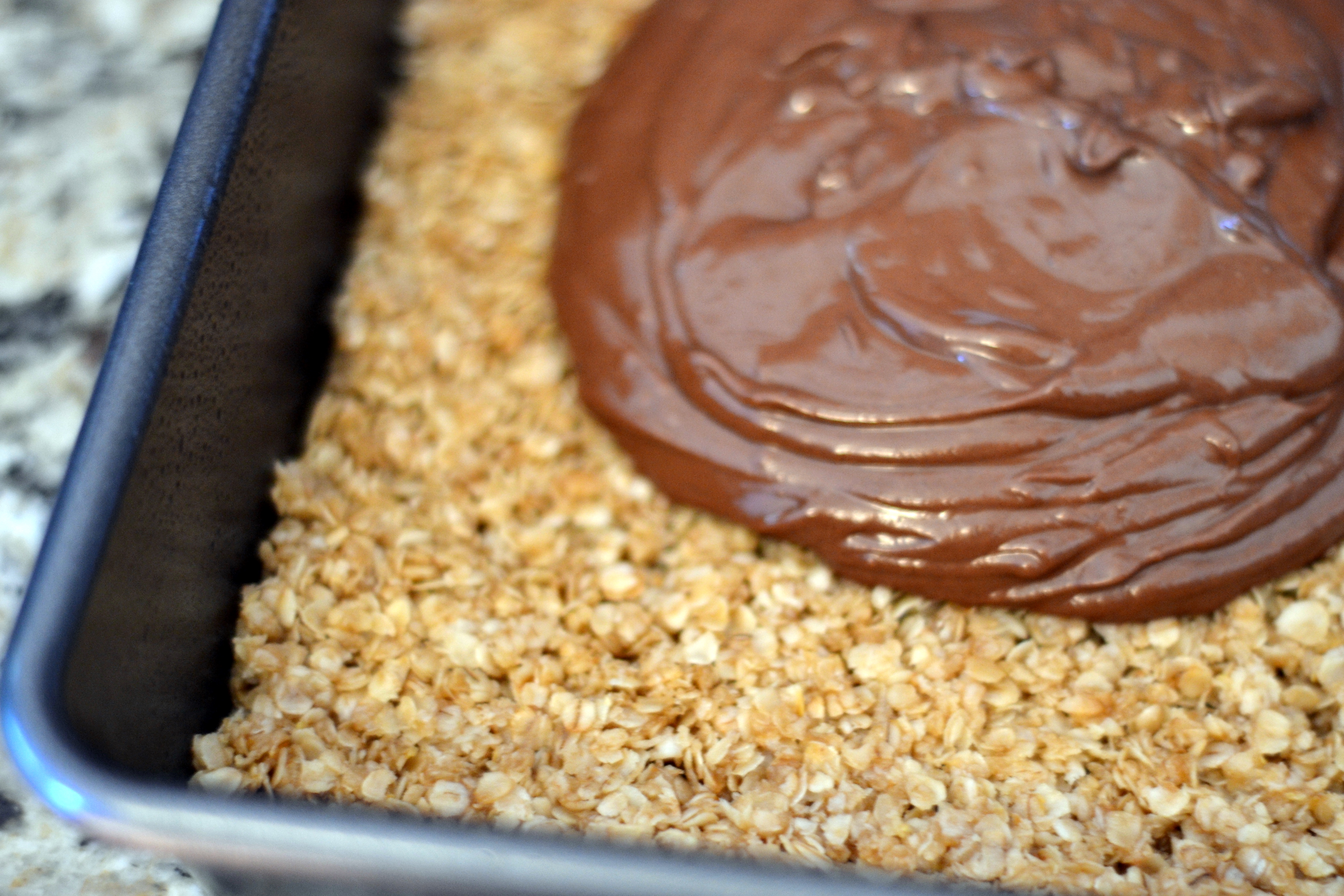 I spread out the warm chocolate and then sprinkled the rest of the oatmeal over the top, lightly pressing it down into the chocolate to make sure it was there for good.  That's all.  Recipe complete!
The only not-so-convenient part was, now I had to let them chill out in the fridge for a couple of hours to set the chocolate.  That actually worked out well, though, because it was time to go pick up the girls from school and start our nightly craziness.  The bars would make the perfect treat for dessert.
I brought them to room temperature before slicing them up, and when I did, they were perfect! Cookies don't get much easier than this and they are really tasty to boot!
My Crazy-Busy-Day-But-I-Need-to-Bake mission was accomplished and I didn't even need to bake anything.
NO-BAKE CHOCOLATE PEANUT BUTTER OATMEAL BARS
Adapted from AllRecipes
No-Bake Chocolate Peanut Butter Oatmeal Bars
Author:
Prep time:
Cook time:
Total time:
Ingredients
3/4 cup butter
1/2 cup packed brown sugar
1 tsp. vanilla
3 cups Quick Cooking oats
1 cup chocolate chips
1/2 cup creamy peanut butter (I used Jif)
Instructions
Spray a 9×9 inch pan with nonstick cooking spray.
In a large saucepan, melt the butter. Add the brown sugar and vanilla and mix together. Add the oats and stir, cooking over low heat, for 3-4 minutes until well blended. Press 3/4 of the mixture into the bottom of the prepared pan. Save the rest for the topping.
Melt together the chocolate chips and peanut butter in a small saucepan over low heat, stirring frequently, until smooth. Pour the chocolate mixture over the oatmeal crust and spread out evenly to all edges of the pan.
Crumble the remaining oatmeal mixture over the chocolate layer, pressing it in gently. Cover the pan and refrigerate for 2-3 hours or overnight to set the chocolate. Bring to room temperature before cutting into bars. Store in an airtight container.
ENJOY!