Directions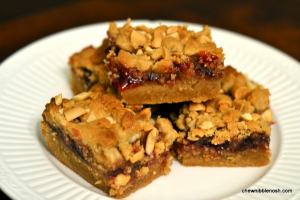 Some things, you never outgrow.  There's just something about peanut butter and jelly that comforts, and takes me back to simpler times.  It's not often that I grab a PB&J for lunch now that I'm all grown up.  It usually only happens when it's "that time again" to run to the grocery store because we're out of everything else.  But, when I do have one, it's always comforting.
I've been wanting to try these for a while, and I'm so glad I did.  I finally got around to it on Oscar night.  I mean, you must have something to nibble on to keep you wide awake until midnight, right?  (This is one of a few nights of the year where I really wish we weren't in the Eastern Time Zone.  And really, how silly is it to have these types of late night events on a Sunday night?  But I digress…)
I started by mixing up a very thick, very rich cookie dough.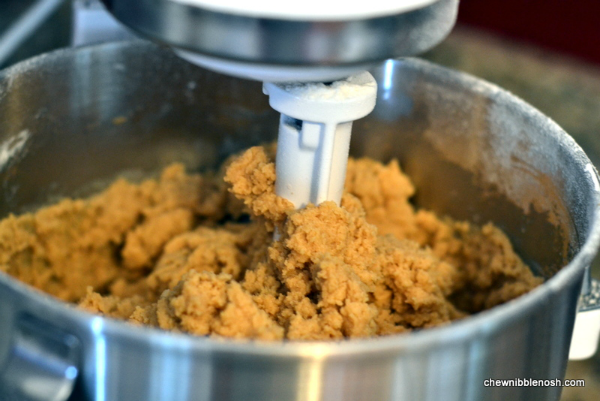 We're talking two cups of peanut butter in there, folks.  This isn't your average peanut butter cookie.
Once it was mixed well, I patted about two-thirds of it into the bottom of a 9×13 inch baking pan that I'd buttered and floured.
On top of the dough, I spread a heap of raspberry jam.  Raspberry is my PB&J jam of choice, and none of that seedless stuff.  Give me the seeds, please.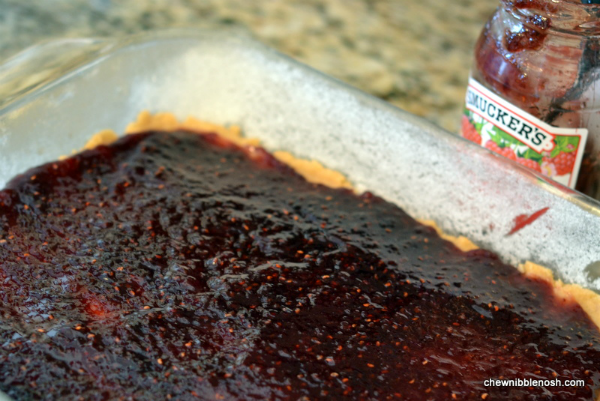 Once the jam was spread evenly from edge to edge, I crumbled up the remaining dough and sprinkled it over the top of the jam.  There was a significant amount of dough left, so it covered pretty much everything.
Over that, I sprinkled some chopped, salted peanuts.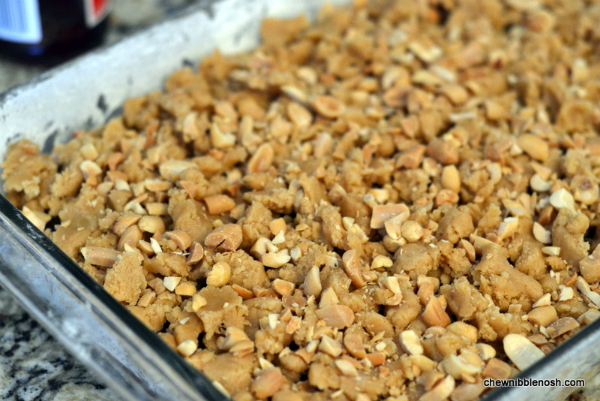 Then, they were ready to head into the oven.
The bars baked for about forty-five minutes, until they were beautifully golden brown and I could smell those toasted peanuts.
These bars need to cool completely before you dig into them, and they're thick, so they take a little while longer than the average bar cookie.  They are worth the wait, though!
I won't be waiting until next Oscar season to make these again.  They were really tasty!  In fact, if there was a category for 'Best Dessert in a Supporting Role', these little guys might just grab a nomination.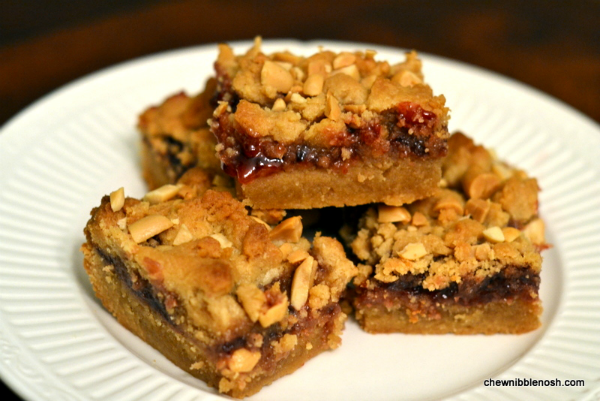 PEANUT BUTTER & JELLY BARS
Adapted from Ina Garten
Peanut Butter & Jelly Bars
Author:
Prep time:
Cook time:
Total time:
Ingredients
2 sticks butter, at room temperature, plus more for greasing the pan
1 1/2 cups sugar
1 teaspoon pure vanilla extract
2 eggs, at room temperature
2 cups creamy peanut butter (I used Jif)
3 cups all-purpose flour, plus more for dusting the pan
1 tsp. baking powder
1 1/2 tsp. kosher salt
1 1/2 cups (18 oz.) raspberry jam, or whatever kind suits your fancy
2/3 cup salted peanuts, coarsely chopped
Instructions
Preheat the oven to 350*F. Butter and flour a 9×13 inch pan and set it aside.
In the bowl of an electric mixer fitted with the paddle attachment, cream the butter and sugar on medium speed until combined and light yellow, about 2 minutes.
Turn the mixer down to low-speed, and add the vanilla, eggs, and peanut butter. Mix until well combined.
In a small bowl, combine the flour, salt, and baking powder. With the mixer on low-speed, gradually add the flour mixture to the peanut butter mixture. Mix until the dough just comes together. (You may have to stir in some remaining flour bits from the bottom.)
Spread two-thirds of the dough into the prepared pan. Pat it into place with your hands, making sure it's in an even layer across the bottom.
Spread the jam over the cookie layer evenly.
Take the remaining dough and crumble it over the jam layer. Sprinkle the chopped peanuts over the top.
Bake the bars for about 45 minutes, until they are golden brown.
Cool completely, and cut into small squares.
Store in an airtight container.
ENJOY!