Directions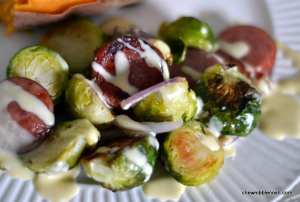 I'm sitting in my parents' kitchen right now, and my dad just saw the recipe I'm posting today.  His response?
 "I will never eat that."
My dad swears that he hates Brussels sprouts.  He hasn't tried them in years, and has certainly never had them like this.  I know that he'd really like them, if he gave them a chance. I plan on sneak attacking him at some point.  Mwa ha ha!  How often do children have to force feed their parents a vegetable?  It's going to happen though.  Just you wait.
This is a delicious, and so-simple, side dish.  My family loved it and, at some point, my dad will too.  I swear.
I started by trimming up my Brussels sprouts, cutting up a red onion and slicing up some kielbasa.  It all went into a bowl and was tossed with some olive oil, salt, and pepper.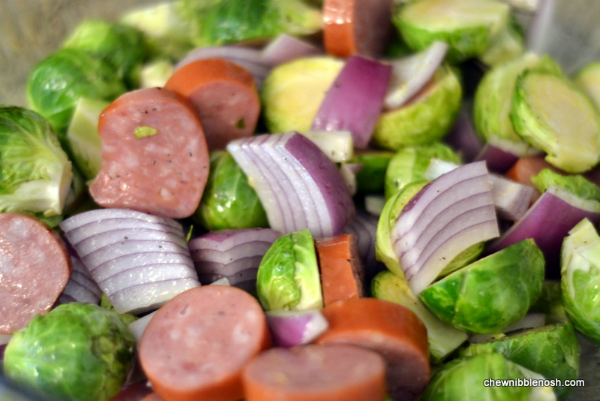 Once the ingredients were tossed together, I spread the mixture out on a cookie sheet and popped it into the oven to roast for about 20 minutes.
As it roasted, I stirred together the super quick sauce on the stove top.  I whisked together a little heavy cream, some Dijon mustard, a dab of honey, and some apple cider vinegar.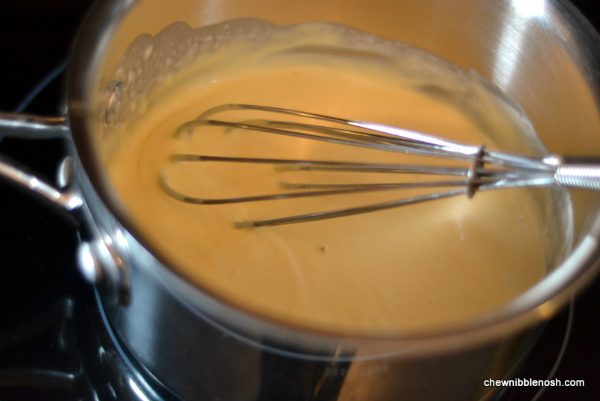 The sauce simmered on the stove for about ten minutes and thickened up nicely.
When I took the sprouts out of the oven, they were beautifully toasted, with those crisped up little leaves on top that I love.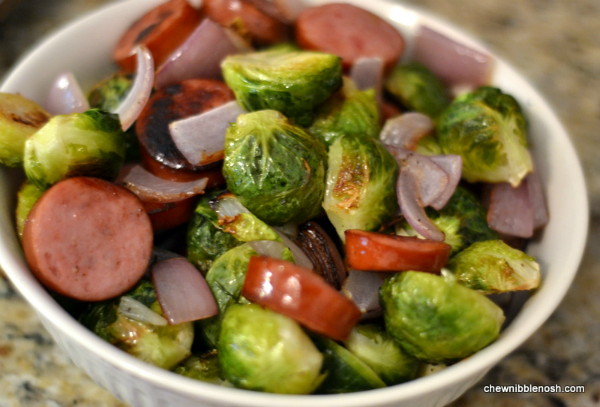 I served it up with the simple Dijon sauce and we gobbled up every last bite.  The smokiness of the keilbasa works deliciously with the toasty sprouts and onions.  Aaron and the girls loved them, and I'm convinced my dad would, too.  I may just have to take a trip to the grocery store today and surprise him.
I'll keep you posted on the results. 😉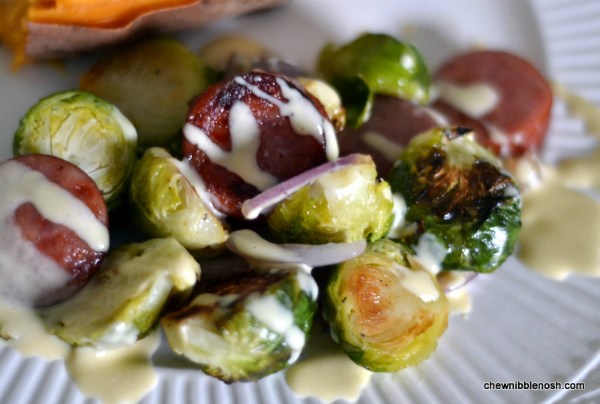 ROASTED BRUSSELS SPROUTS WITH DIJON CREAM SAUCE
Adapted from Cuisine at Home
Roasted Brussels Sprouts with Dijon Cream Sauce
Author:
Prep time:
Cook time:
Total time:
Ingredients
1 lb. Brussels sprouts, outer leaves removed, stems trimmed, and halved lengthwise
1 red onion, cut into small wedges, about 2 cups total
8 oz. kielbasa, sliced into 1/2″ slices
2 Tbsp. olive oil
salt and pepper
1/2 cup heavy cream
1/4 cup Dijon mustard
1 Tbsp. honey
1 tsp. apple cider vinegar
Instructions
Preheat the oven to 450*.
Toss the sprouts, red onions, and kielbasa slices in a bowl with the olive oil, salt, and pepper.
Spread the mixture out in a single layer on a baking sheet.
Roast for 20 minutes, or until sprouts are very tender, yet still crisp.
Meanwhile, simmer the cream, mustard, honey, and vinegar together in a small saucepan on the stove top, over low heat, for 10 minutes until slightly thickened.
Serve the sauce with the roasted sprouts.
ENJOY!