Directions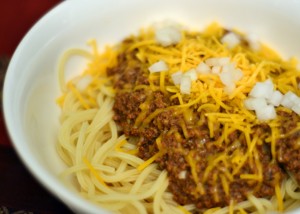 Chili is a tricky dish.  It's not hard to make, but I've found that it's a very personal, almost religious, experience depending on where you are in the country.  If you're in or around Texas, you may prefer your chili heavily spiced and heavy on the meat (not ground…God forbid) with no mention of beans, except possibly on the side.  Other areas of the country will insist that chili just isn't chili without beans and ground meat. Then, there's chicken chili (which just truly offends chili purists) and even Southwestern Chili Verde.
Then there's the Midwest, which is where I'm from.  I like to think that we're a peaceful people, accepting of all chilis and their stories.  At least I am.  If it's good, I'll eat it, beans or not.  The Midwest is home to a true original, Cincinnati chili.  A lot of chili purists will argue that Cincinnati chili isn't even chili.  When it comes right down to it, I don't care.  I've always liked it and will continue to eat it, despite the naysayers.  I grew up on it and it makes me happy…just like all other chilis.  I'm an equal opportunity chili eater.
If you've never had Cincinnati chili, know that it is different…and we like it that way.  Cincinnati chili is very smooth, consisting of finely ground beef cooked in a rich, cinnamon spiced tomato sauce.  It's often served over spaghetti, since it has more of a meat sauce consistency to it than a "regular" chili.  If you happen upon one of Cincinnati's famous chili parlors, you might order your Cincinnati chili "three-way" (spaghetti, chili and cheddar cheese), "four-way" (spaghetti, chili, chopped white onions and cheddar cheese) or even "five-way" (spaghetti, chili, onions, beans and cheddar cheese).  Whichever way you order it, it's good stuff.  It's also quite tasty on a hot dog.
Despite my love of Cincinnati chili, I'd never made it!  I ran across this recipe for Cincinnati chili in the slow cooker last week and decided to give it a try on one of our crazy busy "Mom Drives a Shuttle Bus" evenings.  It really couldn't have been much easier and with just a little extra care as it cooked, we enjoyed a wonderful, warm Cincinnati chili dinner.
I started by assembling my ingredients.  Besides the meat, onion and garlic, the group that I assembled certainly didn't look like what I usually grab when I make chili.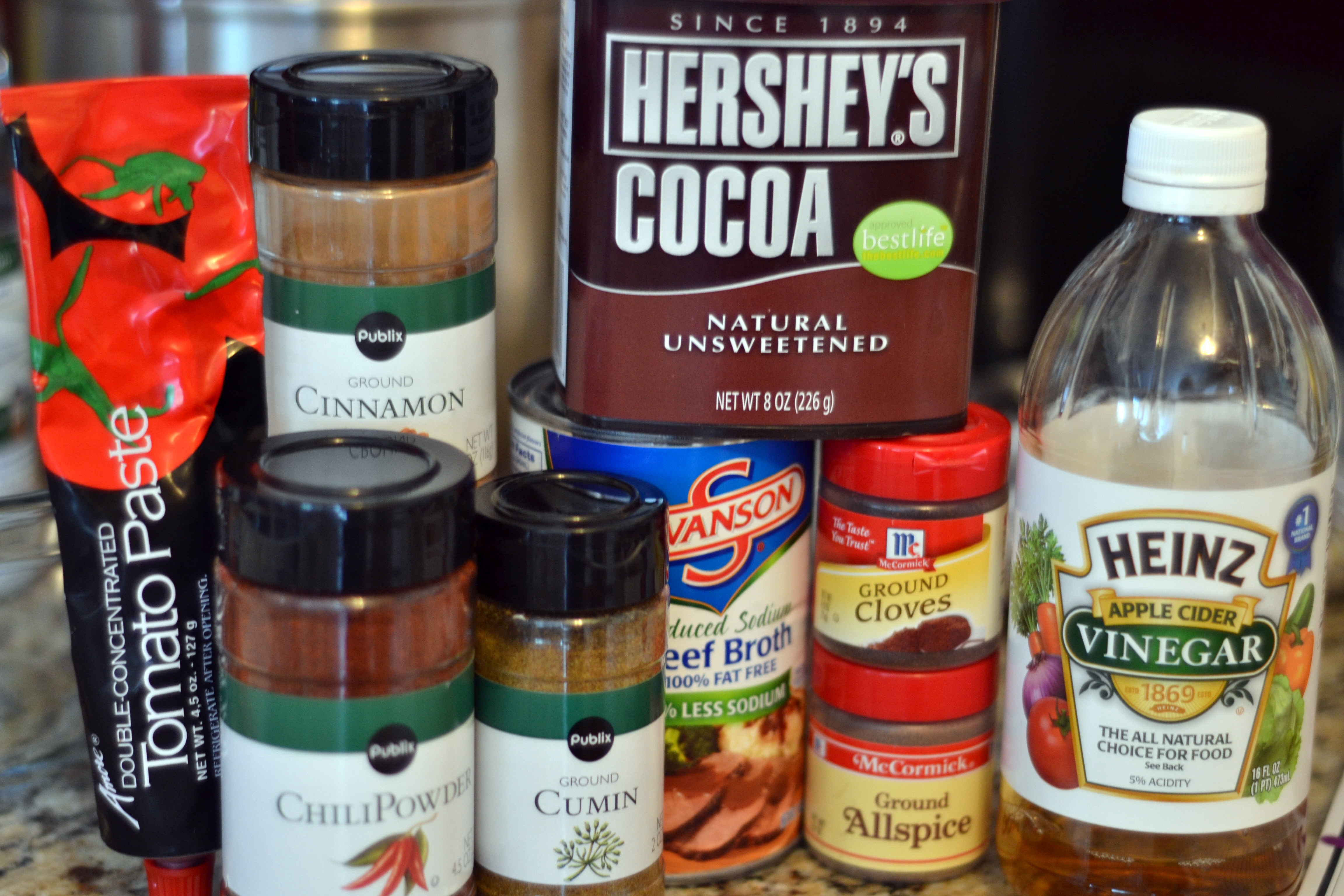 I mixed together what I needed from the above ingredients and then poured that thick, spiced tomato mixture into my crock pot.
To that, I added some diced onion and a few cloves of minced garlic.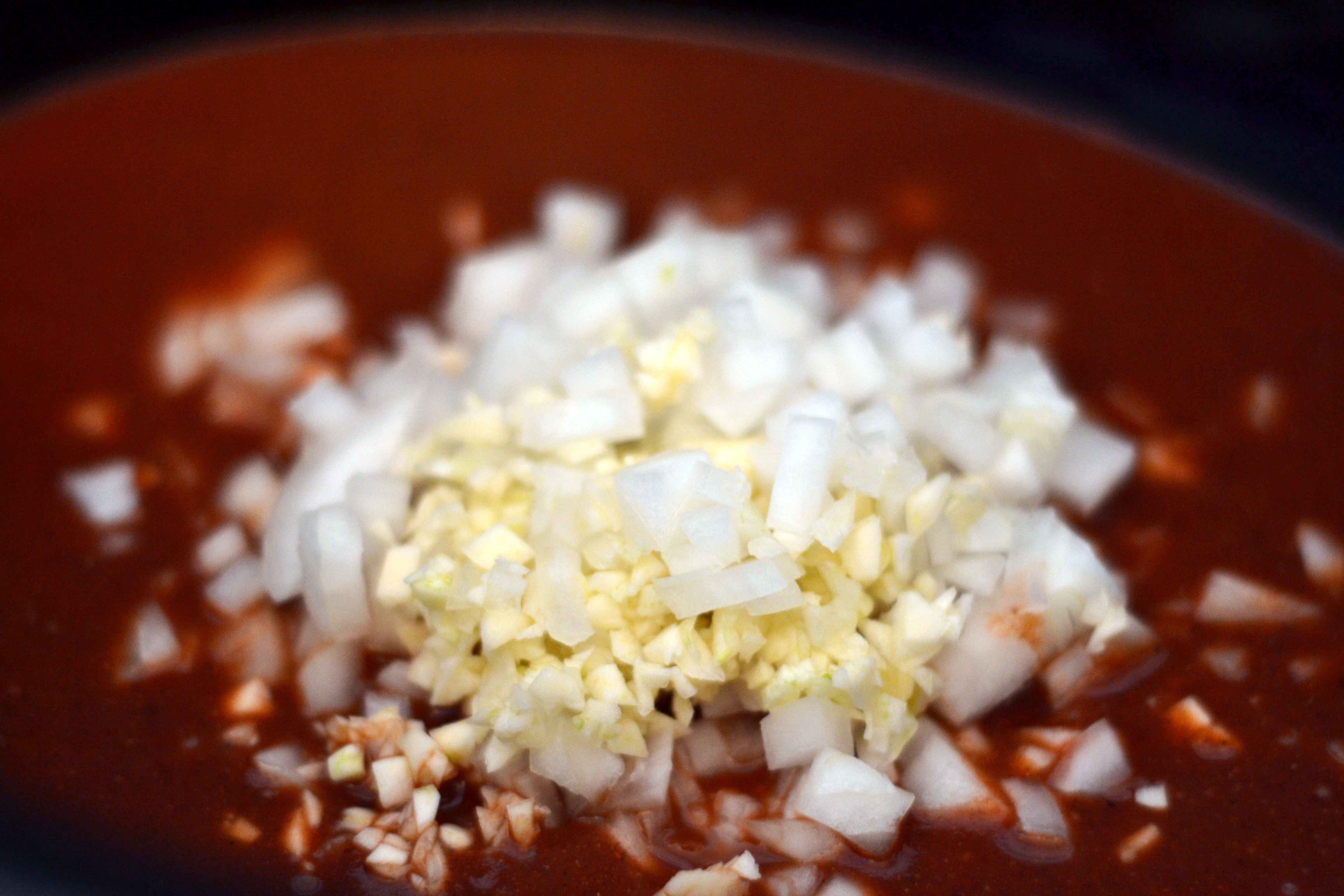 After that was mixed together nicely, I crumbled in two pounds of lean ground beef.  No need to cook up the beef beforehand.  Spending the day in the Crock Pot will cook the beef perfectly and give that smooth Cincinnati chili consistency we're looking for.
Once the beef was stirred in, I covered the slow cooker and set it to cook for six hours.
Since I ended up being home for most of the day, I did stir it a few times, just to make sure the beef wasn't cooking into a giant hamburger lump (it wasn't).  Also, about an hour before it was done, I grabbed a few paper towels and blotted a good bit of the grease off of the top.  The recipe didn't say to do that, but if I can save myself from a few calories, I'm going to do it, plus the idea of greasy chili just wasn't appealing.
The end result was worth waiting for!  I was transported back to my childhood and was thrilled to introduce Cincinnati style chili to my girls.  It was really good!  We decided to enjoy ours in the traditional "three-way" style, with the cheddar cheese and chopped onion.  It was a nice way to cap off a busy day.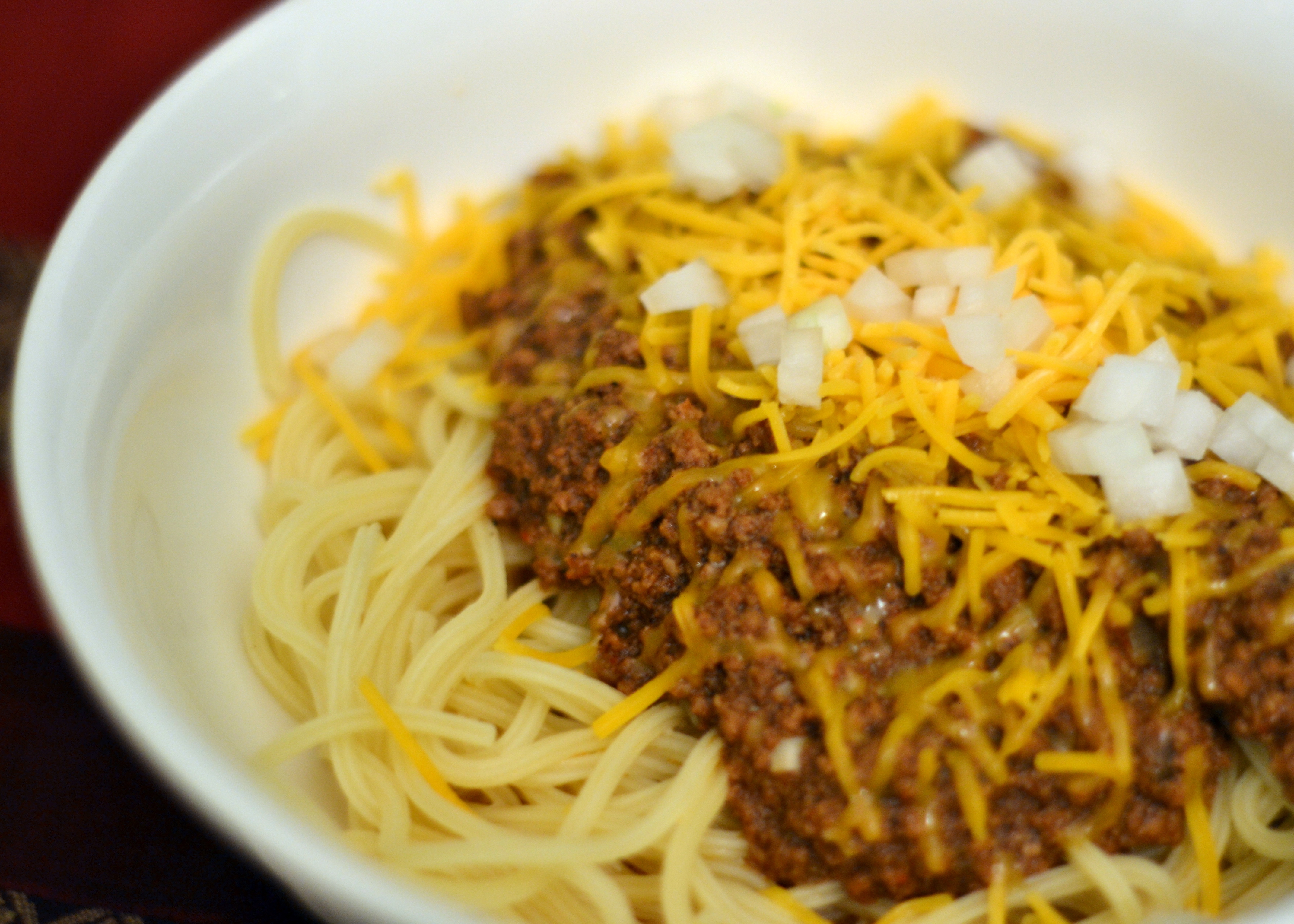 SLOW COOKER CINCINNATI CHILI
Adapted from Family Circle
| | | |
| --- | --- | --- |
| Slow Cooker Cincinnati Chili | | |
Author:
Total time:
8 hours 10 mins
Ingredients
2 cups low-sodium beef broth
1 (8 oz.) can tomato sauce
1/4 cup tomato paste
2 Tbsp. apple cider vinegar
2 Tbsp. chili powder
2 tsp. unsweetened cocoa powder
1 tsp. ground cumin
1 tsp. cinnamon
1/2 tsp. ground cloves
1/4 tsp. ground allspice
1 tsp. salt
1/2 tsp. pepper
3 garlic cloves, minced
1 large yellow onion, diced
2 lbs. lean ground beef
1 lb. spaghetti, cooked
finely shredded cheddar cheese, diced white onion, optional
Instructions
In a medium-sized bowl, whisk together the broth, tomato sauce, tomato paste, vinegar, chili powder, cocoa, cumin, cinnamon, cloves, allspice, salt and pepper. Pour the mixture into the slow cooker. Stir in the garlic and yellow onion.
Crumble the ground beef into the sauce, carefully stirring to combine. Cover and cook on HIGH for 6 hours or LOW for 8 hours. Stir a couple of times along the way, if possible.
If the chili looks too greasy, using a few paper towels, blot the grease from the top of the chili about an hour before serving. If it looks like there is too much liquid, let it cook with the top partially off for the last 30 minutes.
Serve over cooked spaghetti and top with cheddar cheese and white onions, if desired.
ENJOY!