Directions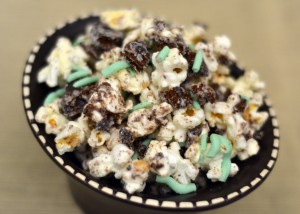 It's Girl Scout Cookie time!!  It's that time of year when everywhere you turn, there's a sweet, smiling scout waiting to sell you a box of cookies.  They knock on our doors, they set up shop in front of our favorite stores, their order forms take up space next to the coffee maker at work, they are unavoidable!  They are especially unavoidable in my house.  I have two Girl Scouts living under my roof.  Three, if you count me, because I'm a Brownie leader.  Cookie Time is a crazy time of year around here!  My dining room has turned into Cookie Central, where I bag up orders and sort out change.  The back of my car is currently filled with over 300 boxes of cookies to sell this weekend at our cookie booths.  Things will return to normal in a few weeks, my dining room will be diner-friendly again, my car will be empty, and the aroma of Thin Mints will be just a distant memory…unless I open one of the boxes that I have stashed in my freezer.
Since I now have two Girl Scouts at home (Avery just started as a Daisy this year), I had to order double the cookies.  I have to be fair, right?  I let each girl pick out a few boxes.  Both of them chose Thin Mints.  Thin Mints are the top seller across the country, so it's really no big surprise that we like them too!  I've had people buy them by the case at booths I've worked!  They are a powerful little cookie.  They are delicious and nostalgic, and every year they appear and call our names…and we answer.
I ran across this recipe for Thin Mint popcorn the other day and figured I might just have to try it.  With a carload and dining room full of cookies, I figured if it didn't turn out, I could always buy another box for the girls.  Thankfully, the end result was delicious and it was such a huge hit, they didn't even realize I'd used half of one of their boxes to make it!
I started by popping some lightly salted microwave popcorn.  The recipe calls for 8 cups of popped corn.  I found this to be just over one bag of popcorn.  Make sure that as you measure it, you remove the unpopped kernels.  Nobody wants to break a tooth on Thin Mint popcorn, right?  (Somewhere, my mother is reading this and smiling.  See, Mom?  I saved them from cracking a tooth.)
Also, I'd roughly chopped up 18 Thin Mint cookies.  There are 16 cookies in one sleeve of Thin Mints.  I fully expect that the other two were added just so you could open up a new sleeve and munch on an extra (or two) as you worked on the popcorn.  Just a hunch. Not that I did that, or anything.
Once the corn and cookies were ready, I melted down 8 ounces of vanilla candy coating.  I used Kroger brand, but you could use any brand or almond bark.  To the melted vanilla candy, I added just a bit of Peppermint extract.  A little of this stuff goes a long way.
Once the candy and extract were combined, I quickly poured the mixture over my popcorn and got to work mixing it together.  I found that stirring it was tougher than it seemed, so mixing it around with your hands is the better bet.  However, when you do this, promise me you'll remember to take your rings off before you dive in.  I forgot and had to spend a few extra minutes deep cleaning my wedding ring.
After the candy was thoroughly mixed in, I added the cookies and tossed it again to combine.
I spread the popcorn out over two cookie sheets that I had lined with parchment paper.  The candy starts to harden up immediately, so when you make this, work quickly!
Once I had it spread out, I melted down one more ounce of the candy and added a little green food coloring.  I put this in a sandwich baggie, snipped off the end and used it to drizzle over the popcorn.
Then, I let it rest for about 20 minutes to let everything harden up.
That's it!
I turned our Thin Mints into a delicious treat that my whole family enjoyed.  It was fun and different and I have a feeling we'll have to put another batch together with some of those cookies I have waiting for me in the freezer.
THIN MINT POPCORN
Adapted from Crumbs and Chaos
Thin Mint Popcorn
Prep time:
Cook time:
Total time:
Ingredients
8 cups lightly salted popcorn (I used Orville Redenbacher's Natural Lightly Salted)
9 oz. vanilla candy coating (I used Kroger brand, found in the baking aisle), divided
1/4 tsp. peppermint extract
18 Thin Mint cookies, roughly chopped
green food coloring
Instructions
Place popped popcorn in a large bowl.
In a smaller bowl, place 8 oz. of the candy. Melt, in the microwave, for 45 seconds. Stir. Cook for 15 second intervals, stirring after every beep, until fully melted and smooth. Stir in peppermint extract.
Pour the candy mixture over the popcorn and, with your hands, carefully coat the popcorn. Add the cookie pieces and toss some more. Spread the mixture out on one or two cookie sheets that have been lined in wax paper or parchment.
In a small bowl, melt remaining 1 oz. of candy. Add a drop or two of green food coloring and stir to combine. Drizzle over the popcorn pieces. Let the popcorn set up for about 20 minutes before diving in…if you can wait that long.
Store in an airtight container.
ENJOY!