Directions
This is a sponsored post written by me on behalf of Pompeian.
I'm a bit of an olive oil junkie.  I think it would be a pretty safe bet to assume that the vast majority of the recipes on Chew Nibble Nosh use olive oil in some capacity.  It's my go-to cooking-drizzling-finishing oil in most cases.  Olive oils, like wines, can taste vastly different depending on how the olives were pressed, which kinds of olives were used, and when they were harvested.  So, when Pompeian asked me to check out their new Varietals Collection of specialty olive oils, I jumped at the chance!
Pompeian's new Varietals Collection isn't your everyday grocery-store olive oil.  These three new varieties are mono-varietals, (Meaning, they are pressed from one single kind of olive, not a hodge podge.), they are each unique in flavor and body, and each kind compliments different dishes.  Some, like the Koroneiki variety that I tried, are full-bodied with an earthy, peppery finish, while others have sweeter notes, and are almost buttery. The oils are as unique as the olives they came from.
Pompeian's new Tree to Bottle page is unique in that you can actually track where your olive oil came from, and learn more about the history of the oil that's right there in your own home.  By simply tracking the lot number that's printed on the back of the bottle, you can find out more about the trip your olive oil took, from mill to your table.  It's a very informative, fun site to look around, and it makes me want to book a flight to Greece!
I was looking around that beautiful site, when I came across a recipe for Artichoke & Lemon Hummus.  I knew this would be the perfect recipe to try, with my new bottle of Koroneiki olive oil.  And, to make things even better, I had my cousin visiting us from out of town and my family coming over for dinner that night to help me taste test!
Hummus is such a simple dip to throw together, and this recipe, was no exception.  I started by putting all of my ingredients into my food processor.
The usual hummus suspects of chickpeas, tahini, and garlic were joined by some chopped artichoke hearts, lemon zest, lemon juice, and a hefty drizzle of the Koroneiki olive oil.
I gave them a good whirl in the processor, and before I could say Koroneiki, I had beautiful, creamy hummus in front of me.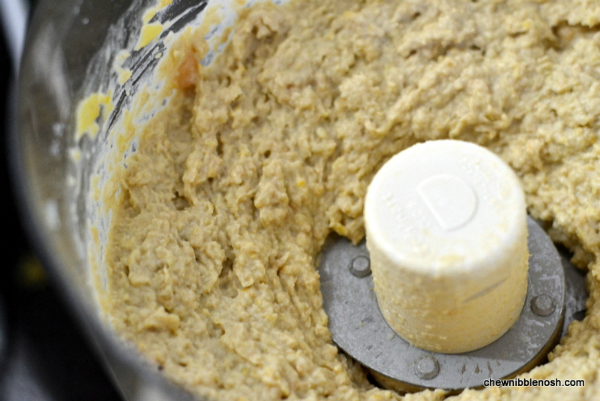 At this point, you could just dig in right away, but I put the hummus in a container and let the flavors meld in the refrigerator for a bit before serving it up.
When I did serve it, I spread it out in a dish, sprinkled the top with some toasty Middle Eastern Za'atar seasoning (It's an amazing spice blend…try and find some!  You'll sprinkle it on everything!), and then drizzled more of that rich, velvety oil down over the top of it.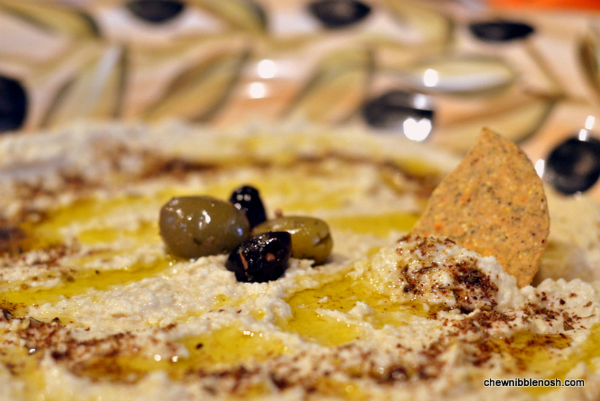 I have to say, this may be the best hummus I've ever made.  In fact, I'm sure it is.  The artichokes and lemon give it this light, fresh feel, and the spices and oil drizzled on top, finish it off with this buttery, peppery boost.  I loved it, my guests loved it, and it was so good that I even made another batch to take to my book club meeting the following night…and they loved it!
So, that's my Pompeian Varietals story.  What's yours?  Be sure to check out the three different varieties, Arbequina, Picholine, and Koroneiki, and let me know!  I'd love to hear what you think!
ARTICHOKE & LEMON HUMMUS
Adapted from Pompeian
Artichoke & Lemon Hummus
Author:
Prep time:
Total time:
Ingredients
1 (14 oz.) can quartered artichoke hearts, drained, and coarsely chopped
1 (15 oz.) can chickpeas (garbanzo beans), drained and rinsed
1/4 cup Tahini (sesame paste, easily found in most grocery stores)
1/4 cup fresh lemon juice
the zest from one lemon
5 Tablespoons, Pompeian Varietals Koroneiki Olive Oil, divided
1 large clove garlic, minced
3/4 tsp. salt
Za'atar seasoning, for serving
pita chips, vegetables, falafel chips for dipping
Instructions
In the bowl of a food processor, place the chickpeas, chopped artichoke hearts, tahini, lemon juice, lemon zest, minced garlic, salt, and 3 Tablespoons of the Koroneiki olive oil.
Process the mixture until the hummus is nice and smooth, stopping to scrape down the bowl, if necessary.
At this point, you can serve the hummus right away, or scoop it into a container, cover it, and refrigerate it until you're ready to eat.
Before serving, sprinkle the hummus with the Za'atar, and drizzle with the remaining olive oil.
Serve with cut up vegetables and chips.
ENJOY!
This is a sponsored post written by me on behalf of Pompeian.