Directions
I'm sure you've been just dying to know what I used the rest of that gigantic bag of asparagus for ever since I wrote about it last week.  No?  Well…hmmm.  I guess that's just too bad, because I have a great recipe to share with you today because of that giant bag of asparagus!
You may not have known this, but May is actually National Asparagus Month! There's no better time to inundate the blog with asparagus filled recipes then, right?
I made this quick and easy tart when we had some company over recently, and it was a big hit.  Crisp and buttery, with perfectly nutty, roasted asparagus and deliciously melty Gruyère cheese.  Yum!  Plus, it's really easy and comes out of the oven looking like you spent much more time on it than it actually takes.  I'm all for pretty recipes that don't take up my entire day!
I started by prepping a sheet of thawed store-bought puff pastry dough.  I unfolded it onto a floured surface and then rolled it out, just a little bit more, until it was just the size I needed.  Then, I took a sharp knife and went around the edges with it, just to even it up.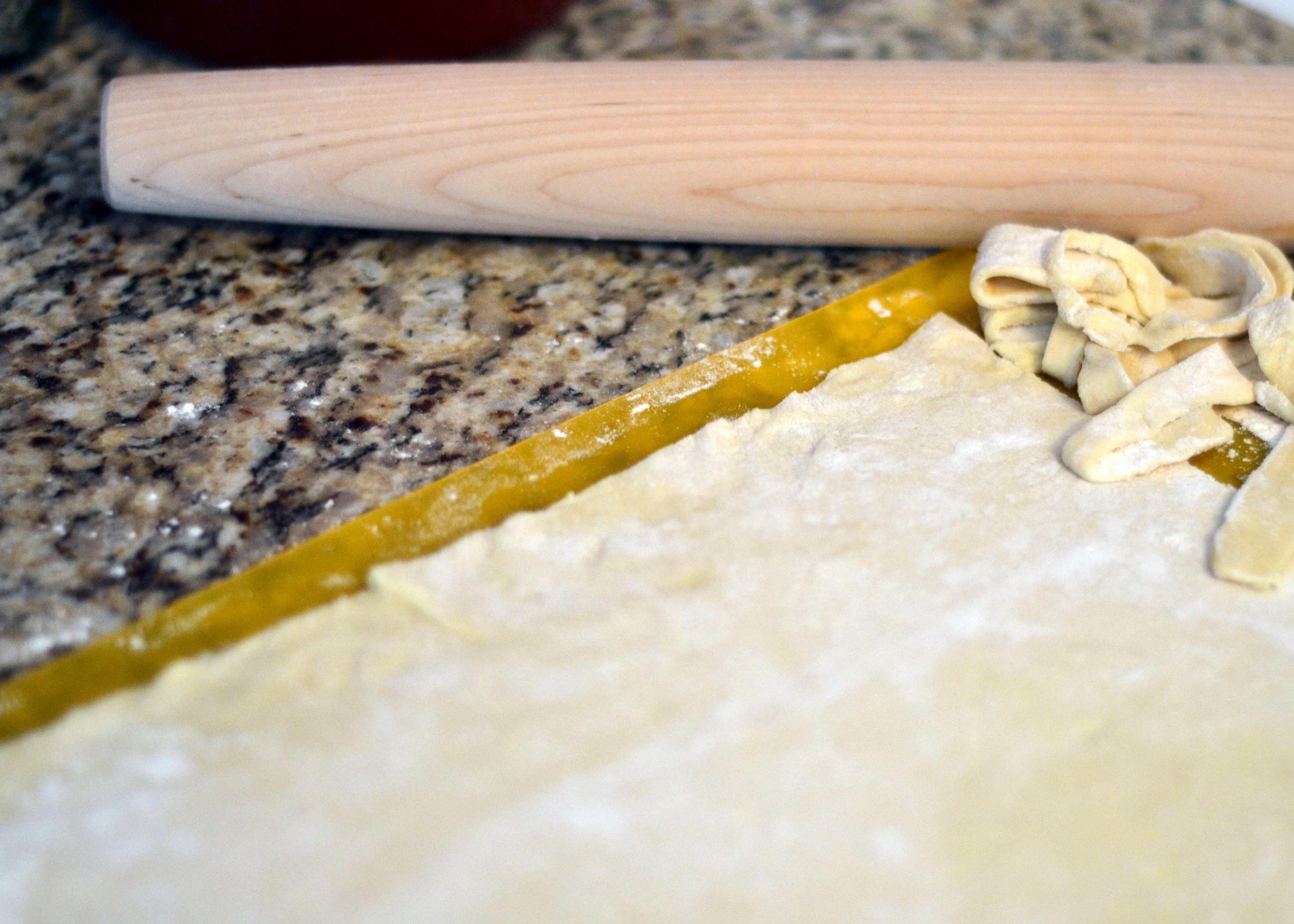 Next, I took that knife and scored the edges, kind of like drawing a frame around the edge of the pastry, about 1 inch from the edge, all the way around.  Then, I took a fork and poked all around the middle.  This way, when you bake the pastry, the middle doesn't puff up as much and you can easily add your asparagus and cheese.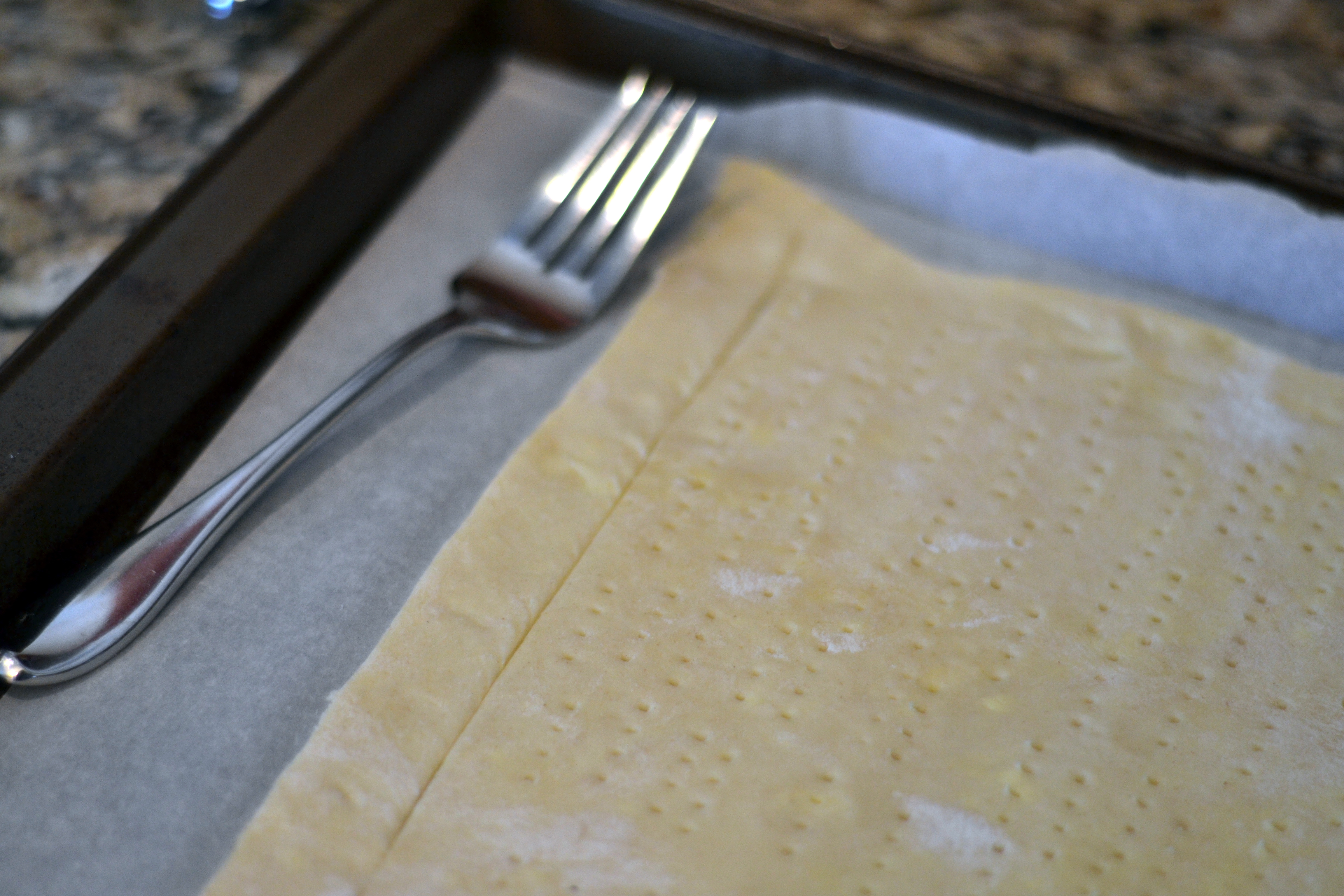 Once the pastry was prepped, I put it into the oven and let it bake up for about 15 minutes, which was just enough time for it to become perfectly poofy and golden brown.
As the pastry was baking, I prepped my asparagus spears by snapping off the woody ends, and I grated 2 cups of Gruyère cheese.  Gruyère is kind of like a swiss cheese, in texture, but it melts up much smoother and has a nutty, buttery taste.  It's one of my favorite cheeses, so I was eager to try this recipe out!
Once the pastry came out of the oven, I filled the "frame" with the shredded Gruyère and then laid out the asparagus on the top.  I sprinkled the tart generously with salt and pepper, and then it was ready to head back into the oven for about 20 minutes.
Twenty minutes were just long enough to roast the asparagus beautifully and melt up all of that buttery cheese around the spears.  I took it out of the oven, and it almost looked too pretty to eat!  Almost…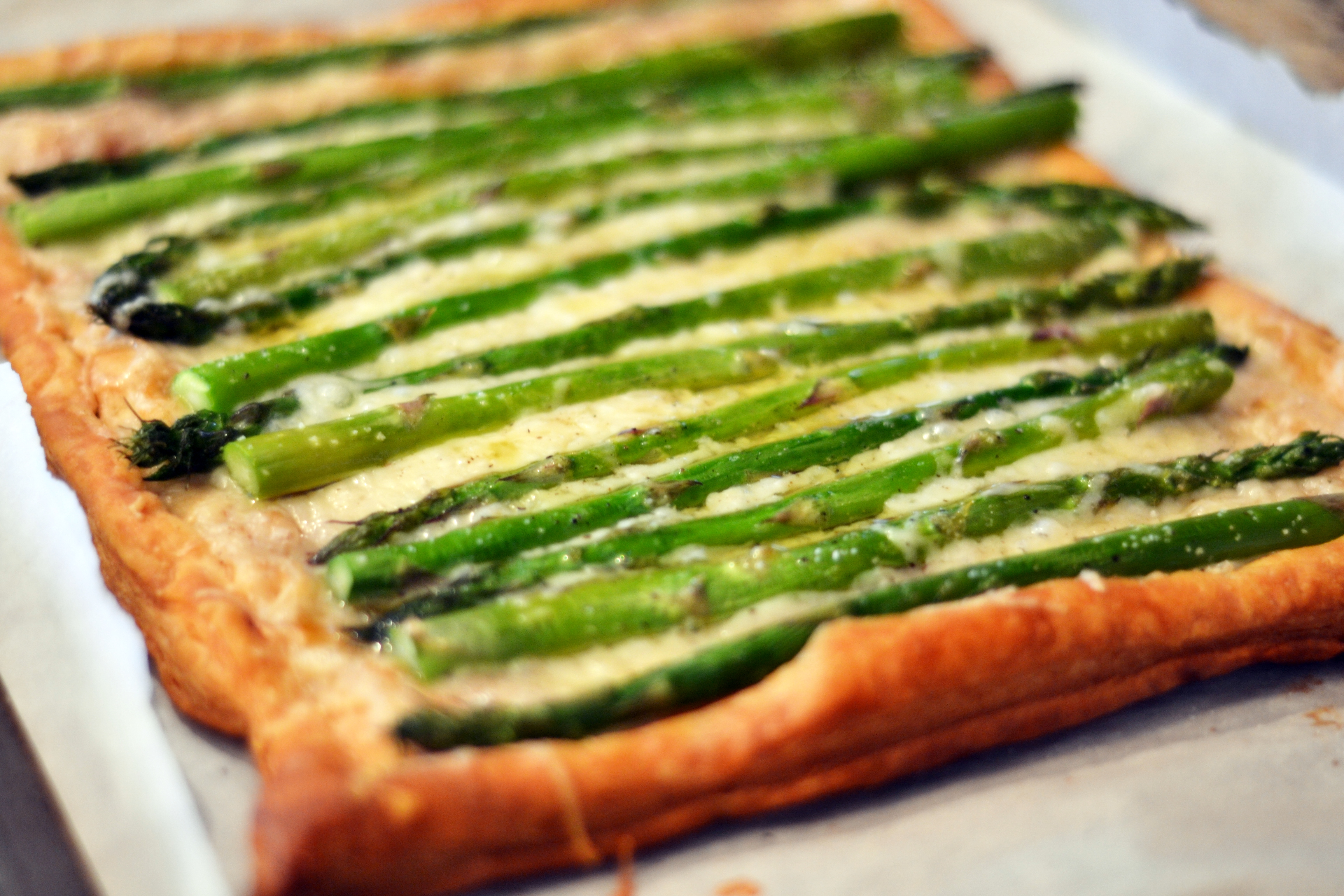 I let the tart sit for just a couple of minutes before slicing into it.  That cheese was hot and bubbly, and I didn't want to slice into it and have all of the cheese ooze off.  A few minutes is all you need, though, and then you can slice it up however you like!
It was the perfect easy appetizer for a beautiful spring day.
Happy National Asparagus Month!  I wonder if Hallmark makes a card for that yet.  I'm sure it's only a matter of time.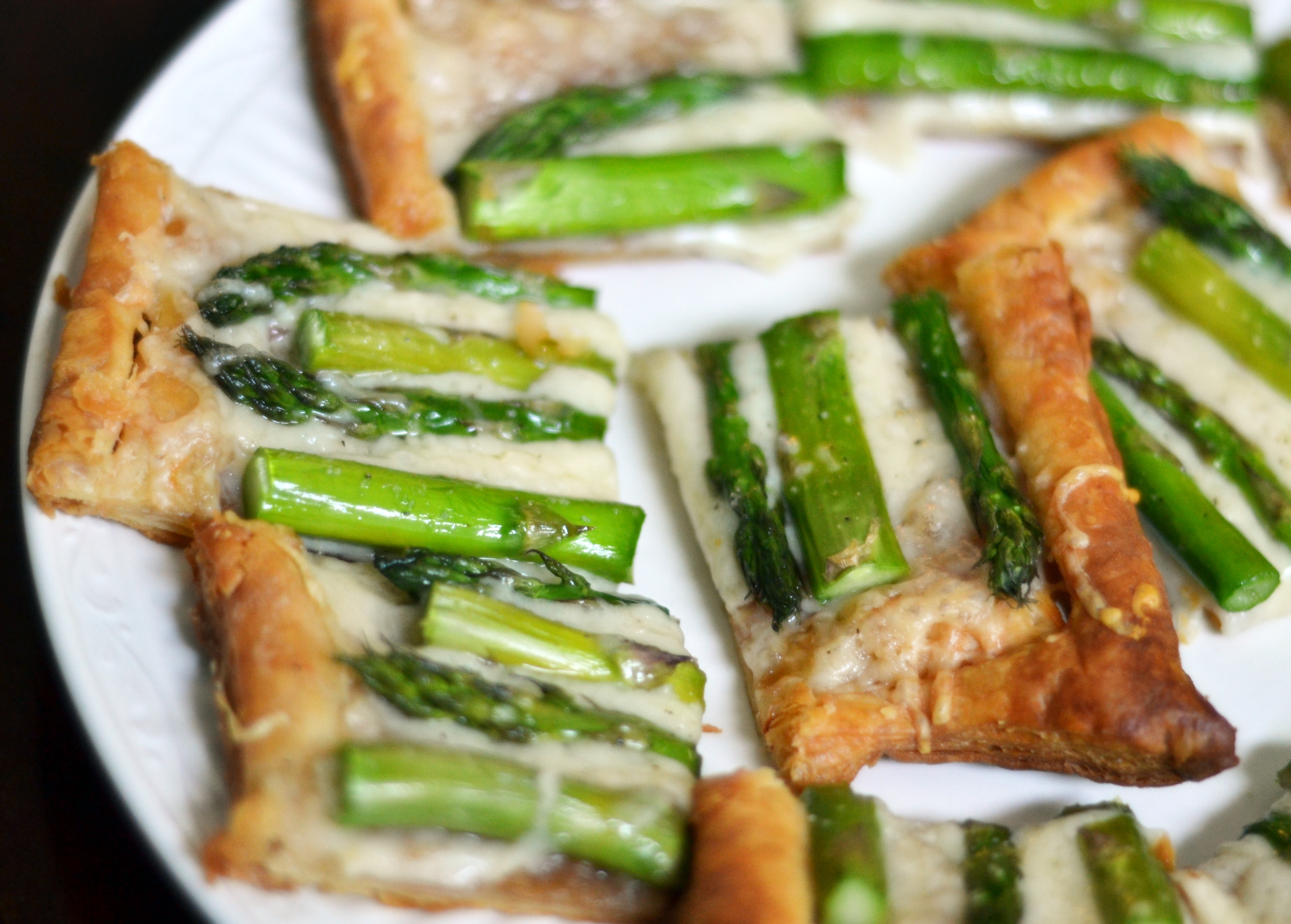 ASPARAGUS AND GRUYERE TART
Adapted from Martha Stewart
| | | |
| --- | --- | --- |
| Asparagus and Gruyere Tart | | |
Author:
Ingredients
Flour, to sprinkle on your work surface
1 sheet store-bought puff pastry dough, thawed
2 cups shredded Gruyère cheese
1 1/2 lbs. medium or thick asparagus
salt and pepper
Instructions
Preheat oven to 400*. On a floured surface, unfold the puff pastry dough. Using a rolling pin, roll the dough out so that it's close to a 16×10 inch rectangle. Using a sharp knife, trip away any bumpy edges.
Place the pastry on a cookie sheet that has been lined with parchment paper. Using the sharp knife, score the pastry all the way around, about an inch from the edge of the pastry. Using a fork, pierce the dough inside the marked edge at 1/2 inch intervals.
Place the pastry in the preheated oven and bake for 15 minutes, or until golden brown.
Remove the pastry shell from the oven. Sprinkle with the Gruyère cheese. If the center has puffed up too much, gently push it down just a bit. Once the cheese is in place, line the asparagus up on the tart to fit crosswise, over the Gruyère, alternating ends and tips. Sprinkle with salt and pepper, and return the pastry to the oven. Bake for 20-25 minutes more, until asparagus spears are tender and cheese is melted and starting to brown around the edges.
Let the tart sit for a couple of minutes before slicing. Serve warm.
ENJOY!