Directions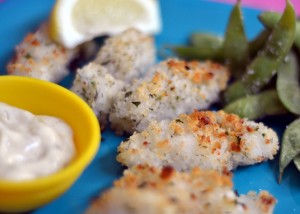 I think it's pretty safe to say that for many parents, getting your child to try new foods (and to like them) can be pretty painful.  As you know, I'm constantly trying out new recipes, and my kids are used to that, but that doesn't mean that dinnertime every night is a breeze.  Most nights include some whining, whimpering and even the occasional, "I'm so hungry, but there's just nothing to eat."  That last statement is usually heard when we have fish for dinner.  My girls have gotten to the point where they like salmon, and one of them likes shrimp, but if I make any other kind of seafood dish, they cringe.
Never one to give up, though, I like to spring it on them every so often.  I figure that at some point, their taste buds will grow up and they'll learn to appreciate certain tastes.  (At least, I'm hoping that's what happens!)  When I came across this recipe for kid-friendly baked fish that looked good enough to please the grownups at the table as well,  I figured I'd take my chances.
I started by slicing a pound of cod fillets into "nugget" sized pieces. You could use any other type of white fish for this, but cod happened to be on sale when I went shopping and I figured it was nice, pain-free, mild fish to spring on the kids!
Once the fish was prepped, I tossed it with just a little bit of canola oil and some salt.
Then, I mixed together my breading.  Into the bowl went some panko (Japanese) bread crumbs, grated Parmesan cheese, garlic powder, minced fresh parsley and some dried dill weed.  In 99% of the recipes I make that involve a bread crumb breading, I prefer to use panko breadcrumbs instead of the really fine crumbs.  They bake up so nice and crispy.  Make sure you grab some next time you're at the store.  If they aren't with the regular bread crumbs, try looking in the Asian food aisle.
Once that was all stirred up, I dredged each nugget of fish in the breading, pressed the crumbs on to make sure they'd stick and I laid them out on a cookie sheet that I'd sprayed with nonstick spray.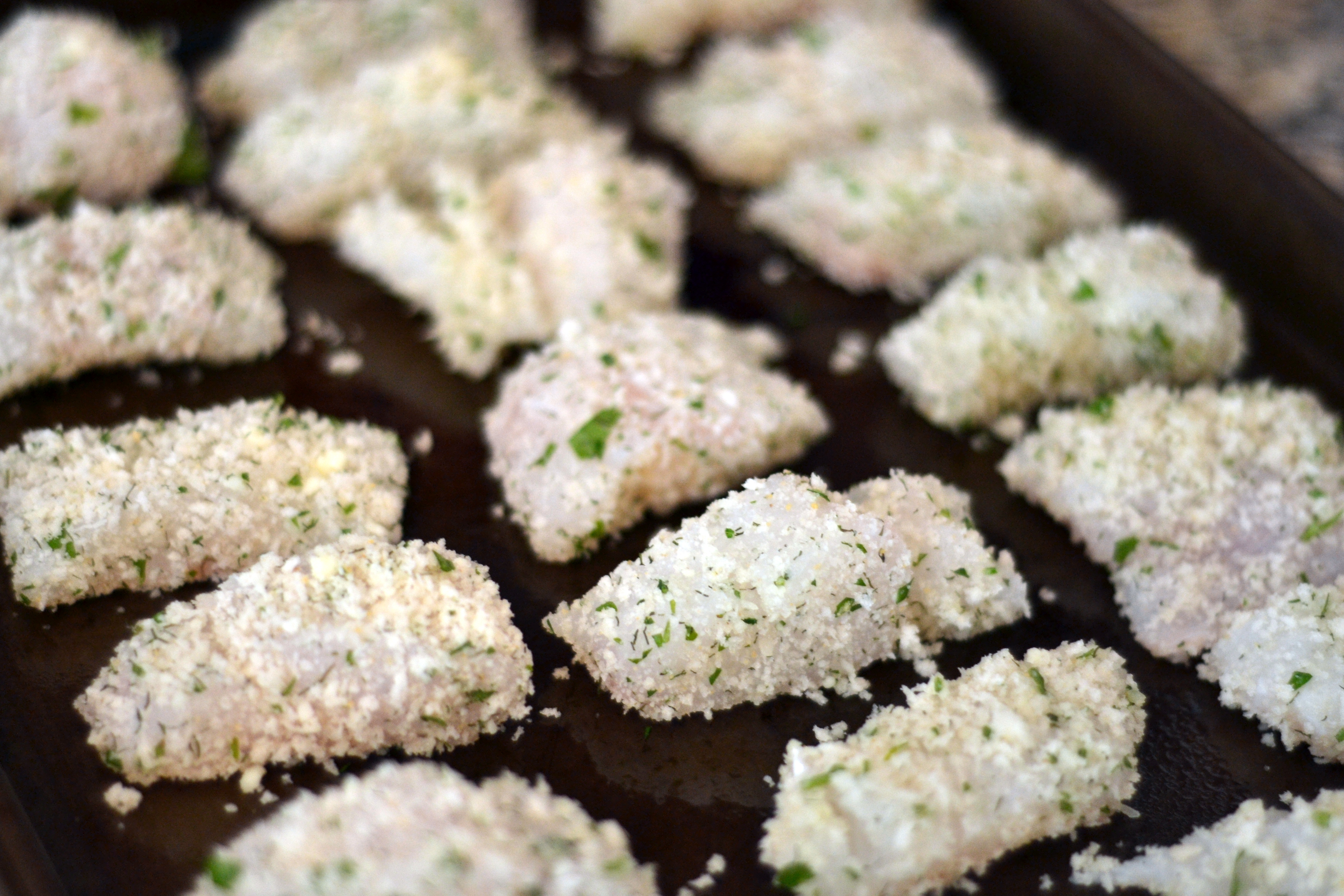 Once they were all on the sheet, they were ready to pop into the oven!
The fish sticks baked for about 12 minutes, just long enough to cook the fish through perfectly and to crisp up that coating.
I served these with some steamed edamame pods, figuring that the kids would love an all finger-food dinner, crossed my fingers, and gave them to the kids.  You know what?  They liked them!  They really liked them!  Mom – 1, Grumpy Dinnertime Kids – 0!  They were really quite tasty.  Aaron and I loved them, too!  So now that I can cross cod off the scary food list, I wonder, what should I spring on them next time?
**Oh, and if you haven't already, make sure you stop by my 100th Post to sign up for the Everyday Food Giveaway!**
BAKED PARMESAN FISH STICKS
Adapted from Publix FamilyStyle Magazine
| | | |
| --- | --- | --- |
| Baked Parmesan Fish Sticks | | |
Author:
Ingredients
1 lb. cod, tilapia or other white fish (thickness and cooking times may vary), patted dry
1/2 tsp. salt
1/4 cup canola oil
1 cup panko bread crumbs
1/4 cup grated Parmesan cheese
2 tsp. minced fresh parsley
1/2 tsp. garlic powder
1/2 tsp. dried dill weed
Tartar sauce, ketchup, cocktail sauce, whatever dipping sauce floats your boat
Instructions
Preheat the oven to 450*. Coat a large baking sheet with nonstick spray and set aside.
Cut the fish into 1-inch strips. Sprinkle the fish with salt and toss with the canola oil. Set aside.
In a shallow bowl, combine the panko breadcrumbs, Parmesan cheese, parsley, garlic powder, and dill weed. Roll the fish pieces in the breading until evenly covered, pressing to make sure that the crumbs adhere. Place the breaded fish pieces on the prepared baking sheet.
Bake for 10-12 minutes, or until the fish is golden brown and flakes easily with a fork. Serve with assorted dipping sauces.
ENJOY!