Directions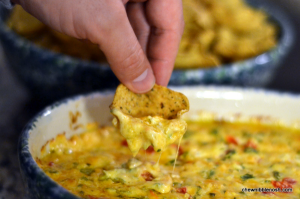 I've lived in Georgia for over six years now, and one thing I've learned during my stay is that Pimento Cheese is kind of a big deal around here.  If you're not familiar with Pimento Cheese, it's usually a pretty simple mixture of cheddar cheese, mayonnaise, diced pimentos (which are a type of red pepper), and seasonings.  It's used as a dip, or a spread, and Pimento Cheese sandwiches are commonplace.  In fact, here in Augusta, they are a tradition at The Masters Golf Tournament.
Despite its popularity around these parts, I've never really been a big fan…until last summer.  When we were on vacation at the beach, something propelled me to order a burger at dinner that was topped with Pimento Cheese.  The cheese was broiled on top, so it was all melty, gooey and irresistible .  THIS, my friends, is how we need to be eating Pimento Cheese. Oh…my.  It was amazing.
So, when I ran across this recipe for a baked pimento cheese dip with a bit of a kick, I knew I had to try it out.
I started by shredding up two blocks of cheese.  I used some extra sharp cheddar and some pepper-jack.  If you try this, be sure to shred the cheese by hand (or use your shredder attachment on your food processor, like I did).  Packaged shredded cheeses are coated with flour or cornstarch so the shreds don't stick together in the package.  They don't melt as smoothly as cheese that you shred yourself.
Once the cheese was shredded, I got to work on the other ingredients.  I chopped up some roasted red peppers, two fresh jalapeno peppers, some green onions and a bit of cilantro.  I know, I know…roasted red peppers technically aren't pimentos, but they are close enough.  I don't want any Pimento Cheese purists getting upset!  Just go with it.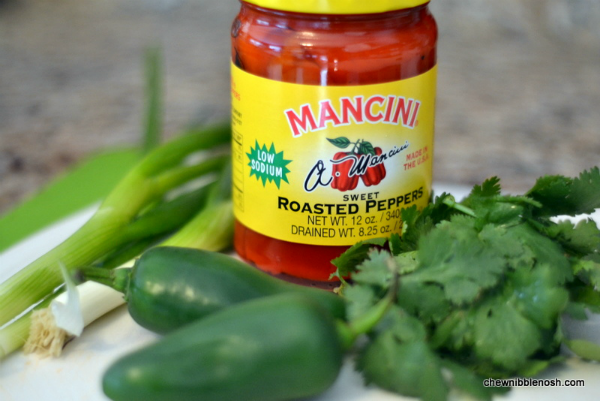 Then, into a big bowl went my shredded cheeses, some reduced fat cream cheese, a bit of mayo, my chopped up veggies, and some salt and pepper.
I stirred it all up well and then spread it into a baking dish.  I suppose, if you're a Pimento Cheese purist, you could dive into this cold and skip the oven.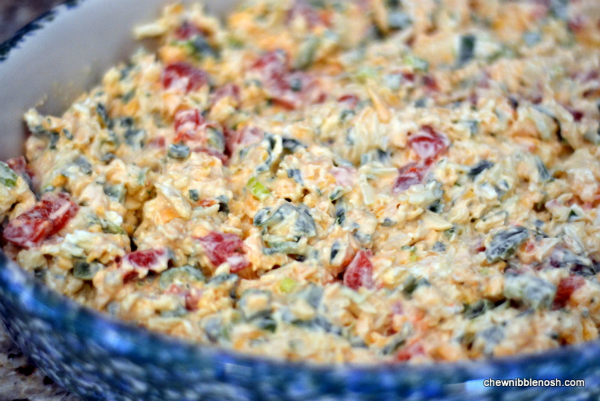 My dish, however, went into the oven for about 25 minutes.
What emerged was amazing, delicious, melty, ooey-gooey goodness.  It's seriously good stuff, people.  It was so good, that I'm fairly certain it will make many more appearances at our house this holiday season.  It's perfect for holiday get togethers, because you can easily make it up ahead of time, and just chill it until you're ready to bake.
It took six years, Georgia, but I've finally fallen in love with Pimento Cheese.  It's a beautiful thing.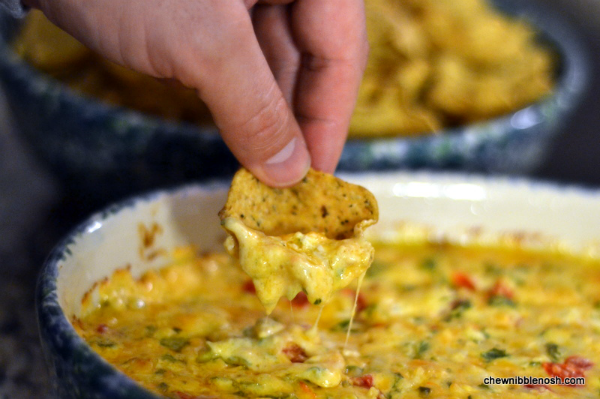 BAKED TEX-MEX PIMENTO CHEESE DIP
Adapted from Annie's Eats
Baked Tex-Mex Pimento Cheese Dip
Author:
Prep time:
Cook time:
Total time:
Ingredients
1/2 cup mayonnaise
6 oz. reduced fat cream cheese
3/4 cup roasted red bell pepper, diced
2 jalapeno peppers, ribbed, seeded and minced (If you're looking for more kick, leave the seeds in)
2-3 green onions, chopped
1/3 cup chopped fresh cilantro
8 oz. extra sharp cheddar cheese, shredded*
8 oz. pepper jack cheese, shredded*
salt and pepper, to taste
*Be sure to shred the cheese yourself! The preshredded cheese at the grocery store won't melt as smoothly due to the flour/cornstarch used to keep the shreds from sticking together.
Instructions
Preheat the oven to 350*.
In a large bowl, stir together all of the ingredients and mix well, until evenly combined.
Spread the mixture in a 2-quart baking dish that has been sprayed with nonstick spray.
Bake 20-25 minutes, until the cheese is melted, bubbly, and just starts to brown.
Serve warm with tortilla chips.
ENJOY!