Directions
Tomorrow morning, the girls and I are heading home after a two week long trip up to the Midwest.  Namely, Michigan and Indiana.  We were hoping to escape the heat in Georgia, and that worked for the first half of our trip, but wow…did it get hot!  Despite the heat wave, we've had a wonderful visit.
We packed a lot of activity into those two weeks, but best of all, we got to spend a lot of time with family and friends that we don't get to see often enough.
It's been a fantastic trip.
On Monday night, in Indianapolis, I was able to leave the girls with Grandma and Grandpa for a few hours and hang out with a group of my girlfriends that I've known since Kindergarten.  I consider myself extremely lucky to have these girls in my life and I always look forward to our summer reunions.  This year, we decided to meet up for a Downton Abbey viewing party!  OK, well…that's not entirely true.  We watched The Bachelorette, but we were completely classy about it the entire time.
Usually, on Monday nights, we're chatting back and forth on Facebook about the "Most Dramatic Rose Ceremony Ever" or the drama/chaos/insanity in that night's episode.  We figured it was only fitting to watch Monday's episode together, since we were in the same town.
Everyone brought something to munch on, and after going back and forth a kazillion times over what I was going to bring, I decided on this light and fresh salsa.  I discovered this recipe in one of my Southern Living cookbooks last summer and I must have made it twenty times since.  It's always a hit, and when I put together a batch for the second time this week, at my family's 4th of July dinner, we decided it would be great on its own as a salad with some grilled chicken and tortilla strips mixed in as well.  I'll have to try that once we get back home.
I start by mixing together the dressing.  I like to have it ready to go because once I chop up the avocados, it's only a matter of time before they start to brown up.  If I can toss them with the dressing quickly, it halts the browning process.  The dressing is quick and easy.  Squeeze the juice from a lime and mix it with a little olive oil, red wine vinegar, and salt and pepper.  That's it!
Once the dressing is prepped, I get the veggies ready.  If you have an abundance of corn on hand, you could use fresh corn kernels, but for the sake of easy, I always just thaw out some frozen corn kernels.  You could also use canned corn, if you like, but I think frozen corn has more of a bite to it and tastes a little bit fresher than the canned stuff.
I also drain a can of black beans, chop up some grape tomatoes, mince up a bit of red onion, and chop up some fresh cilantro.  You could substitute a couple of regular tomatoes, if you don't want to deal with the little ones, but I like the grape tomatoes for their color and because they don't add as much liquid to the salsa as the juice from regular tomatoes would.  If you do use regular tomatoes, I suggest squeezing out some of the seeds before chopping them up.
Once everything else is prepped, I start on my avocados.
I add the avocados to the bowl and carefully toss all of the veggies with that simple, tangy dressing.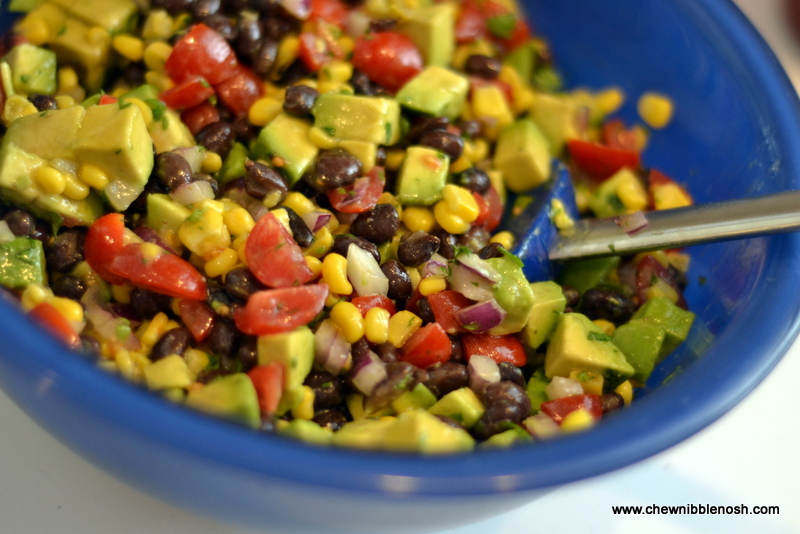 It's as easy as that!
After a few hours in the fridge, the flavors blended together perfectly and the salsa was ready to serve.
I had a great night with the girls, and the salsa was a hit!  It was a night filled with good friends, good food, and good fun.  Is there anything better than that?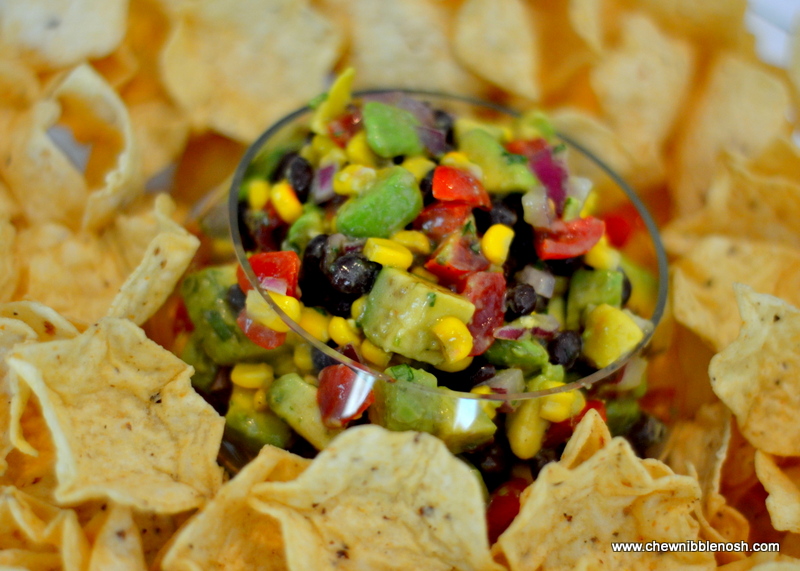 BLACK BEAN, CORN, AND AVOCADO SALSA
Adapted from Southern Living
| | | |
| --- | --- | --- |
| Black Bean, Corn and Avocado Salsa | | |
Author:
Ingredients
1 1/2 cups frozen corn, thawed
1 can black beans, drained and rinsed
1 1/2 cups chopped grape tomatoes
1/2 cup minced red onion
1/4 cup minced fresh cilantro
2 avocados, chopped
Dressing:
the juice of one lime (approx. 3 Tbsp.)
2 Tbsp. olive oil
1 Tbsp. red wine vinegar
1 tsp. salt
1/2 tsp. pepper
Instructions
Mix together all of the dressing ingredients and set aside.
Combine all of the remaining ingredients in a medium-sized bowl. Pour the dressing over the veggies, and toss carefully to combine. Cover and chill until serving time. Serve with tortilla scoops.
ENJOY!