Directions
Happy Almost 4th of July!!  The fireworks are being prepped, flags are flying high, and people around the country are getting things ready for one of the biggest cookout days of the year.  In honor of the Great American Cookout, I figured I'd post a recipe for one of my favorite cookout accompaniments.
I'm as sucker for good potato salad.  I've had plenty of bad ones, haven't you?  You know the type.  Mealy, dry, potatoes, not enough dressing so everything tastes dried out, no seasoning…blech.  However, when I run across a recipe for a really tasty, creamy, flavorful potato salad, I'm a happy girl.  For our last cookout, I knew I wanted some potato salad on the side, but I wanted to change things up a bit from a traditional mayo-mustard-celery-egg-onion type.  I was in the mood for light and cool, so I searched for a sour cream based dressing.  I also had some fresh dill in the fridge and figured that if I could work that into the dressing, it might be nice.  So, I hit up Google for sour cream and dill potato salads.  (What did we do before Google?)
I found quite a few recipes, but none of them jumped out at me, so I figured I'd play around with it and try to make my own version.  This is the version I came up with.  It's creamy and cool, well dressed (In fact, you could probably up the potatoes to 3 lbs. and still have enough dressing.), and delicious.  We actually had it with seafood, but it would pair up nicely with burgers and dogs as well.
I started by cooking up my potatoes.  My favorite potato salad potatoes are red new potatoes.  They don't dry up as easily as russet potatoes and hold their shape nicely when you chop them up.  I boiled them up in salted water, let them cool a bit and then cut them into large chunks.  Don't bother peeling the potatoes.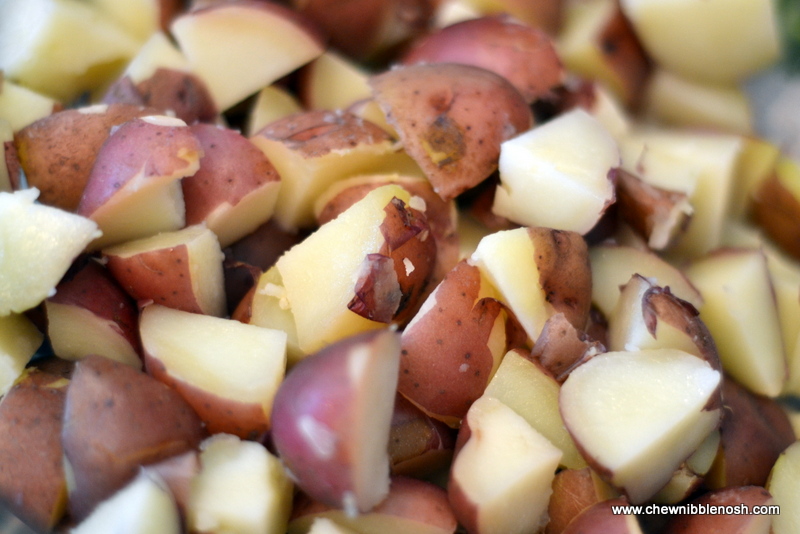 The dressing for the potatoes comes together so quickly. I stirred together some sour cream, mayonnaise, and apple cider vinegar in a small bowl.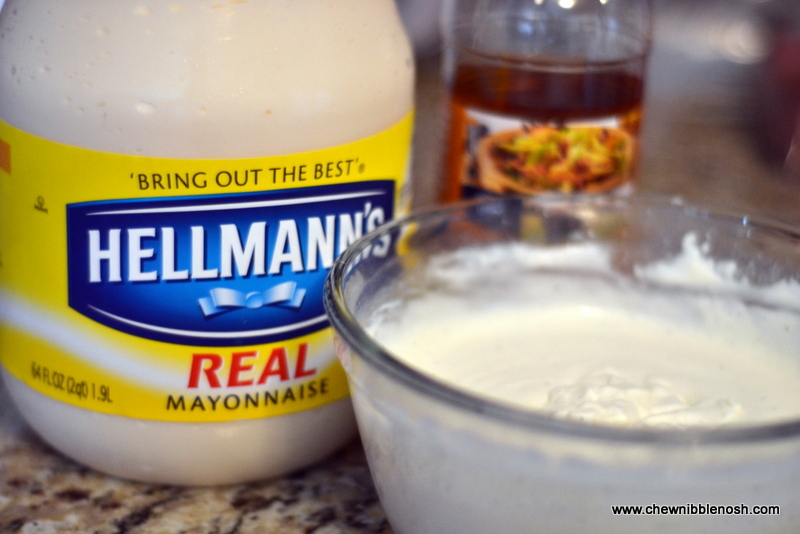 Once it was nice and smooth, I added some beautiful fresh dill, a pinch of garlic powder, and some diced red onion.
I seasoned the dressing with a bit of salt and pepper and then poured it all over my, still kind of warm, potatoes.  I've found that if I pour the dressing over warm potatoes, they soak up more of the flavor as the salad chills than if I let the potatoes cool all the way first.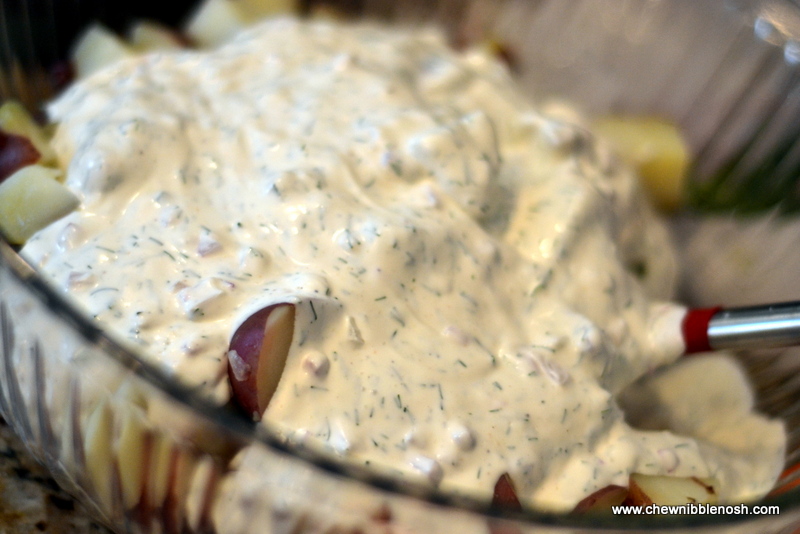 Once the dressing was stirred into the potatoes, I covered the bowl and let it hang out in the fridge to cool completely for a few hours.  I served this the same day, but after having some of the leftovers over the next couple of days, I can confidently say that it's perfectly fine to make this up ahead of time.
It was delicious!
I hope you and your family enjoy a wonderful 4th of July!  Enjoy the fireworks and family time, be safe, and eat well!
| | | |
| --- | --- | --- |
| Potato Salad with Sour Cream and Dill | | |
Ingredients
2-2 1/2 lbs. red new potatoes
1 cup sour cream.
1/2 – 3/4 cup mayonnaise
1 Tbsp. apple cider vinegar
1/2 cup diced red onion
1/4 tsp. garlic powder
2 Tbsp. fresh dill, minced
1/2 tsp. salt
pepper
Instructions
Wash the potatoes and place in a large Dutch oven or saucepan. Cover the potatoes with water by 1 inch. Bring the water to a boil and let the potatoes cook for 15-20 minutes, until you can easily pierce the potatoes with a knife and remove the knife just as easily. Drain the potatoes and let cool for about 20 minutes.
Stir together the mayonnaise, sour cream, and apple cider vinegar until smooth. Add the red onion, garlic powder, dill, salt and pepper to taste.
Cut the potatoes into chunks and place in a large bowl. Add the sour cream mixture and stir until well combined. Cover and chill until ready to serve.
ENJOY!