Directions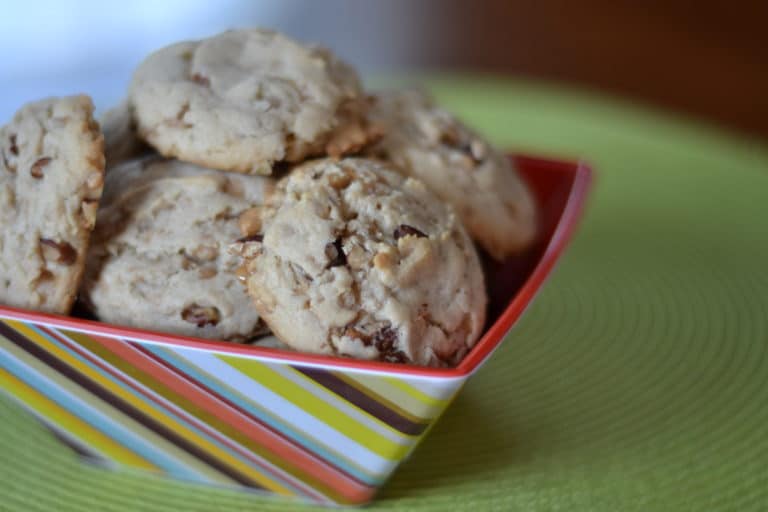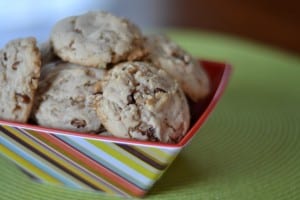 Overall, I like to keep things pretty healthy around my house.  The problem with this is, as I've mentioned before,  I love to bake.  As we all know, baked goods aren't exactly topping the Superfoods lists, no matter how much we want them to.  "Everything in Moderation" is my food motto.  I enjoy good food way too much to live the rest of my life on lettuce alone.  This cookie recipe is one that can pacify my baking bug and not make me feel too terribly guilty about it.  It's quick and easy, and best of all, it only makes a couple dozen cookies.  There are some cookie recipes that I love, but after I bake them, the cookie jar calls my name for days.  This recipe makes just enough.  My family and I can enjoy them, I can give some away and it's done.  Back to salad…*sigh*
My dear friend, Leah, shared this recipe with me a few years ago after I went on and on about how wonderful her cookies were.  I remember her saying that it was "embarrassingly easy".  It really is.  No measuring flour, sugar and baking soda.  No heavy equipment.  It uses a cake mix and a few other simple ingredients and before you know it, you have a delicious, chewy cookie to satisfy your sweet tooth.
The recipe calls for Butter Pecan cake mix.  I had never heard of such a thing before Leah gave me this recipe.  It does exist!  It can be a little tricky to find, though.  I've found that both Kroger and Wal Mart keep it in stock.  I usually buy two boxes and keep one on hand for surprise guests, teacher luncheons, husband-needs-something-for-work days, the list goes on and on.
Throw the cake mix in a bowl, add some eggs and oil and mix it up.  Then, add some pecans (I buy the 1/2 cup bags of pecan chips and call it a day) and a bag of toffee pieces (I prefer the brickle bits to the chocolate covered bits) and you're done!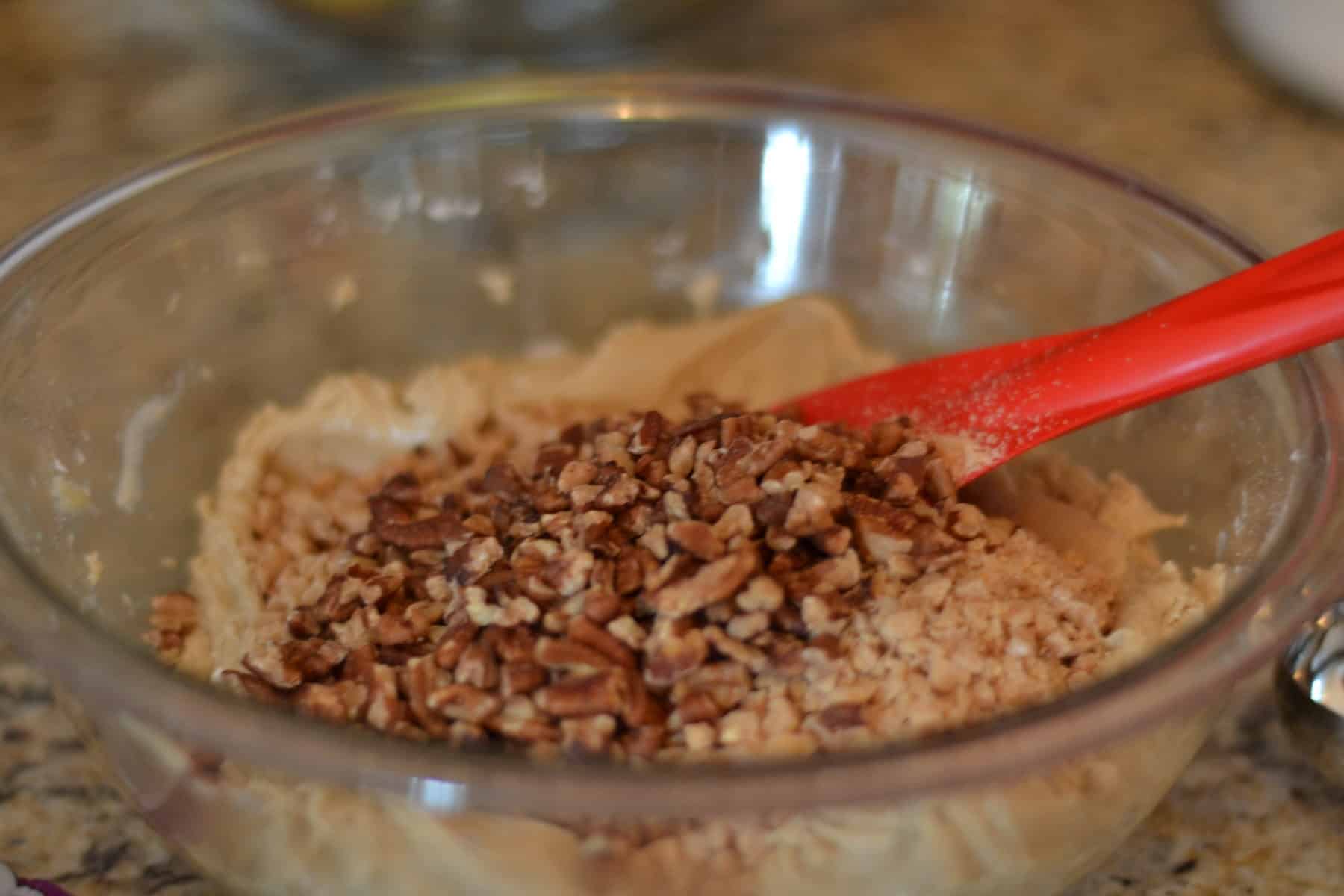 My one BIG suggestion with these cookies is that you need to make sure you are either using a Silpat sheet or parchment paper to line your cookie sheets.  These cookies can be sticky little buggers and if you don't have a nonstick surface to bake them on, you could be in trouble.  I don't have Silpat sheets (I know, I know. How can I bake all the time and not have any??), but I use parchment paper every time I bake any kind of cookie.  You can get it in your grocery store where the foil and plastic wrap are sold.
I also suggest investing in a cookie scoop or two.  I use my scoops all the time for more than just cookies!  They are like tiny ice cream scoops and help make perfectly uniform cookies.  They are great tools to have when you're working with a stickier dough or batter, like this one.  The scoop I use most often is similar to the one featured here  and holds 1 1/2 tablespoons of dough.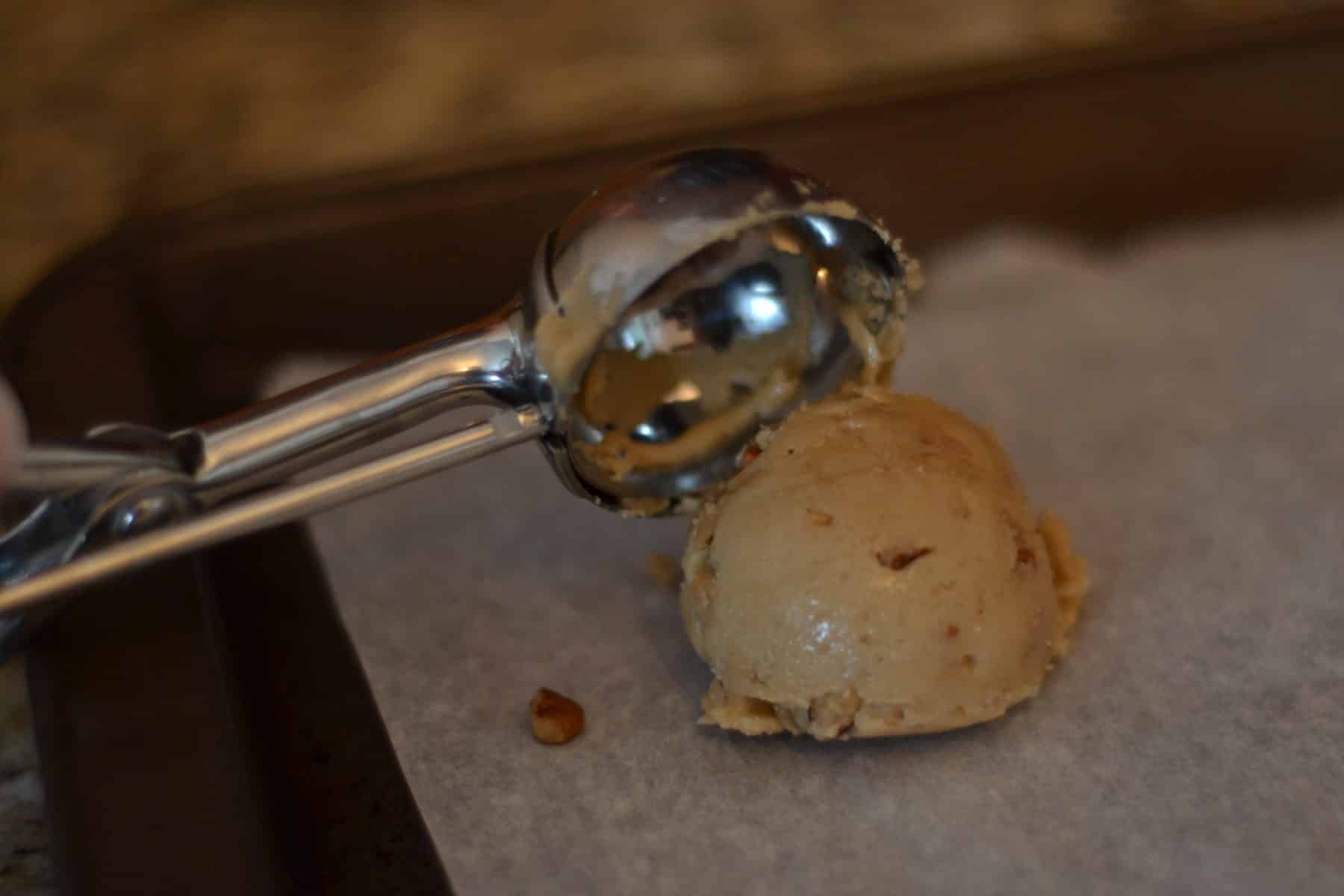 Ten minutes or so in the oven and you're almost done!  Let them rest on the cookie sheet for a couple of minutes.  This will help them set up and makes them easier to remove.  Cool them completely on a wire rack or, dive into them while they're still warm.  I'd be lying if I said I always wait until they've cooled!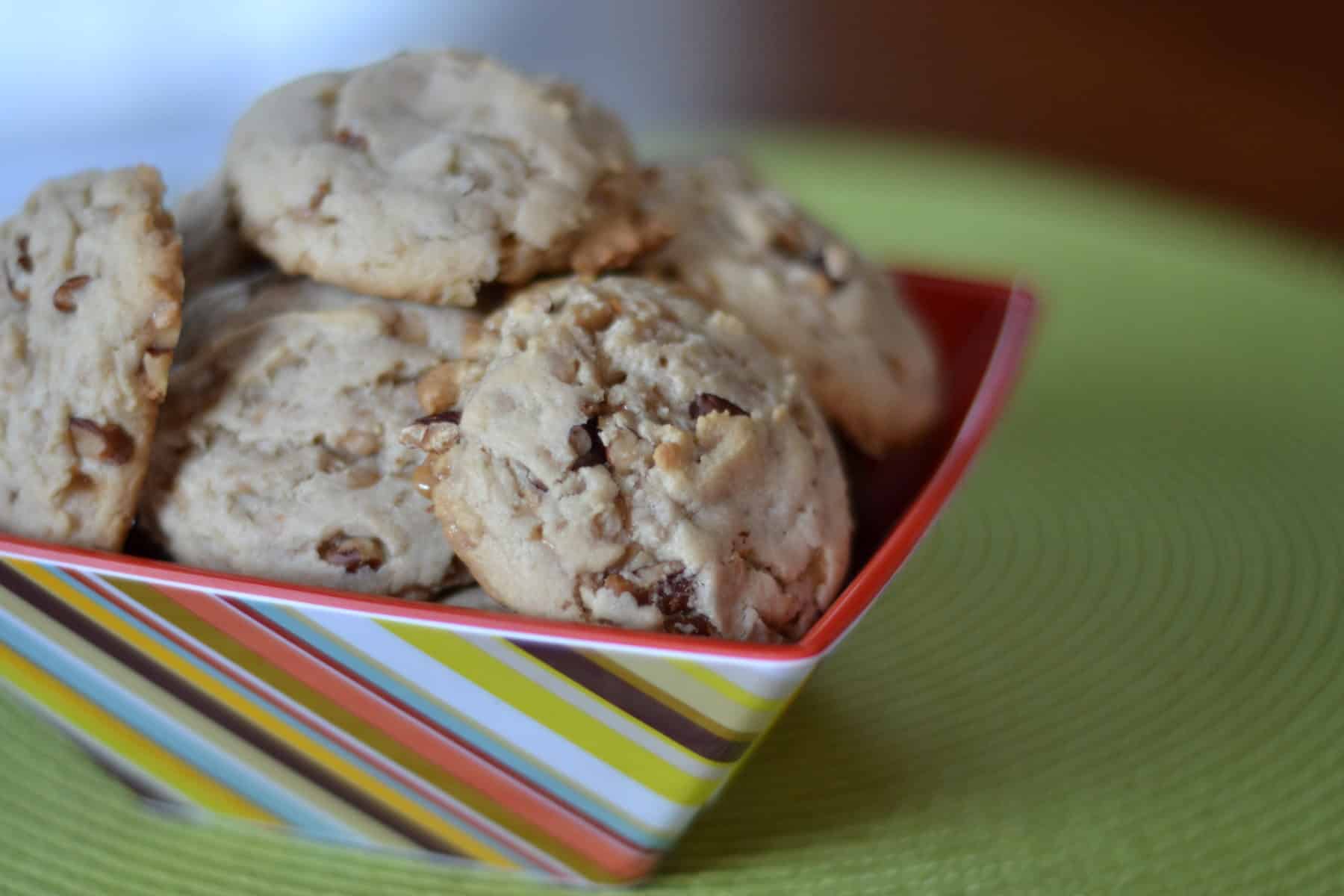 BUTTER PECAN TOFFEE COOKIES
Butter Pecan Toffee Cookies
Prep time:
Cook time:
Total time:
Ingredients
1 box Butter Pecan cake mix (Betty Crocker makes it)
2 eggs
1/2 cup vegetable or canola oil
1/2 – 1 cup chopped pecans
1 bag Heath toffee brickle bits
Instructions
Preheat the oven to 350*. Line two cookie sheets with parchment paper or use a Silpat nonstick liner.
In a medium-sized bowl, mix together the cake mix, eggs and oil with a hand mixer. Stir in the pecans and toffee bits. Scoop generous tablespoons of the dough onto your cookie sheets, spacing two inches apart.
Bake 8-10 minutes or until bottoms have browned lightly and the tops are just starting to toast up.
Cool for a few minutes on the baking sheet and then transfer to a wire rack to cool completely.
Makes a little over 2 dozen
ENJOY!