Directions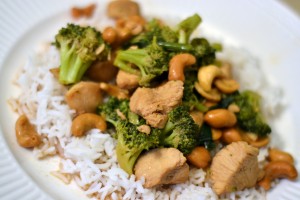 In a never-ending attempt to get my youngest to "eat more green", I decided to crack open my old Noteworthy cookbook again and stir up a quick and easy stir-fry that my Mom used to make when I lived at home.  I don't think I'd eaten it since I lived at home (and that was a looooooong time ago), but for some reason, it popped into my head the other day!  Thankfully, once I looked at the recipe, I realized that it was quick, easy, and definitely something I could throw together on one of our busiest nights.
I started by slicing up some chicken into 1-2 inch pieces.  I mixed together an easy marinade of soy sauce, dry sherry and ground ginger and poured that over the chicken pieces.  The chicken needed to marinate for about 10 minutes, which was enough time for me to prep my broccoli, green onions and garlic.
I steamed the broccoli flowerets for just about 3 minutes, until they were tender crisp, and then rinsed them quickly in cold water to stop the cooking process.
Once the broccoli was ready, I could start up my wok…well, my biggest frying pan.  I don't have a wok, but this worked just fine!
First, I heated up some oil in my pan and then added the garlic, green onions and cashews.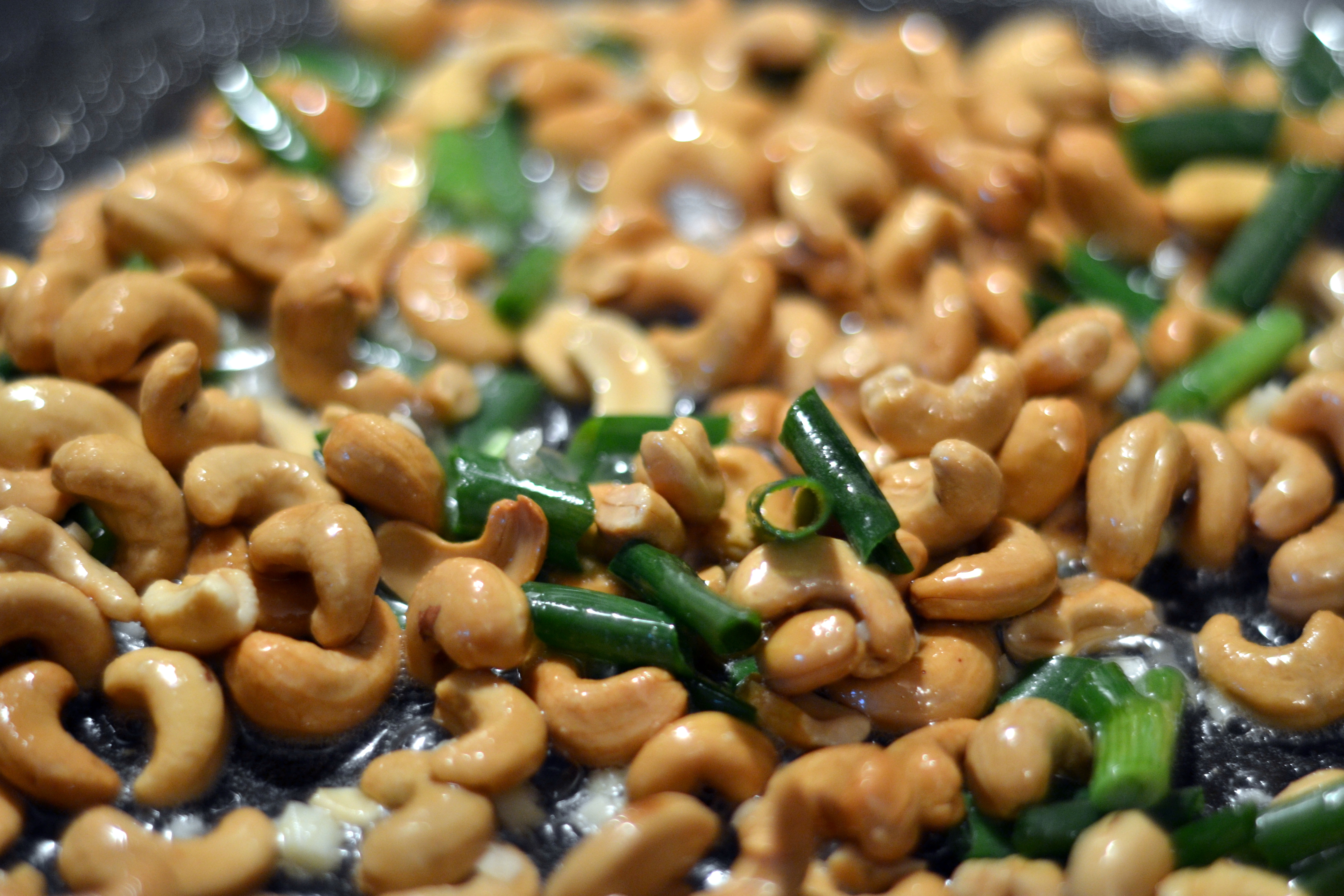 Cooking the cashews this way helped infuse them with all of that wonderful flavor from the onions and the garlic.  After just a couple of minutes, I moved the cashew mixture to a bowl and then added the chicken and steamed broccoli to the pan.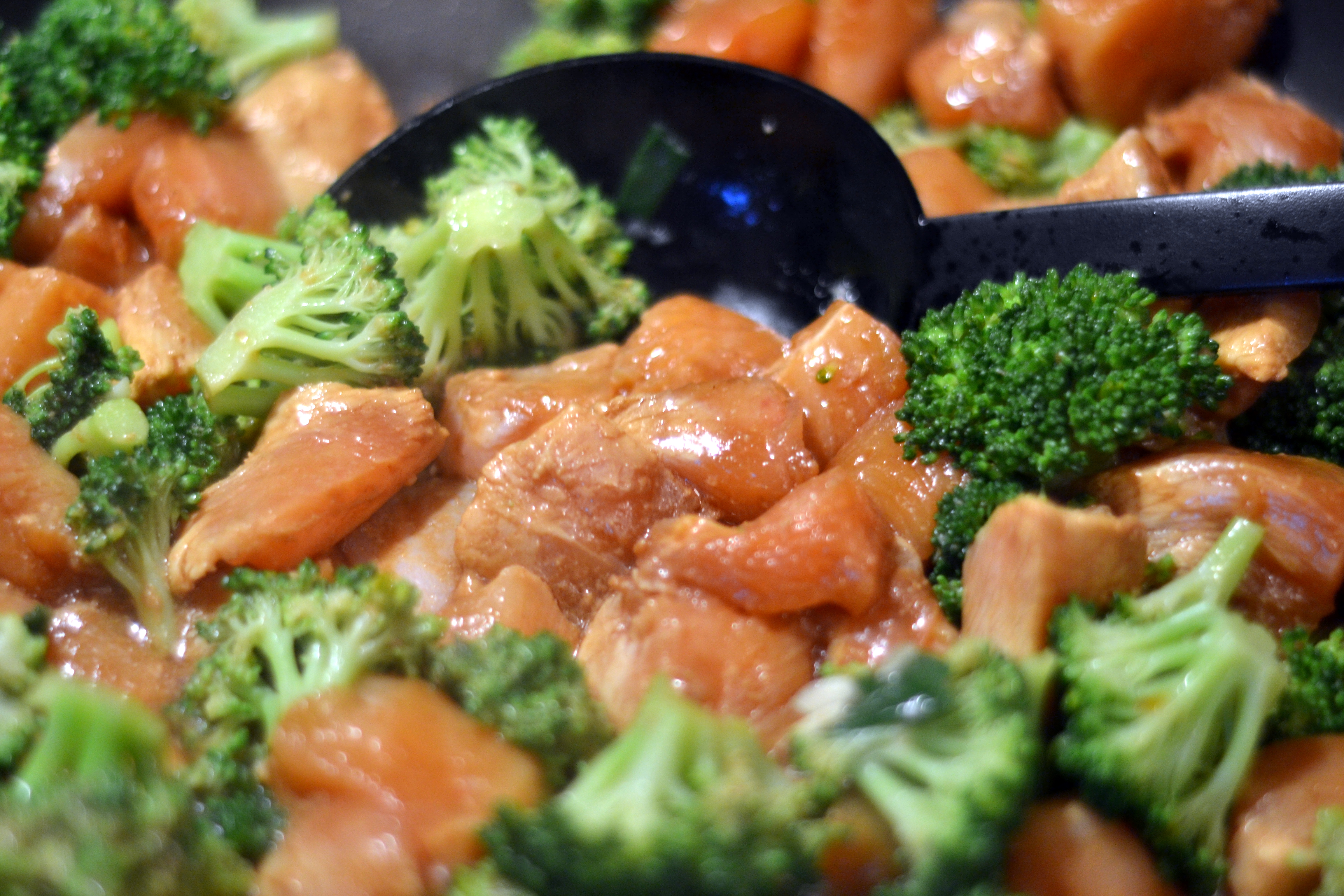 I stir fried the chicken mixture for about five or six minutes, which was just long enough for the chicken to cook through.  I added the cashew mixture to the chicken, stirred it up and dinner was ready!
I'd set the timer on my rice cooker earlier in the day, before all of our evening craziness, so when the stir fry was done, the rice was too!  (If you don't have a rice cooker, I highly suggest getting one.  For years, I served my family horribly cooked rice.  No matter what I did, I couldn't get it right.  I finally broke down and got a decent rice cooker a few years ago and the first time I served rice from it, my husband said, "Oh! So this is what rice is supposed to taste like!"  It's now one of my best friends in the kitchen!)
Dinners don't get much easier than this.  Now I understand why my mom liked to make it on our busy nights!
CHICKEN, BROCCOLI AND CASHEW STIR FRY
Adapted from Noteworthy
Chicken, Broccoli and Cashew Stir Fry
Prep time:
Cook time:
Total time:
Ingredients
1/4 cup soy sauce
1 1/2 Tbsp. dry sherry
3/4 tsp. ground ginger
1 1/2 lbs. boneless, skinless chicken breasts, cut into 1-2 inch pieces
1 lb. fresh broccoli flowerets, cut into pieces
6 Tbsp. vegetable or canola oil, divided
1/2 cup sliced green onions
2 cloves garlic, minced
1 1/2 cups salted whole cashews
Instructions
Place chicken pieces in a medium-sized bowl. In a small bowl, whisk together the soy sauce, dry sherry and ground ginger. Pour the marinade over the chicken, stirring just to make sure the marinade is evenly distributed. Let the chicken stand for 10 minutes while you prep the veggies.
Steam the broccoli flowerets for 3-4 minutes until tender crisp. Drain and immediately rinse with very cold water. Set aside.
Heat 3 tablespoons of the oil in your wok (or very large skillet) over medium-high heat. Add the green onions, cashews and garlic. Stir continuously for 3 minutes. Transfer the cashew mixture to a bowl and set aside.
Add the remaining 3 tablespoons of oil to the pan and add the chicken mixture and the broccoli. Stirring continuously, cook for 5-6 minutes until chicken is cooked through. Add the nut mixture and stir together. Serve immediately over rice.
ENJOY!