Directions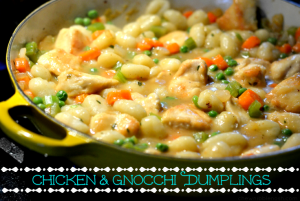 Sometimes, even though the sun is shining, the birds are singing, and you break a sweat when you walk outside, you just need some good, old-fashioned comfort food.  This was the case for me this past week, as my allergies have been giving me a serious run for my money.  I heard on the news that they are calling this year's pollen forecast a "POLLEN TSUNAMI".  It's official, everything is way too dramatic.
That said, I have been awfully sniffly lately, and feeling kind of crummy, so when I ran across this recipe from Eating Well, I knew it would hit the spot.
Everyone in this house loves gnocchi, soft little pillowy potato dumplings, and I don't make them near enough.  Usually, I've paired them with something distinctly Italian, like in this Baked Gnocchi with Zucchini and Tomatoes recipe.  Using gnocchi in a Chicken & Dumplings recipe seemed like a stroke of genius, and I'm always up for trying a twist on a favorite.
I started by prepping all of my ingredients.  In place of the chicken thighs in the original recipe, I substituted one pound of boneless, skinless chicken breast, that I cut into chunks.  I also poured out a cup of frozen peas, and let them sit at room temperature a bit, and then I chopped up an onion, some carrots, celery, and fresh thyme.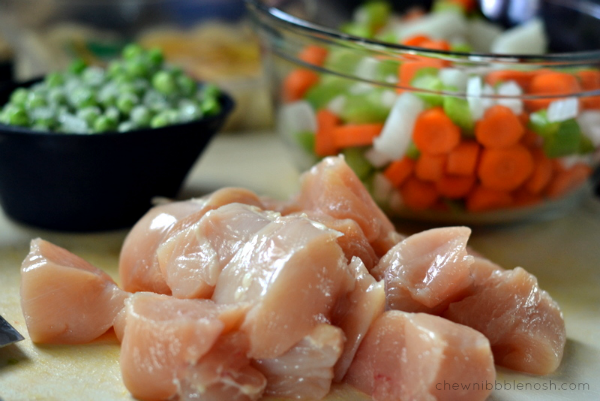 I tossed the pieces of chicken with some flour in a bowl, making sure they were well coated.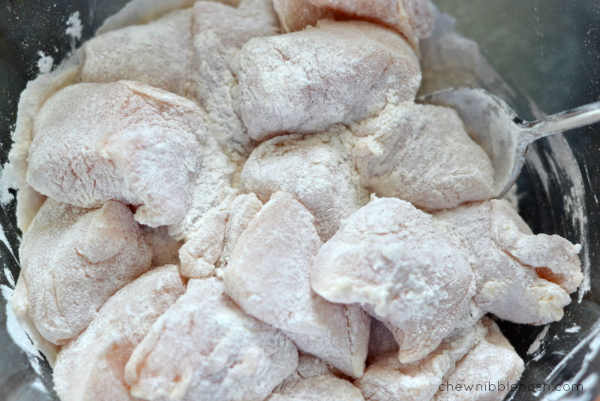 I turned on my stove and heated a bit of oil in a large pan to cook my chicken.  As I moved each pieces of chicken to the pan, I shook off any excess flour.  The leftover flour in the bowl would be used later to help thicken the sauce!
I sprinkled the chicken with salt and pepper, and browned it in the oil on all sides.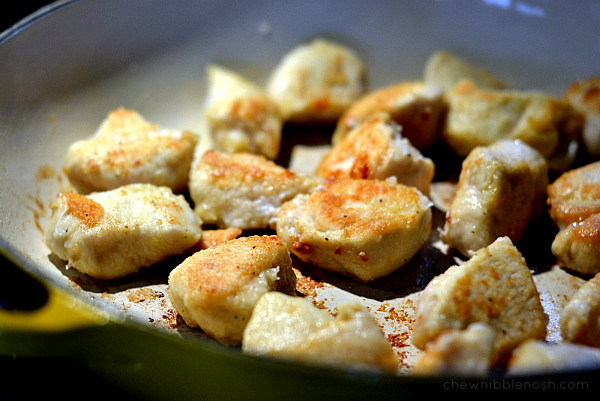 Once it was nicely browned, I removed the chicken to a plate to rest for a minute.  No worries if the chicken isn't completely cooked through.  When it's added back into the mix later, it can finish up.
I added a little more olive oil to the pan, and started sauteing my veggies and the thyme.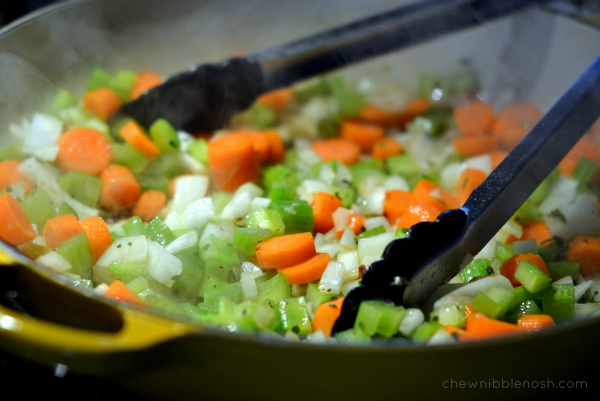 I cooked the veggies until they were just crisp tender, about five minutes, and then I sprinkled them with that extra flour from the chicken, and gave the mix a good stir, before adding in my chicken broth and the reserved chicken pieces.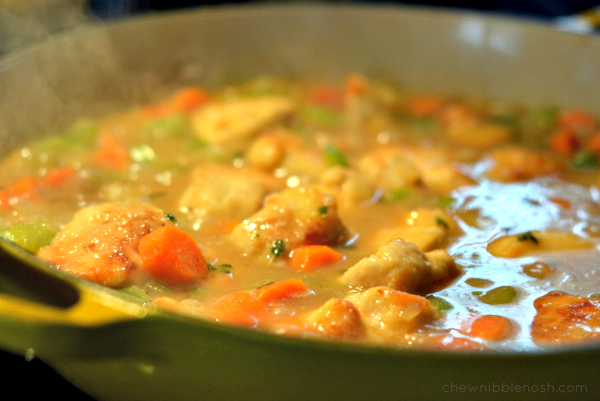 It didn't take long for the sauce to bubble up, nice and thick.  I could have probably stopped right there and had a pretty tasty chicken stew on my hands, but I needed to add my cooked gnocchi and peas, that I'd cooked together for just a few minutes while the chicken and veggies had been cooking.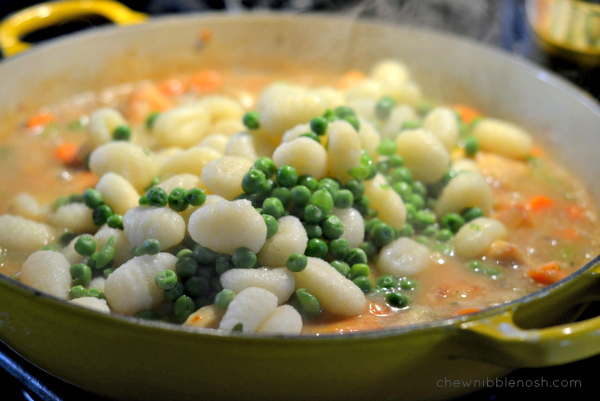 I gave it a good stir, seasoned it with more salt and pepper, and then let it bubble together for just a couple of minutes before serving it up.
We all really enjoyed this simple take on Chicken & Dumplings.  It was fresh, but still cozy, and full of those comforting flavors you really want when a Pollen Tsunami floats into town.  Plus, what a great meal to have in my back pocket for a busy night!  Other than the gnocchi, I pretty much always have the other ingredients on hand.  I think I need to make packaged gnocchi a pantry staple from now on.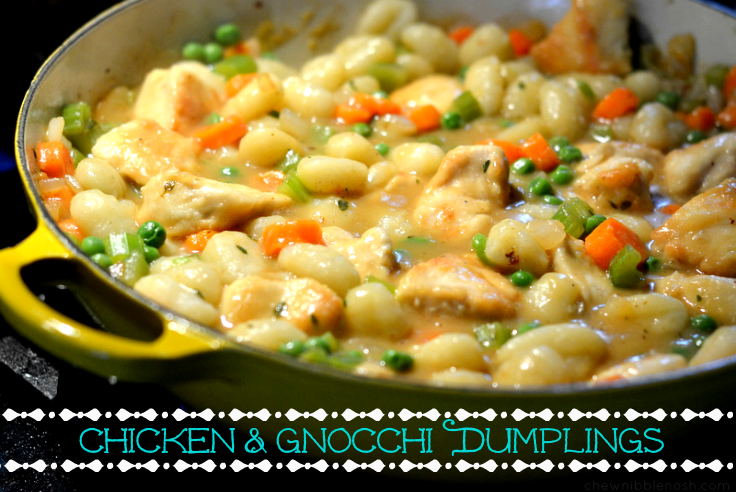 CHICKEN & GNOCCHI DUMPLINGS
Adapted from Eating Well
Chicken & Gnocchi Dumplings
Author:
Prep time:
Cook time:
Total time:
Ingredients
1 16-ounce package shelf-stable gnocchi (look in the pasta aisle)
1 cup frozen peas
1 pound boneless, skinless chicken breasts, trimmed, and cut into 1-inch pieces
1/3 cup all-purpose flour
2 tablespoons extra-virgin olive oil, divided
1/4 teaspoon salt
1/2 teaspoon ground pepper, divided
2 cups sliced carrots
1 cup diced celery
1 onion, diced
1 tablespoon chopped fresh thyme, or 1 teaspoon dried
1 3/4 cups low-sodium chicken broth
salt and pepper to taste
Instructions
Bring a large pot of water to a boil for your gnocchi and peas while you prep the ingredients.
Once the water is boiling, add your gnocchi and the frozen peas. Cook, stirring frequently, for 2 minutes. Drain and set aside.
Toss the chicken pieces with the flour in a bowl.
Heat a large skillet over medium-high heat on the stove top. Add 1 Tbsp. of the olive oil and allow to heat. Shake the excess flour off of the chicken, reserving the leftover flour, and add the chicken pieces to the pan. Sprinkle the chicken with salt and pepper. Cook the chicken, turning occasionally, until the pieces are nicely browned on all sides. Remove the chicken to a plate and set aside.
Add the remaining 1 Tbsp. olive oil to the pan. Add the celery, carrot, onion and thyme, stirring and cooking until crisp-tender, about 5-7 minutes.
Sprinkle the reserved flour over the veggies, and give them a good stir to coat the vegetables evenly. Add in the chicken broth and cooked chicken, stirring until the stew has thickened a bit, about 2-3 minutes.
Add the cooked gnocchi and peas to the stew. Combine the mixture gently, season with salt and pepper to taste, and allow the flavors to come together for a couple of minutes before serving.
ENJOY!