Directions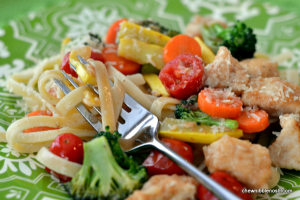 I made this Primavera dish to usher in the springtime.  After all, the birds were tweeting, the sun was shining on my girls as they laughed and played outside with their friends, and all was right with the springtime world as I threw together this dinner last week.  It was the perfect spring afternoon.
Fast forward to today, and I'd love a little of that sunshine.  What a crummy day! It's pouring here.  Not just a picturesque spring rain shower, either.  We're talking downright miserable, muddy puddles, road flooding, lightning strikes, gloomy-gray pouring here.  All day.  My backyard is a swamp, and I'm pretty sure I just saw an ark float down my street.
I'm trying to stay positive, though, as I remember that "April showers bring May flowers".  Based on today alone, May should be incredibly flowery.
But, rewind to last week, and let's focus on the beauty of spring.  The color, the renewed freshness, the blooming, the newness of spring.  THAT's what this dish is about.
There's really not a whole lot to this meal.  It's just simple, clean, fresh, and bright…just like springtime itself.
I started by prepping my veggies.  I cut some fresh broccoli into florets, julienned some yellow squash, peeled and sliced a couple of carrots, and halved a handful of grape tomatoes.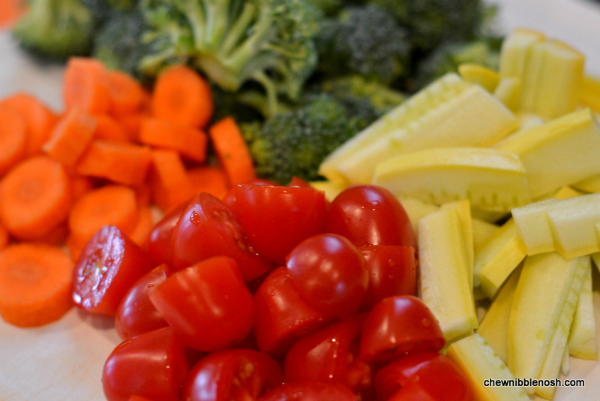 This meal comes together so quickly, that while I was chopping the veggies, I brought some water to a boil on the stove top so I'd be ready to throw in my pasta as I started the dish.  In the time it takes to cook the noodles, the rest of the meal is done!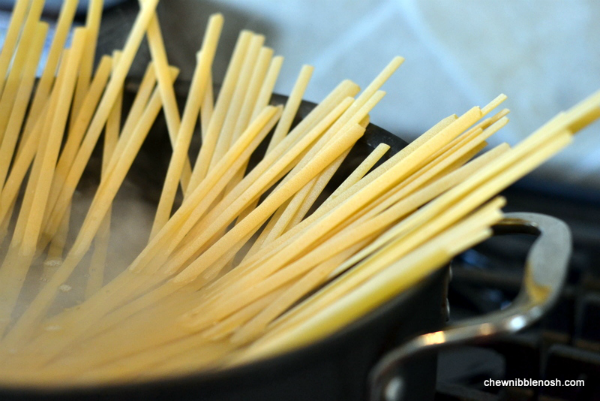 I cut a couple of chicken breasts into chunks, and tossed them with some seasoned flour, before browning them up in a pan on the stove top.
Once the chicken was lightly browned on all sides, and cooked through, I added my broccoli, squash and carrots to the pan.
They mingled with the chicken for a couple of minutes, and then I added the tomatoes into the mix.
I deglazed the pan with just a bit of wine, and made sure to scrape up all of the browned bits into my sauce, before adding some chicken broth to the pan.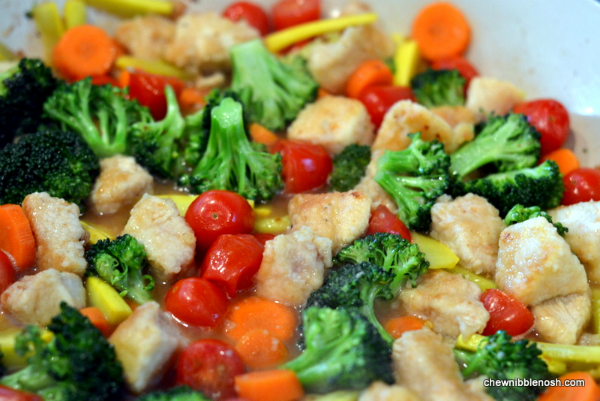 I let the sauce simmer for a couple of minutes, and then I finished it off with a pat of butter, and a little salt and pepper.
That's it!  All that was left was to drain the pasta, and serve it on up to my family.
Simple, fresh, and delicious.  It doesn't get much better than that.
Happy Springtime!  Now, can we just get this rain to stop so I can enjoy the moment, please?
CHICKEN PRIMAVERA
Adapted from Cuisine Tonight: Quick & Easy Pasta
Chicken Primavera
Author:
Prep time:
Cook time:
Total time:
*Note: This meal serves four, but don't expect HUGE pasta servings. Paired with a salad and bread, it makes for a substantial meal. If you're looking for a bulkier pasta dish, you may want to double all of the ingredients.
Ingredients
8 oz. fettucine or tagliatelle pasta
2 boneless, skinless chicken breasts, cut into cubes
3/4 cup flour
salt and pepper
2 Tbsp. olive oil
1/2 cup fresh broccoli florets
1/2 cup julienned yellow squash
2 small carrots, peeled and sliced (1/4 inch slices)
1/2 cup halved cherry or grape tomatoes
1/4 cup dry white wine
1/2 cup low-sodium chicken broth
1 Tbsp. butter
Instructions
Bring a large pot of water to a boil on the stove top. Salt the water, generously, and add the pasta. Cook, according to the directions on the package.
Stir some salt and pepper into the flour, and lightly coat the chicken pieces with the seasoned flour, shaking off the excess.
Add the oil to a large skillet over medium heat. Add the chicken pieces, and cook a few minutes on each side until browned and cooked through.
Add the broccoli, squash and carrot to the pan, stirring often. Cook for 2-3 minutes, and then add the tomatoes, and give it a good stir.
Deglaze the pan with the wine, making sure to scrape up all of the browned bits in the bottom of the pan. Allow the wine to reduce by half.
Add the broth, and bring the mixture to a boil. Stir in the butter.
Season with salt and pepper to taste.
Serve the chicken and vegetable mixture over the cooked pasta.
ENJOY!