Directions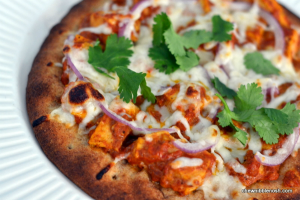 I love good Chicken Tikka Masala, which was why I was so excited to find such a perfect recipe for Slow Cooker Chicken Tikka Masala a while back.  Then, I saw this creative pizza in Cooking Light magazine last month and thought I should probably give it a try too.  If you've made the Crock Pot Tikka, making these pizzas with the leftovers would be quick as a wink.  If you don't have leftovers lying around, this version is pretty quick and easy too.  It was really tasty, and a fun way to change up the dinner routine!
First things first, I sliced a few chicken breasts into long strips and let them marinate for a few minutes, in a mixture of nonfat yogurt and Garam Masala.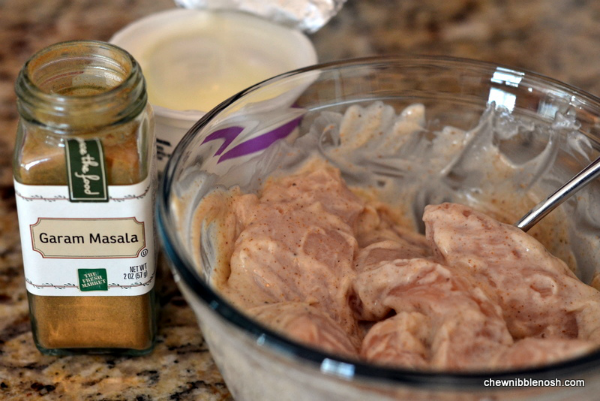 The chicken went onto a cookie sheet and then took a turn under the broiler, for about five minutes on each side, until it was cooked through.
As the chicken was cooking, I started my sauce.  Into a hot, oiled pan went some more garam masala, fresh grated ginger, red pepper, and fresh minced garlic.  I stirred that around for a minute, until it was deliciously fragrant, and then poured in a can of diced tomatoes that I'd pureed in my mini chopper (a food processor or blender works too!).
I let that simmer for about five minutes, stirring it occasionally, before I added a bit of salt and just a touch of heavy cream.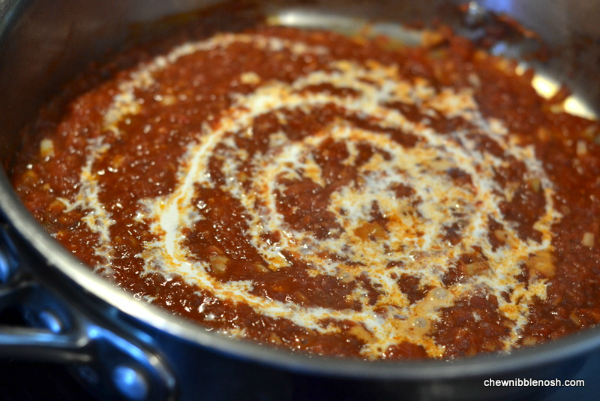 I stirred in the cream and let is simmer for a minute more, while I cut my cooked chicken into bite sized pieces.  Once the chicken was chopped, I added it to the sauce and stirred it in.
Tikka done.
Now it was time to build the pizzas!
The original recipe called for whole wheat pitas.  I ran across whole wheat flat breads, so I used those instead, but use whatever floats your boat.  They were a little larger than a pita, so the tikka didn't stretch as far as the recipe suggested, but that's OK because it was just Aaron and I munching on the spicy pizzas that night.  The girls had plain old cheese pizzas (BORING.).
I warmed up the flat breads a bit under the broiler, and then topped them with all the goodies.  A big scoop of the chicken tikka masala was spread out and topped with some thinly sliced red onion and a good sprinkle of mozzarella cheese.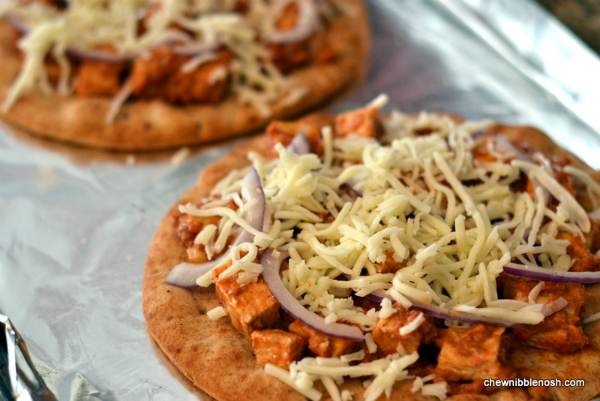 The pizzas went back under the broiler for a couple of minutes, just until the crust crisped up and the cheese was nice and bubbly.
I topped the pizzas with some chopped cilantro, and we were ready to go!  In less than 30 minutes, we had a deliciously different dinner on our hands and a new weeknight favorite.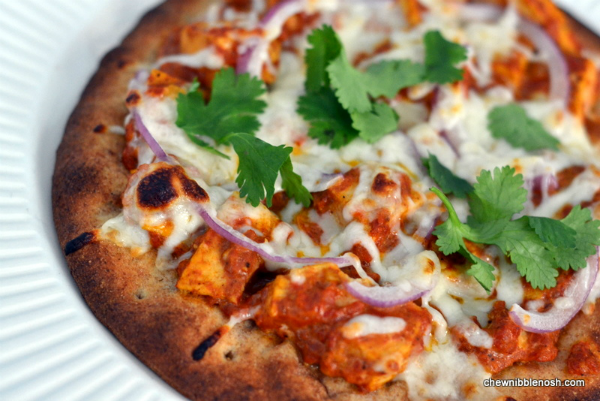 CHICKEN TIKKA PIZZA
Adapted from Cooking Light
Chicken Tikka Pizza
Author:
Prep time:
Cook time:
Total time:
Ingredients
12 oz. boneless, skinless chicken breasts
1/2 cup plain non-fat yogurt
2 tsp. garam masala, divided
cooking spray
kosher salt
1 (14.5 oz.) can unsalted diced tomatoes, drained, and pureed in a blender or food processor
1 Tbsp. olive oil
1 tsp. grated fresh ginger
1/4 tsp. ground red pepper
3 garlic cloves, minced
2 Tbsp. heavy whipping cream
2-4 whole wheat pitas or flat breads, or naan would be fun! (The size of your bread will determine how many people this feeds. You could even make one large pizza from it.)
1/3 cup thinly sliced red onion
3/4 cup shredded part skim mozzarella cheese
2 Tbsp. chopped fresh cilantro
Instructions
Preheat your broiler to high. Cover a baking sheet with foil.
Cut the chicken breasts in half, horizontally. Whisk 1/2 tsp. of the garam masala into the plain yogurt. Add the chicken to the yogurt mixture and stir to make sure the chicken is covered with the yogurt. Let the chicken marinate while you prep the other ingredients.
Coat the baking sheet with nonstick spray, and lay the chicken pieces on the sheet. Broil the chicken, for about 5 minutes on each side, until chicken is cooked through. Remove from the oven and set aside.
Meanwhile, heat a skillet over medium high heat. Add the olive oil to the pan and swirl to coat.
To the hot pan, add the 1 1/2 teaspoons garam masala, ginger, red pepper, and garlic. Stir for one minute, until very fragrant. Add the pureed tomatoes, and stir and simmer for four minutes.
Stir in 1/2 teaspoon of kosher salt and the cream. Cook 1 minute.
Cut the chicken into bite sized pieces and stir the cooked chicken into the sauce.
Place the pitas on a cookie sheet. Broil for one minute on each side.
Spoon 1/2 cup of the chicken mixture onto each pita. Top with the sliced onion and the cheese. Broil for 2 minutes, or until cheese is melted and bubbly and crust begins to brown.
ENJOY!