Directions
In the cookie baking world, fads seem to come and go.  Recently, I've seen a lot of fuss made over wonderful, little French Macaron cookies.  Quite honestly, they are worth all the fuss!  Last year, while we were in Charleston, we ran across the cutest little French bakery and indulged in some of their amazing little Macarons.  They are beautiful, delicate little jam, chocolate, or cream filled wonders.  I fell in love with them and swore I'd bake some up ASAP.  Well, I still haven't, and this recipe isn't for that type of Macaron. ( I promise you, I'll get to that soon.  A friend of mine just lent me her wonderful Macaron cookbook and I can't wait to dive in!)
This is a recipe for a more traditional, coconut based (The American version?) Macaroon.  Notice the spelling difference?  A Macaron and a Macaroon are two totally different delicious little somethings.  For more information on the difference, check out the article here.  Both are special, both are delicious, but they are not at all alike.
I ran across this recipe a while ago online, copied it and emailed it to myself.  It sat in my inbox for a long time and I rediscovered it recently and figured I'd give it a try.  It didn't sound like it could be anything but wonderful…a simple brownie batter mixed up with some coconut and a dash of almond?  How could that be bad?  Well, I guess if you don't like coconut, you may be out of luck.  Keep in mind, though, that my daughter can't stand coconut and she loved these cookies.  The brownie and almond flavors mix perfectly with the coconut, so it's not too overpowering…just deliciously chewy.
I started by mixing a dry, boxed fudge brownie mix with a couple of cups of sweetened coconut flakes.
Once that was stirred together, I combined some vegetable oil, water, a couple of eggs and some almond extract together.
Dry mixed into wet and I was left with a thick, stiff brownie batter chock full of coconut!  Using my cookie scoop, I scooped out perfect little mounds onto my cookie sheets that I'd lined with parchment paper.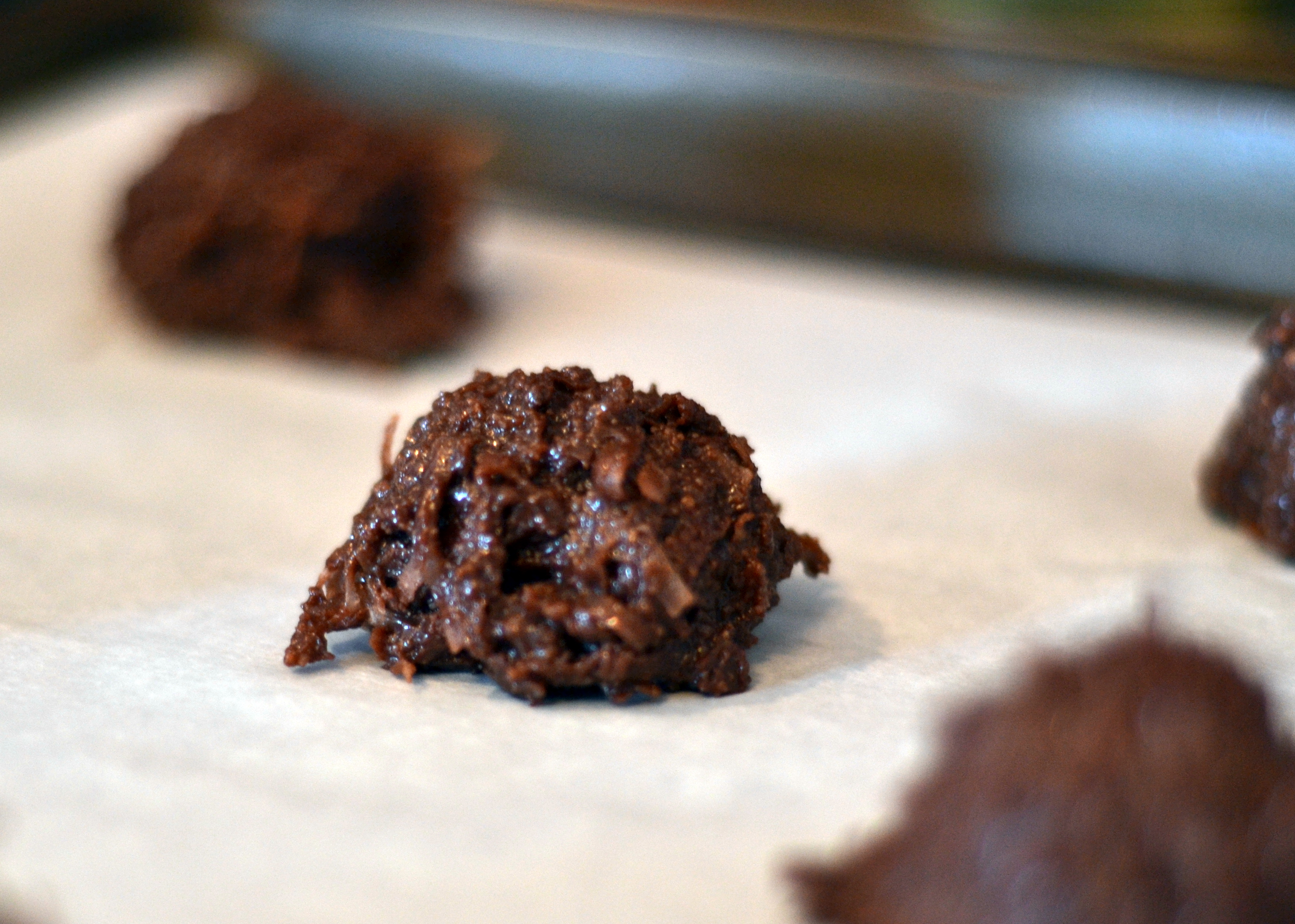 The recipe I had said to flatten each mound a bit with the bottom of a glass, but I didn't bother.  They spread out just perfectly on their own, and I wanted to make sure that they were nice and gooey in the middle, like a perfect brownie concoction should be!
After about 10 minutes in the oven, they were perfect!
I do have a warning for you, though.  If you eat one of these fresh out of the oven, when it's nice and warm and the center is still a little ooey gooey, odds are you're going to want another one…
and another…
and, quite possibly, yet another.
Thankfully, after I'd (over)indulged, I had to go pick up my girls from school, so I had no choice but to leave the kitchen!
They were delicious and the perfect little batch for our family.
I promised everyone I'd make them again…but not before I try to tackle that other little cookie project I have going.
**Don't forget!  Make sure you check out Monday's post and enter to win the OXO giveaway!**
Click here for more details on how to enter.
CHOCOLATE BROWNIE MACAROONS
Chocolate Brownie Macaroons
Prep time:
Cook time:
Total time:
Ingredients
1 (19.8 oz.) box fudge brownie mix (box mix for a 9×13 inch pan)
2 2/3 cups sweetened, shredded coconut
3 Tbsp. vegetable or canola oil
2 Tbsp. water
2 eggs
1 tsp. almond extract
Instructions
Preheat your oven to 350*. Line two cookie sheets with parchment paper.
In a large bowl, stir together the brownie mix and the coconut flakes.
In a smaller bowl, whisk together the remaining ingredients.
Add the wet ingredients to the brownie mixture and stir until just combined. The dough will be pretty stiff!
Using a cookie scoop, scoop out the cookies onto the prepared cookie sheets, placing cookies two inches apart.
Bake for 10-12 minutes, or until edges are set. The centers will still be slightly soft. Let them cool for a minute on the cookie sheet before transferring them to a wire rack to cool completely. Makes about 3 dozen cookies. Store in an airtight container.
ENJOY!