Directions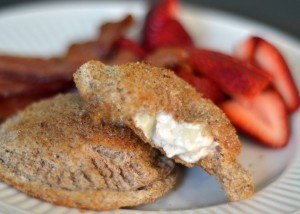 Is there anyone out there who doesn't enjoy breakfast for dinner?  We try to have breakfast for dinner at least a couple of times a month, and nothing seems to excite my kids more.  Even though they can be picky at other meals, they are always solid breakfast eaters.  If I can double up on breakfasts during the day, I know they are being well fed!
One of our favorite breakfast-dinners are these quick and easy toasted sandwiches.  I love them because they are quick and simple, plus they can be made up earlier in the day and then just baked up at dinner time.  The girls love them because, well…they are really good.
I start by prepping my bread.  You'll need two slices of bread for each pocket.  I always use whole wheat bread and usually make two pockets for each of us that I know will be eaten right then, and then a couple of extras in case someone is extra hungry or wants to take one for lunch the next day.  I take my 3-4 inch circle cookie cutter and cut out two circles of bread for each sandwich.
After the bread is prepped, I mix together some reduced fat cream cheese, chopped Granny Smith apple, some ground cinnamon and just a bit of powdered sugar.  You'll end up with more of the cream cheese mixture then you'll actually need, but it keeps really well in the fridge for a couple of days.  We use it to top bagels in the morning or make more sandwiches another day!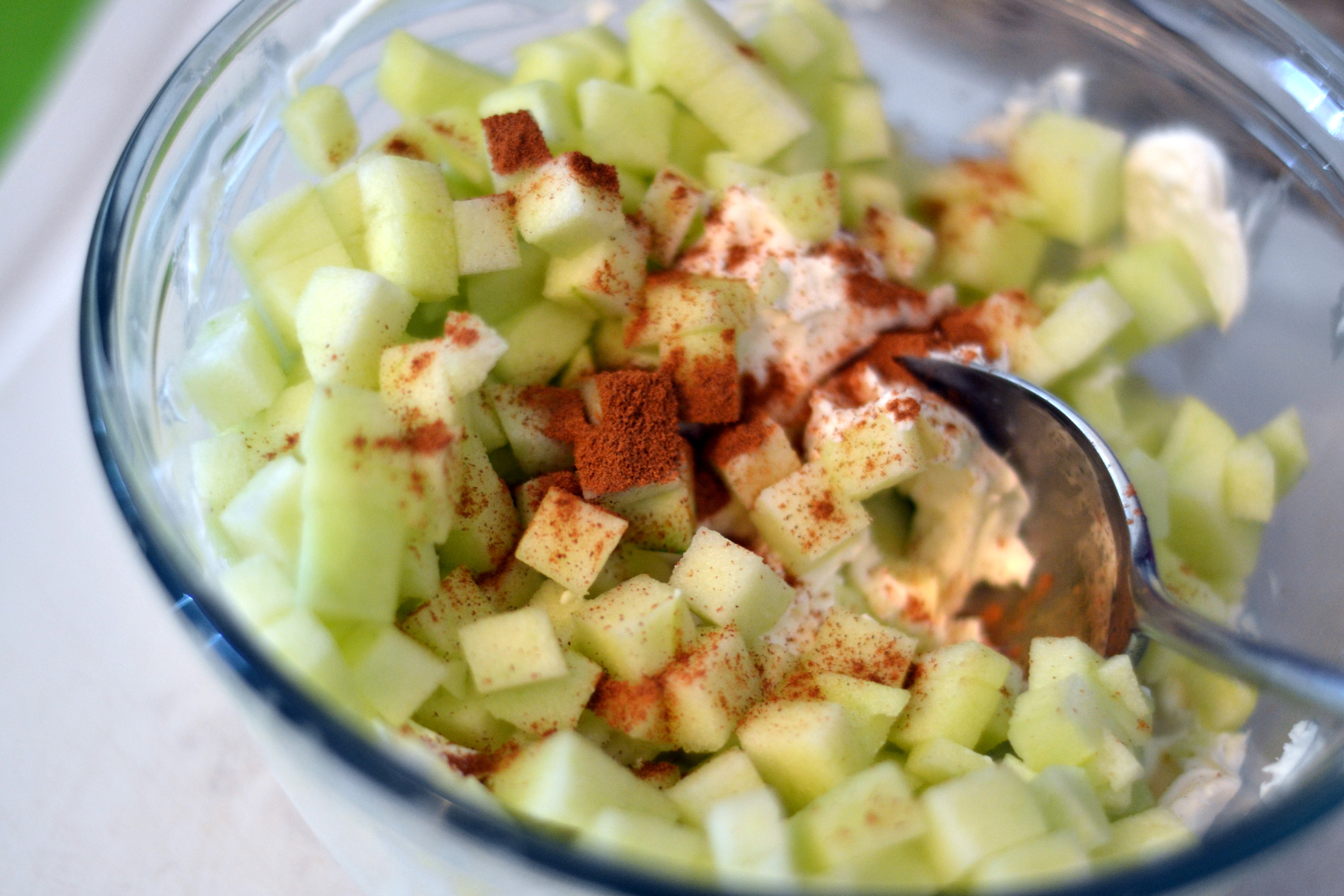 I lay out half of my bread circles on a cookie sheet and then top them with a dollop of the cream cheese mixture, right in the center.  I use my cookie scoop for the cream cheese and it seems to work really well!  As I put the second piece of bread on top, I smoosh down the cream cheese in the center just a bit, so it doesn't break through the top.
Then, I take a fork and crimp the edges, sealing in all of that yummy stuff.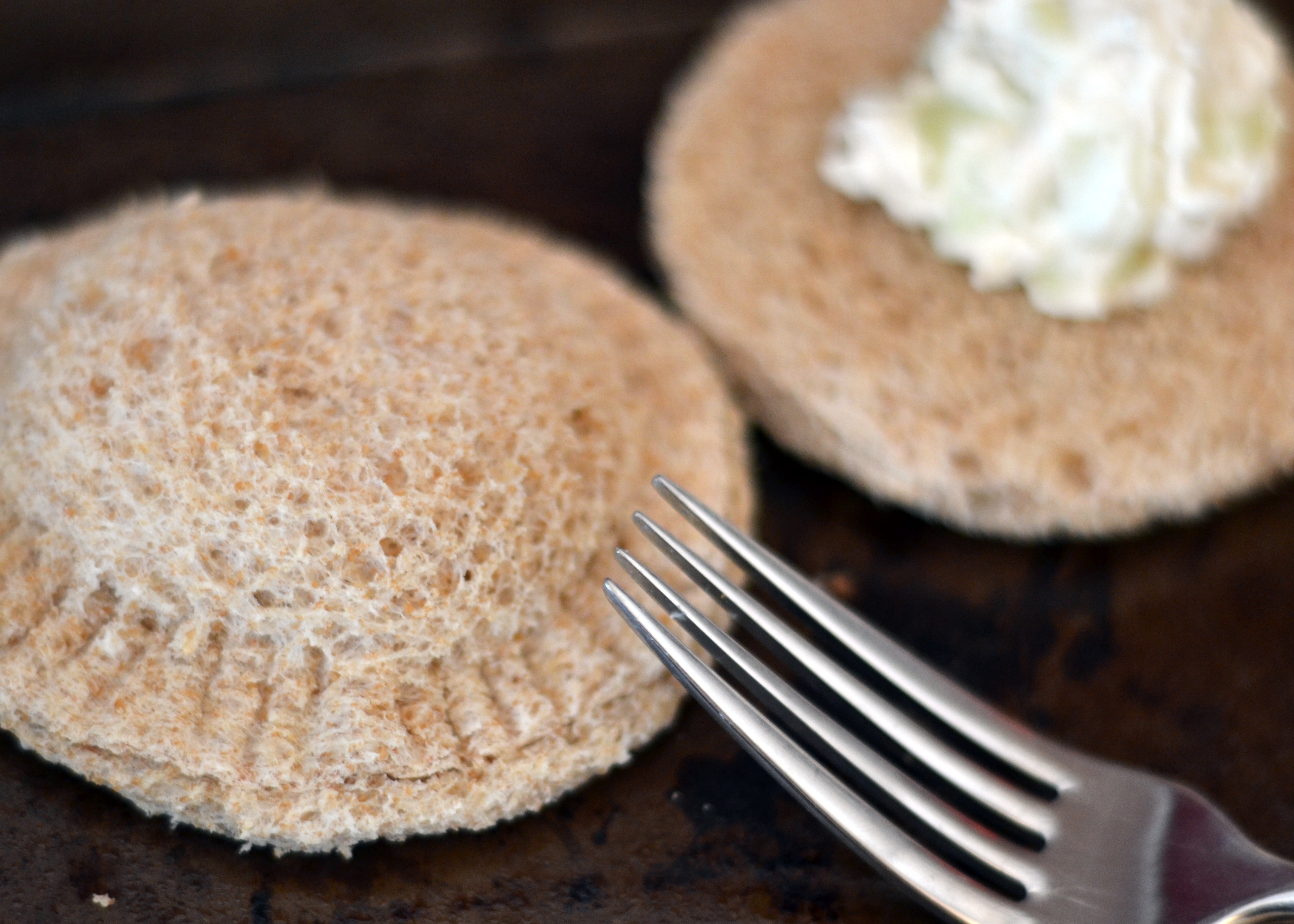 Before I pop them in the oven, I brush them with just a little bit of melted butter and sprinkle them lightly with cinnamon-sugar. Then, into the oven they go!
While they were in the oven, I fried up some bacon and sliced up some strawberries.  Ten minutes later, we were ready to eat!  Breakfast for dinner was a success once again!  In fact, this time they even asked, "Why don't we ever have this for breakfast?"  That's a good question!  I might just have to remedy that.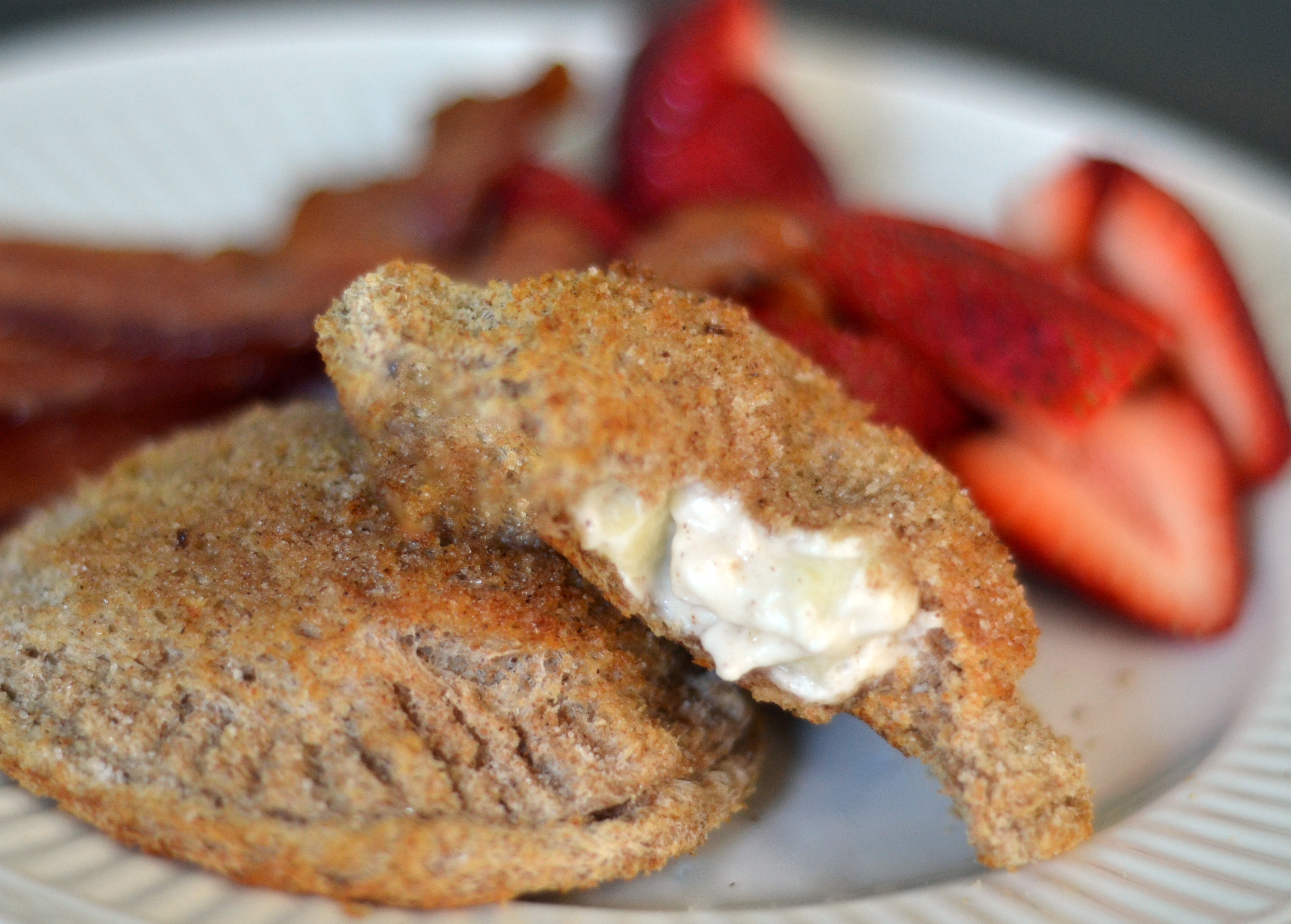 TOASTED CREAM CHEESE AND APPLE BREAKFAST POCKETS
Adapted from Southern Living
| | | |
| --- | --- | --- |
| Toasted Cream Cheese and Apple Breakfast Pockets | | |
Author:
Ingredients
32 slices whole wheat bread (or more, or less, depending on who you're feeding!)
1 (8 oz.) package reduced fat cream cheese, softened
1 medium-sized Granny Smith apple, peeled and diced
1/4 cup powdered sugar
1/4 tsp. ground cinnamon, divided
1 Tbsp. butter, melted
2 Tbsp. sugar
Instructions
Preheat your oven to 400*. Cut out the centers of each bread slice with a 3-4 inch round cutter. Place half of the bread circles on a lightly greased baking sheet.
Stir together the softened cream cheese, diced apple, powdered sugar and 1/8 tsp. of the ground cinnamon. Spoon a heaping tablespoon of the apple mixture into the center of the bread rounds that are on the cookie sheet. Place another bread round on top of the cream cheese, press down a little, and then crimp the edges with a fork to seal the pocket.
Brush the tops of the pockets with the melted butter. Mix together the sugar and remaining cinnamon and sprinkle this mixture on top of the pockets.
Bake at 400* for 8-10 minutes, or until golden brown.
The filling will be pretty hot at first, so you may want to let them cool down a bit for little ones. 🙂
ENJOY!