Directions
There's something special about a homemade gift during the holidays.  Knowing that someone took the time to make something special, just for you, simply embodies the spirit of the whole season!  And, in my experience, almost nothing is considered as precious as a treasured family recipe.  I'm so glad Pompeian is sponsoring this post!  They're making my homemade gifts this year all the more special, and a lot more fun, with their new personalized labels.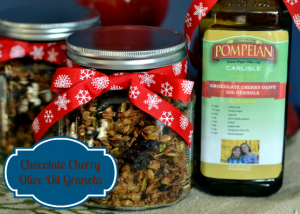 I can whip up this incredible, addictive granola, and instead of just passing along a recipe card, I can print up a personalized recipe label that perfectly fits their Extra Virgin Olive Oil, easily using their new Label Maker!  I can even add a family picture, in just seconds flat.
Creating the label is even easier than creating the granola, and recipes don't get much simpler than this.  I'm absolutely addicted to this stuff.  It's delicious, and you're going to love it too.  And since it's so incredibly simple, I can while up a bunch in no time flat.  Plenty to give away, and some for me to nibble on too.
I started by gathering my ingredients.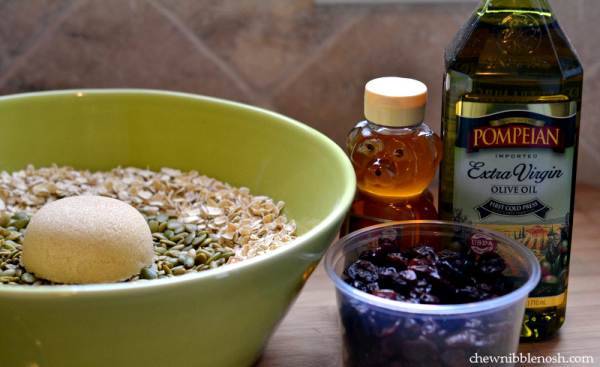 I needed six cups of rolled oats, some pepitas (shelled, roasted pumpkin seeds), brown sugar, honey, Pompeian Extra Virgin Olive Oil, and two cups of dried cherries.  I decided to throw some chocolate chips in too, at the last minute.
In a large bowl, I mixed together my oats, pepitas, brown sugar, honey and olive oil, and then spread the mixture over two cookie sheets.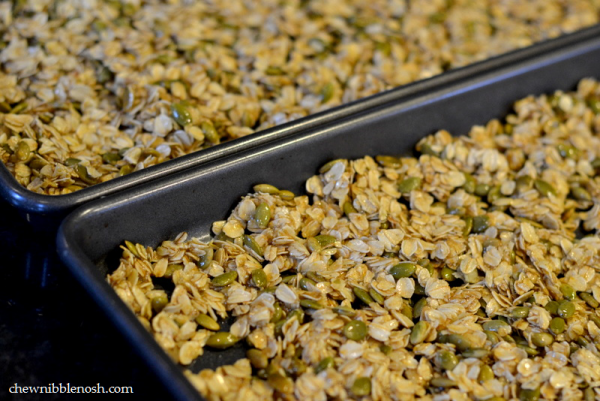 At this point, the cookie sheets went into the oven and the granola baked for about thirty-five minutes.  I gave it a stir every ten minutes or so, and when it was golden brown and toasty, I took the cookie sheets out and allowed the granola to cool.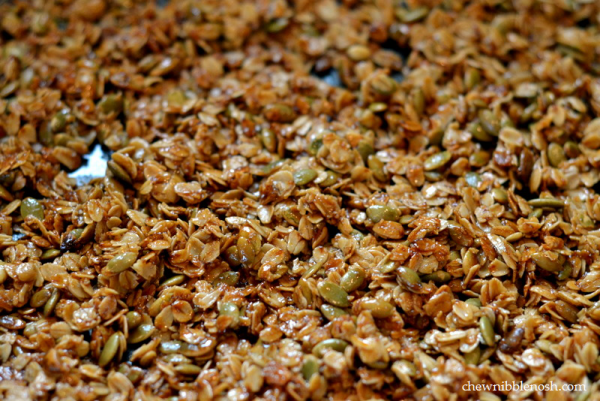 As the granola cools, it crisps up into the most delicious, crispy, crunchy treat.
Once the granola was cool, I broke it up into pieces with a metal spatula and transferred it back into the large bowl.  There, I combined it with those amazing dried cherries and some mini chocolate chips.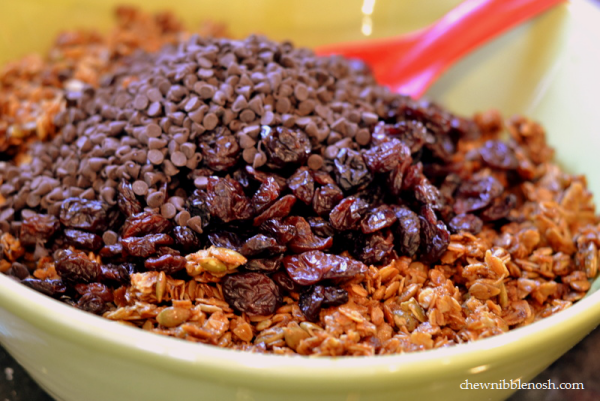 It's perfectly sweet, crunchy and chewy in all the right ways.  Sprinkle some over your yogurt, eat it with milk, or just eat it right out of the jar…which is what I've been doing as I've been writing this post!  (Oops! Time to make more!)  Be creative!  Throw in some pecans, swap out the cherries for cranberries or other dried fruit, use white chocolate…the varieties are endless.  Any way you concoct it, you'll be glad you took a few minutes to do it.
When it was all mixed together, I poured the granola into some jars…some to give away, and some to keep.  The granola stays fresh for up to three weeks in an airtight container.  Once the jars were filled, I hopped on my computer and created the perfect recipe card to give away with the granola, thanks to Pompeian!  Just go to their label maker, type in your recipe, add a favorite picture, and it will create a two-sided label that perfectly fits their 24 oz. bottle of olive oil!  The ingredients and picture are on the front side, and your recipe appears on the back!  Just attach the label to a bottle, pair it with a jar of this granola, and you have a perfect, simple, personalized gift from the heart.
Did you know that Pompeian Extra Virgin Olive Oil is the first and only extra virgin olive oil to carry the USDA Quality Monitored Seal?  Pompeian's full collection of oils, vinegars, cooking wines, and cooking sprays are quality you can count on for all of you holiday cooking needs.  For more information, and lots of holiday recipe inspiration, be sure to visit Pompeian.com.  And don't forget to click here to create that customized label!
Happy Gift Giving!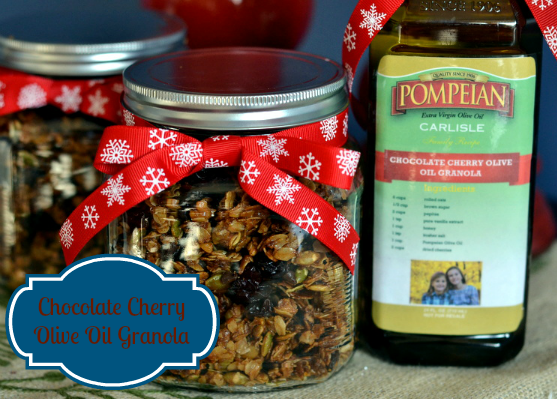 CHOCOLATE CHERRY OLIVE OIL GRANOLA
Chocolate Cherry Olive Oil Granola – Pompeian Holiday
Author:
Prep time:
Cook time:
Total time:
Ingredients
6 cups rolled oats
2 cups pepitas (roasted, shelled pumpkin seeds)
1/2 cup brown sugar
1 cup honey
1 cup Pompeian Extra Virgin Olive Oil
1 tsp. kosher salt
2 cups dried cherries
3/4 cup mini chocolate chips
Instructions
Preheat oven to 300*F.
In a large bowl, combine the oats, pepitas, brown sugar, honey, olive oil, and salt. Stir to combine.
Spread the mixture out over two baking sheets.
Bake, at 300*F, for 35-40 minutes, stirring often, until the mixture is golden brown.
Remove from the oven and allow to cool completely on the baking sheets.
Break the granola up using a spatula (metal works best) and transfer the granola into a large bowl.
Stir in the dried cherries and chocolate chips.
Store, in an airtight container at room temperature, for 3 weeks.
ENJOY!
 This is a sponsored post written by me on behalf of Pompeian.