Directions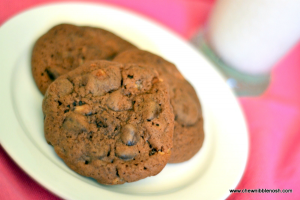 Rainy days just lend themselves to baking.  I can have all the get-up-and-go in the world, but if I'm greeted by a gross, rainy day I usually put that pep to good use in the kitchen.  Yesterday was a gloomy, icky day.  Gray skies, constant drizzle or downpour, frizzy hair…it was ugly.  It was the perfect day for chocolate cookies.
I've wanted to bake these up for a while, and I'm glad I finally got around to it.  They are one of a kazillion delicious looking recipes from Dorie Greenspan's beautiful book, Baking: From My Home To Yours.  
In our family, we're big fans of chocolate malts.  We'll take the chocolate-malt combo any way we can get it, whether it be in drinkable ice cream form or in a handful of Whoppers candies.  When I saw this cookie that combined both old-fashioned malt powder AND Whoppers, I knew Ms. Greenspan was onto something special.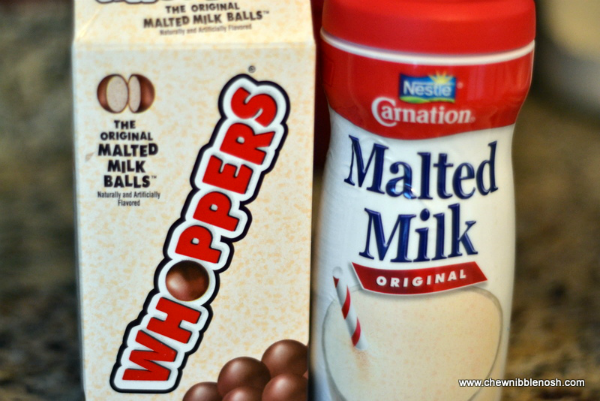 These are a pretty simple cookie to make, with one kind of tedious step.  I looked at the recipe and noticed that it calls for two cups of malted milk balls, coarsely chopped.  Seems simple enough, right?  Simple enough until you realize that those little malted milk balls roll around if you try to cut more than one at a time.  So, as my oven preheated and my butter came to room temperature, I took one Whopper at a time and sliced it in half.  Once they were cut in half, it was easier to give the whole batch a rough chop.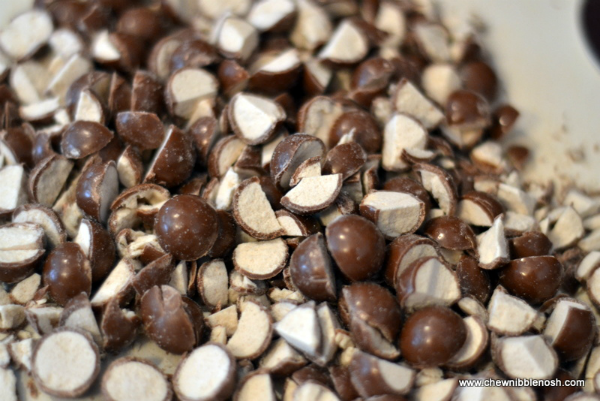 Once the malted milk balls were chopped, it was smooth sailing.  I sifted together some flour, malted milk powder, cocoa powder, baking powder and salt.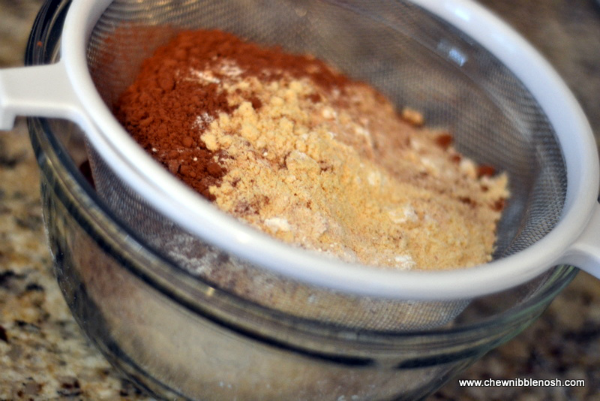 Once that was done, I put my dough together.  Typical cookie dough…butter and sugar, vanilla and eggs, then mixing in the dry ingredients just until blended.  I noticed that the dough for these cookies was extremely light, almost velvety, and super smooth.  It was then that I was able to rough things up a bit and stir in some chocolate chips and those chopped up malted milk balls.
Now that's a chunky cookie dough!
I scooped the dough out onto my cookie sheets and baked them up.  My house smelled like a malt shop.  Even the dog was drooling.
Imagine a light, but chewy, chocolatey cookie studded with chocolate chips and Whoppers, and a malt kick a the end.  That's this cookie.  They are delicious and I love how the Whoppers baked up.  They melt into a kind of crunchy, malt flavored toffee and add a delicious crunch to an otherwise, soft and chewy cookie.
I picked up my slightly soggy, frizzy haired girls from school (Poor things, they take after their mom.) and they dove into the cookies as their after school snack.  They loved them, and Emily even told me that I need to make them for Santa come Christmas time, because "he would LOVE them".  I take that as the highest compliment.
CHOCOLATE MALTED WHOPPER DROPS
Adapted from Dorie Greenspan
| | | |
| --- | --- | --- |
| Chocolate Malted Whopper Drops | | |
Author:
Ingredients
1 3/4 cups all-purpose flour
1 cup malted milk powder (You can find this near the hot chocolate and chocolate milk mixes in your grocery store.)
1/4 cup unsweetened cocoa powder
1 1/2 tsp. baking powder
1/4 tsp. salt
1 stick, plus 3 Tablespoons butter, softened
2/3 cup sugar
2 eggs
1 teaspoon pure vanilla extract
1/4 cup milk
2 cups chocolate covered malted milk balls, coarsely chopped
1 cup chocolate chips
Instructions
Preheat your oven to 350*.
Line two cookie sheets with parchment paper.
Sift together the flour, malt powder, cocoa, baking powder and salt into a medium-sized bowl. Set aside.
In a large bowl, or using a stand mixer, beat the butter and sugar together until very smooth.
Add the eggs, one at a time, and mix after each addition until well blended.
Beat in the vanilla.
Reduce your mixer to low and mix in half of the dry ingredients, mixing until just combined. Mix in the milk, and then add the rest of the dry ingredients, mixing until just incorporated.
Stir in the chocolate chips and malted milk balls.
Scoop out the dough, by rounded tablespoonfuls, onto the prepared cookie sheets. Leave about 2 inches between each cookie.
Bake for 11-13 minutes, until puffed but still slightly soft to the touch.
Allow to cool on the baking sheets for 2 minutes before removing to a wire rack to cool completely.
Store in an airtight container for up to 4 days.
ENJOY!