Directions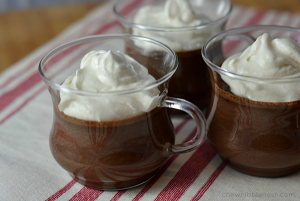 Doesn't that look like something you'd want to curl up with after a long day?
Pot de Creme is just one of those desserts that, when offered, I can't resist.  Have you ever had one?  If so, you know what I'm saying.  A Pot de Creme is actually just a really, really creamy, tasty, wonderful custard pudding. It's rich and velvety smooth, and a little goes a long way.  If you're ever needing a chocolate fix…a really deep, wonderful, dreamy chocolate fix, this version is the recipe for you.
One of the most important things you need to consider before diving into a recipe like this, though, are the ingredients.  A recipe like this deserves top-notch quality, so when my friends at Rodelle sent me some of their wonderful gourmet cocoa and extracts, I knew this was exactly the recipe where I needed to put them to good use.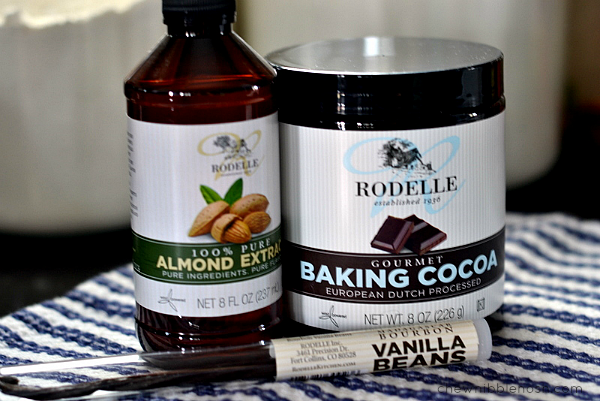 The holiday baking season is almost upon us, and Rodelle offers many wonderful options to help ensure that those sweets and treats you're baking up turn out just right.  Plus, take a look at their website!  It's a beautiful site, with loads of information and spectacular recipe ideas.
To start the custard, I brought some whole milk, half and half, almond extract, and a vanilla bean to a gentle simmer.  I split the bean and scraped the seeds into the pot, and then added the pod for extra flavor.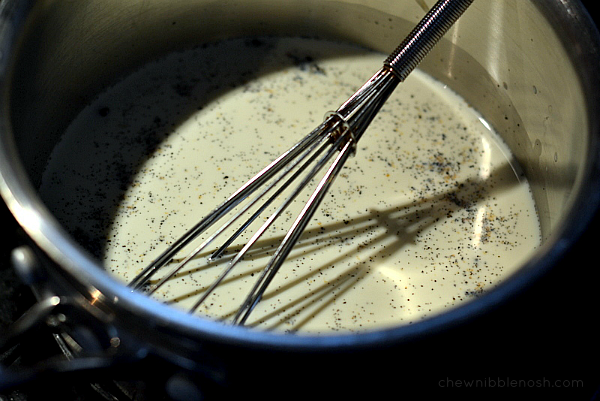 As that was warming up, I melted some semisweet chocolate in the microwave, and then also mixed together six eggs, some Rodelle Baking Cocoa, and sugar together in a large bowl.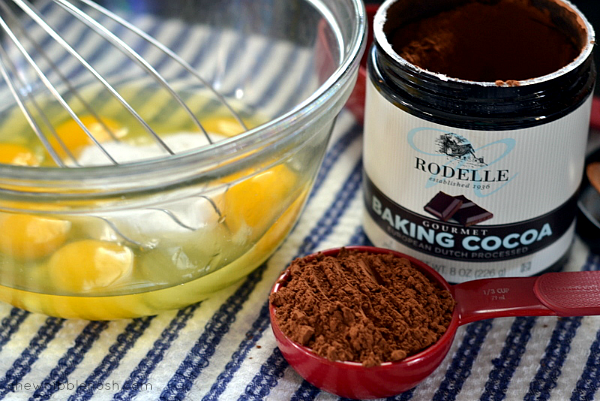 I removed the bean pod from the milk mixture, and poured the heated milk into the melted chocolate, and then whisked it together until it was nice and smooth.  Then, I very slowly poured the chocolate-milk mixture into the egg mixture, whisking all the while, until the custard was smooth as silk.
Make sure you pour the heated milk and chocolate in very slowly, and whisk continuously.  You don't want the eggs to scramble when they are hit with that hot liquid!
Then it was time to fill my custard cups.  You could absolutely use ramekins, or other small oven proof cups for this, but since this dessert (obviously) had a hot cocoa flair to it, I chose these sweet little glass mugs.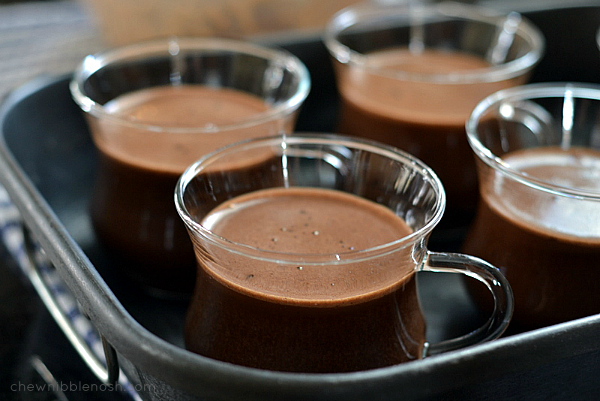 I placed the mugs in a baking pan, and then filled the pan with two inches of water.  The water bath would help to steam the custard as it baked.  I covered the pan tightly with foil, and baked the custards for about 30 minutes.
When they came out, they were still a little bit jiggly, but set for the most part, and I removed them to a baking rack to cool.
I let mine cool for about 30 minutes, and then I covered the cups and placed them in the refrigerator to chill.  You could absolutely serve these warm, though.  If I'd had time to whip them up right before dinner, I absolutely would have, because that just sounds, well, kind of dreamy.  I'd recommend cooling them for at least the 30 minutes before serving,  to let them set up.
To finish them off, I simply whipped some heavy cream and vanilla together, and then before it had peaked, I added in a tub of marshmallow cream and whipped it until it was creamy smooth and just about perfect.
Dreamy, indeed.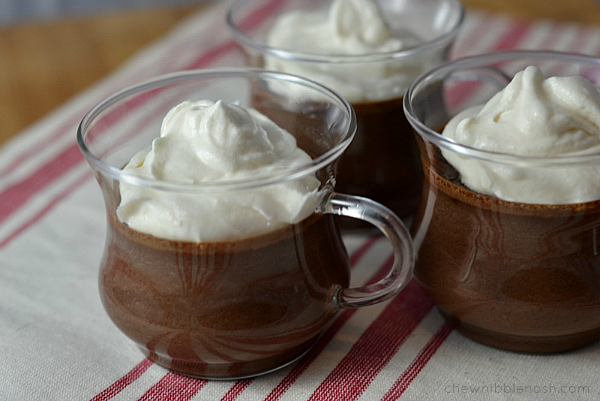 CHOCOLATE POTS DE CREME WITH MARSHMALLOW WHIPPED CREAM
Chocolate Pots de Creme with Marshmallow Whipped Cream
Author:
Prep time:
Cook time:
Total time:
You can make these up to a day in advance and chill them after they cool. Or, you can allow them to cool for about 30 minutes before digging in while they're warm. Either way, this rich, creamy chocolate custard is pretty dreamy topped with a cloud of marshmallow whipped cream!
Ingredients
1 cup half and half
1 cup whole milk
1 tsp. Rodelle pure almond extract
1 Rodelle vanilla bean, split and seeds scraped (save the pod)
1/2 cup chopped semisweet chocolate
6 large eggs
1/2 cup sugar
1/3 cup Rodelle Baking Cocoa
6 4oz. baking cups or ramekins
1 cup heavy whipping cream
1 tsp. Rodelle pure vanilla extract
1 7 oz. tub of marshmallow cream
Instructions
Preheat the oven to 325*F.
In a small saucepan over low heat, combine the milk, half and half, almond extract, vanilla seeds and pod. Bring to a gentle simmer over low heat, stirring frequently.
Place the chocolate in a microwave safe bowl, and heat for 45 seconds. Stir, and heat in 20 second intervals until melted and smooth.
Remove the vanilla pod from the milk, and whisk the heated milk mixture into the chocolate until smooth.
In a large bowl, whisk together the eggs, sugar, and cocoa. Slowly pour in the chocolate-milk mixture, whisking all the while, so as not to scramble the eggs. Do not overbeat the mixture, though.
Pour the custard mixture into the cups, filling evenly. Place the cups in a baking pan and fill the pan with 2 inches of water. Cover the pan tightly with foil, and place the pan in the oven.
Bake the custards for 30-40 minutes. When the custard is still a little jiggly, but not wet, remove the custards from the oven.
Remove them from the pan to a wire baking rack and allow to cool for 30 minutes.
At this point, you could serve them, or you can cover the cups and place them in the fridge overnight.
For the Marshmallow Whipped Cream
Whip the whipping cream and vanilla with a mixer until soft peaks form. Add the marshmallow cream and continue to beat until combined and smooth. Peaks will not be stiff, but still fairly soft.
Serve the pots de creme with a (large) dollop of the whipped cream.
ENJOY!