Directions
This shop has been compensated by Collective Bias, Inc. and its advertiser.  All opinions are mine alone.  #WelcomeToIndiana #CollectiveBias
I am in love with the new store in town.
 If you live in the Indianapolis area, you've probably heard the buzz about the new Market District store that has opened up in Carmel at 11505 N. Illinois Street.  It's really spectacular and, if I'm being completely honest, I'm a bit of an addict.  It's only a few minutes from our house and I find myself there a lot lately.  (In fact, I've been there twice since Sunday.)  I was lucky enough be able to attend media events and tours on opening day, and with the behind-the-scenes knowledge I gained, I assure you that it really is a special place, full of amazing people who honestly, truly love their jobs.
Market District is THE place for one stop shopping.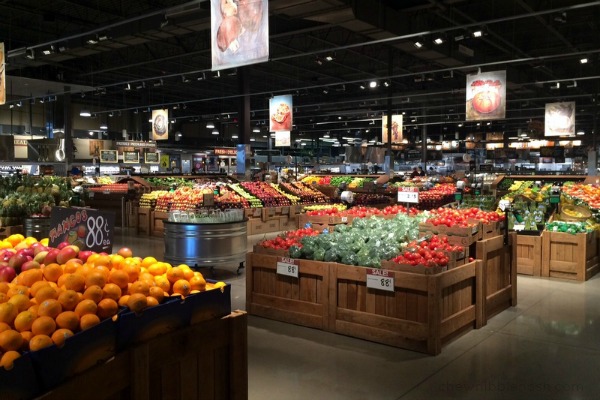 They feature the most amazing fresh produce I've seen in Indianapolis, a prepared food department with salads, entrees, made-to-order sushi and more, a gourmet cheese and European charcuterie station, a sweet shop with hand dipped chocolates and a gelato bar, the freshest seafood in town, a butcher with specialty meats and dry aged beef, a cooking school to help you hone your skills, an onsite bakery with delectable pastries and artisan breads, I could go on and on.  You can even get your dry cleaning done there.
Amazing?  I know!  And it's right here in Indy!
On my last visit, I decided to grab some of the beautiful fresh shrimp from their spectacular seafood department to try in this recipe.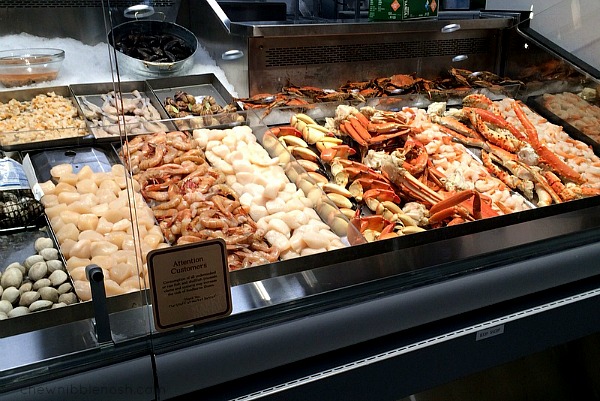 Fresh seafood is brought in daily, and if you know about shopping for seafood in the landlocked Midwest, you know how disheartening it can be.  The selection of fresh seafood here is second to none.  I grabbed a pound and a half of those beautiful shrimp that are nestled in between the gigantic scallops.
When I brought the shrimp home, I peeled and deveined them, and then got my ingredients together, including fresh bell pepper, green onions, and oregano, fresh Greek feta from their artisan cheese counter, and a bag of Market District orzo, which I was going to serve my shrimp and sauce over.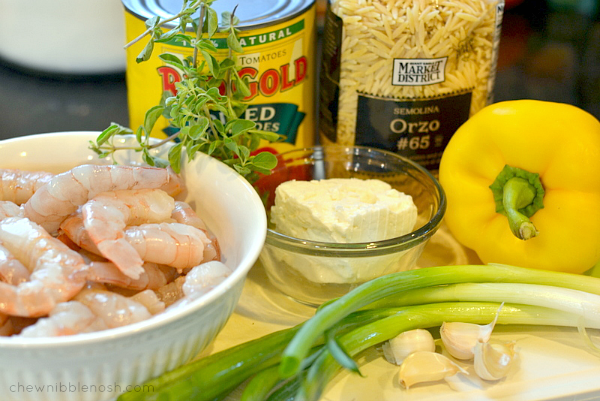 The meal itself comes together in no time flat.  As I got the water boiling for my orzo, I started by sizzling the green onion, garlic, and yellow pepper in some olive oil.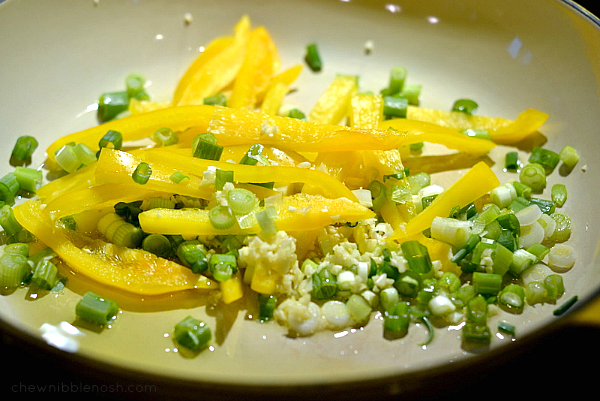 I let that cook for a couple of minutes, until the onion had wilted and the peppers and garlic were beautifully fragrant.  Then, I poured in my can of diced tomatoes, with the juices, and brought it to a boil.
I seasoned the sauce with salt and fresh ground pepper, and let it simmer for about five minutes to thicken up.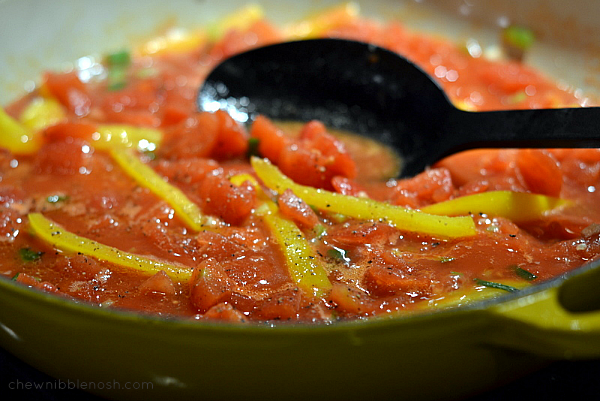 Once the sauce had thickened, I nestled those big, beautiful fresh shrimp down into the sauce, and crumbled the block of fresh Greek feta over the top of the dish.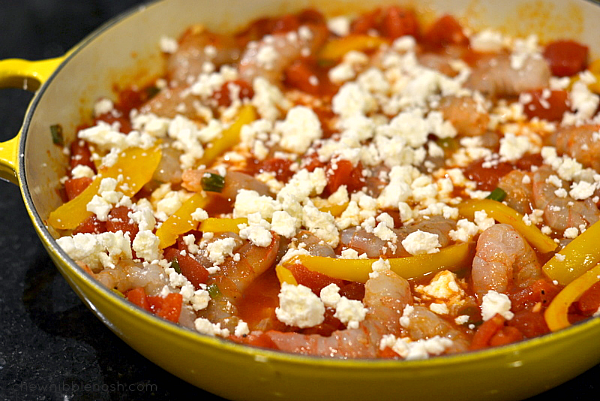 I popped the pan into a 400* oven for about ten minutes, baked the dish until the shrimp were beautifully pink and the sauce was nice and bubbly, and then we were ready to eat!  The orzo had cooked while the shrimp was in the oven, so everything came together in a matter of minutes.  I sprinkled the top of the shrimp dish with fresh chopped oregano, and then heaped it and the sauce over the orzo on our plates.  The entire dish was delicious.  The sauce was fresh and flavorful, and the shrimp were perfect, and quite honestly, the best I've had since I moved here from the south.
Have you checked out the Market District store in Carmel?  What do you think?  Let me know!  As you can clearly see, I'm a huge fan.  Welcome to Indiana, Market District.  We're glad you're here!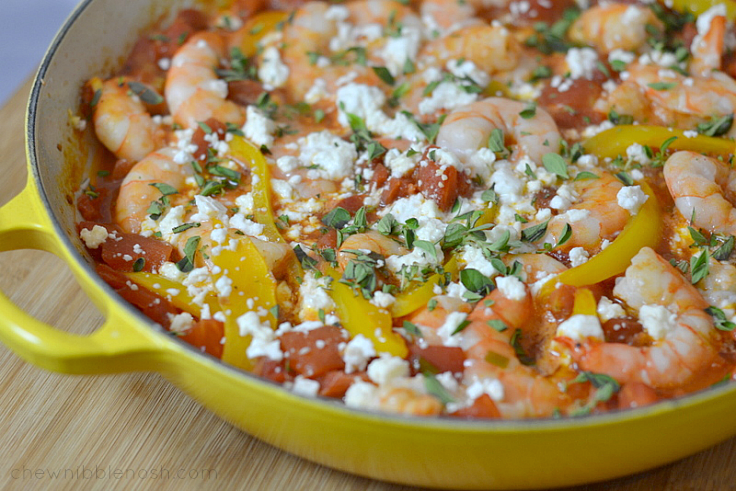 GREEK ROASTED SHRIMP WITH TOMATOES AND FETA
 Adapted from Epicurious
Greek Roasted Shrimp with Tomatoes & Feta: The Market District Carmel Experience
Author:
Prep time:
Cook time:
Total time:
Ingredients
2 Tbsp. extra virgin olive oil
4 green onions, white and green parts chopped
3 cloves garlic, minced
1 yellow bell pepper, sliced into strips
1 1/2 lbs. large fresh shrimp, peeled and deveined
1 (28 oz.) can diced tomatoes
1/2 cup crumbled Greek feta cheese
salt and pepper
2 Tbsp. fresh oregano, chopped
orzo pasta, for serving
Instructions
Preheat the oven to 400*F.
In a large ovenproof skillet, heat the olive oil over medium heat. Add the green onions, garlic, and yellow pepper, and cook until the onions have wilted a bit, and the garlic and peppers are fragrant, about 2 minutes.
Pour in the diced tomatoes, and their juices, and stir to combine. Season with salt and pepper, and allow the mixture to come to a boil. Allow to simmer for about 5 minutes, or until the sauce has thickened a bit.
Remove the pan from the heat and stir in the shrimp. Sprinkle the crumbled feta over the shrimp and sauce.
Place the pan in the oven, and bake for 10 minutes, or until the shrimp are pink and firm, sauce is bubbly, and the cheese starts to melt.
Meanwhile, cook the orzo in salted boiling water according to the package, and drain.
Sprinkle the shrimp and sauce with fresh chopped oregano before serving, and spoon the mixture over the cooked orzo to serve.
ENJOY!