Directions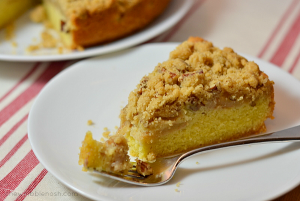 Do you live in the Indianapolis area?  Do you love a good holiday movie fix?  Well, hang tight, because at the end of this post, you can find out how you and a guest can attend the Indianapolis screening of the new CBS Films celebrity packed holiday extravaganza, Love the Coopers!
Some of my all-time favorite movies revolve around the holidays.  It could be that it's just in my blood, since my birthday is Christmas Eve, or it could be that there's simply nothing quite like a funny, heartwarming holiday story to warm the soul.  On November 13th, the latest holiday classic from CBS Films will arrive in theaters.  With a star-studded cast including Diane Keaton, John Goodman, Alan Arkin, Ed Helms, and Olivia Wilde, as well as a menu to die for (which is why I'm here), Love the Coopers is sure to put some smiles on our faces this busy holiday season.
When CBS Films contacted me and asked if I'd like to be a part of the fun, I couldn't resist.  And after looking over Charlotte Cooper's extensive Christmas Eve menu, I decided that I just had to try recreating her pièce de résistance, the Pear Streusel Kuchen.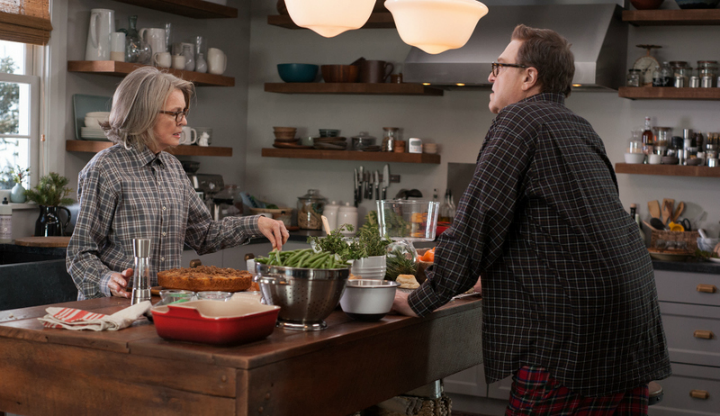 "Kuchen" is the German word for cake, and Streusel Kuchen is traditionally a butter laced cake with warm spices and sugar.  This Pear Streusel Kuchen is deliciously festive, and perfect for your holiday table. Tender spiced pears top that buttery cake, along with a butter-pecan streusel…how could that be bad?
I started by preparing my streusel topping.  I combined some flour, brown sugar and pecans in a bowl, and then stirred in some melted butter.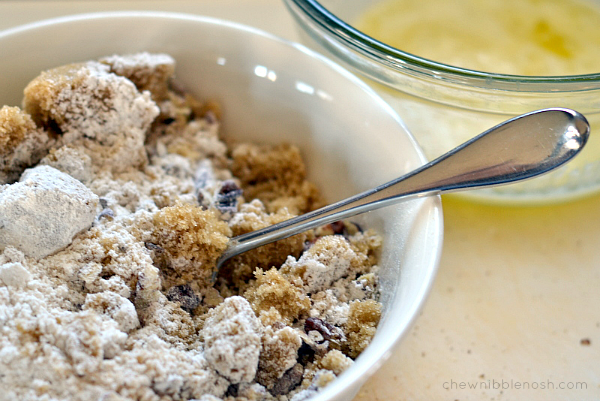 Once the mixture was crumbly and combined well, I placed the bowl in the refrigerator to chill while I prepped my cake.
I made a thick, vanilla-laced buttery batter, and combined some ripe sliced pears with cinnamon and cloves.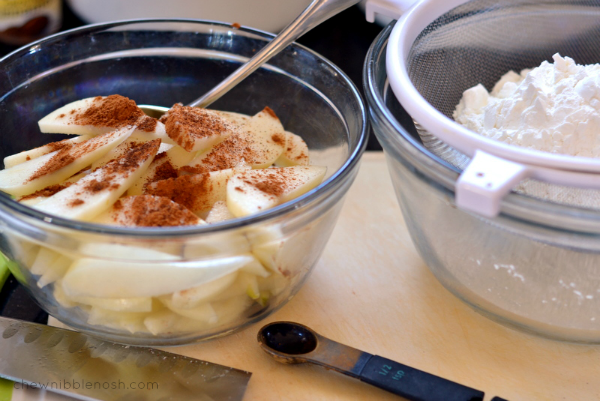 I spread the batter into my springform pan, and then placed my spiced pear slices in concentric circles around the cake, so that the entire cake surface was covered.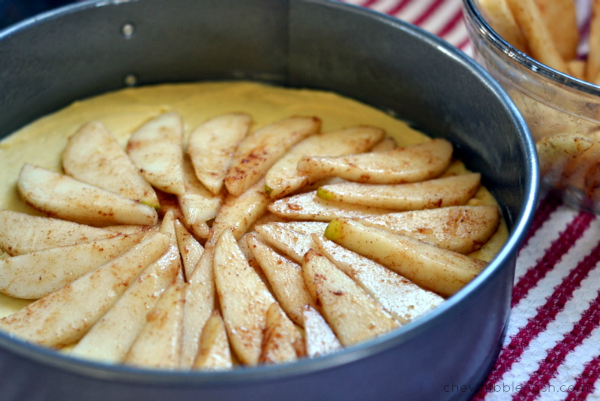 Then, I brought that buttery streusel out of the refrigerator, broke it up a bit into crumbles again, and spread it over the top of the entire cake, so that you couldn't even see those pears.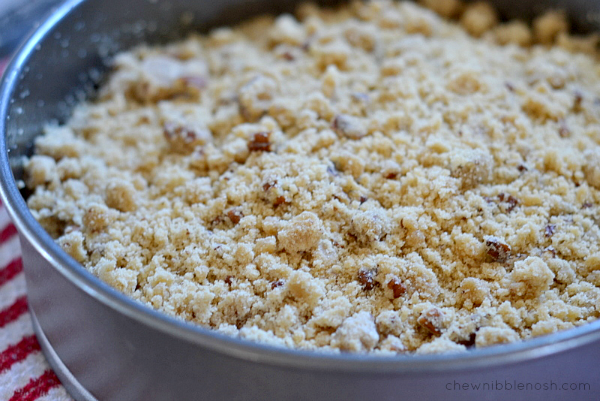 At this point, the cake went into the oven for a little over an hour.  The thick, buttery batter rises to be light and fluffy, and the baked pears and streusel are just about as perfectly festive as they can be.
Once it came out of the oven, I let it cool in the pan for about fifteen minutes, and then removed the sides of the springform pan.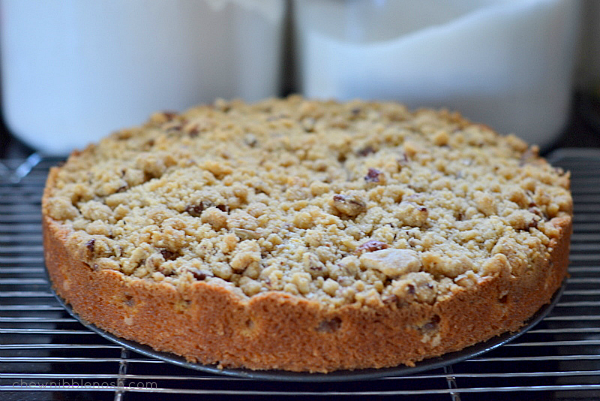 I let the cake cool to room temperature before serving it up after dinner that same day, but you could wrap it tightly once it's cooled and serve it the following day.
It was absolutely delicious, and I'm pretty certain that Charlotte Cooper's Christmas specialty will become a regular around this household during the holidays as well, just based on how quickly and eagerly my family gobbled it up!
Now, would you like a chance to go see Love the Coopers for yourself?
CBS Films has been kind enough to offer up twenty pairs of tickets to the Indianapolis screening of Love the Coopers, just for Chew Nibble Nosh readers!  The event will be held at:
AMC Castleton Square 14 on November 10th, at 7:30 PM.
If you are interested in attending (I'll be there too!), just click on *this link* and sign up!  Please note that passes to the screening are available on a first come, first served basis, so grab them while you can!
I want to send out a HUGE thank you to the good folks at CBS Films.  This was such a fun project to work on, and I can't wait to see the film for myself on November 10th!  And thank you for allowing me to share the fun with my readers.
Hope to see you at the movies!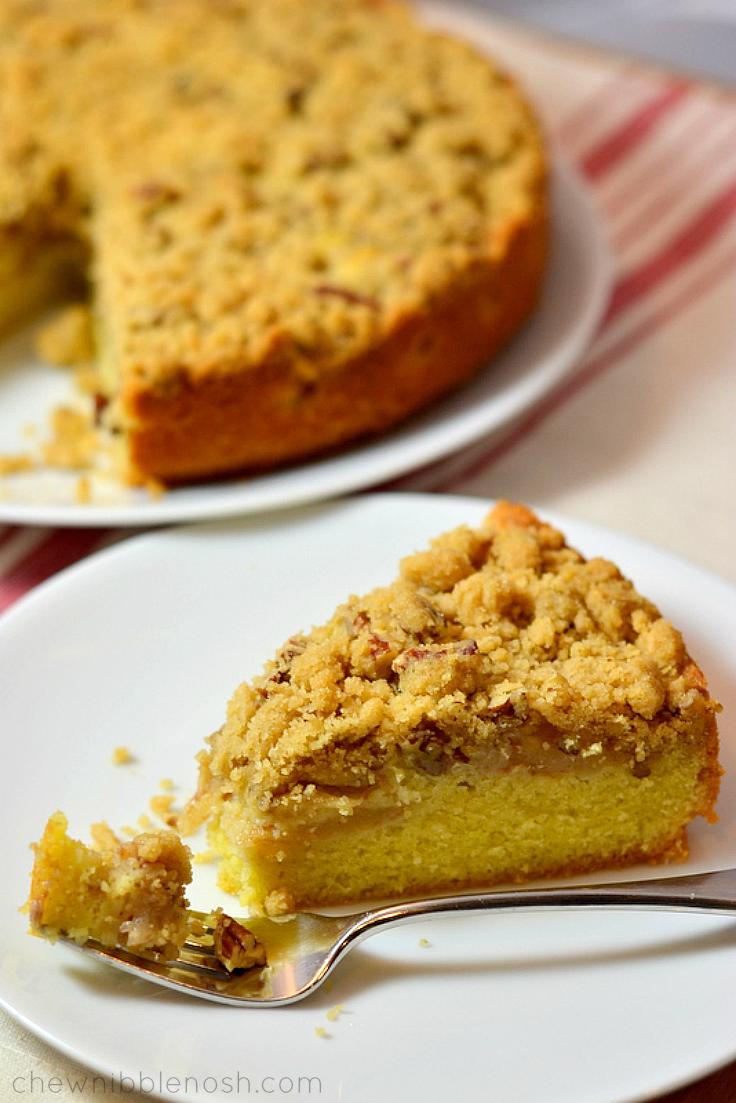 PEAR STREUSEL KUCHEN: INSPIRED BY LOVE THE COOPERS
Pear Streusel Kuchen: Inspired by the New Holiday Film, Love the Coopers
Author:
Prep time:
Cook time:
Total time:
Inspired by the holiday film Love the Coopers, this buttery, spiced Pear Streusel Kuchen is sure to warm up your holiday celebration!
Ingredients
For the Streusel:
1 cup all-purpose flour
2/3 cup light brown sugar
1/3 cup chopped pecans
1/4 tsp. kosher salt
6 Tbsp. butter, melted
For the Cake:
3 ripe Bartlett pears, peeled and sliced into 1/8 inch slices
1/2 tsp. ground cinnamon
1/8 tsp. ground cloves
1 cup plus 2 Tbsp. butter (2 1/4 sticks), softened to room temperature
2 cups powdered sugar
1 Tbsp. lemon zest
1 Tbsp. vanilla bean paste
3 large eggs, and 1 egg yolk
1 1/2 cups plus 2 Tbsp. cake flour
1/3 cup cornstarch
1 1/2 tsp. baking powder
1/4 tsp. salt
Instructions
Make the Streusel:
Mix the flour, brown sugar, pecans, and salt together in a medium sized bowl. Add the melted butter, and stir with a fork until crumbles form. Cover and refrigerate until ready to use, at least 20 minutes to overnight.
Prepare the cake:
Preheat your oven to 325*F. Butter and flour a 10-inch springform pan, and set aside.
Toss the pear slices together with the cinnamon and ground cloves until each slice is well coated.
In a stand mixer, beat the butter until creamy. Scrape down the sides of the bowl, and add the powdered sugar, lemon zest and vanilla paste. Beat until well blended.
Sift together the cake flour, cornstarch, baking powder, and salt. Add the flour mixture to the butter mixture and beat, on low, just until blended. Batter will be thick.
Spread the batter in the prepared pan.
Top the batter with the spice pear slices, overlapping them in concentric circles on top.
Take the streusel out of the refrigerator, break the crumbles up a bit with a fork, and sprinkle all of the streusel mixture over the cake, completely covering the pears.
Bake, at 325*F, for approximately 1 hour 15 minutes. Check the cake with a cake tester and remove from the oven when the tester inserted into the center of the cake comes out clean.
Cool in the pan for 15 minutes. Run a knife around the edge of the pan, and remove the sides. Allow to cool on a wire rack.
Serve lukewarm or at room temperature.
Can be made 1 day ahead. Cool completely and wrap cake in foil. Store at room temperature.
 Film photos and screening passes provided by CBS Films.