Directions
This, my friends, is a really, really tasty meal.
And the beauty of it is, it's so simple to throw together for a quick weeknight meal, but definitely impressive enough to serve to guests.  The flavors are spectacular, it's beautiful on the plate, and that maple-sage butter melting over the pork and apples?  Holy smokes.
I started by making that very special butter.  I combined some softened butter with some chopped, fresh sage, salt, pepper, and a good drizzle of maple syrup.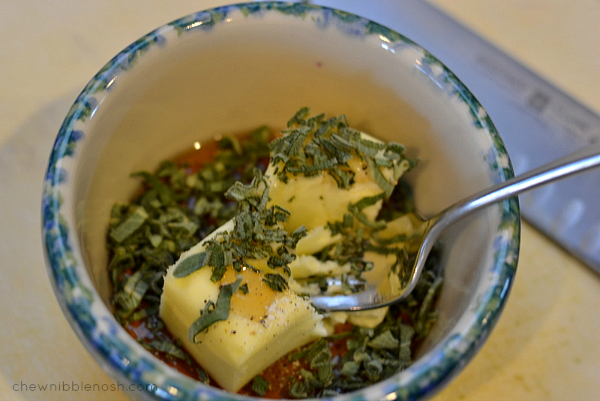 That's it. Simple, and fresh.
Then, I started on my pork chops.  I sprinkled my boneless chops with some salt and pepper, and cooked them in a large skillet over medium-high heat, about five minutes per side.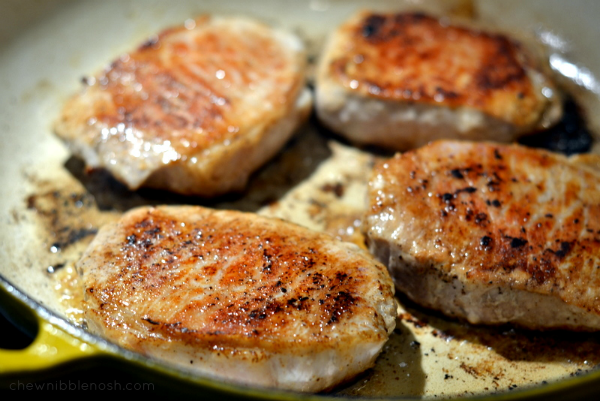 Once the chops were done, I moved them to a plate, tented some foil over them, and then started on the apples.  Into the same skillet went a couple of sliced Granny Smith apples, a thin sliced red onion, and some salt.  I cooked this mixture down until the apples and onion had softened a bit, about five minutes more.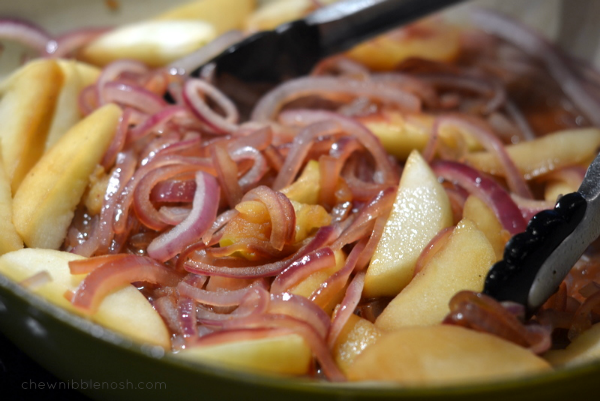 Then, I stirred in some red wine vinegar, and a little more maple syrup to sweeten things up, and cooked the apples until they softened even more, and started to brown up a bit.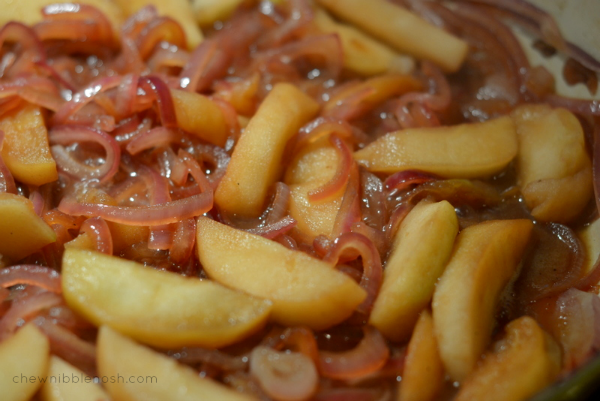 Pretty simple right?
Then, it was just a matter of scooping that glorious apple concoction onto my plate, piling a juicy pork chop on top, and topping it with a dollop of that crazy-tasty sage butter.
Let the butter melt over the chop and apples a bit, and you have a meal fit for a king…or the royalty who happens to sit at your dinner table on a nightly basis.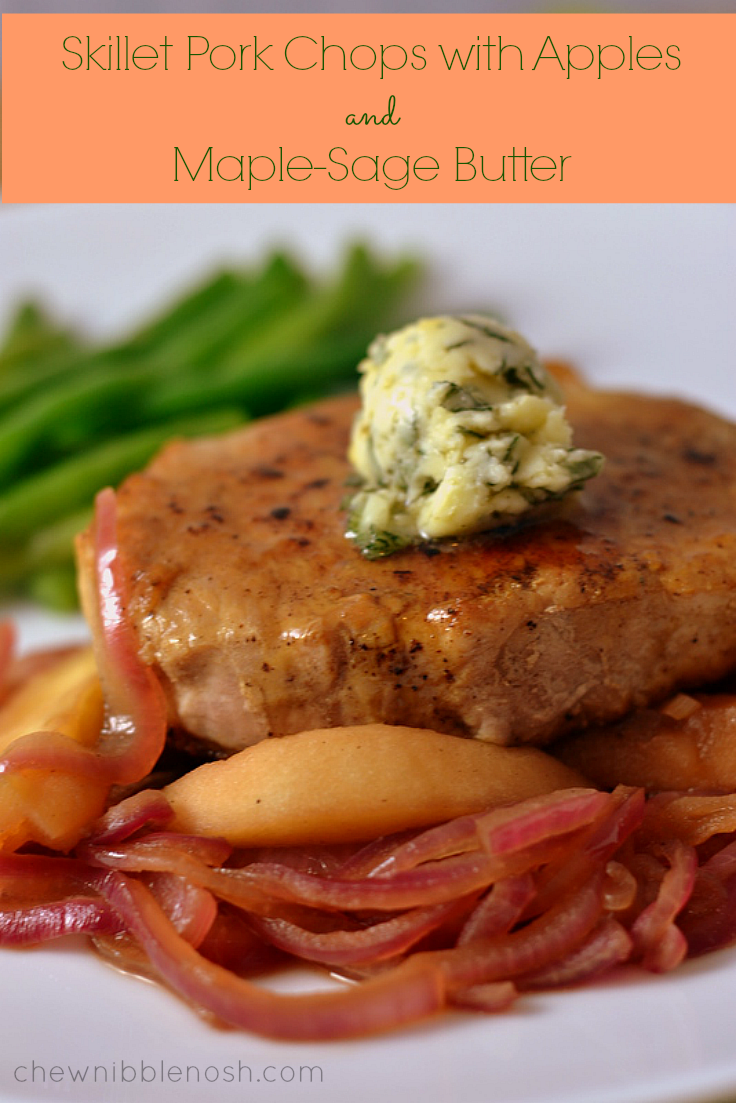 SKILLET PORK CHOPS WITH APPLES AND MAPLE-SAGE BUTTER
Adapted from Cook's Country
Skillet Pork Chops with Apples and Maple-Sage Butter
Author:
Prep time:
Cook time:
Total time:
Ingredients
4 Tbsp. butter, softened, plus 1 Tbsp. to cook the chops in
2 Tbsp. real maple syrup, divided
1 Tbsp. minced fresh sage
salt and pepper
4 1-inch thick boneless pork chops, trimmed
2 large Granny Smith apples, peeled, cored and sliced into 1/2-inch thick wedges
1 red onion, halved and thinly sliced
1 Tbsp. red wine vinegar
Instructions
In a small bowl, combine the 4 tablespoons softened butter, 1 tablespoon of the maple syrup, the minced sage, and 1/4 teaspoon each salt and pepper. Set aside.
Pat your pork chops dry with paper towel, and season both sides with salt and pepper.
Melt the remaining 1 tablespoon of butter in a 12-inch skillet over medium-high heat.
Add the pork chops and cook, until browned and until the internal temperature is 140*F, about 5 minutes per side. Transfer the chops to a plate, and tent with foil.
Pour off some of the fat in the pan, if need be, until you have about 1 tablespoon of drippings left in the pan. Add the apples, onion, and 1/4 teaspoon of salt. Stir together, and cook, covered, until softened, about 5-6 minutes.
Stir in the vinegar and remaining 1 tablespoon of maple syrup. Cook, uncovered, until the apples begin to brown, about 3 minutes.
Uncover the pork, and pour any accumulated juices into the apple mixture. Spoon the apples and onions onto your plate, top with a pork chop, and finish with a dollop of the sage butter.
ENJOY!