Directions
I really don't know what to call this.  It's not quite a soup, isn't really a chili, not exactly a stew.  What I do know is, it's really tasty and a great way to warm up on a crazy windy day like today.  (I sent my dog outside a little while ago, and I was unsure if I'd get him back.  It's that windy.)
This one pot meal is super simple to throw together, and my entire family really enjoyed it.  It's definitely a great one to keep pantry staples on hand for, to throw together on a busy night when you've, quite honestly, forgotten about feeding anyone dinner until it's…ahem…time for dinner.
I started by browning some ground beef, onion and garlic in a Dutch oven.
I broke up the beef, and cooked it until the beef was browned and the garlic and onion had softened.  Then I drained the meat and put it back into the pot.
To that, I added two cans of chicken broth, a can of diced tomatoes, some kidney beans, some cannellini beans, a hefty sprinkle of chili powder, cumin, salt and pepper.
I stirred all of that together with the meat, and then brought the mixture to a simmer.
Once it was bubbling, I added in my pasta.  I'd forgotten to buy elbow macaroni, so I used these super fun springy noodles I had lurking in my pantry in their place.  They added a little whimsy to our dinner, and the kids got a huge kick out of them.  Fun noodles make everything better.
I stirred in the pasta, brought the chili to a boil, put the lid on the pot and reduced the heat.  I let it all bubble together for about ten minutes, until the pasta was cooked through.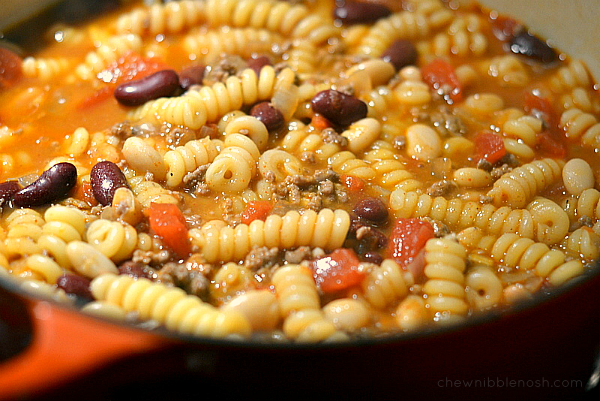 Before serving, I covered the top of the soup-chili-stew-dinner with shredded cheddar cheese, and put the lid back on the pot to allow the cheese to melt.  Then, I sprinkled it with chopped parsley, and served up gooey, heaping bowls of cozy, "boingy" noodle fun.
Grab your spoons or forks, or whatever works, and dig in. Sporks, perhaps?  Whatever it is, it's kind of delicious.
CHILI MAC AND CHEESE
Adapted from DamnDelicious
Chili Mac and Cheese
Author:
Prep time:
Cook time:
Total time:
Ingredients
1 Tbsp. olive oil
3 cloves garlic, minced
1 sweet onion, diced
1/2 lb. ground beef
2 (14 oz.) cans chicken broth
1 (14.5 oz.) can diced tomatoes
3/4 cup canned kidney beans, rinsed and drained
3/4 cup canned cannellini beans, rinsed and drained
2 tsp. chili powder
1 1/2 tsp. cumin
salt and pepper, to taste
10 oz, small pasta or elbow macaroni
1 cup shredded cheddar cheese
chopped fresh parsley, for garnish
Instructions
Heat the oil in a large Dutch oven over medium-high heat.
Add the minced garlic, diced onion, and ground beef. Break up the beef into crumbles, and cook until meat is browned and the garlic and onion has softened, about 3-5 minutes. Drain any accumulated fat from the meat.
Add the chicken broth, diced tomatoes, both kinds of beans, chili powder, and cumin. Season with salt and pepper to taste.
Bring the stew to a simmer, and add the pasta. Stir to combine. Bring to a boil, cover the pot, and reduce the heat. Cook until the pasta is cooked through 10-12 minutes.
Remove the pot from the heat. Sprinkle the top with the shredded cheese, and put the lid back on the pot for a couple of minutes to allow the cheese to melt.
Sprinkle chopped parsley over the top, and serve.
**It tastes great with a dollop of sour cream on top!
ENJOY!