Directions
Sometimes, a recipe comes along and stops us all in our tracks.  This is one of those recipes.  I grabbed this recipe from my Skinnytaste cookbook, whipped it up for dinner, and my husband couldn't stop talking about it.  There are a lot of slow-cooker-taco-filling recipes out there, but this one holds a special place in our hearts, and now, our recipe box.  It's really, really tasty, and when you feel like you need to lighten up, and freshen up, your fall meal routine, this is a great place to start.
Don't be afraid of the heat.  I know a lot of people see jerk seasoning and assume that the meal will be melt-your-face-off spicy.  This really isn't.  It has some heat, but it's definitely not unbearable, and the cool, fresh salsa really mellows it out.  You could mellow it out even more with a dollop of sour cream on top.  I'm just sayin'. Give jerk a chance!
I started by prepping my chicken breasts and making my spice rub.  I simply combined some minced garlic, jerk seasoning, and kosher salt.
There are a lot of prepared jerk seasonings out there.  It really doesn't matter which one you use.  I used McCormick's version.  Whichever you choose, jerk seasoning is a spicy, savory combination of peppers, thyme, and warm spices like allspice.
I spread the seasoning mixture over the chicken, covering every bit of it, and then placed my chicken breasts in a 4-quart slow cooker.
Then, I mixed together some orange juice, and lime juice, and poured the juice mixture over the chicken breasts.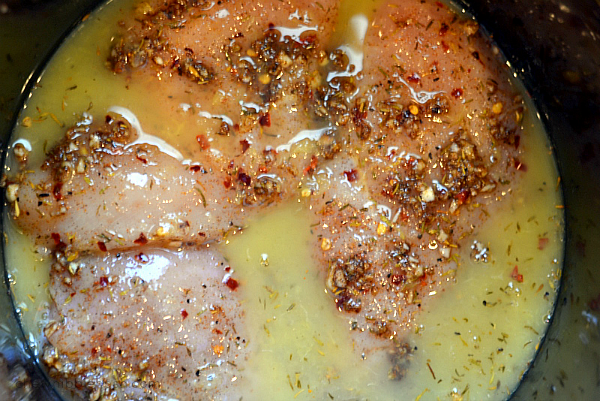 I put the lid on the slow cooker and let the chicken cook in all of that flavor for just two hours on high.  This is a great meal for a day when you want to get a jump on dinner, but don't necessarily need all day in the slow cooker.
About an hour or so before we were ready to eat, I prepared my salsa.  I diced up a juicy mango and a buttery avocado, and added that to a bowl along with some diced red onion, cilantro, lime juice, salt and pepper.
I covered the salsa, and let it hang out in the fridge until we were ready to eat.  The salsa is so bright and fresh.  I could have easily just gobbled up the bowl of salsa with some tortilla chips.  In fact, I may have to double (or triple) the recipe at some point and serve it on game day.
When the time in the slow cooker was up, I removed my chicken breasts from the juices and shredded the meat up with two forks.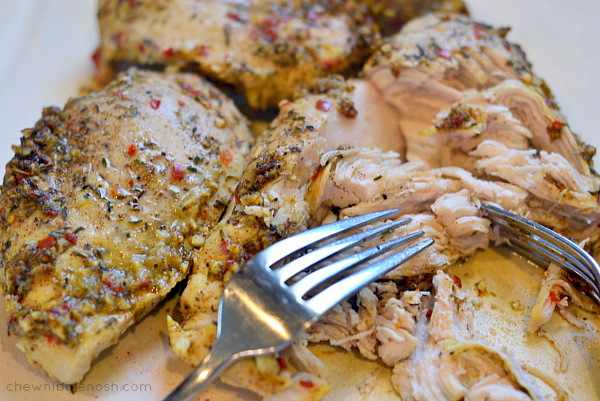 I removed all but a half-cup of the cooking juices from the slow cooker, and put the shredded chicken back in the cooker.  The juices moistened the chicken just enough, and the slow cooker kept the meat warm as I toasted up some corn tortillas in a skillet on the stove top.
When it was time to eat, we heaped the spicy chicken into the warmed, toasty tortillas, and topped it with that deliciously fresh, tropical salsa and some fresh cilantro.  And at that point, my family went wild.  These were absolutely delicious, and now I'm a little bit irritated that I didn't plan to make these for dinner again tonight.  (Note to husband:  They'll be on next week's menu. Don't fret.)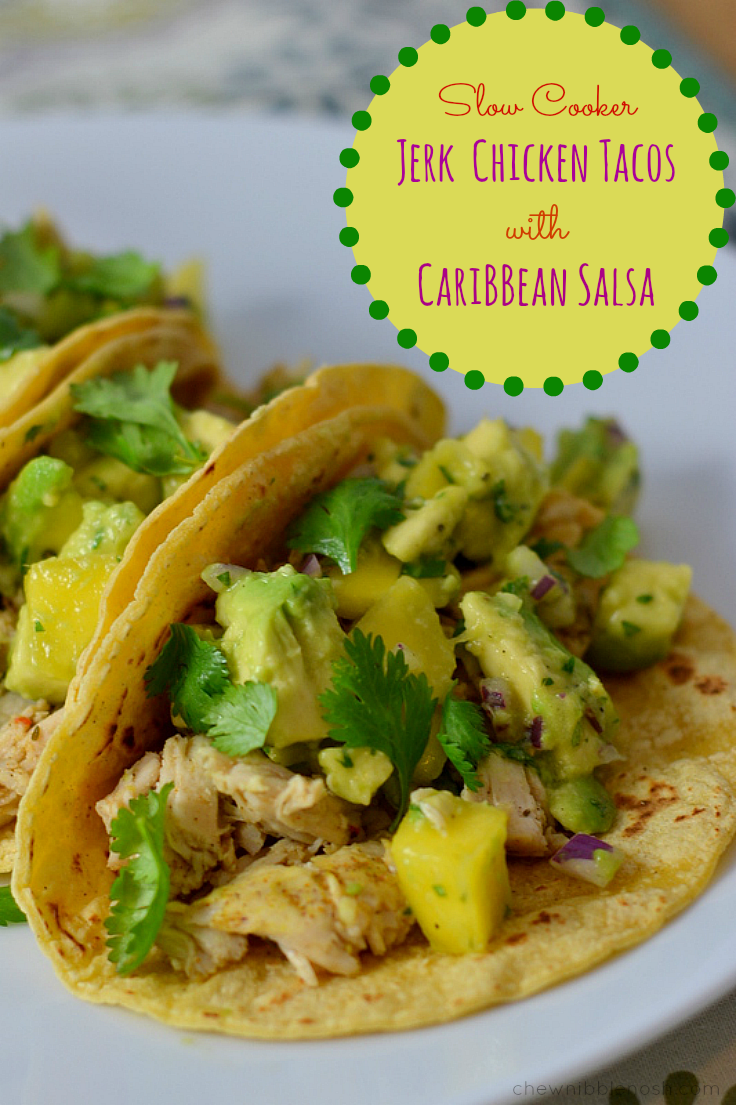 SLOW COOKER JERK CHICKEN TACOS WITH CARIBBEAN SALSA
Adapted from The Skinnytaste Cookbook
Slow Cooker Jerk Chicken Tacos with Caribbean Salsa
Author:
Prep time:
Cook time:
Total time:
Ingredients
For the chicken:
3 cloves garlic, minced
2 Tbsp. prepared Jerk seasoning (I used McCormick)
kosher salt
1 1/2 lbs. boneless, skinless chicken breasts
1 Tbsp. fresh lime juice
1/4 cup orange juice
For the salsa
1 large mango, peeled, pitted and diced into 1/2-inch pieces
1 medium avocado, diced into 1/2 inch pieces
1 Tbsp. diced red onion
1 Tbsp. fresh chopped cilantro
1 1/2 Tbsp. fresh lime juice
1/8 tsp. kosher salt
pepper, to taste
12 thin, yellow corn tortillas
extra chopped cilantro, for garnish
Instructions
For the Chicken:
Combine the minced garlic, jerk seasoning and 1/4 tsp. salt in a small bowl. Rub the mixture all over the chicken breasts, and place them in a 4-quart slow cooker.
Combine the orange and lime juices, and pour them over the chicken. Put the lid on the slow cooker and cook on HIGH for 2 hours.
For the salsa:
In a medium bowl, combine the diced mango, avocado, red onion, cilantro, salt and pepper to taste. Cover and refrigerate until ready to serve.
Before Serving:
Remove the chicken from the slow cooker and shred with two forks. Discard all but 1/2 cup of the cooking liquid and return the chicken to the slow cooker. Toss with the 1/2 cup of juices to moisten the chicken. Season with salt and pepper, to taste.
In a medium skillet over medium-high heat, warm the corn tortillas on both sides, about 30 seconds total for each tortilla.
Serve the shredded chicken in the warmed tortillas, and spoon the salsa over the top along with extra cilantro, if desired.
ENJOY!