Directions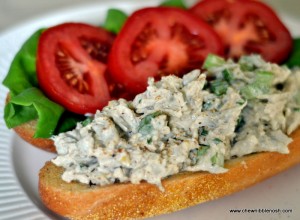 Saturday was a miserably rainy day here.  We all woke up early, excited about that morning's visit to our local Farmers Market and I noticed that the sky looked kind of gross.  I checked the weather, and saw what nobody heading to an outdoor market wants to see…the dreaded giant blob of red on the radar screen.
We decided to wait a bit before we left, and it's a good thing we did because it soon started pouring.  Not just heavy rain, but that crazy, torrential, "makes the trees bend" stuff.  And it kept raining for most of the day.  I think the sun finally peeked through around 7 o'clock that night, just before it headed to bed.
So, plans thwarted, we had a lazy, inside kind of day.  We played an excessive amount of family Band Hero (Aaron on guitar, Avery on vocals, Emily on drums, Mom with some Motrin.), read books, watched movies and just hung around the house.  You know what, though?  After a busy first week of school, we all kind of needed that.  The storm didn't get the best of us.  It just made us be lazy, which is hard for me to do sometimes.  (I'm, admittedly, a bit of a busybody.)
I'd fully planned on going out to dinner that night, but with the weather as icky as it was and half of my family still in pajamas at 4 PM, I decided I better figure something out for us at home.  I didn't want chicken, and that's all I had in the fridge other than a big can of crab meat.  Crab sounded good, but the kids wouldn't eat it.  Oh well, too bad for them.  I decided to grab the crab anyway.  (No worries.  The kids had turkey sandwiches and fruit salad for dinner.  I didn't not feed them!)
I decided to try my hand at making a crab version of a New England lobster roll.  A lobster roll is a sandwich that's filled with a cold, lobster meat salad.  Sometimes, the lobster is tossed with butter and thrown in a toasted hot dog bun.  Other times, it's mixed with a little mayo, celery and spices and then, still, served up in a hot dog bun.  I give my own twist a try.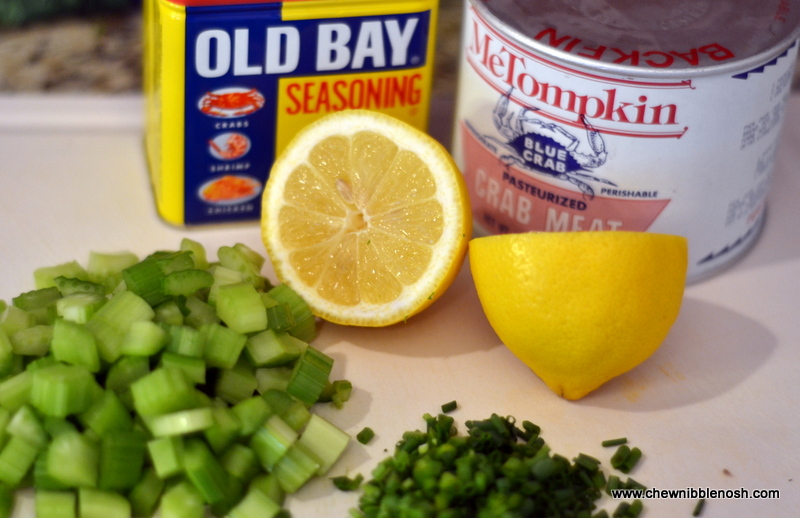 I diced up some celery, minced some chives, grabbed some Old Bay seasoning, and squeezed out some lemon juice.  I also opened my can of crab meat, emptied the crab into a colander,  and picked through to make sure that there weren't any shell pieces going into my salad.  (My apologies to my husband.  I missed a few and he seemed to get every last one.)
I used refrigerated canned crab meat that you can usually find at the seafood counter of your grocery store.  I used a full pound of crab meat in this recipe.  (Yum!!)
Before I mixed the crab and veggies together, I whisked together some mayonnaise, the lemon juice, and some of that Old Bay seasoning.  In my opinion, if you're dining on crabs, you must have Old Bay along with it.  It's the perfect blend of seasonings, not too spicy, not too salty, just right.  I decided that instead of using salt and pepper to season my salad, I'd stick with Old Bay and call it a day.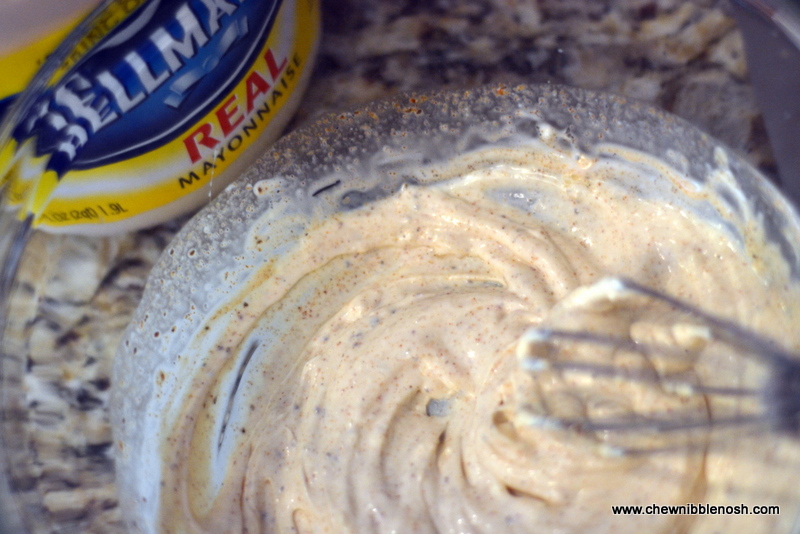 Once the sauce was mixed up, I carefully folded in my crab, celery, and chives.  I didn't want to break up the lumps of crab meat, so I took my time.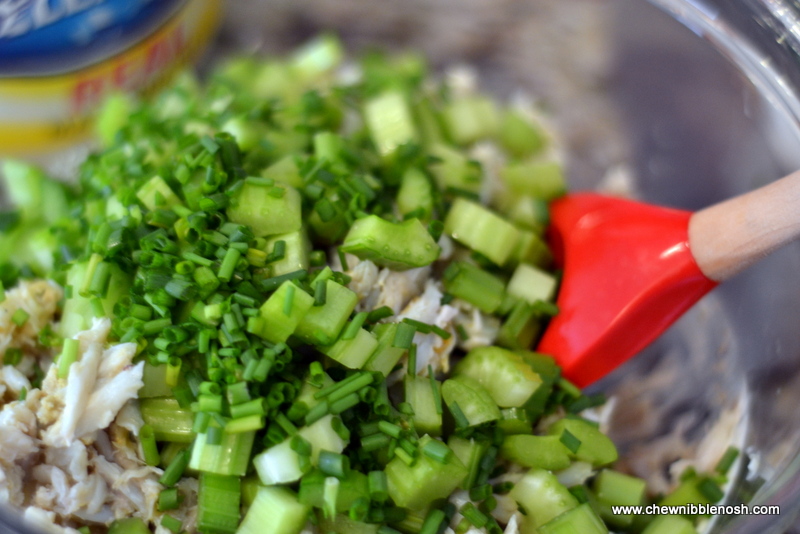 Once it was mixed nicely, I covered the bowl and put it in the fridge for a little while to let the flavors come together.
When I was ready for dinner, I toasted up a couple of rolls in the oven.  I scooped out the middles of each roll, to allow more room for that amazing crab.  I didn't want to take a bite and have it fall out!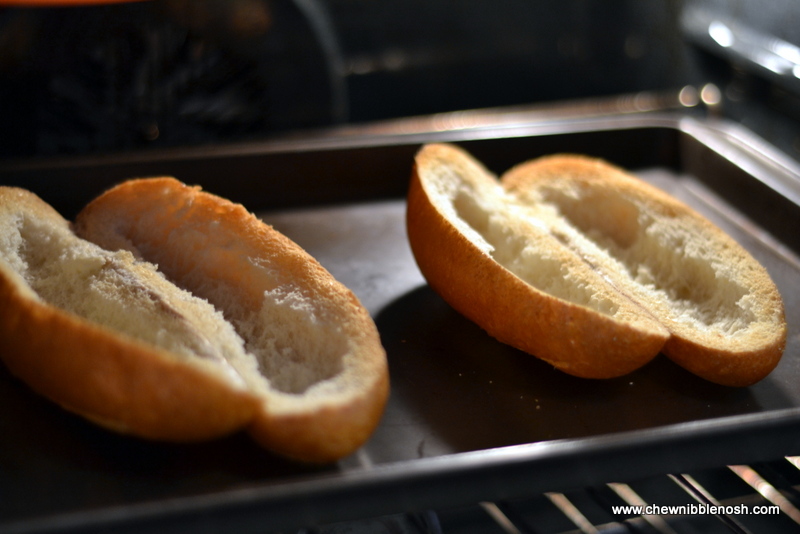 When it was time for dinner, the girls sat down with their amazingly boring turkey sandwiches (Boo.), and Aaron and I sat down to a crab filled feast!  It was delicious!!  As I was devouring dinner, I couldn't help but think back to a trip we took to Baltimore years and years ago (BC…Before Children).  I remembered sitting at an old picnic table, right on the harbor, and digging into an amazing pile of steamed crabs covered in Old Bay as the sun shone down on us and we laughed and caught up with friends.  It was just about then that the sprinkles stopped and the sun decided to peek out for the first time that day.  Coincidence?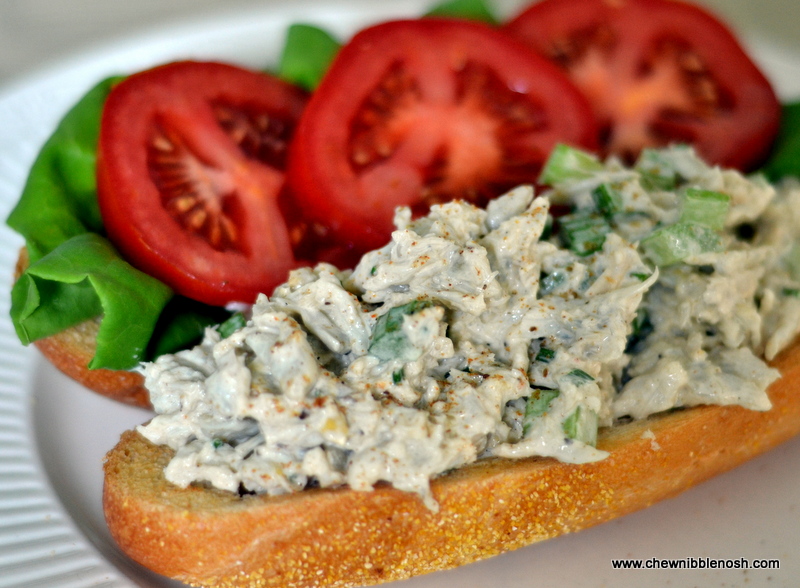 Author:
Ingredients
1 lb. lump crab meat, picked over for shell pieces
3/4 cup chopped celery
1/4 cup minced chives
1/2 cup mayonnaise
1/2 tsp. Old Bay seasoning
the juice from 1/2 a lemon
4 hot dog buns or small hoagie rolls
Instructions
In a large bowl, whisk together the mayonnaise, Old Bay and lemon juice until smooth. Gently fold in the crab meat, celery and chives until combined. Cover and chill for, at least, 30 minutes.
Split the rolls in half, lengthwise, and tear out some of the bread from the middle of the rolls. Place the rolls, open-faced, on a cookie sheet and toast under the broiler for a couple of minutes, until lightly toasted.
Fill the rolls with the crab salad and top with lettuce, tomato and an extra sprinkle of Old Bay.
ENJOY!