Directions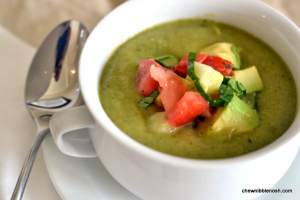 One of my favorite summer soups is cool, fresh Gazpacho. It really may be the most refreshing summer food out there, and the fact that it's good for you certainly doesn't hurt.  I try to make a batch at least once a summer, and this summer had gotten away from me before I'd had a chance to!  Last summer, I experimented with a Southwestern Gazpacho (click here for the recipe), and it was delicious.  In fact, just rereading the post has made me think I need to whip up another batch of that soon.  This summer, however, I ran across a new recipe for a different twist on my usual summer favorite.  As you know, I like twists, so I gave it a go.
This gazpacho isn't tomato based.  There's tomato in it, but it's not the focus.  This gazpacho, my friends, is green thanks to its key players, avocado, cucumber, and spinach!  It's amazingly light and fresh, and makes for a perfect starter or a light lunch.  The recipe really doesn't make much, so if you're serving a crowd (or even just four people) you may want to double it.  I made it for lunch one afternoon when my mom came by.  The recipe made enough for two bowls.
I started by prepping my veggies.  I quartered a tomato, roughly chopped up a cucumber, halved an avocado, and cut a jalapeno into large chunks.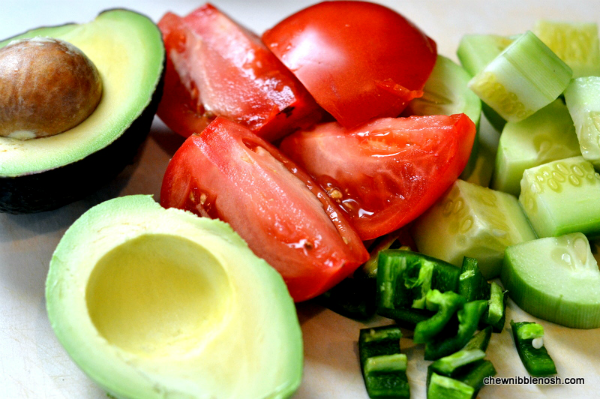 Then, the veggies went into my blender, along with some spinach, fresh basil, garlic, red wine vinegar, a good drip of honey, and two ice cubes.  (Yes, I fully realize the ice cubes sound silly, but that's what the recipe said to do!)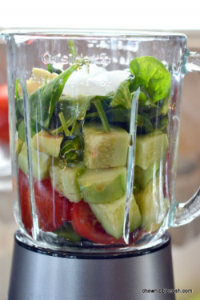 I only threw in a few chunks of the jalapeno.  Using it is completely optional, but I wanted a little spicy kick in there, so I just tossed in a bit of it.  Those few chunks were perfect.  If the whole thing had gone in there, it would have been way too much heat for this cool soup.
I gave the mixture a good whirl in the blender, and when it was pureed and smooth, I poured it into a bowl and popped it into the fridge to chill for a while.
The soup chilled for about an hour, and before I served it up, I chopped up a little more tomato, avocado, cucumber and basil, and gave it a good stir.  This was my topping for the soup.
Mom came over, we chatted a bit, and then sat down for a cool, creamy, delicious lunch.  It certainly was simple enough, and was a great way for us to get a good dose of veggies into our day.  It's definitely different from traditional gazpacho, but just as refreshing.  The avocado lends it's creaminess, and the cucumber and honey lighten things up and keep it fresh.  And, as I mentioned, the few bits of jalapeno gave it the perfect punch.
Don't forget the chopped veggies on top, though.  Without them, the soup is just kind of like veggie smoothie in a bowl.  The chunky veggies really turn it into something special.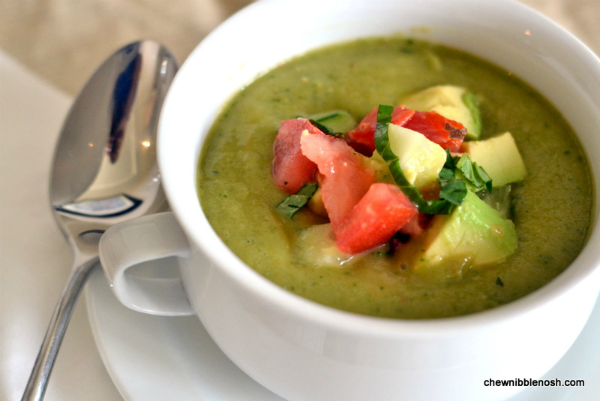 CREAMY GREEN GAZPACHO
Adapted from Epicurious
Creamy Green Gazpacho
Author:
Prep time:
Total time:
Ingredients
1 medium tomato, cored and quartered
1 small cucumber, peeled and cut into large chunks
1 avocado, use half (cut into chunks) for the soup, and the other half for the topping
4 large basil leaves
1 jalapeno pepper, cut into chunks (optional…and I suggest not using the whole pepper)
1 cup baby spinach leaves
1 clove garlic, crushed
1 Tbsp red wine vinegar, or more to taste
1 Tbsp. honey
2 ice cubes
salt and pepper to taste
1 tsp. olive oil
Instructions
Set aside half of the avocado, 1 quarter of the tomato, a few chunks of cucumber, and 1 basil leaf for the topping.
Place the rest of the tomato, cucumber, avocado, basil, spinach, a few chunks of jalapeno (if desired), vinegar, honey, and the ice cubes in either a blender or the bowl of a food processor. Puree until smooth.
Pour the soup into a bowl, season with salt and pepper, cover the bowl, and chill until ready to serve.
Before serving, chop up the remaining tomato, cucumber, avocado half, and basil leaf and stir to combine.
Serve the soup, well chilled, with a hefty scoop of the veggie topping, and a drizzle of olive oil.
ENJOY