Directions
I love it when I run across an old friend, recipe wise.  I have had this recipe for years, after I first ran across it in an old issue of Cooking Light.  I used to make these little melts all the time for Aaron and I when we were newlyweds.  They are quick, and easy, tasty, and light.  Chock full of albacore tuna, artichokes, lemon and spices, they aren't your average tuna melt.  Somehow, once our kids arrived, the recipe fell out of our dinner rotation.  (I'm guessing it's because neither of my girls like tuna, and I just didn't want to deal with the whining.)
I ran across the recipe the other day, after years of neglect, and decided it was time for the tuna melt to come back into play.  Did the kids eat them?  No, they didn't.  That doesn't mean that your kids won't eat them, however.  My kids just won't touch tuna.  I'm not one for making a different meal for the kids for dinner than we have.  Usually, I just make them deal with whatever has been put on their plates.  Tuna, however, truly grosses them out and I knew that.  I decided to forgo the whining once again, and just make them for the grown ups. The kids had turkey sandwiches instead.
They really missed out.
To make the melts, grab a can of Albacore tuna and drain it well.  Then, dice up some green onions, about a half of a can of artichoke hearts, and have a lemon on hand for juicing.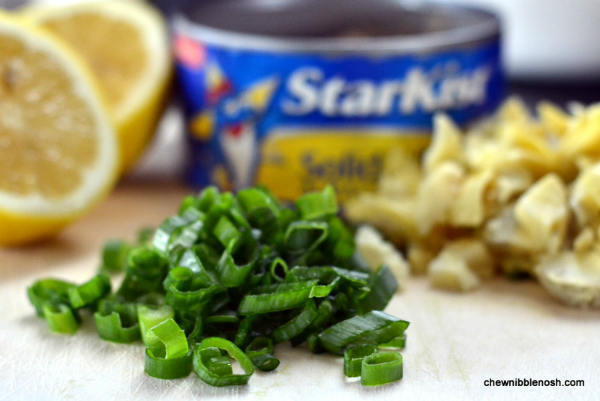 I flaked the tuna into a bowl, and mixed it up with the artichokes, green onions, lemon juice, some dried oregano, a dab of olive oil, salt and pepper.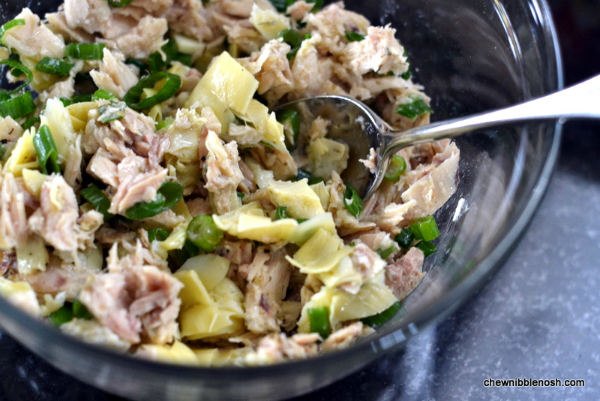 Before I heaped the tuna onto the English muffins, I let the muffins toast just a bit under the broiler of my oven.  This step isn't necessary, but I kind of like that crunch of the muffin as I bite into the melt.  If you skip the toasting step, you lose the crunch.
So, once they were toasted up a bit, I divided the tuna among the four muffin halves, and then topped each one with about a tablespoon of shredded mozzarella.  The original recipe calls for shredded provolone, but I had mozzarella  on hand and went with that.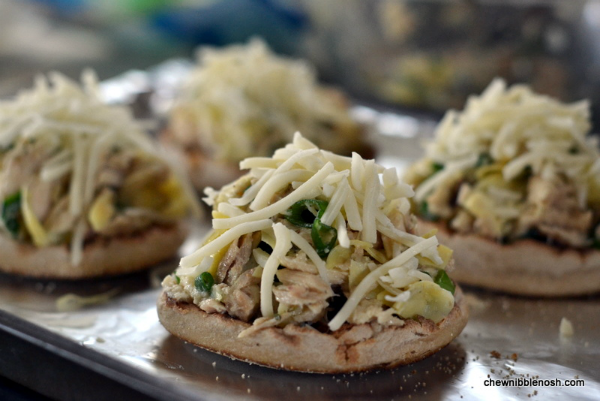 Once they were topped with cheese, the melts went back under the broiler for just a few minutes, until the cheese on top was bubbly and beginning to brown.
And just like that, we were ready to dive in!  We realized as we ate dinner that night, that we'd really missed these little guys.  Aaron even said that these were the best tuna melts I'd made.  Honestly, they tasted like every other time I'd made them.  I just think he was being sentimental.
In case you were wondering, the girls really enjoyed their turkey sandwiches.
(But, ours were better!)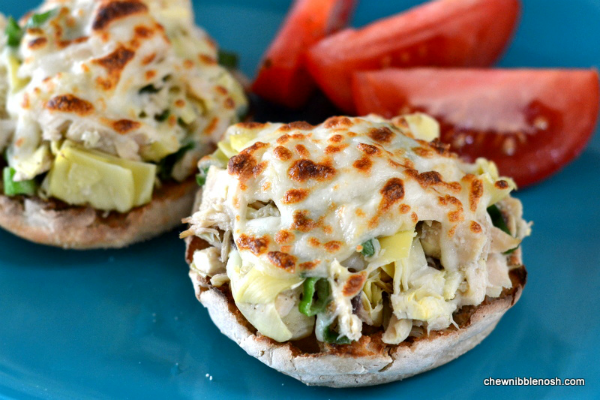 ALTUNA MELTS
Adapted from Cooking Light
Altuna Melts
Author:
Prep time:
Cook time:
Total time:
Ingredients
1/2 cup canned artichoke hearts, chopped
1/4 cup sliced green onion
1 Tbsp. fresh lemon juice
1 tsp. olive oil
1/2 tsp. dried oregano
salt and pepper to taste
1 (6 oz.) can Albacore tuna, drained and flaked
2 English muffins, split
6 Tbsp. shredded mozzarella or provolone cheese
Instructions
Preheat your broiler.
Combine the first 7 ingredients in a bowl and set aside for a minute.
Place the split muffins on a cookie sheet and toast them under the broiler just until they've started to brown a bit.
Remove the muffins from the oven and heap the tuna mixture on top. Top the tuna mixture with some of the cheese.
Place the tuna melts back under the broiler, about 4 inches from the heat source, and cook, just for a couple of minutes, until the cheese on top is melted and starts to brown.
ENJOY!