Directions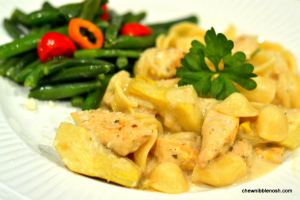 I put this together for dinner last night fully expecting Avery to throw a fit over it.  Avery, as you know if you're a regular reader of this blog, is a bit of a picky eater.  She'll try everything, but many times we don't get past the try.  If she had her druthers, she'd consume nothing but kid food, and ketchup would be the only sauce ever mentioned in this house.
I knew that Emily would love this, though, because she loves anything with artichokes, and I figured Aaron would like it because…well, Aaron will eat anything.  Avery was my sticking point, once again.
No matter, I thought.  Three out of four ain't bad, so I got our dinner ready to go.
I started by slicing up a couple of chicken breasts and tossing them with a mixture of olive oil, lemon zest, dried tarragon, garlic, salt, and pepper.  I let the chicken marinate in the mixture for a little while, as I prepped the rest of my meal, and then I quickly browned up the chicken on the stove top.
I set the cooked chicken aside and got to work on my sauce.
First, I sautéed some diced shallot until it was soft.
Then, I whisked in some flour, and cooked the flour a bit before pouring in some chicken broth, and whisking in some Dijon mustard.  I let the sauce bubble away, and thicken up a bit, and then I added in a can of drained, quartered artichoke hearts.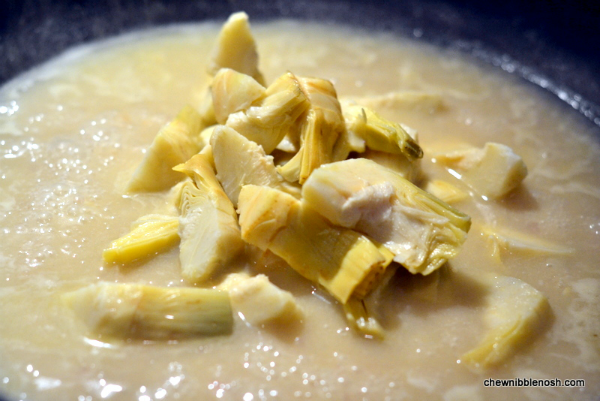 I let the artichokes warm through, and then stirred some fat-free half and half into the sauce.  I am not a cream sauce person at all, so this sauce was perfect for me.  Not rich at all, but just a hint of creaminess.
As I'd been cooking the chicken and getting the sauce together, I'd also cooked some orecchiette pasta in some salted water on the stove until it was just about done.  Orecchiette worked well in this dish, but it can sometimes be difficult to find.  Any other smallish pasta shape, like bowties or rotini, would work well in this dish too.
Once the pasta was cooked, I drained it, and added it along with the chicken to the warm sauce.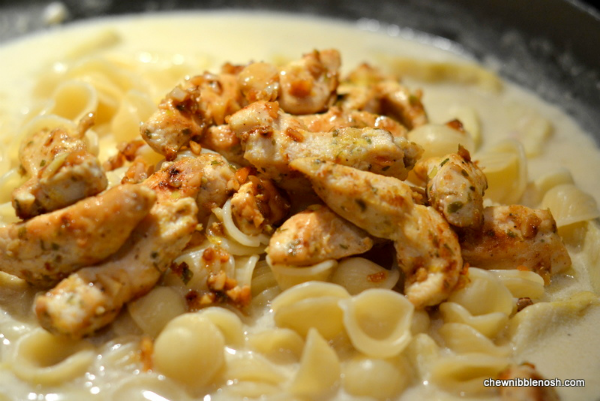 I let the whole mixture simmer together for a couple of minutes, to finish cooking that pasta, and to warm everything through.
When it was done, I served it up to two eager looking customers, and one not so eager.  But, you know what?  The not so eager one took a bite, and then she took another bite, and another, and another…and even went back up for seconds!
See?  It pays to try new things with your kids!  Someday, they're going to like it!
Thankfully, we all really enjoyed this.  The sauce was smooth and velvety, but not too rich at all, and the lemon, garlic, and tarragon from the chicken helped season it perfectly.  It was a really tasty dish.
And Avery has even requested that I make it again, really soon.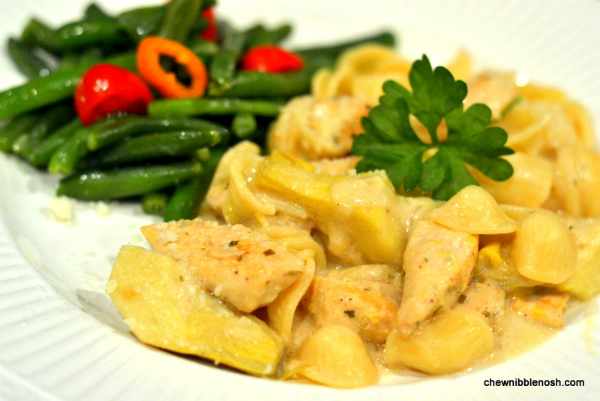 CREAMY ORECCHIETTE WITH CHICKEN AND ARTICHOKES
Adapted from Weight Watchers: Family Style
Creamy Orecchiette with Chicken and Artichokes
Author:
Prep time:
Cook time:
Total time:
Ingredients
3 tsp. olive oil, divided
1 large shallot, minced
1 Tbsp. all-purpose flour
1 (14.5 oz.) can low-sodium chicken broth
2 tsp. Dijon mustard
1 (14 oz.) can quartered artichokes hearts, drained
1/2 cup fat-free half and half
zest from one lemon
1/2 tsp. dried tarragon
3 cloves garlic, minced
1/8 tsp salt
1/4 tsp pepper
3/4 lb. boneless, skinless chicken breasts, sliced into strips
6 oz. orecchiette pasta
Instructions
Bring a large pot of salted water to a boil on the stove.
In a small bowl, mix together the lemon zest, 1 tsp. olive oil, tarragon, garlic, salt and pepper. Add the sliced chicken and allow to marinate for a few minutes while you prep the rest.
Spray a small skillet with nonstick cooking spray and heat over medium high heat. Add the chicken and cook, stirring often, until chicken is nicely browned and just about cooked through. Set the chicken aside.
Cook the pasta in the boiling water according to the package directions, and drain.
Heat the remaining oil in a large skillet over medium-high heat. Add the diced shallot and cook, stirring often, until softened, about 2 minutes. Add the flour, and cook, stirring constantly, until the flour is golden brown, about 1 minute.
Gradually whisk in the chicken broth, and then the mustard. Bring the mixture to a boil, and cook until slightly thickened, about 3 minutes. Add the artichokes, reduce the heat, and simmer for 2 more minutes. Stir in the half and half, and cook until heated through.
Add the cooked pasta and chicken to the sauce, and stir to combine. Allow to simmer for 2-3 minutes, until the dish is warmed through, and pasta is well coated. Add salt and pepper to taste, and serve.
ENJOY!