Directions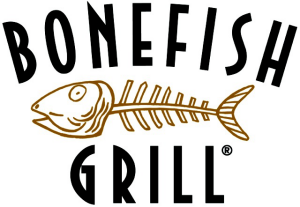 Are you a Black Friday shopper?  More importantly, are you a Black Friday eater?  This year, Bonefish Grill has decided to offer their amazing brunch menu, which is usually only available on Sundays, on Black Friday and throughout the weekend!  What a super idea!  After rushing through the stores all morning, snatching up excellent deals, I can't think of a better way to take a breather than with a delicious meal from Bonefish Grill.
My family and I were invited to try out their brunch over the weekend, and we knew going into it that we were in for a treat.
Aaron started off with a delicious, spicy Bloody Mary, while I stuck with a refreshing Peach Bellini.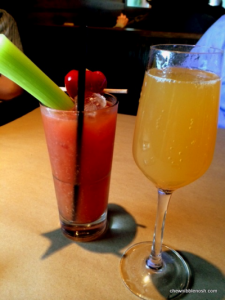 (The kids had pop, but I didn't think you'd be as excited about that as they were.)
First off, we decided to try their Singapore Calamari starter.  The calamari were deliciously tender, and well spiced, and they were fried up nice and crispy, with strips of sweet peppers, and served alongside a sweet-spicy Asian inspired sauce.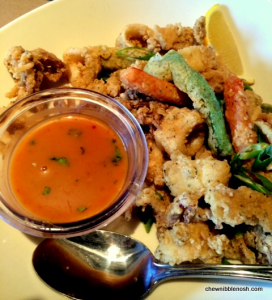 I know what you're probably thinking.  We went to Bonefish Grill and didn't order Bang Bang Shrimp?  Well, don't worry. Not only is it still available as a starter on the brunch menu, but you can also decide, like my husband, to try their amazing Bang Bang Shrimp Eggs Benedict.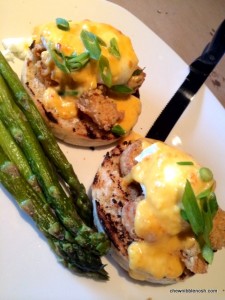 I, however, decided to try their delectable Crème Brûlée French Toast.  French toast is one of my favorite breakfast treats, and when you pair that up with one of my favorite desserts, I just couldn't pass it up.
The thick slices of French bread are soaked in a rich bath of cream, eggs, vanilla and Grand Marnier, before being cooked up on the stove top to a beautiful golden brown.  Then, they sprinkle the toast slices with raw sugar and give them a quick turn under the broiler, until there's that nice, crunchy sugar crust I love in Crème Brûlée.  It was delicious, and lucky for us, Bonefish Grill was nice enough to share the recipe with all of us so we can try it at home!
So when you're out and about this weekend, and your stomach starts grumbling, don't forget this wonderful way to wind down after a busy morning.  Head on over to Bonefish Grill and take a break.  Black Friday shopping is hard work!  You deserve this.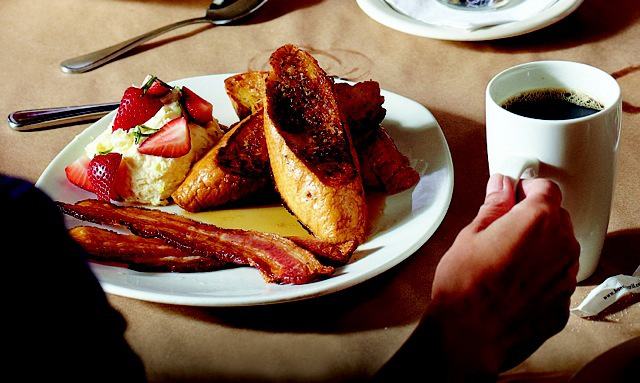 BONEFISH GRILL'S CRÈME BRÛLÉE FRENCH TOAST
Recipe courtesy of Bonefish Grill
Creme Brulee French Toast
Author:
Prep time:
Cook time:
Total time:
Ingredients
1 Loaf French Baguette Bread
4 Large Egg Yolks
2 Large Eggs, Beaten
1 ½ Cups Half And Half
1 Tsp. Vanilla Extract
1 Tbsp. Grand Marnier
2 Tbsp. Unsalted Butter
2/3 Cup Sugar In The Raw
Whipped Cream for Topping
Strawberries and syrup, if desired
Instructions
Cut the baguette at a diagonal into 12 each 1" thick slices that are 4" long. Combine the egg yolks, eggs, half and half, vanilla extract and Grand Marnier in a mixing bowl and whip with a wire whisk for 5 minutes or until mixture is light and fluffy.
Place the baguette slices in a rectangular baking dish.
Pour the egg mixture over the bread slices and chill in the refrigerator for 30 minutes. Turn the bread slices over in the dish and let sit in the refrigerator for 30 additional minutes. Drain excess egg mixture from the bread slices.
Working in four small batches, melt ½ Tbsp. butter in a non-stick sauté pan over medium heat. Place three slices of baguette in the pan and cook for 2 minutes. Turn slices over and cook for an additional 2 minutes.
Place baguette slices on a broiler pan. Repeat until all the baguette slices are cooked. Evenly
sprinkle sugar over each baguette slice. Place broiler pan under a hot broiler for 20-30 seconds until sugar is bubbly, but be careful not to scorch or burn the bread.
Arrange baguette slices on a warm platter and serve with Mascarpone whipped cream. Fresh berries and warm syrup are additional options as well….or rich chocolate ganache if you're feeling truly sinful.