Directions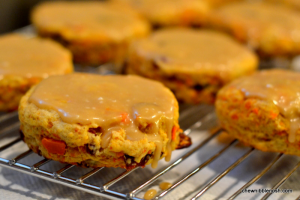 I know that Thanksgiving dinner is a massive meal, and we don't want to fill up too early, but you've still got to have something with your morning coffee, right?
These buttery, fall speckled little scones are the perfect way to start your holiday, and they can be made ahead or a lot of the prep can be done the night before, saving you some time in the morning.
To begin, I peeled and diced up two medium-sized sweet potatoes.
Then, I melted some butter in a skillet and cooked the sweet potato in the butter, stirring often, for about ten minutes.  As the sweet potato started to soften, I stirred in a tablespoon of brown sugar, and then stirred some more as the sweet potato cooked and caramelized beautifully.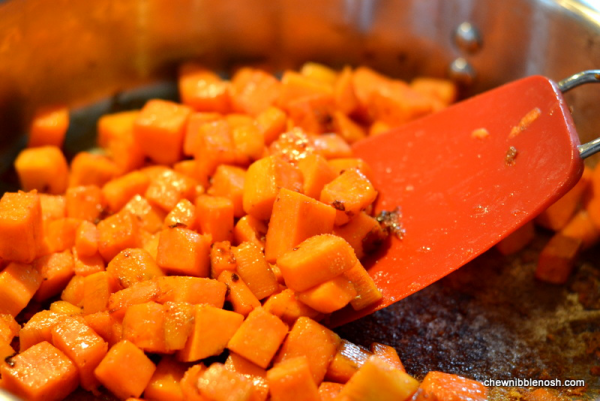 Once the sweet potato was done, I scooped the cooked potato into a bowl and mashed it, and then put the mashed sweets into the refrigerator to chill.  (You could do this the night before, and leave the potato to chill overnight, or just let the potato cool completely before continuing.)
When it was time to bake up the scones, I combined some chilled butter with some flour, baking powder, cinnamon, allspice, and nutmeg in my food processor, until the mixture was coarse crumbs with pea sized bits of butter.  Then, I transferred it to a bowl and mixed in the sweet potato, dried cranberries, and cream.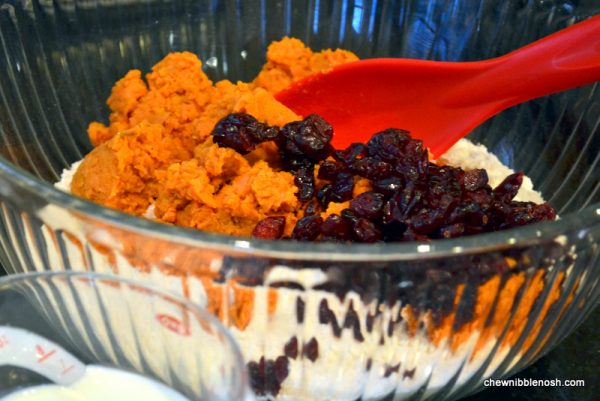 When the dough was combined, I dumped it out on my floured mat, and kneaded the mixture a few times until it came together in a ball.  You don't want to overmix the dough, because you want those pockets of chilled butter in there, so the scone bakes up beautifully fluffy and light.  When the dough came together, I pressed it out into a square that was a little over an inch thick, before cutting it into rounds.
You could press the dough into a circle and cut it into wedges, but those would be huge scones, and I was looking for something a little more manageable.  When all was said and done, I had a little more than a dozen scones ready to pop in the oven.
After a little time in the oven, I had some seriously amazing little treats on my hands.
They weren't done yet, though!
After letting them cool for a bit, I whipped together a quick and easy, but delicious, brown sugar glaze for the tops.  I melted together some butter, brown sugar, and a bit of cream in a pan on the stove top ,and then whisked in some sifted powdered sugar until the mixture was nice and smooth.
When it was cool, I spread a little of the glaze over the tops of my cranberry specked friends, and let it drizzle down the sides. Before we could dive in, I let them sit for a few more minutes (this was tough), so the glaze could set up.
The scones are so tender, flaky in just the right way, and delicious.  Nice and buttery, with the savory-sweet potato, tang from the berries, and all of the spices we love about fall.  They're a little something different, and a wonderful way to start a day filled with family, friends, and fun.
SWEET POTATO AND CRANBERRY SCONES WITH BROWN SUGAR ICING
Adapted from Yahoo! Food
Sweet Potato and Cranberry Scones with Brown Sugar Icing
Author:
Prep time:
Cook time:
Total time:
**These scones can be made up to two days ahead and stored in an airtight container at room temperature.
Ingredients
For the Scones:
1 lb. sweet potatoes, peeled and diced
3/4 cup butter, cut into cubes, plus 1 extra Tbsp.
3 Tbsp. packed brown sugar
salt
2 cups all-purpose flour
1 Tbsp. baking powder
1/4 tsp. cinnamon
1/4 tsp. allspice
pinch of nutmeg
1/2 cup dried cranberries
3/4 cup heavy cream, chilled
For the Glaze:
1/4 cup powdered sugar, sifted
1 Tbsp. butter
1/4 cup packed brown sugar
3 Tbsp. heavy cream
Instructions
For the Scones:
In a large skillet, melt the 1 Tbsp. butter over medium-low heat. Add the sweet potato and cook, stirring occasionally, until the potato begins to soften, about 10 minutes. Sprinkle in 1 Tbsp. of the brown sugar, and stirring often, let the potato cook until they begin to caramelize and are nice and soft, about 10-12 more minutes. Just before removing it from the heat, sprinkle in a bit of salt and give it a good stir.
Transfer the potato mixture to a bowl, and mash the potatoes until they are coarsely mashed. Chill the potato mixture until cool, or overnight.
Preheat the oven to 425*F. Line two baking sheets with parchment paper.
In a food processor, combine the flour, baking powder, remaining 2 Tbsp. brown sugar, 1/2 tsp. salt, cinnamon, allspice and nutmeg. Pulse until combined, and then sprinkle the mixture with the cold, cubed butter. Pulse just until the mixture resembles coarse crumbs, butter should be in pea-sized chunks.
Transfer the flour mixture to a large mixing bowl, and stir in the cranberries and mashed sweet potato. Add the cream, and gently stir with a fork to incorporate. Do not over stir!
Just as the dough comes together, dump the mixture out onto a floured surface. Knead the dough a few times until it comes together in a ball. (The dough will feel dry.)
Press the dough into a square that's approximately 1 1/2 inches thick.
Using a 3 inch biscuit cutter, cut the scones out of the dough and place on the prepared baking sheets. Re-knead the scraps, and cut out more scones until the dough is gone.
Bake the scones, at 425*F, until just golden brown and baked through, 15-18 minutes. Let cool on the baking sheet for ten minutes before removing to a wire rack to cool completely.
For the Glaze:
Sift your powered sugar.
In a small saucepan, combine the butter, brown sugar, and cream and cook over medium-low heat, stirring often, until the mixture comes together and is nice and smooth.
Pour the butter mixture into the sifted sugar, and whisk until smooth.
Allow glaze to cool before using.
To assemble:
Spread the cooled glaze over the scones.
Allow to set for 15 minutes before serving.
ENJOY!