Directions
This is one of those meals that I've made often over the years, but whenever I make it, I wonder why I don't make it more often.  It's an oldie, but a goodie, coming from a cookbook I've had since I got married.  My mom had the cookbook, made this meal and many others from it, and then got the cookbook for me before we moved into our first apartment.  I just looked at the copyright date and it came out the year after I graduated from high school.
Yikes.
That said, great recipes stand the test of time, and this is one that tastes as great today as it did back when my bangs had a lot more "spirit" than they do today.
I love Chicken Cordon Bleu.  It's savory breaded chicken, stuffed with cheese and ham, and often packs a tremendous calorie load as well. I love this version because it's still that satisfying, cozy meal, but with a lot less guilt.  It's baked, not pan-fried, and gets its cheesy bite from Gruyère cheese, which bakes up nice and creamy, but you don't have to use a lot of it to get a great result.  Plus, instead of ham, it uses prosciutto…and I'm always up for prosciutto.
I start by slicing boneless, skinless chicken breast halves horizontally almost all the way through, but not quite.  I open the chicken breast up, so that it's hinged at the center. Then, I layer in some of my prosciutto and a few thin strips of tangy Gruyère.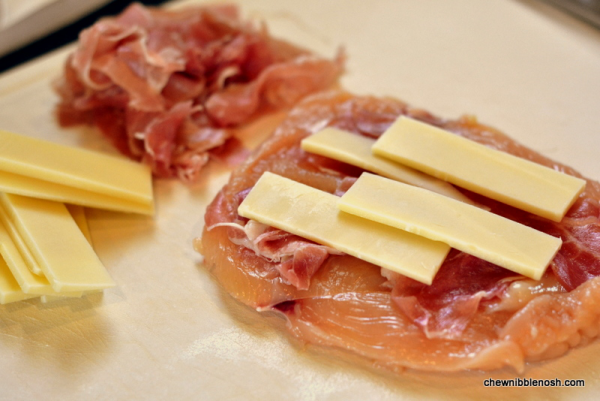 For four chicken breasts, you'll only use two ounces of cheese.  A little goes a long way!
Once the filling is in place, I close the chicken breast back up, making sure the prosciutto and cheese are tucked inside.  Then, I combine some bread crumbs, Parmesan cheese, salt, and pepper in one bowl, and whisk together some egg whites, low-fat buttermilk and Dijon mustard in another.
I carefully coat the closed chicken breasts in bread crumbs, then dip it in the egg white mixture, and then back in the bread crumbs one last time.
I placed a wire rack on one of my baking sheets, sprayed it with nonstick spray, and then laid my breaded chicken breasts on top.
 Baking them on the rack like this ensures that bottoms will be nice and crispy like the tops!
Once the chicken was in the oven, I got going on my rice.  Before I'd started the chicken, I made sure all of my veggies were prepped.  I diced up two small zucchini, chopped a shallot, and grated a lemon.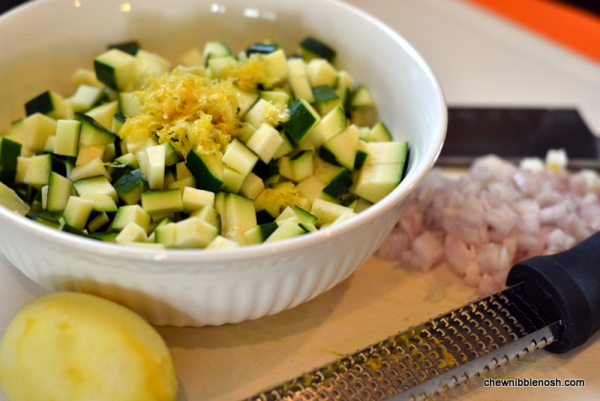 In a medium-sized saucepan, I sizzled the shallots for just a minute or so in a little bit of olive oil.  Then, I added in some chicken stock.  Once that came to a boil, I stirred in my long grain rice, the diced zucchini, lemon zest, and some salt and pepper.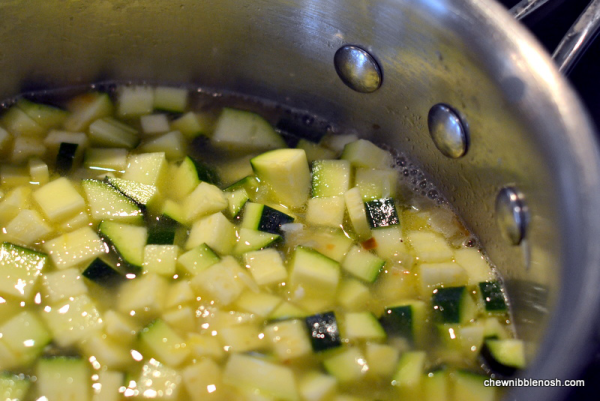 Once it came back up to a boil, I covered the pan, reduced the heat, and let the mixture simmer until the rice was cooked and all of the liquid was absorbed.
When it was ready to serve, I had a beautiful fluffy side, that's much tastier than plain old, everyday rice.
As the rice was cooking, I threw together some Garlic and Herb Tomatoes, and before I knew it, I had a pretty amazing dinner on my hands to serve my family.  I love all of the colors on the plate, and my family did too.
As my husband ate his dinner, he looked up and said, "You should make this more often."  You know what?  He's right.
 EASY CHICKEN CORDON BLEU AND LEMON ZUCCHINI RICE
Adapted from Eating Well: The Rush Hour Cookbook
Easy Chicken Cordon Bleu with Lemon Zucchini Rice
Author:
Prep time:
Cook time:
Total time:
Ingredients
For the Chicken Cordon Bleu:
4 boneless, skinless chicken breast halves
2 oz. prosciutto, thinly sliced
2 oz. Gruyere cheese, thinly sliced
2 large egg whites
1/4 cup low fat buttermilk
1 Tbsp. Dijon mustard
2/3 cup dry breadcrumbs
1/4 cup grated Parmesan cheese
1/2 tsp. salt
1/2 tsp. pepper
For the Lemon-Zucchini Rice
2 tsp. olive oil
1/3 cup chopped shallots
1 1/2 cups reduced sodium chicken stock
1 cup long-grain rice
2 cups finely diced zucchini
2 tsp. grated lemon zest
1/2 tsp. salt
1/4 tsp. pepper
Instructions
For the Chicken:
Preheat oven to 400*F.
Place a wire rack on a cookie sheet and spray with nonstick spray.
To prepare the chicken breasts for stuffing, place a breast half on a cutting board. Keep the blade of the knife parallel to the work surface and make a horizontal slit along the thinner, longer edged side of the breast. Cut it nearly in two, but leave a hinge in the center.
Open the chicken breast up so it forms two flaps. Place one quarter of the prosciutto and cheese on the open flaps, making sure there's a little bit of space between the edge and the filling. Close the flaps. Repeat with remaining chicken.
In a bowl, whisk together the egg whites, buttermilk, and mustard. Beat until creamy. In a dish, stir together the breadcrumbs, Parmesan, salt and pepper.
Carefully dip each chicken breast in the crumb mixture, then into the buttermilk mixture, and finally back into the crumb mixture before placing the chicken breasts on the prepared baking sheet/rack.
Bake for 30-35 minutes, until crisp and lightly browned on the outside, and opaque in the center.
For the Rice:
In a medium sized saucepan, heat the oil over medium heat. Add the shallots and cook until softened, about 2 minutes.
Add the chicken stock and bring to a simmer.
Stir in the rice, zucchini, lemon zest, salt, and pepper.
Bring to a boil, reduce the heat, and cover the pan. Cook until the rice is tender and the liquid is absorbed, 15-17 minutes.
Fluff with a fork before serving.
ENJOY!