Directions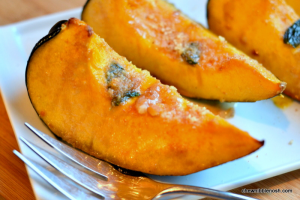 I love acorn squash.  I'm pretty partial to any squash in general, but I love to indulge in butternut and acorn squash in the fall, when the color or the squash matches the color of the leaves outside my window.  I have fond memories of my mom roasting some up with our dinner, and it always involved brown sugar and butter, which made it seem like a dessert vegetable when I was growing up.  She'd cut the squash in half, scoop out the seeds, and then fill the middles with brown sugar and butter, which would just sizzle and caramelize and sweeten up the squash as it baked.  Good stuff. It's like comfort food to me.
I ran across this abnormally large acorn squash the other day while I was shopping.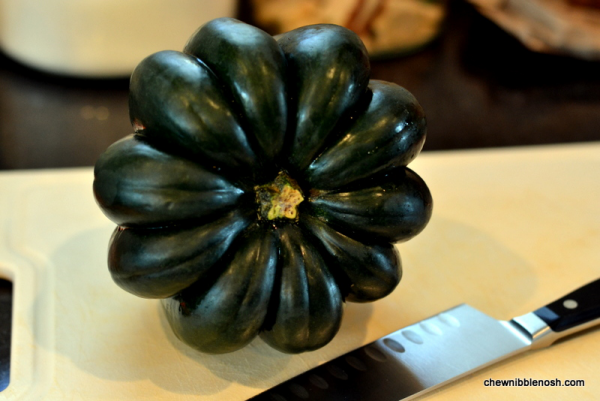 Since it was so large, I couldn't roast it in halves like my mom usually did. With this squash, each half would feed two people…at least.  So, I needed a squash recipe that could accommodate slices.  I came across this recipe from Tyler Florence, and it looked a little too good to be true.  Sliced squashed, bathed in a mixture of butter, Amaretto, and brown sugar, with sage and crumbled cookies?  Sign me up!
I started by slicing up my behemoth sized squash into eight LARGE slices. This puppy was huge!  I set them up on a cookie sheet that I'd lined with foil, drizzled them with olive oil and sprinkled some salt and pepper over them.
 Next, I mixed together some softened butter, brown sugar, and a few tablespoons of Amaretto.
I know, right?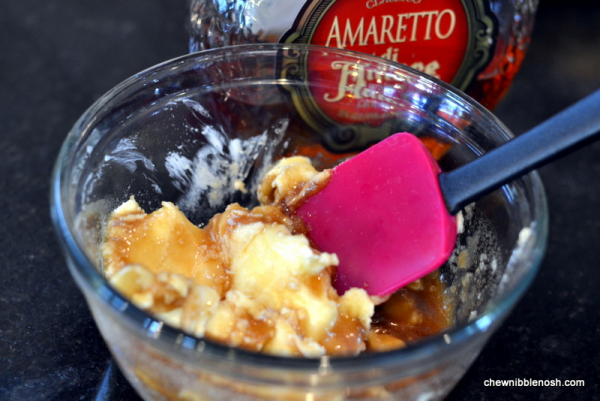 I slathered each slice of squash with some of the butter, leaving some for basting as it cooked, and then I put two small fresh sage leaves across each slice of squash.
To finish things off, I had Avery crunch up some vanilla wafers to sprinkle on top.
 We sprinkled the cookie crumbs all over the squash, making sure that as much of the sticky butter was coated in them as possible, before popping the tray into the oven.
Roasting squash can sometimes be a little tricky.  The cooking time completely depends on how big and thick the squash is.  With a normal squash, it could take between 30-40 minutes of roasting to cook the vegetable thoroughly.  Even with slicing my monster squash, it took upwards of 50 minutes to cook them through…and if I'm being honest, I probably could have left them in a little longer, but then the rest of my dinner would have been cold.
As the squash roasted, I peeked in every once in a while and basted each piece with a little more of that amazing sweet butter.  The butter was delicious.  I may look at slathering it on everything I eat, or at least sweet potatoes.
Mmmmm….Happy Fall.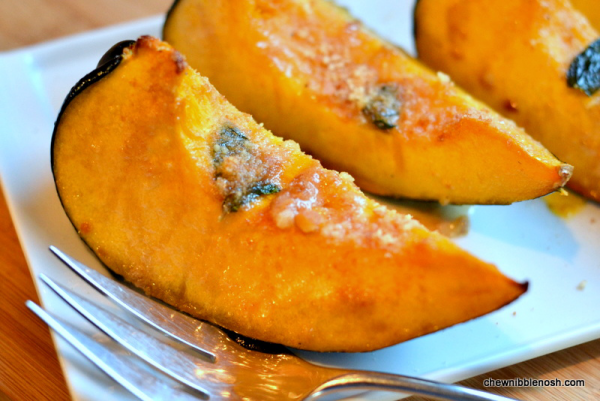 ROASTED ACORN SQUASH WITH AMARETTO BROWN SUGAR BUTTER
Adapted from Tyler Florence
Roasted Acorn Squash with Amaretto Brown Sugar Butter
Author:
Ingredients
2 acorn squash, about 1 pound each, or one gigantic one
salt and pepper
extra-virgin olive oil, for drizzling
1/2 cup softened butter
1/2 cup brown sugar
3 Tbsp. Amaretto
fresh sage leaves
1/2 cup crushed Vanilla Wafers
Instructions
Preheat your oven to 350*F. Line a cookie sheet with foil, and spray with nonstick spray.
Slice the squash in half, clean out the seeds, and then slice into wedges.
Line the wedges up on the cookie sheet and drizzle with some olive oil. Sprinkle each slice with salt and pepper.
In a small bowl, combine the butter, brown sugar, and amaretto.
Spread about half of the butter over the slices of squash, saving the rest for basting as the squash roasts.
Lay one or two sage leaves over the middle of each slice of squash.
Sprinkle the buttered squash with the crumbled cookies.
Roast, at 350* F for 30-40 minutes, until squash is fork tender and easily pulls away from the skin. Baste with more butter every ten minutes or so during the baking time.
ENJOY!