Directions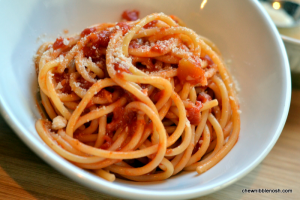 I love it when I run across a meal that my whole family enjoys, is easily adaptable, AND I can throw together at a moment's notice with stuff you can always find in my pantry and fridge.  This is one of those meals.  This sauce is incredible, so deliciously tasty that you'd think someone had spent hours on it.  In reality, it takes just a few minutes of prep time, and a little bit of slow cooking in the oven.
I started by pouring a large can of whole tomatoes in a 9×13 inch baking dish.  To that, I added a few tablespoons of butter that I'd cubed up, a few garlic cloves that I'd smashed just a bit, some crushed red pepper, and a couple of anchovy fillets.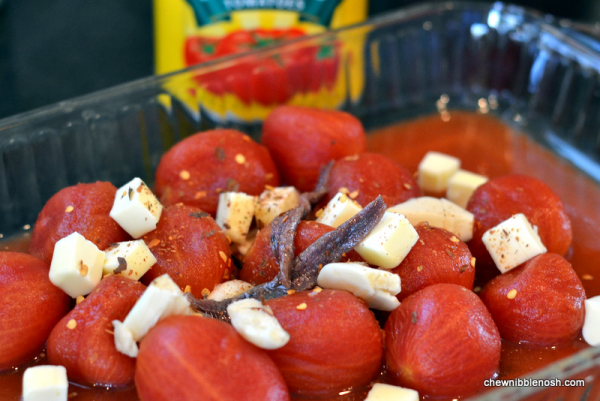 I know what some of you are thinking.  "Anchovies?  Eeeeewww!"  You'll be happy to know that you can't taste the anchovies at all in this finished dish.  They just add a bit of richness, and that salty brine certainly doesn't hurt.  Personally, I love anchovies, but I know they aren't for everyone.  Even if you're skeptical, I highly recommend using them in this dish.  I can't guarantee that the sauce will taste as good without them.  My kids, who won't go near an anchovy with a ten-foot pole, LOVED this sauce, and were shocked when I told them afterwards that there were anchovies in it.  Try it. I swear.
Anyway, once everything was in the dish, I crushed all of the ingredients together with my hands until the mixture was combined and broken down a bit.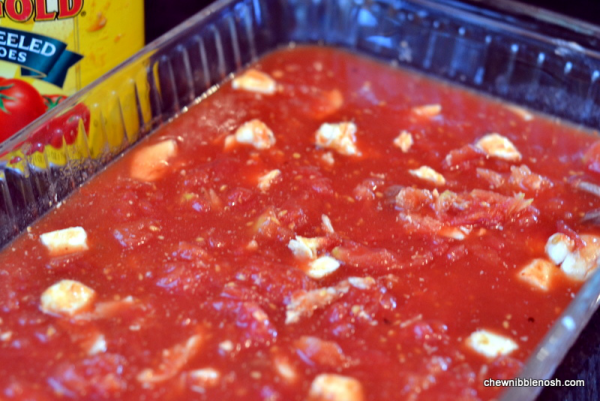 Then, I sprinkled a little bit of salt and pepper on top, and popped the dish in the oven to roast for about 40 minutes, until the mixture was nice and thick…and smelled AMAZING.
While the sauce was roasting, I cooked up my pasta and got a salad together.  The pasta I used in this dish was Bucatini.  If you can find it, give it a try.  It has a chewier bite to it than regular spaghetti.  It's like long, thick spaghetti noodle with a hole through the middle.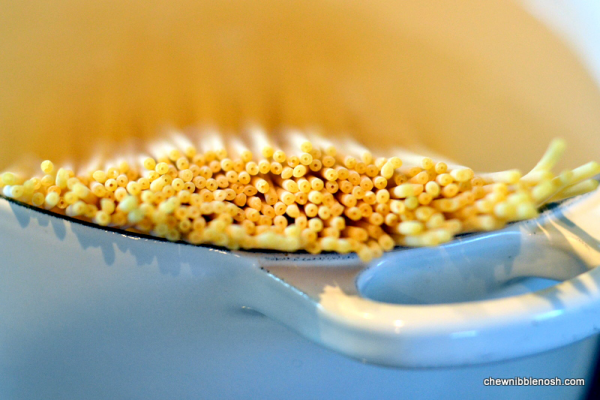 You could certainly use any pasta with this dish, but I like Bucatini's bite.
After forty minutes or so, the sauce was done in the oven, so I finished it off by using my potato masher to mash up the last big chunks of roasted tomatoes and garlic.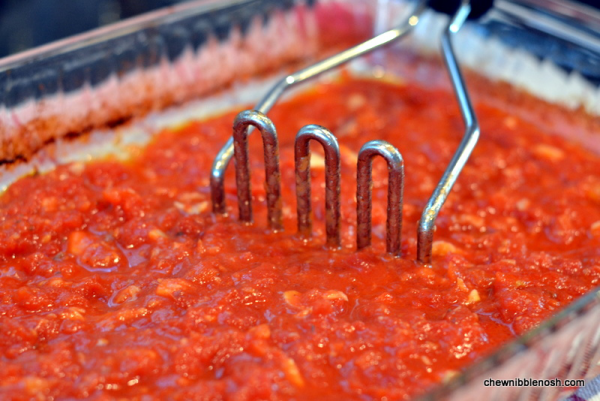 I'd reserved a bit of my pasta cooking liquid, so when it was time to bring the sauce and pasta together, I added the cooked pasta back into the pot, added the sauce and the pasta water, and tossed it over a medium high heat until everything was coated perfectly.
The pasta and sauce easily serve four people, but if you wanted to stretch it even more, serve it along with grilled chicken or shrimp.  Also, it can be made ahead and reheated.  Next time I make it, I think I'm going to make a double batch and freeze some to use with lasagna or a baked pasta dish.
This sauce is amazing, and so simple, and that makes it perfectly perfect to me.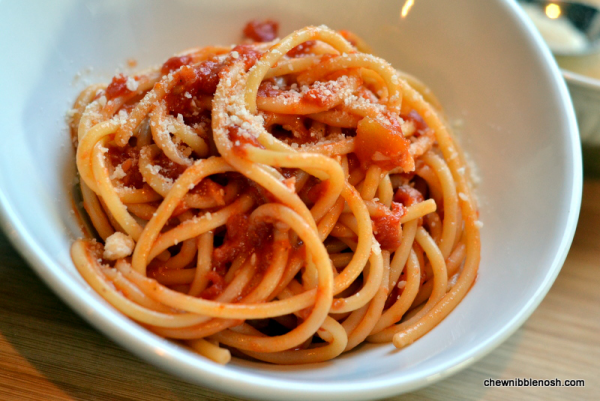 BUCATINI WITH BUTTER-ROASTED TOMATO SAUCE
Adapted from Bon Appetit
Bucatini with Butter-Roasted Tomato Sauce
Author:
Prep time:
Cook time:
Total time:
Ingredients
1 (28 oz.) can whole peeled tomatoes, and their juice
8 cloves garlic, peeled and crushed a bit
2 anchovy fillets, packed in oil
4 Tbsp. butter, cubed
1/2 tsp. crushed red pepper flakes
salt and pepper
12 oz. Bucatini or spaghetti pasta
parmesan cheese, for serving
Instructions
Preheat the oven to 425*F.
In a 9×13 inch baking dish, combine the tomatoes, garlic, anchovies, butter, and crushed red pepper. Crush the tomatoes with your hands and mix the sauce ingredients together well.
Bake in the preheated oven for 35-40 minutes, or until the mixture is thick. Stir the mixture once during the baking time.
Using a potato masher or a fork, mash up the remaining chunks of roasted garlic and tomatoes.
Meanwhile, cook the pasta in a large pot of salted water according to the directions on the package. Reserve 1/2 cup of the pasta cooking water.
Drain the pasta and return it to the pot. Add the tomato sauce and the pasta water. Cook, over medium high heat, as you toss the sauce and pasta together, until everything is evenly coated.
Serve topped with parmesan cheese.
ENJOY!