Directions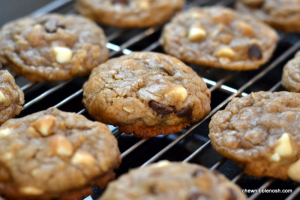 That's a name that will get your attention, eh?  With a name like that, they'd have to be good!  My dad found this recipe, was intrigued by the name, and passed it along to me.  (There are many reasons why my parents are happy we've moved closer to home…and though they haven't admitted it yet, I'm pretty sure one of them is because when I bake, I now live close enough to share.)
So, dad handed me the recipe, and I promised to make it.  I'm so glad I did!  Father knows best, right?  These are definitely tasty little cookies.  They would fall into the chocolate chip cookie category, but they are just a little bit different.  There are a few extra steps, nothing difficult, but they do take a little longer to throw together than regular chocolate chip cookies.  I think they are worth the effort, though!
To begin, the sugars and butter are cooked together on the stove top, and then cooled a bit, before mixing in with the dry ingredients.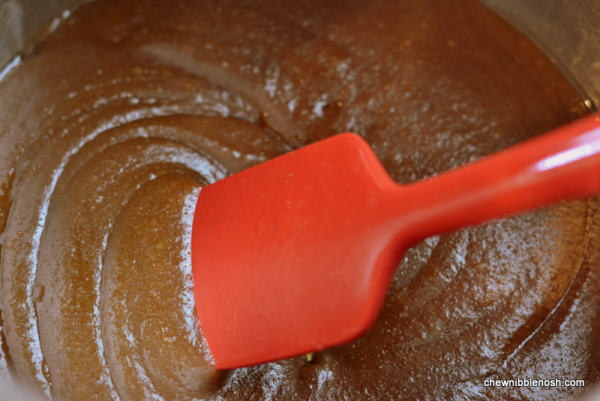 The cookies, ultimately, have this chewy, almost caramely note to them when they are baked, and I think that this step has a lot to do with it.
Once the sugar mixture had cooled off a bit in the fridge, I mixed in one egg, an egg yolk, and some pure vanilla extract.
Then, it was time for the dry ingredients, and Avery jumped in to help, and to pose for a picture.  This worked out nicely because she's cuter than a picture of dough would be anyway.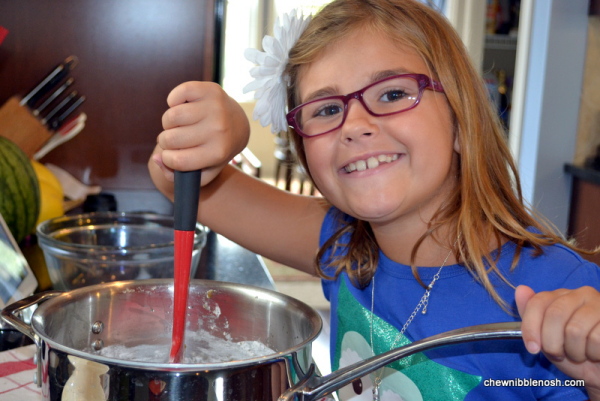 Avery loves to help me cook, but I'm pretty sure it wasn't the flour, baking soda, cinnamon, and oats that called her to me.  No, it was probably the two bags of chocolate sitting on the counter.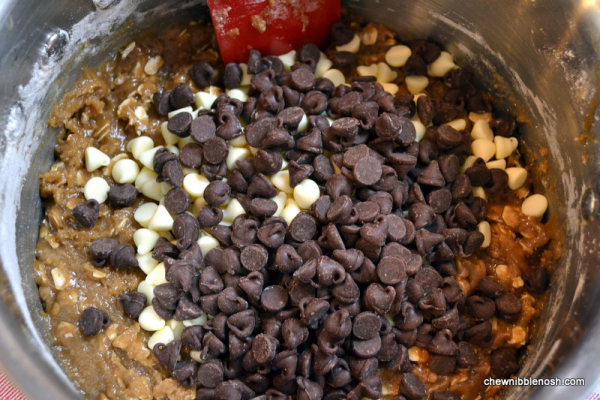 Once the dry ingredients were incorporated, Avery added a cup of semi-sweet chocolate chips and a cup of white chocolate chips to the dough…and I'm pretty sure she swiped a few in the process.
When we had all of that mixed in, it was time to roll out our cookies.  I lined two cookie sheets with parchment paper, and we rolled out all of the cookie dough into balls, before popping the dough back in the fridge to chill for 30 minutes.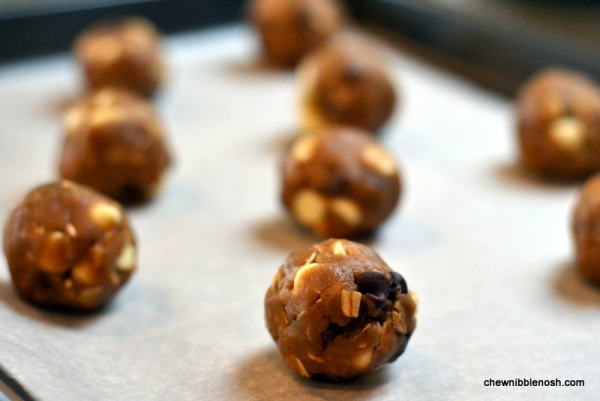 Once the chilling time was up, they baked at 325* for about 12 minutes, until they were set and just starting to brown around the edges.
Will these cookies snag you a spouse?  I can't attest to that because, well, I already have a spouse.  He really enjoyed the cookies, though, if that's any indication of their power!  They are nice and chocolatey, a bit heartier than a regular chocolate chip cookie, and they have a nice chewy bite to them.
My family fell in love with them, and I hope yours will too.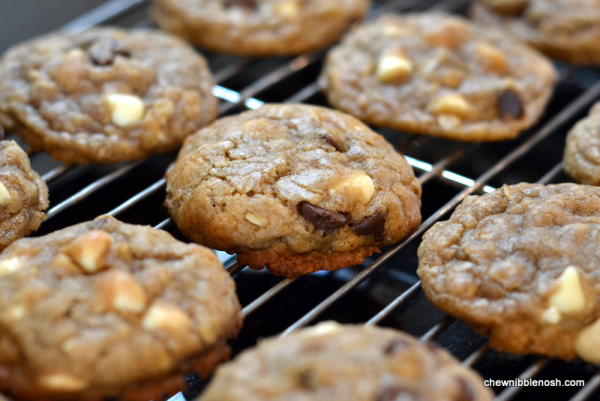 "I WANT TO MARRY YOU" COOKIES
Adapted from CookingChannelTV.com
"I Want to Marry You" Cookies
Author:
Prep time:
Cook time:
Total time:
Ingredients
2 sticks butter
1 1/4 cup dark brown sugar
1/2 cup granulated white sugar
1 egg
1 egg yolk
1 tsp. pure vanilla extract
2 cups all-purpose flour
1 cup old-fashioned oats
1/2 tsp. baking soda
1/2 tsp. salt
1/4 tsp. cinnamon
1 cup semi-sweet chocolate chips
1 cup white chocolate chips
Instructions
In a medium saucepan, melt the butter over medium heat. When the butter is melted, remove the pan from the heat and stir in the brown sugar and granulated sugar until the mixture is nice and smooth. Chill the mixture for 10 minutes
Once the mixture has chilled a bit, stir in the egg, egg yolk, and vanilla.
Add the flour, oats, baking soda, 1/2 tsp. salt, and cinnamon and stir until combined.
Stir in semi-sweet and white chocolate chips.
Roll by hand into, roughly, 24 balls. Chill the cookie balls for 30 minutes before baking.
Heat your oven to 325*F while the dough is chilling.
Bake the cookies for 12-14 minutes each per batch, until the bottoms start to brown and cookies are set in the middle.
Cool on a wire rack before storing.
ENJOY!