Directions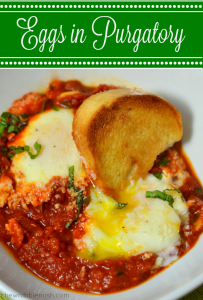 So, you know my picky eater, Avery?  Well, Avery has recently developed an obsession with competition cooking shows.  Her favorite being Worst Cooks in America on Food Network.  (If you haven't watched it, you should check it out.  It's really kind of fantastic.)  The whole premise of the show is celebrity chefs coach horrible cooks from around the country, and turn them into REAL, honest to goodness chefs.  It's a pretty incredible transformation, and actually a pretty funny ride along the way.  One, of many reasons, why a lot of the people involved in the show don't know how to cook, is because they are honestly afraid of trying new things. (Sound familiar?)
Avery watches these seemingly hopeless cooks try new, scary things, and find that scary isn't always bad.  In fact, nine times out of ten, it's usually pretty darn good!  In one episode, they taught the cooks something as simple as how to cook a perfectly fried egg.  Avery learned by watching the show that a runny yolk is a GOOD thing, but she'd never actually tried one before.  In fact, I can probably count on one finger how many eggs she's knowingly eaten before in her life.  She's never liked eggs, unless they are baked into a cookie or cake.  And if she did even take a bite of a scrambled egg or omelet, that egg had better be cooked to death.
She just watched the show, and took it all in.
Fast forward to a few days later and I had this recipe out to make for dinner.  I was prepared for my husband and possibly one daughter to love it, and for Avery to pout and ask if she could have a yogurt and cereal instead.  Imagine my surprise when Avery walked up as I was prepping things, saw the picture on the magazine page, and said, "Is that a runny egg?  I think I want to try it.  What else is in it?"
I explained that Eggs in Purgatory is basically, eggs cooked in a homemade marinara sauce with fresh basil, lots of garlic, and a little bit of spice.  Then, I told her that I was toasting up some bread to help scoop up that sauce, and…the runny egg.
Her eyes widened, and believe it or not, she got really excited.  Who says TV is bad for kids?
So, that night, we made dinner together.
Before I started my sauce and eggs, I gave some thick slices of Italian bread a good drizzle of olive oil, and some time under the broiler to toast up.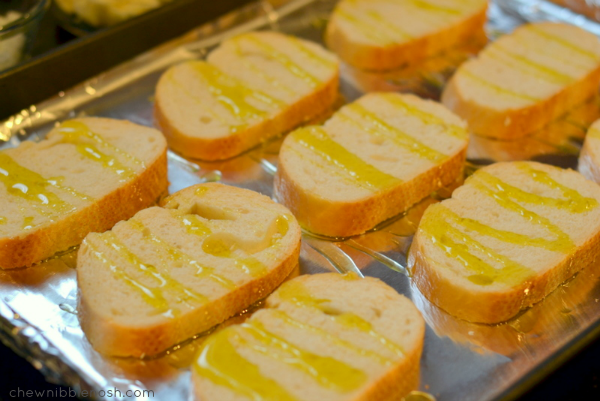 I toasted it for a couple of minutes on each side, and then sprinkled it with just a hint of kosher salt once it was out of the oven.  Then, I set it aside and got working on those "runny" eggs.
I started by slicing up a few cloves of garlic into thin chips, and then sauteing them in a bit of olive oil in a large skillet.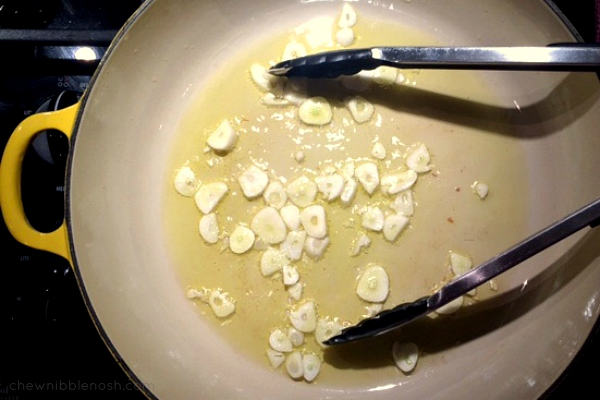 Once the garlic was just starting to brown up, I added in some tomato paste, chopped onion, dried oregano, and some red pepper flakes, and stirred the whole mess together until the onion started to soften and everything was cooking down nicely.
Then, I added in a heap of fresh, chopped basil.
Once the basil had wilted down into the onions and garlic, I poured in a large can of crushed tomatoes.  I stirred the sauce all together, allowed it to come to a simmer, and then let it bubble for about fifteen minutes.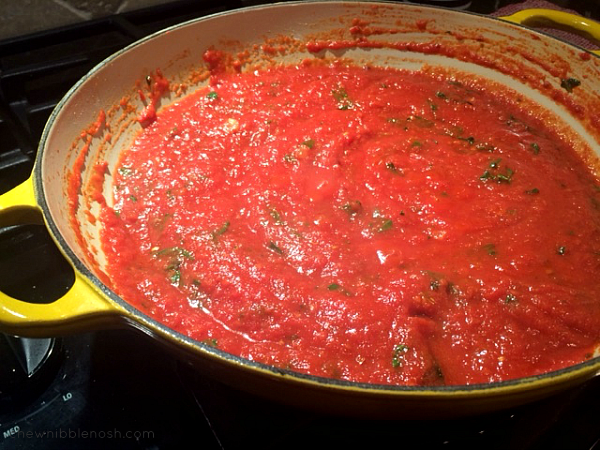 During that time, the sauce reduced just a bit and became thick, and rich with the flavors of all of that garlic and basil. In fact, if you'd like to skip the eggs and just toss it with a mess of pasta, I think you'd be pretty happy.
I removed the sauce from the heat and let it sit for a couple of minutes while I got my eggs together.  Eight eggs in all, and if you have a small bowl or two that you could crack your eggs into, and then use to help guide your egg, grab them.
Using a spatula, I cleared a two-inch space in center of the sauce, and then poured my egg from the bowl right into the hole.  I continued in this manner until all eight eggs were spaced evenly around the sauce, their whites contained in the spaces I'd cleared.
I put the skillet back on the heat and covered the pan, allowing the eggs to cook for about three minutes.  After this time, the whites were beginning to set, but they still looked a little watery, so I moved my pan to the oven, where they baked for about five minutes more.
After five minutes, I removed the pan, sprinkled the top with a generous amount of grated Parmesan and some more fresh basil.
And then, it was go time.
I have never seen Avery so excited to try a new food before, and I honestly have Chefs Ann Burrell, Tyler Florence, and Bobby Flay to thank for that.  She saw the people on TV try new things, and like them, and despite years of me asking her to give eggs a try, it was the brave people on her new favorite show who actually pushed her to try.
And you know what?  SHE LOVED IT.  She gobbled up two "runny" eggs and a boatload of sauce in no time flat.  She was ooohing and aaahing all over dinner, and made me promise that I'd make this again really soon.  (I was so tickled that I did!  Just a few days later.)
I mean, what's not to love?  It's warm toasty bread, savory sauce, and soft "runny" eggs.  It's cozy and delicious, so simple to throw together, and honestly fun to eat.  Even more fun?  Watching my picky eater devour it, and ask for more.  That, my friends, is priceless.  We're getting there.  One TV show at a time.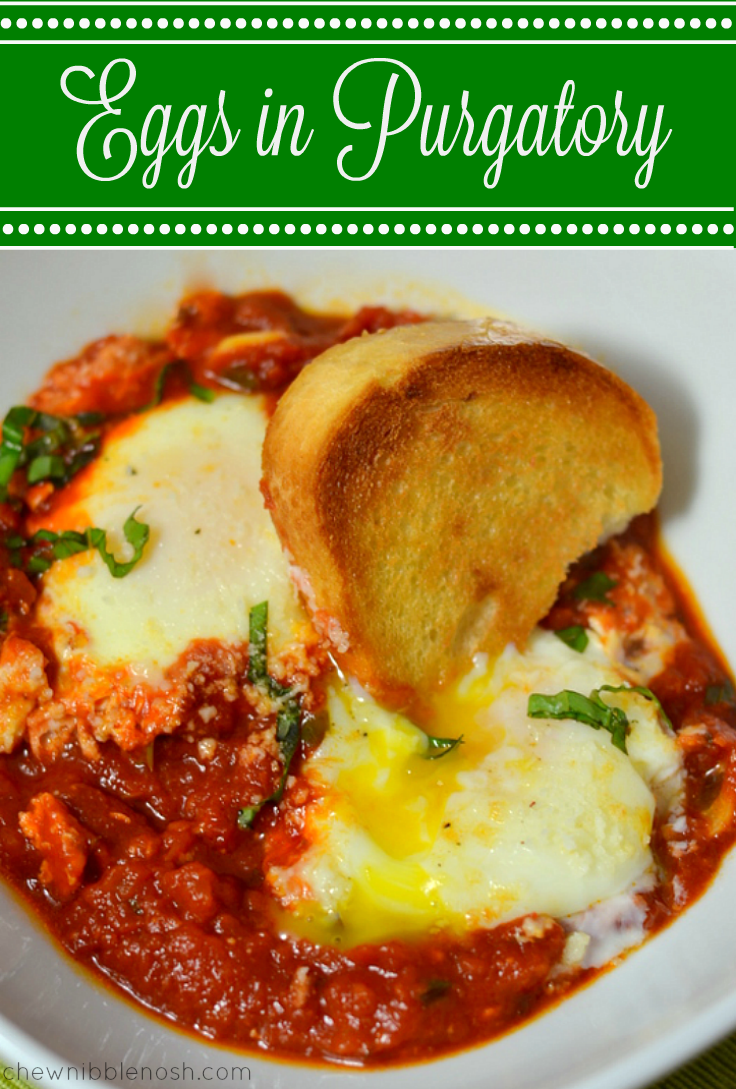 EGGS IN PURGATORY
Adapted from Cook's Country 
Eggs in Purgatory
Author:
Prep time:
Cook time:
Total time:
Ingredients
8 (3/4 inch thick) slices of Italian bread
7 Tbsp. extra virgin olive oil, divided
4 cloves garlic, sliced thin
1/4 cup finely chopped onion
1 Tbsp. tomato paste
3/4-1 1/4 tsp. crushed red pepper flakes, depending on how spicy you like things
salt and pepper
1/2 tsp. dried oregano
1 cup fresh basil leaves, chopped, plus 2 Tablespoons to finish dish
1 (28 oz.) can crushed tomatoes
8 large eggs
Instructions
Make sure the oven rack is in the middle of your oven, and preheat your broiler.
Arrange the slices of bread on a baking sheet, and drizzle the first sides with 2 Tbsp. of the olive oil. Flip the bread over, and drizzle 2 Tbsp. more over the other side.
Place the bread in the oven, and broil for about 3 minutes per side, until golden brown. Set the bread aside and heat the oven to 400*.
<span></span>Heat the remaining 3 Tbsp. olive oil in a large, ovenproof 12-inch skillet over medim heat.
Add the garlic, and cook for about 2 minutes, just until it starts to turn golden brown.
Add the onion, tomato paste, pepper flakes, 1 tsp. salt, and oregano, and cook until the oil is rust colored and the onion is cooked down a bit, about 3-4 minutes.
Add the fresh basil, and cook until wilted, about 30 seconds.
Carefully add the tomatoes (they will splatter if you pour them too quickly!), and bring to a gentle simmer.
Reduce the heat to medium-low and allow to simmer until the sauce thickens up a bit, about 15 minutes, stirring occasionally.
Remove the skillet from the heat and allow to sit for a couple of minutes while you grab your eggs.
Crack an egg into a small bowl. Using a spatula, create a 2 inch well in the center of the sauce. Carefully pour the egg into the well. Repeat around the edges of the pan, evenly spacing the other eggs as well as possible and trying to make sure the whites from each egg don't meet up. Season eggs with salt and pepper.
Cook the eggs over medium heat, covered, until the egg whites are just starting to set but are still a little watery looking, about 3 minutes.
Uncover the skillet and move it to the oven. Bake until the egg whites are set and don't look watery anymore, about 4-5 minutes for soft, "runny" eggs, or about 6 minutes for soft-cooked yolks, rotating the pan midway through the cooking time.
Sprinkle the top with Parmesan cheese and extra chopped basil, and drizzle with more olive oil if desired.
Serve, scooped up with the toasty bread.
ENJOY!