Directions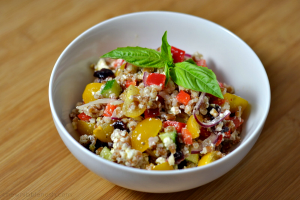 Spring is in the air!  Well, kind of.  I mean, we've had a couple of really warm days lately and the trees are getting confused, but I think we're still supposed to get more snow later this week.  I'm just going to ignore it.  Snow or no snow, it doesn't really matter because the warm days we've been blessed with have gotten my taste buds ready for all of the fresh and light that spring and summer have to offer.
I'm ready for cooking out on the grill and having big backyard BBQs with family and friends.  I'm ready to feel the sun shining on my face, and ready to walk the dog without shivering.  I'm ready to get in my car and not have to hit the seat warmer button.  It's the little things, right?  But most of all, I'm ready to shove stews and cozy comfort food recipes into big storage containers and pack them away until next time my toes are frosty.  I'm done.
My friends at OXO recently sent me some awesome new gadgets to try out, and as soon as I saw their new Rice & Grains Washing Colander, I started thinking of wheat berries, and how long it had been since I'd whipped up something using my favorite salad grain.  Wheat berries have this fantastic bite to them, chewy and hearty.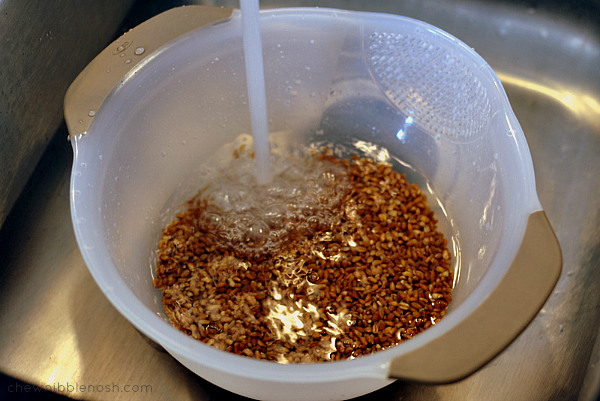 If you frequently cook grains like rice, quinoa, wheat or barley, this little colander is the perfect addition to your kitchen.  The holes are small enough that even the tiniest little quinoa doesn't fall through, but big enough for the water to run out evenly, and to wash away the extra starch and impurities to assure your grains don't cook up like mush. The water pools a bit, so you can tell when the grains are ready to go, when the water is nice and clear.
I cooked my wheat berries on the stovetop for fifteen minutes, and then drained them and let them cool a bit, while I whipped up a quick and simple Greek dressing, studded with loads of minced garlic, basil, and oregano.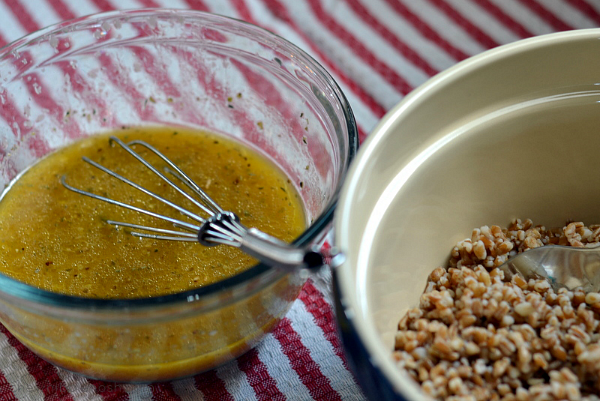 I wanted to add a lot of big, fresh flavor to my salad, so I chopped up a red bell pepper, and half of an English cucumber, and then using my new OXO Grape & Tomato Cutter, I quarterd a cup of grape tomatoes in no time flat.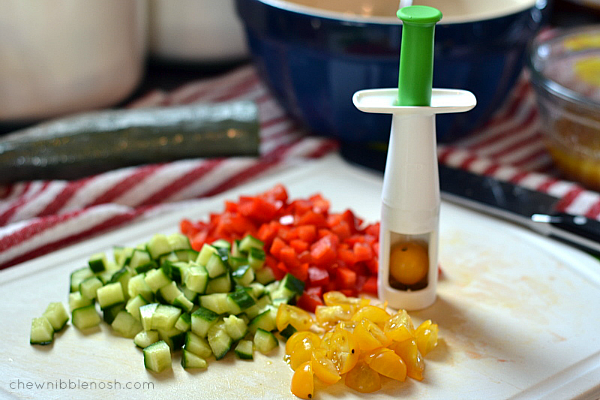 Can I just add that I wish I'd had this sweet little tool when my girls were tiny!  I must have quartered about a million grapes for my girls when they were little.
I also sliced up a bit of red onion, almost paper thin, so it wouldn't be too overpowering, with OXO's new Adjustable Hand-Held Mandoline Slicer.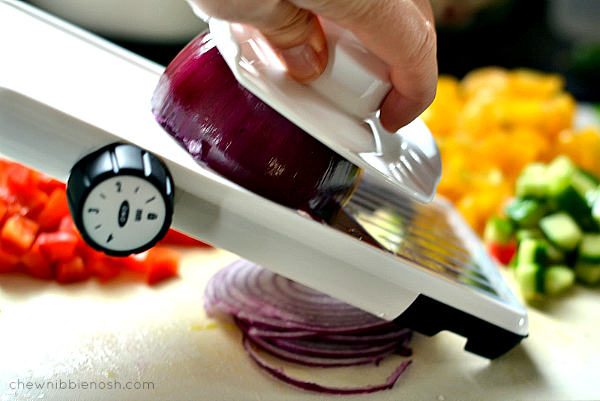 This is a great improvement on the hand held mandoline, with a dial on the side where you can change up the width of your slices with seven different thickness options.
I mixed my chopped and sliced veggies in with my cooled wheat berries, and stirred in a little more than half of the dressing.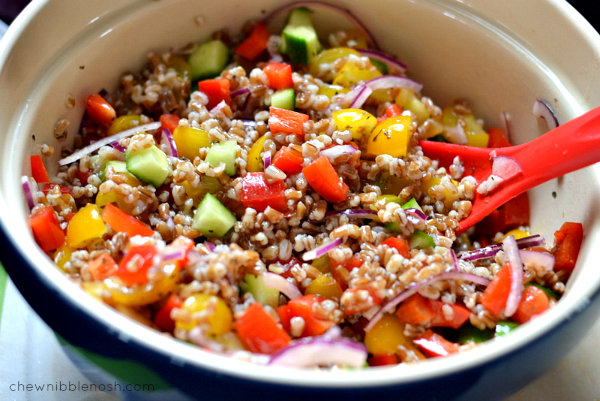 At this point, I covered the bowl and let the salad chill for a couple of hours.  I also covered the remaining dressing and popped it into the fridge.  (I've made this salad twice, and have never needed the extra dressing after chilling it for a while, but keep it on hand just in case you need more.)
Before serving it, I stirred in some crumbled Feta cheese and some chopped dried cranberries.  The cranberries add just the right amount of sweetness, and another layer of flavor and texture.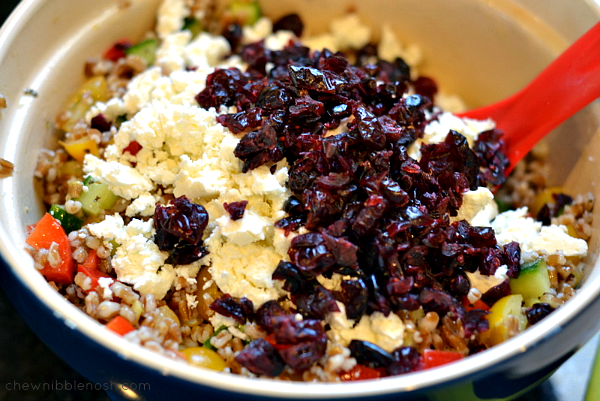 This salad has easily become a new family favorite.  It's hearty enough to serve as a meal in its own right, or easy to pair with everything from chicken to fish.  And the leftovers are delicious!  I've made it twice in less than two weeks, and every last bite gets gobbled up.
Thanks, OXO, for inspiring me to bring a little spring into my kitchen!  Fingers crossed that Mother Nature follows suit accordingly.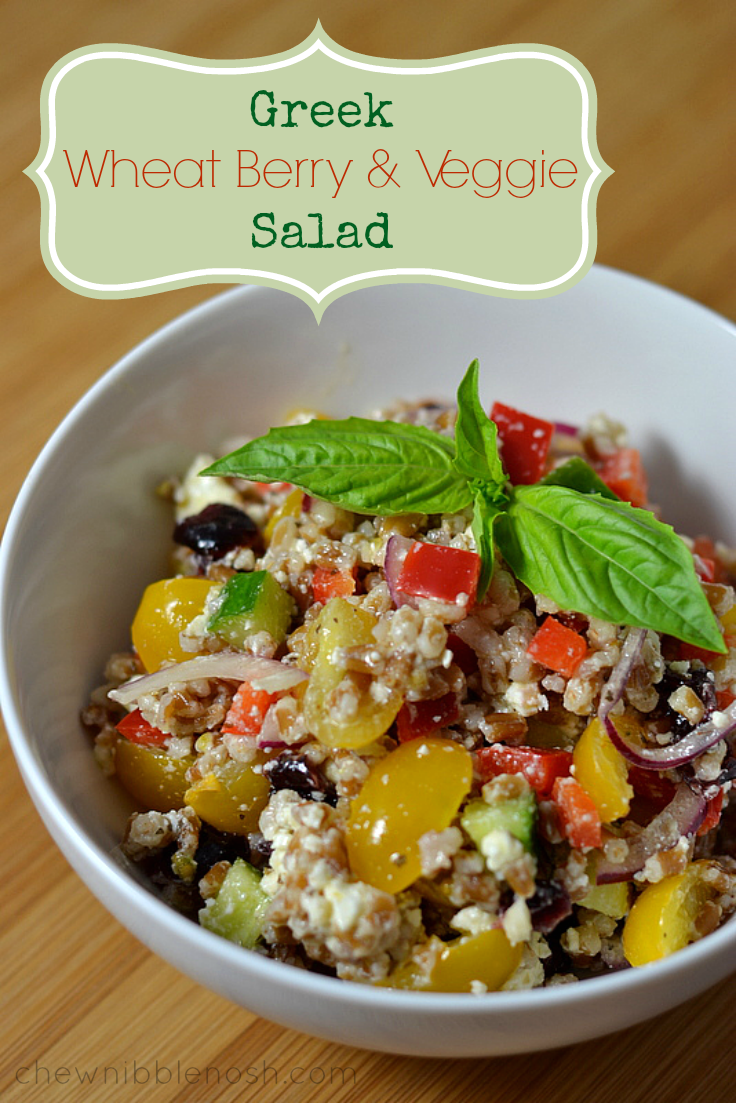 GREEK WHEAT BERRY AND VEGGIE SALAD
Greek Wheat Berry & Veggie Salad
Author:
Prep time:
Cook time:
Total time:
** Prep and cook time does not include the time needed to chill the salad before serving. Chill for at least an hour before serving.
Ingredients
1 cup wheat berries, rinsed
1 cup seeded, chopped English cucumber
1 cup chopped red bell pepper
1 cup quartered grape tomatoes
1/4 cup very thinly sliced red onion, slices cut in half
4 oz. crumbled Feta cheese
2/3 cup dried cranberries, roughly chopped
For the dressing
3 cloves garlic, minced
1/4 tsp. salt
1 1/2 tsp. Dijon mustard
2 Tbsp. fresh lemon juice
1 tsp. sugar
5 Tbsp. red wine vinegar
1/2 tsp. dried basil
1/4 tsp. dried oregano
1/2 cup extra virgin olive oil
Instructions
Rinse wheat berries until water runs clear, and cook according to the directions on the package. Drain, and allow to cool while you prepare the rest of the ingredients.
Whisk together the salad dressing ingredients, and finish by slowly drizzling in the olive oil as you whisk.
In a large bowl, combine the cooked wheat berries, cucumber, red pepper, tomatoes, red onion, and half of the prepared salad dressing.
Cover and chill until just before serving. Cover and refrigerate the remaining dressing.
Before serving, stir in the Feta and the cranberries. Season with salt and pepper, and if the salad could use more dressing, toss in a little more.
ENJOY!