Directions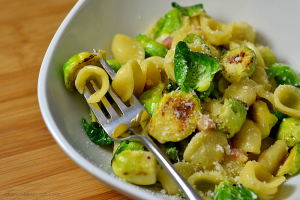 This is my new favorite comfort food meal for 2016.
It combines one of my favorite cozy Italian dishes, creamy Carbonara pasta, with my favorite winter veggie.  It comes together quickly, and simply, and just a few fresh, honest ingredients pack a whole lot of flavor.  In fact, the first time I made it, Avery (my youngest, and not my most adventurous eater…but she's trying) commented that "Wow, the noodles give the brussels sprouts such great flavor!"  Ha!  Well, no, probably the other way around, but whatever works in her little head to get her to eat her veggies is fine by me.  That's something she wouldn't have done last winter.  My family enjoyed it so much that I've made it twice in the past few weeks, and we can't get enough of it!
First things first, I got my pasta going on the stove top.  I used little ear-shaped Orecchiette, which perfectly catches the sauce.  If you can't find them, use another smaller pasta, like mini penne or farfalle. Once the pasta was bubbling away, I started on prepping my sprouts.  This is, by far, the most time consuming part of the entire recipe…and it's not that bad.  I sliced off the ends of the sprouts, and then peeled off as many leaves as I could, before slicing the remaining heart of the sprout in half.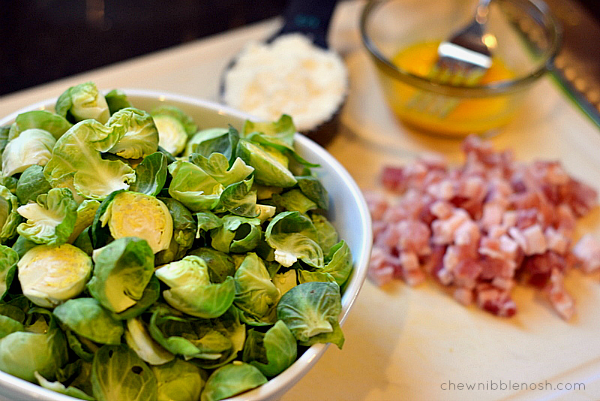 Removing the leaves, helps those little guys cook up nice and crisp, and quickly.
I also diced up some pancetta, measured out some Pecorino cheese (you could use Parmesan, if that's what you have on hand), and mixed up a couple of egg yolks.  I believe a big part of successful cooking is having everything ready to go before you start cooking, but it's especially useful in a recipe like this, because everything does come together pretty quickly.  Save yourself the frustration, and just get it all set up and ready to go before you begin cooking.
Once everything was prepped, I started with my sprouts.  I added a bit of olive oil to a large skillet over high heat, and tossed the sprouts and leaves in it until they started to toast up nicely and char, just a bit, around the edges of the leaves.
The original recipe called for a lot of char, in fact, it's in the title of the recipe, but I was afraid that if I crisped them up too much, my girls might be turned off by the char flavor.  So, I made sure everything was cooked through, and crisp tender, but didn't go for the full burn.
Once the sprouts were looking the way I'd liked, I removed them to a plate and wiped out the pan.  Then, more oil went in, and I sizzled up my pancetta until it was nice and crisp.  As this was happening, my pasta was finishing up, so I drained it but kept back about a cup of the salted pasta water.  That water plays a very important role in the sauce, so don't forget to scoop some out!
Once the pancetta was crisp, I seasoned it a bit, added a 1/2 cup of the pasta water, and whisked in some butter, until the sauce was nice and silky.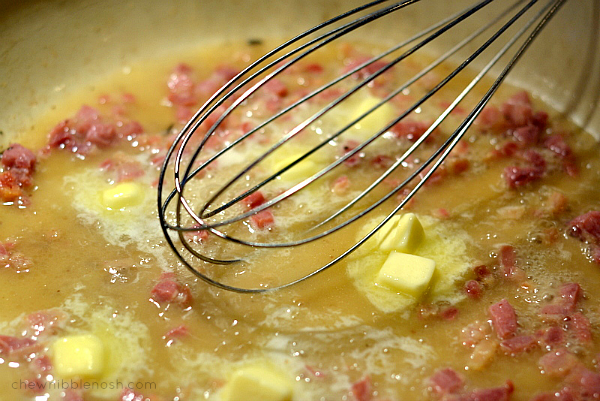 I added the pasta to the sauce, and tossed it until it was coated nicely.  Then, I added the Pecorino and removed the pan from the heat.  I stirred in my egg yolks, which adds  a creamy richness to the sauce, and helped it cling to the pasta, and then finally added those cooked sprouts back into the pan.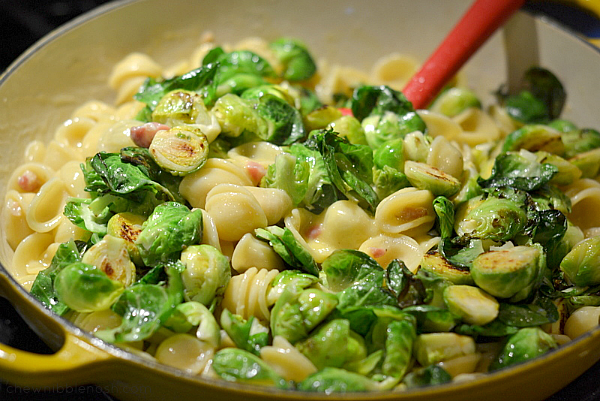 As I tossed the sprouts in, I added more pasta water until the sauce was just the perfect consistency and even throughout.
Then, it's just a matter of heaping it into bowls, sprinkling it with a little more grated Pecorino, and gobbling it up!  It's salty, savory, and fresh, and bursting with loads of fresh brussels sprouts. The sauce is just creamy enough to call it comforting, but not enough that it's heavy and weighted down.
It's just about perfect.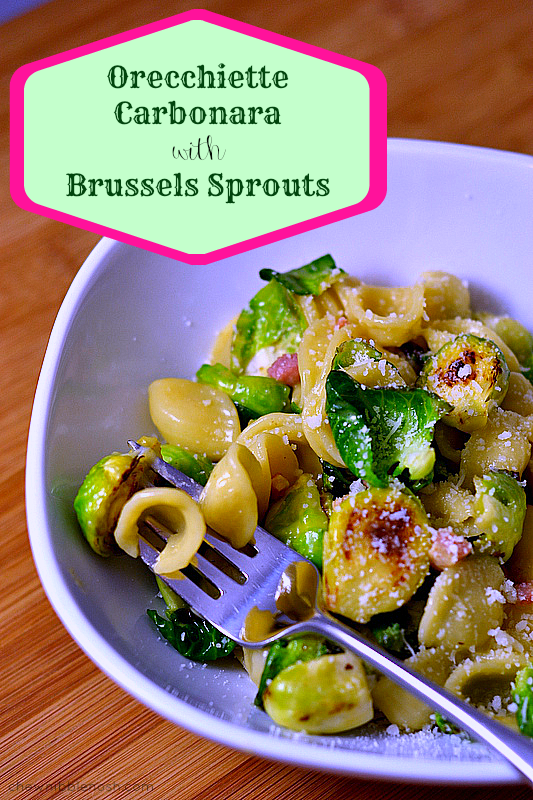 ORECCHIETTE CARBONARA WITH BRUSSELS SPROUTS
Adapted from Bon Appetit
Orecchiette Carbonara with Brussels Sprouts
Author:
Prep time:
Cook time:
Total time:
Ingredients
3/4 – 1 lb. brussels sprouts, trimmed, leaves separated, and hearts halved
12 oz. orecchiette, or another small pasta
Kosher salt
1/4 cup pancetta (Italian bacon), finely chopped
½ tsp. coarsely ground black pepper
¼ cup unsalted butter, cut into pieces
⅓ cup grated Pecorino or Parmesan, plus more for sprinkling
2 large egg yolks, beaten to blend
2 Tbsp. olive oil, divided
Instructions
Cook the pasta in salted, boiling water until al dente, according to package. Reserve one cup of the pasta water before draining, and set aside.
Add 1 Tablespoon of the olive oil to a large skillet, and heat over medium-high heat. Add the brussels sprouts and leaves, and toss to coat, stirring, and cooking until sprouts and leaves are tender and toasty. Remove from the pan, and wipe the pan out before returning it to the burner.
Add the remaining oil to the pan over medium heat. Add the pancetta, and cook, stirring, until crisp. Season with pepper, and immediately add 1/2 cup of the reserved pasta water, scraping up browned bits if possible.
Reduce the heat to low, and add the butter, stirring until melted and smooth. adding more pasta water if necessary until a glossy sauce forms. (Taste the sauce as you go, and once it's seasoned (salty) enough, switch to regular water if you need more.)
Add the pasta to the sauce, tossing to coat.
Add the Pecorino cheese, and toss.
Remove the pan from the heat, and stir in the beaten egg yolks, until pasta is coated and creamy.
Add the reserved brussels sprouts, and toss to coat.
Sprinkle with more cheese, and serve.
ENJOY!