Directions
Is there anyone out there who doesn't like macaroni and cheese?  I don't think I've ever met that someone.  If there is someone out there who doesn't like it, I don't think they've tried one like this.  This is my all time favorite Mac & Cheese recipe.  It's a little more "grown up" than the usual, I guess.  Not that the kids seem to mind.  They usually dive right in too.
With loads of cheese, butter and pasta, it's definitely a splurge, but it's a splurge worth splurging on.
First things first, I get my pasta cooking.  I've made this with regular macaroni noodles before, but if I can find them, I like going with Cavatappi noodles.
They are like little ringlets, or springs.  When my kids were smaller, we'd call them "Boingy Noodles".  They're just kind of fun!
Anyway, while the pasta was boils away, I start my cheese sauce.   This is a real cheese sauce, People.  We're not talking colored powders or processed cheese.  It's the real deal.
First, I pour a quart of milk in a small saucepan and set it to heat on the stove for a bit.  I don't want to bring it to a boil, but I want to warm it up.  Then, I melt some butter in a large pot and whisk in some flour.
I cook the butter and flour for a couple of minutes, which helps get rid of that raw flour taste, and toasts things up a bit.  Then, I slowly pour in the heated milk, whisking all the while, until the sauce is nice and smooth.  I let it cook for a minute or two more, to thicken up.
Once it's nice and creamy smooth, I remove the pot from the heat and it's time to add the good stuff.  In goes some fresh grated Gruyère and Extra Sharp White Cheddar cheese, black pepper, salt, a pinch of nutmeg, and a few good dashes of Worcestershire sauce.
I stir the sauce until the cheese is melted in and smooth, and then it's time to mix in the cooked pasta.  Once it's combined, I pour it into a 3-quart baking dish.
Now, at this point, you could cover the dish and stick it in the fridge until you're ready to bake it up.  It's a great recipe to have on hand for a party or dinner because you can make it up ahead of time.
When it's time to bake, I slice up a few ripe tomatoes and lay the slices right on the top of the creamy mac.  Then, I sprinkle the top with fresh buttered breadcrumbs, before popping it into the oven to bake.
Are the tomatoes required?  Certainly not.  I like the little pop of flavor they give, though, and they make for a pretty presentation!  Like I said, this isn't your average mac and cheese.
After about 30 minutes in the oven (40-50 if the dish has been chilled beforehand), a most delicious, sophisticated, not-messin-around kind of Mac & Cheese is ready to be devoured.
The buttered breadcrumbs and tomatoes toast up deliciously, and the cheese sauce is creamy, nutty, and rich.  It's almost sinful.
And you'll be happy to know that if there are any leftovers, they will taste just as good the next day.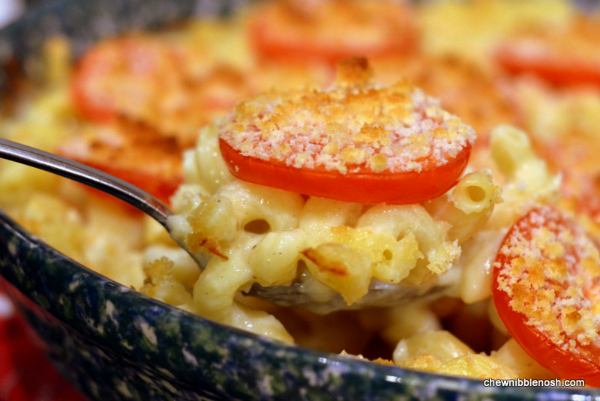 (MY FAVORITE) MAC & CHEESE
Adapted from Ina Garten
(My Favorite) Mac & Cheese
Author:
Prep time:
Cook time:
Total time:
Ingredients
1 lb. elbow macaroni or Cavatappi noodles
1 quart 2% milk
1 stick butter, divided
1/2 cup all-purpose flour
12 oz. Gruyère cheese, grated (about 4 cups)
8 oz. extra sharp white cheddar cheese, grated (about 2 cups)
1/2 tsp. black pepper
1 Tbsp. Kosher salt
1/4 tsp. nutmeg
4 dashes Worcestershire Sauce
4 small tomatoes
1 1/2 cups fresh white bread crumbs (made from 5 slices, crusts removed) *I've also used Panko breadcrumbs in place of fresh and they work just fine.
Instructions
Preheat the oven to 375*F.
Bring a large pot of salted water to a boil. Cook your pasta according to the directions on the box, making sure not to overcook. Drain well.
Meanwhile, heat the milk in a small saucepan over medium heat, but make sure that it doesn't boil.
In a large saucepan (4 qt.) melt 6 tablespoons of the butter over medium heat. Add the flour and whisk in until the mixture is nice and smooth. Continue whisking and cook over low heat for 2 minutes.
Gradually add in the warmed milk, whisking all the while, and cook until the mixture is smooth, creamy, and has started to thicken up.
Remove the sauce from the heat and stir in the Gruyère, Cheddar, salt, pepper, nutmeg and Worcestershire.
Add the cooked pasta and stir until well combined.
Pour into a 3 quart baking dish that has been sprayed with nonstick spray.
*At this point, you could cover and refrigerate the dish until you're ready to bake it off.
When you're ready to bake, slice the tomatoes and place the slices on top of the mac and cheese. Melt the remaining two tablespoons of butter and mix with the breadcrumbs. Sprinkle the buttered breadcrumbs over the top of the macaroni.
Bake, at 375*F, for 30-35 minutes (40-50, if it was made ahead), or until the sauce is bubbling around the edges and the breadcrumbs have toasted on top.
ENJOY!